Sites, events across Europe commemorate Napoleon's exploits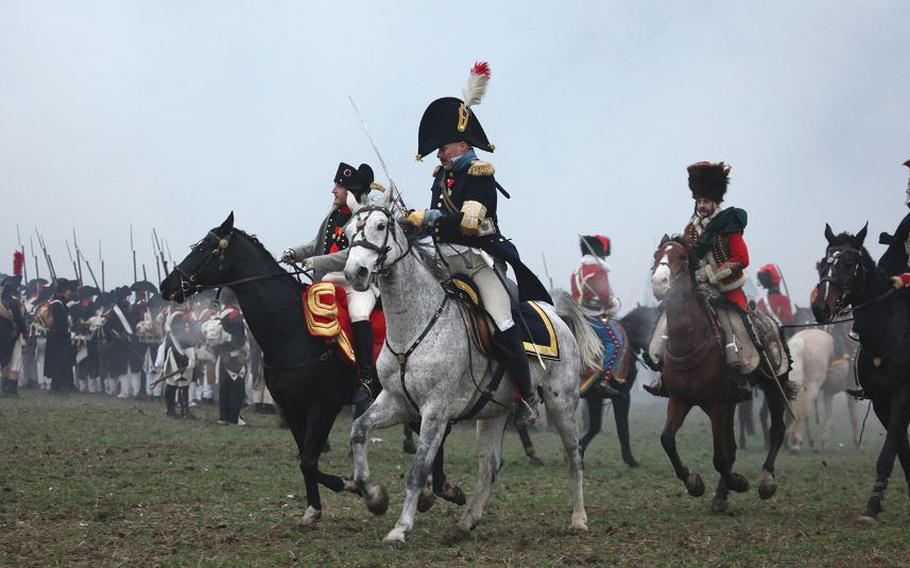 Napoleon Bonaparte is one of the most celebrated, yet controversial, leaders in human history. Widely considered one of the greatest military commanders of all time, he is also lauded for having introduced a number of reforms to law, education and civil institutions. Conversely, rigged elections, a ruthless police state, reinstitution of slavery in the French colonies and his use of propaganda to glorify his victories while blaming others for his failures earn him the label of despicable tyrant. Following in the footsteps of "Le Petit Caporal" leads to a number of fascinating museums, battlegrounds and monuments recalling his sway across the continent.
Ajaccio, France: Our tour begins in the city of Napoleon's birth, the capital of the Mediterranean island of Corsica. The house in which Napoleon was born on Aug. 15, 1769, and spent much of his childhood is now the National Museum of the Bonaparte Residence. The family domicile is furnished with period-era furniture, photographs and documents. Each room tells its own story, from the one dedicated to Napoleon's parents, Charles and Letizia, to another painting a picture of Corsica at the time of his birth, just 15 months after France had purchased Corsica from the Italian city-state of Genoa. The museum is open daily except for Mondays and holidays year round. Onine: tinyurl.com/y63xww5q
Other museums in the Corsican capital devoted to Napoleon include the Naporama, a collection of dioramas depicting battles, victories and significant life events peopled by Playmobil figures. Online: tinyurl.com/yyorxl4r
Slavkov u Brna, Czech Republic: On Dec. 2, 1805, the French Army, led by Napoleon, emerged victorious against the forces of a coalition between Tsar Alexander I of Russia and Holy Roman Emperor Francis II at the Battle of Austerlitz, also known as the Battle of the Three Emperors. This area is covered with enough historical sites to keep an explorer busy for an entire day or longer. The Pratzen Peace Monument, erected atop of the plateau in the shape of a Slavonic tomb, houses a chapel and the remains of the soldiers recovered from the battleground, and a museum displays an illuminated map of the battle.
The Project Austerlitz regularly schedules battle re-enactments known as Napoleonic Days. Commemorations to mark of the 215th anniversary of the Battle of Austerlitz, originally scheduled for June, have been rescheduled to Nov. 27-29 of this year. The theme of this year's re-enactment will be Napoleon's "Lion's Leap," with infantry, cavalry and artillery executing their maneuvers in great numbers on the Pratzen Heights.
Entry to the re-enactment is free; for tribune seating with catering in a heated tent on Nov. 28, tickets are essential; these go for 1800 Czech Koruna (about $78) and can be obtained online at ticketstream.cz.
Leipzig, Germany: At the Battle of Leipzig, fought on Oct. 19, 1813, the combined forces of Russia, Prussia, Austria and Sweden defeated Napoleon's waning forces. The Voelkerschlachtdenkmal, or Monument to the Battle of the Nations, commemorates the defeat of Napoleon's French army and a battle in which Germans were killed on both sides of the conflict. The 300-foot-tall, concrete and granite structure, completed in 1913, saw action once again in World War II, as Nazi forces in Leipzig made their last stand against U.S. troops. The FORUM 1813 museum, at the base of the Monument, displays rare weapons, uniforms and the personal mementos of those who fought there. Online: tinyurl.com/y35h2f6o
Elba, Italy: Following his defeat and his abdication as emperor of France on April 11, 1814, Napoleon was banished to the tiny island of Elba in the Tyrrhenian Sea. He did not stay there for long, however. In March 1815, he escaped exile and returned to Paris, where he regained supporters and reclaimed his title. Napoleon's brief time on the island is noted at the National Museum of Napoleonic Residences. Two villas, the Palazzina dei Mulini in Portoferraio and the nearby Villa di San Martino, shed light on his public and private life there. During the time he spent on the island, Napoleon reactivated trade and mining activities, undertook road improvements and conceived a number of projects to support the development of agriculture and fishing. The museums are open daily except for Tuesdays. Online: tinyurl.com/qmtubmz
Waterloo, Belgium: Following his escape from Elba and reclamation of the French throne, the period known as the "Hundred Days" saw the forces of Austria, Britain, Prussia and Russia conclude an alliance against Napoleon, forcing a number of military engagements leading up to Battle of Waterloo on June 18, 1815, at which Napoleon's last army was decisively defeated. The Memorial of Waterloo 1815 pays tribute to the some 40,000 soldiers killed or wounded during the fighting. This museum complex located 10 miles south of Brussels on the site of the battle includes the Lion's Mound, the Panorama of the Battle of Waterloo, a house and the Hougoumont Farm, a walled compound regarded as the last structure standing following the battle. Online: waterloo1815.be/en