'Sin & Punishment' is good & fun
by
Sam Laney
July 8, 2010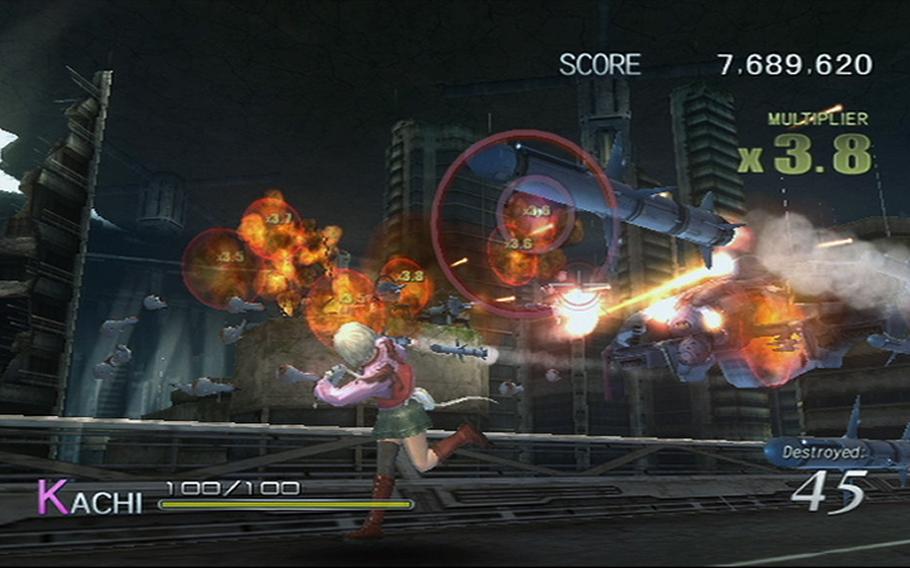 Let's get it out of the way. If you've never heard of the "Sin & Punishment" series, it has little to do with a certain Russian's literary classic "Crime and Punishment."
In fact, after hearing the first five seconds of dialogue, you should mentally block out all brain functions that might try to make sense of one of the most bizarre plots you'll probably ever encounter. But whatever you do, don't put down the controller because gameplay-wise, "Sin & Punishment: Star Successor" is the latest gem in what is turning out to be a great year for Wii owners.
Following in the steps of the Nintendo 64 cult classic, "Star Successor" is a shooter that takes full advantage of its 3-D environment to shift the perspective, combining the challenges of dodging enemy fire with pseudo-platforming. It worked well in the original, and developer Treasure — renowned in the shooter genre — has mastered the fast-paced mix in its latest game.
With a few exceptions, the game runs at a fluid framerate. The graphics may not be up there with "Mario Galaxy 2," but a bright, creative level and enemy design style makes up for that. This is a good-looking game for Wii, and the shiny particle effects do their best to keep up with the spiraling backgrounds and huge monsters that fill the screen.
Speaking of bosses, this game is a definite subscriber to the theory that more is better. Each of the seven levels is punctuated with bosses, mini-bosses, and what must be referred to as mini-sub bosses. Each vary in design and attack styles.
To defeat them, "Star Successor" supports pretty much any control scheme you would want: Wiimote, zapper, GameCube controller or classic controller.
Treasure has made some good refinements that players of the first game will immediately notice. While the first game practically required two people to control one character, "Star Successor" plays it a little more traditionally. Player 2 can jump in as a second crosshair and add to the firepower, but can't take any damage. Think co-op a la the "girl friend mode" in "Mario Galaxy." Fortunately, this game has so much going on, and is so much harder than "Galaxy," the mode is a welcome addition. If your significant other (or just a game buddy) would like to step up their game, this is their chance.
Another difference you'd notice is the difficulty. After a breezy first couple levels, the game really ramps it up. On top of complicated attack patterns, Treasure throws in quick changes between melee and ranged fighting with little to zero notice. Some bosses are entirely invulnerable to your gun, and you'll have to use a clever combination of dodges and side-steps to get close for an attack. We're not talking impossible challenges here — especially on easy — but this isn't a cake walk like some of the other shooters on the Wii.
Overall, the latest "Sin & Punishment" stacks up well against the competition. The Wii's pointer has shown great potential for shooters, and the console has supported a sort of a mini-revival of the genre. We've seen arcade-style shooters like "Resident Evil: The Darkside Chronicles" and "Dead Space: Extraction." But now it's safe to say a new shooter lies at the top of the heap.
With its twitch gameplay, deep point system and online leader boards — not to mention co-op — this "Sin & Punishment" is a worthy successor.
Platform: WiiOnline:http://sinandpunishment.com