'Shots were ringing off ... my seat'
---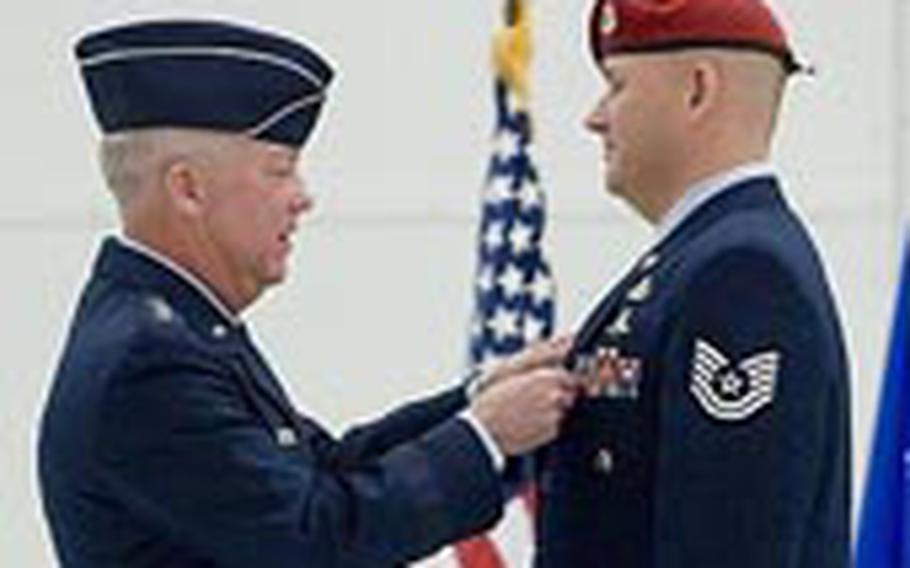 Master Sgt. Scott Innis knows war can be ugly. He's seen comrades killed and he's shot the enemy in the face from close range.
But he keeps going back.
With three combat deployments to Afghanistan under his belt, the Air Force combat controller often shares his war stories with newer members of his unit, the 22nd Special Tactics Squadron at McChord Air Force Base, Wash.
They always want to know, "Were you scared?" says Innis.
Everybody gets scared, he tells them. But "you don't have time to think about it. You just accept the fact 'I may get shot. I may get blown up with an [improvised explosive device], but this is the course I chose.' As soon as you accept that fact, it gets a lot easier."
The story that Innis gets asked about most these days ends with the 40-year-old native of Secaucus, N.J., receiving the Silver Star and Bronze Star with "V" device for valor during a deployment to Afghanistan from February through June 2006.
Two particular days from the deployment stand out. At the time, Innis was attached as a joint terminal attack controller to a U.S. Army Special Forces team in a heavily contested region of Afghanistan.
On March 25, the team was ambushed while trying to secure some helicopter landing zones.
The bullets and rocket-propelled grenades started flying while Innis's convoy of more than two dozen Humvees drove on a road squeezed between 10-foot-high compound walls. "Shots were ringing off the side of my seat into the vehicle," Innis said.
Innis shot an insurgent in the face from about 80 feet away, putting his rifle down only to call in air support. Airstrikes delivered 2,000-pound bombs and rockets, leveling the compound and destroying a weapons cache.
Before the team pulled out, Sgt. 1st Class Chris Robinson was fatally shot under his body armor.
"We limped our way back," Innis said.
The team was operating out of a remote forward operating base in southern Afghanistan, living out of steel truck containers with a perimeter of razor wire and dirt security barriers. The highest point was a plywood observation tower. Two days after the ambush, a coalition convoy on its way to the base was attacked.
Most of the 80 vehicles made it to the base. But shortly after the last one pulled in, after midnight on March 28, hell broke loose.
The base received a heavy barrage of rocket-propelled grenade, mortar, machine gun and small-arms fire from three sides.
Innis quickly scaled the observation tower, where minutes before he had left his body armor and communications gear to type up a situation report from a secure area.
"I spilled myself into the tower," Innis said. "I tried to get as flat as I could."
Bullets "were snapping past my head," he said. A rocket-propelled grenade that passed within a foot of the tower looked like a football with sparks as it whistled by.
At first, Innis lay on his back. After he got his radio gear together, he rolled over onto his stomach, sticking his face over two sand bags — his only buffer.
He sat up to watch for mortar fire, hitting the flashes with a laser range finder, and then quickly ducking to calculate the target with his Global Positioning System. Innis then called for close air support from A-10s, Predators, B-52 bombers and other attack aircraft. He also guided Black Hawk helicopters evacuating the wounded.
During the battle, Innis had a Predator watch the base perimeter near an area from which small-arms fire was originating. It ended up following about 12 people to a ferry crossing point at a nearby river. Innis directed a Predator Hellfire missile on them.
About an hour later a vehicle retrieved the body parts and returned to a compound "where someone we had been looking for was living," Innis said.
Innis used A-10 attack jets to secure the area before a Special Forces team cleared out the compound of enemy personnel. A large weapons cache was found, including 1,000 pounds of ammonium nitrate, which can be used to make explosives.
After the team pulled out, Innis directed more aircraft to the compound, destroying it.
By then it was 2 p.m. the next day. Innis hadn't moved from the tower.
"I wasn't tired. I was amped up," he said. "I was just going and going and going."
On the coalition side, about five were dead, another 15 wounded. Enemy losses, however, were much higher.
"During the 24-hour pitched battle, Sergeant Innis defeated the enemy through the decisive use of air power that resulted in the death or injury to over 100 insurgents," his Silver Star citation reads.
Innis is getting ready "to roll out again. We're at war right now. We're prepared," he said.
Master Sgt. Scott Innis
Unit: 22nd Special Tactics Squadron, McChord Air Force Base, Wash.
Medals: Silver Star, Bronze Star with "V"
Earned: 2006, Afghanistan
---
---
---
---