Seasonal specials, traditional fare available at Hostaria Via Caprera
by
Kent Harris
October 31, 2013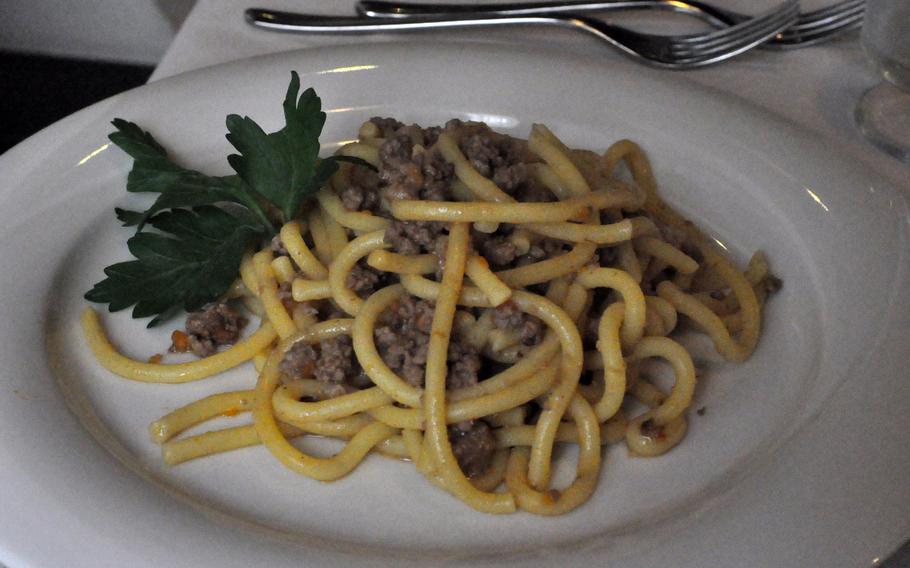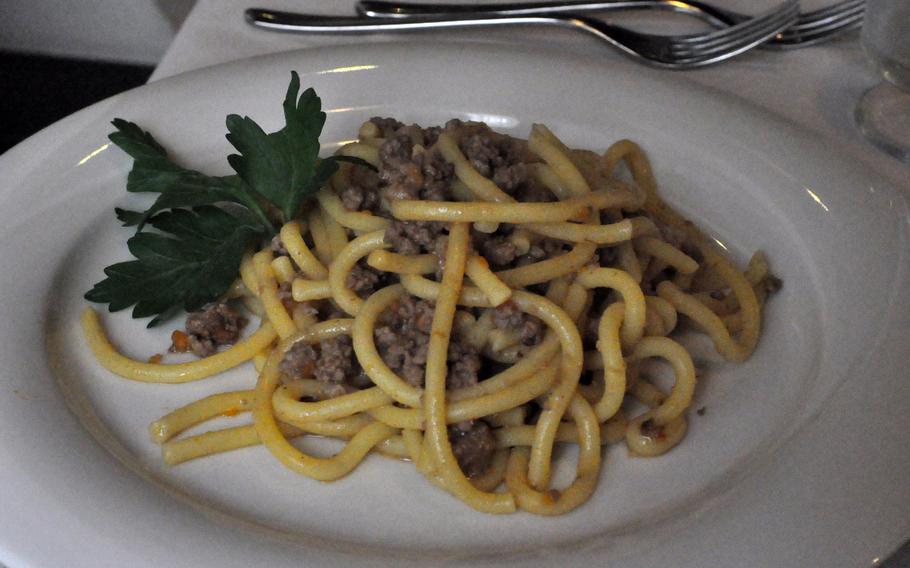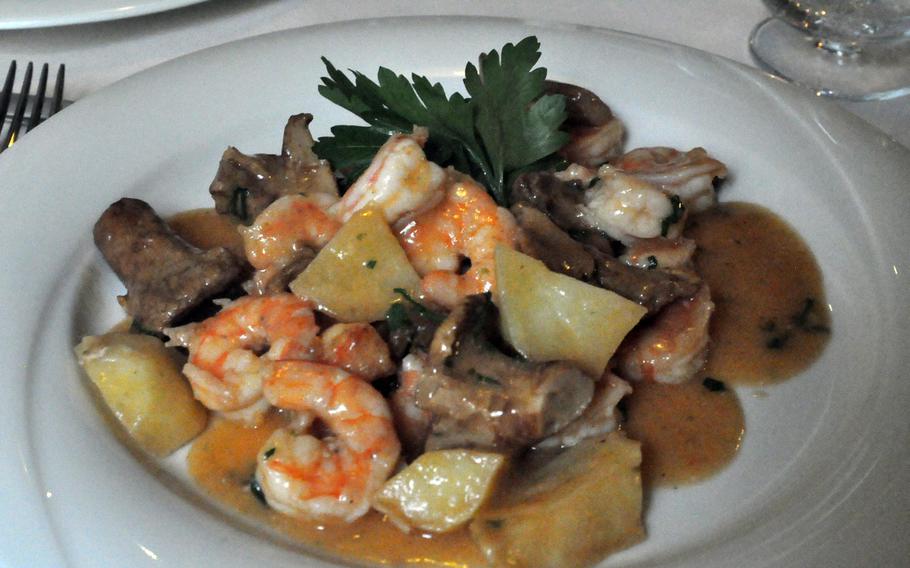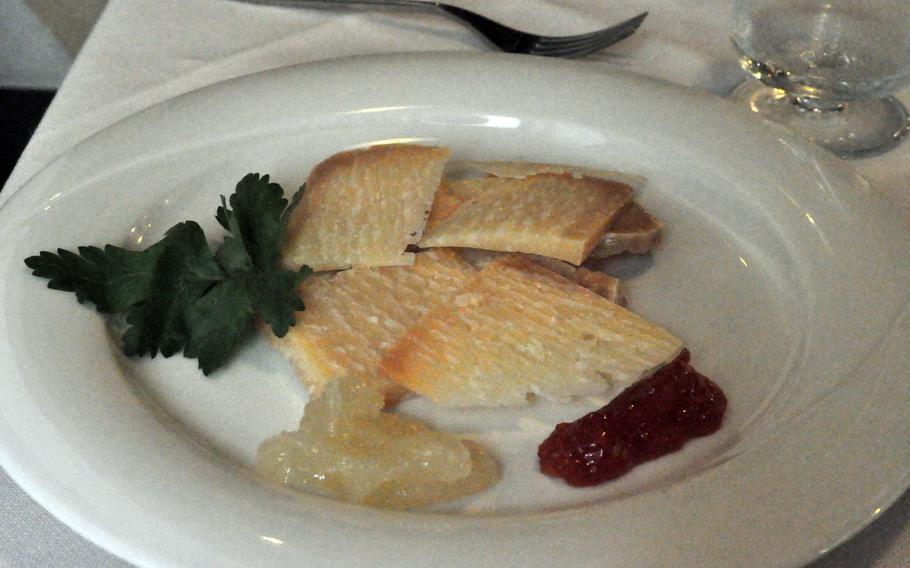 Some restaurants in Italy offer menus that rarely differ, attracting customers who want their favorite dish time after time. Others change their selections every day, serving dishes that rely on whatever ingredients are available.
Hostaria Via Caprera does a little of both.
The restaurant, which has operated on a side street in the north part of the picturesque city of Vittorio Veneto since 1994, has both a seasonal menu that changes every five days and a standard menu featuring the same dishes every day. At least until the next season, when a new seasonal menu is introduced.
It didn't take a lot of imagination to come up with the restaurant's name. It's the same as the street it sits on. But there is a lot more creativity with the food.
The seasonal menu features one first-course option and one second-course choice. There are 13 of each featured in the current menu, which runs from early September to early December. Recent dishes include gnocchi with pear filling and cheese sauce and rabbit with carrot sauce. Before that, there was mushroom-and-tomato soup and breaded steak.
The creativity doesn't stop at the seasonal menu, though.
Second-course options on the standardized menu include grilled shrimp with potatoes and mushrooms — an unusual combination for Italy — beef stewed in beer, tripe (stomach) and horse filet.
Some of the courses probably sound more exotic than they taste. That might be partly because much of the menu is in the local dialect and some words might leave even those proficient in Italian shaking their heads. Especially those not familiar with slang.
The tripe dish, for instance, can be translated as "stomach of roof of corrugated iron." One dessert option translates as "slice of black forest." It's actually more of a torte than a tree.
And there are more menu options besides the standard courses. There's also cicchetti, appetizer-like items grouped together that are most famously served in Venice. And there's a set multicourse meal featuring radicchio soup, mushroom ravioli, breaded beef medallions, caramel crème dessert, coffee and wine.
Like many Italian restaurants, Hostaria Via Caprera also has special menus for holidays. And it serves specialized menus for groups, either at the restaurant or through catering.
Much of the restaurant is a single room on the second floor. An Italian-style bar serves drinks and snacks on the first floor.
Diners don't have to stick entirely with one menu. It's possible to mix and match between the seasonal menu and the standardized daily one.
Hostaria Via CapreraAddress: Via Caprera 23; Vittorio, Veneto, Italy
Directions: Take the Vittorio Veneto Nord exit from the A27 autostrada. It's a few kilometers to the city. Park in the free lot just past the statue/monument/sign that marks the city entrance. The restaurant is a few steps up the side street (Via Caprera) that forms one of the boundaries of the lot. Vittorio Veneto is a half hour's drive from Aviano Air Base and about 80 minutes from Vicenza. The quickest way from Aviano is via the A27, but there are several routes using smaller roads as well.
Hours: Open for lunch and dinner daily except on Thursdays, when it's closed.
Menu: It's in Italian, and some of it is in the local dialect. Some English spoken, though. Seasonal menu features one first course and one second course that changes every five days. Standard menu includes a handful of options for appetizers (7 to 10 euros), first courses (8-10 euros), second courses (12-16 euros), desserts (4-6 euros), meats and cheeses (prices vary), and cicchetti. There's also a multicourse meal with standard items for 38 euros each. Visa is accepted.
Clientele: Mostly Italians.
Dress: Casual to business wear.
Information: Phone: 0438-57520, website: www.hostariaviacaprera.it. The restaurant caters and arranges special menus for groups.
---
---
---