Search for holiday gifts at Frankfurt Airport-area's Loop 5 Shopping Centre
---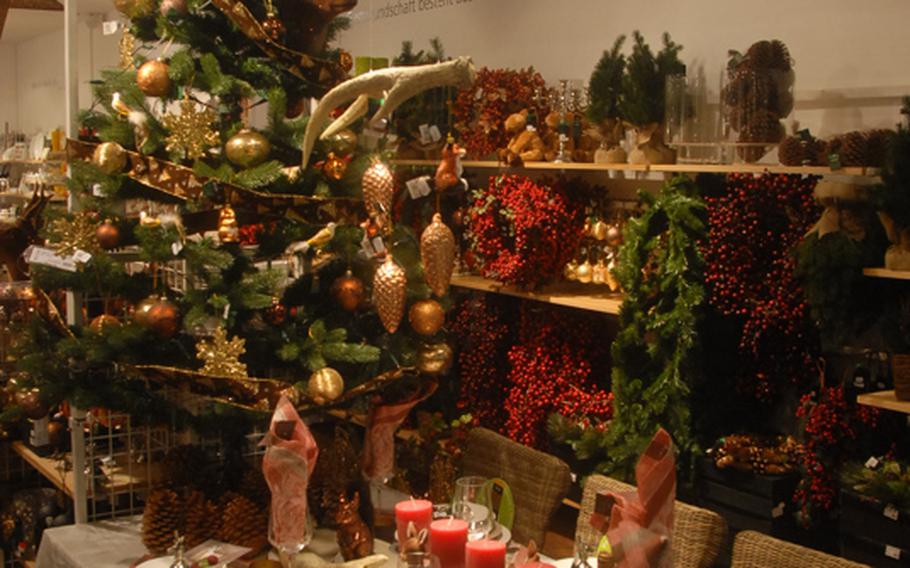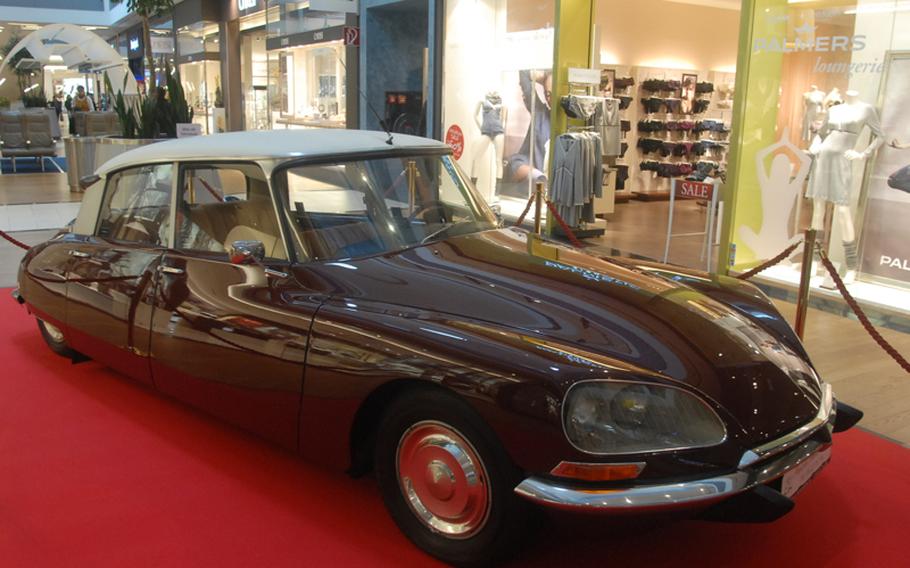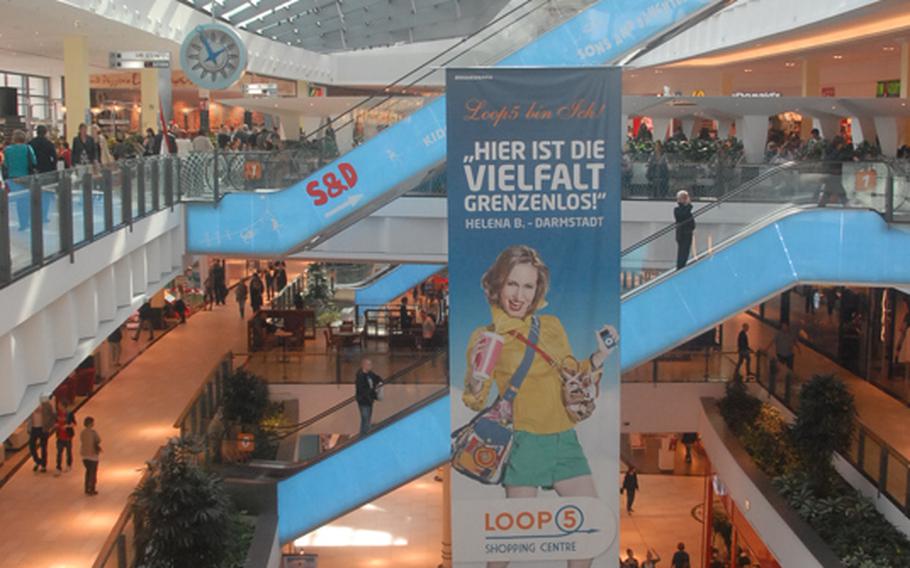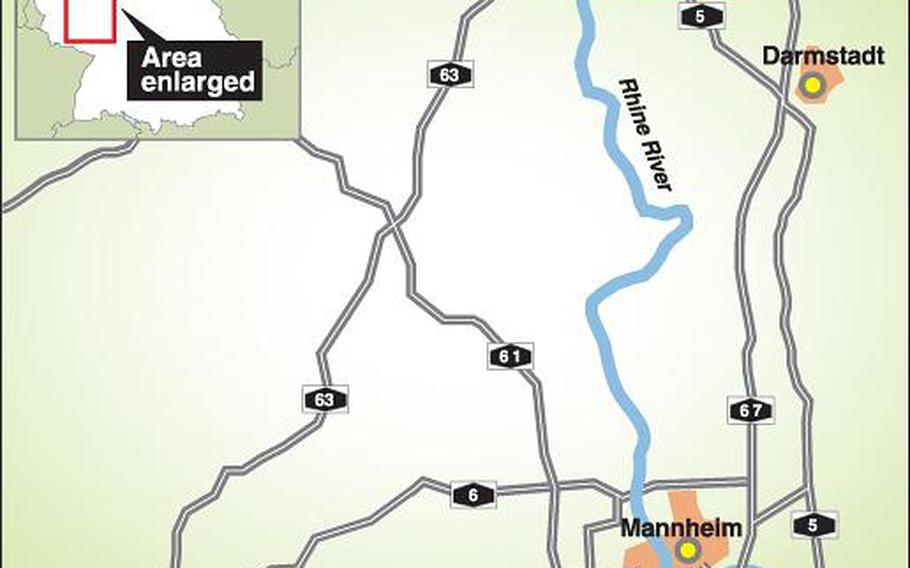 From the outside, particularly as you zip merrily along Autobahn 5, the Loop 5 Shopping Centre south of Frankfurt Airport doesn't look all that inviting or distinctive.
Most drivers pass the shopping mall — actually the parking garage, which is what's seen from the autobahn — probably unaware it exists, or that it's one of the largest in Germany. It's within easy driving distance of the Wiesbaden, Mannheim and Heidelberg military communities.
With the gift-giving season upon us, Americans living near or passing through Frankfurt may find this mall and its 177 stores and shops indispensible, given the variety of products and free parking.
Prices are generally higher than a person would pay at a military exchange, but the mall has a much greater range of goods and services.
The mall "has its own style," said Ricky Butler, an American who works at Mainz-Kastel near Wiesbaden. "I mostly come for the food."
Though it opened in October 2009, Loop 5 looks pristine. The wooden floors show signs of some wear, but overall, the four-level shopping center still twinkles like new. Many of the stores are smartly decorated and upscale in appearance.
"She likes to look at every store," Butler joked while he waited for his wife during a recent shopping excursion.
The store directory includes such notable retailers as Tommy Hilfiger, Levi's, Fossil, Foot Locker and Swarovski, as well as scores of other shops. There is a bank, a barber, a salon or two, a nail bar and a travel office.
In addition, the mall has a dining area featuring 20 restaurants that take up a sizable slice of the third floor. The selection of eateries ranges from Japanese, Thai and Chinese to German, Swiss and a few American offerings, such as McDonald's, KFC and Starbucks.
Mall manager Heiner Hutmacher believes no other shopping center in this region of Germany has the variety of products and gastronomical treats under the same roof as Loop 5.
To accommodate shoppers during the holiday season, the mall will remain open an extra hour from Nov. 25 to Jan. 7, Hutmacher said.
When Butler spoke of the mall's style, he was referring to its aviation theme, which is all too evident as a person meanders among the shops.
Located about 10 minutes — roughly a 20-euro cab ride — south of the airport on Autobahn 5, the mall includes designs and replicas common to the aviation world. Visitors will notice a host of aviation elements, such as propellers and jet engines. Of particular use are the dozens of economy seats removed from Lufthansa aircraft that give people an appropriate place to rest as they navigate their way around the sprawling shopping center.
On the QT
DIRECTIONS
Loop 5 Shopping Centre is located on the east side of Autobahn 5 near Darmstadt, south of the Frankfurter Kreuz and Frankfurt Airport. Depart the A5 at the "Nord-Darmstadt/Weiterstadt" exit, which is local Route 42. Turn right at the first traffic light, a short distance from the autobahn. The road will bend to the right, cutting through a retail/industrial park. At the next stop light, turn left. A Saturn electronics store is in the near distance. Saturn is one of the primary stores at the mall. Parking is free. The parking garage has eight levels.
TIMES
The mall is open 10 a.m.-8 p.m. Monday through Thursday, and 10 a.m.-9 p.m. Friday through Saturday. During the holidays, Loop 5 will stay open until 9 p.m. Monday through Thursday; and 10 p.m. Friday and Saturday. The shopping center is closed Sundays and German holidays.
Holiday Events
The mall formally lights its Christmas trees Nov. 20. Events include caroling, crafts for children and an appearance by Father Christmas.
FOOD
There are 20 eateries on the third floor of the mall, ranging from pizza and gyros to Japanese and Swedish fare. Starbucks is on the second floor.
INFORMATION
The mall's address is: Gutenbergstrasse 5, 64331 Weiterstadt, Germany. Telephone number: 06151-667410. Website: www.loop5.de.
---
---
---
---