Sasebo rec center promotes geocaching for fun, fresh air
by
Greg Tyler
April 15, 2006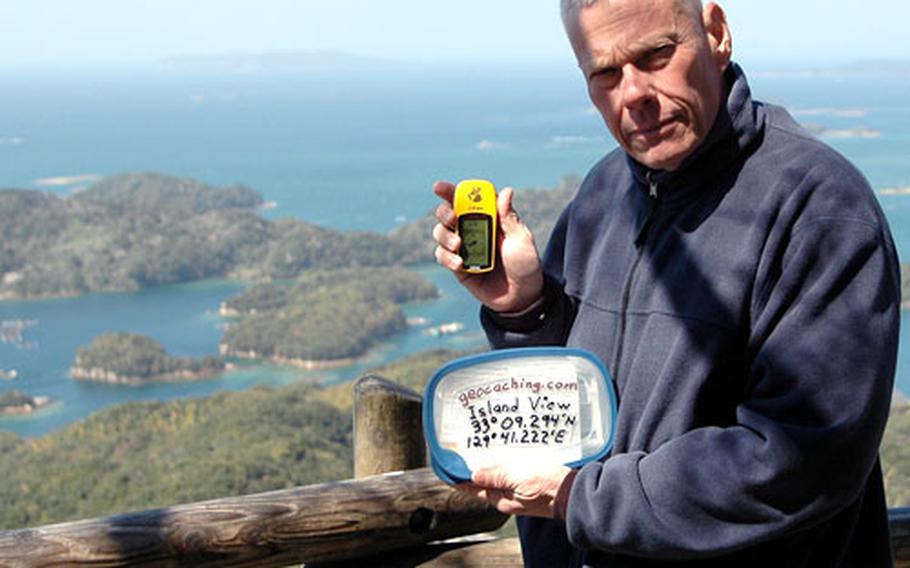 SASEBO NAVAL BASE, Japan — Hikers in search of a great view from a mountain lookout might think it a bit strange to see a man in the bushes hiding a small plastic box.
That's exactly what Walter Birkenheier, director of Sasebo Naval Base's Sailing and Outdoor Recreation Center, was doing last week atop Mt. Eishidake in Sasebo, Japan. He was hiding a geocache as part of a game he's promoting on base, called geocaching. And his goal is to get more people outdoors exploring the natural beauty of the region.
The game has multiple variations, but in general, geocaching is a hunt for a container (the "cache") using a Global Positioning System unit. Volunteers at the Web site www.geocaching.com coordinate the game worldwide.
A "routine cache," such as the 11 Birkenheier has hidden around Sasebo, is a weatherproof box containing a logbook, pencil, messages and other basic nonperishable items. Players who find caches are asked to sign the logbook, maintain its contents, perhaps add something and leave it where it was found.
"It's all about getting people outdoors and is often attractive to people not usually inclined toward outdoor recreation," said Birkenheier. "Techie types seem to like it."
Japan's southern island of Kyushu, home of Sasebo Naval Base, seemingly is one of a few locations in the civilized world not yet peppered with geocache stashes, Birkenheier said.
"There are all kinds of geocaches and they are located all over the world," he said. "There are even geocaches in Afghanistan and Iraq placed there by our troops. Most of them are hidden in beautiful outdoors locations, but some are even located in big cities such as Tokyo."
All a player needs to play is an account on the Web site, a GPS unit and time to go exploring. GPS unit prices start at about $90, he said, and the center rents units for $2 a day.
He called geocaching a "satellite space-age scavenger hunt" when explaining the game to those attending his free geocaching workshop March 30.
Lynn Smith, who attended the workshop with her daughter Chelsea, said her family got hooked on geocaching while living in South Carolina. Along with her husband, Senior Chief Petty Officer Kelly Smith, a USS Essex crewmember, they even searched for a geocache at an interstate highway rest stop.
"We also did it out in some places near Hilton Head [South Carolina]. There were a couple of caches where you had to drive your car to a certain spot and then go hiking through the woods, but they weren't hard hikes," Smith said.
"On our first one, we really didn't know what we were looking for. When we found it, it turned out to be a little teddy bear jar, and the top screwed on," she said. "It had all kinds of neat little things in it, and some things that other people had put in."
She said the teddy bear cache included a note from another "geocacher" who found it just as their GPS unit batteries died. The person thanked the owner for putting spare batteries in the geocache.
"That's just the kind of thing you find … just small, practical things … nice things," she said.
"But it's not about what you find," Smith added. "It's about getting out and going on the journey."
Geocaching terminologyArchive: This is usually seen when you own a cache. Archiving is basically deleting your cache from the listings on the Web site.
CITO: Cache in trash out — When geocaching, take a bag with you and pick up trash along the way.
Cache: (pronounced "cash") In geocaching, it is a hidden container filled with a log book and pencil, and possibly prizes.
Datum: A datum is something used as a basis for calculating and measuring. In the case of GPS, datums are different calculations for determining longitude and latitude for a given location.
FTF: First to find — Usually found in the Web site forums or written in the online or physical log books.
Geomuggle: A name for a non-geocacher based on "Muggle" from the Harry Potter series, meaning a person with no magic.
GPS: Global Positioning System — It is a system of satellites that work with a GPS receiver to determine your location.
GPSr: Slang for a GPS receiver.
Hitchhiker: A hitchhiker is an item that is placed in a cache and has instructions to travel to other caches.
Spoiler: A spoiler is information that can give details away and ruin the experience of something. For example, telling someone the end of a movie before they see it. In geocaching, a spoiler gives away details of a cache location.
TFTC: Thanks for the cache.
TFTH: Thanks for the hunt.
TNLN: Took nothing. Left nothing. Usually found in cache logbooks for folks that enjoy the thrill of the hunt more than the material contents of the cache.
TNLNSL/TNSL: — Took nothing/left nothing/signed logbook. Took nothing/signed logbook.
Travel bug: A travel bug is a hitchhiker.
Virtual (cache): Adapted from "virtual reality," virtual means "nothing there." So a virtual cache means there is no cache container. It's the location that is the cache itself.
Watch list: A watch list is a list of users that are watching a specific travel bug or cache.
Waypoint: Named coordinates representing points on the surface of the Earth. Geocaching uses a suggested waypoint for a cache, created automatically when a cache has been created.
Source: www.geocaching.com
Geocacher's creed
When placing or seeking geocaches, I will:
¶ Not endanger myself or others
¶ Observe all laws and rules of the area
¶ Respect property rights and seek permission where appropriate
¶ Avoid causing disruptions or public alarm
¶ Minimize my and others' impact on the environment
¶ Be considerate of others
¶ Protect the integrity of the game pieces
Source: www.geocreed.info/