Rustic Okinawa resort with good food, unusual entertainment will charm guests
by
Matt Orr
November 22, 2008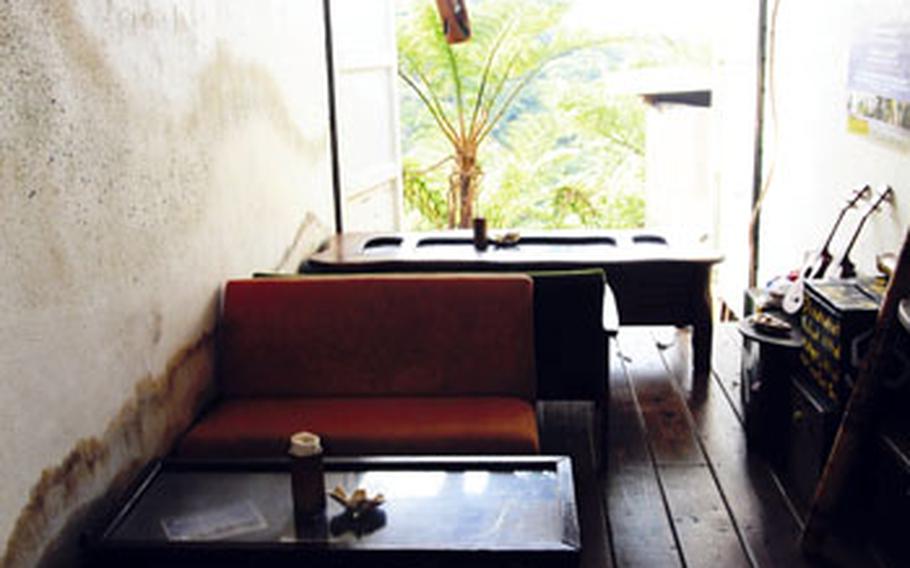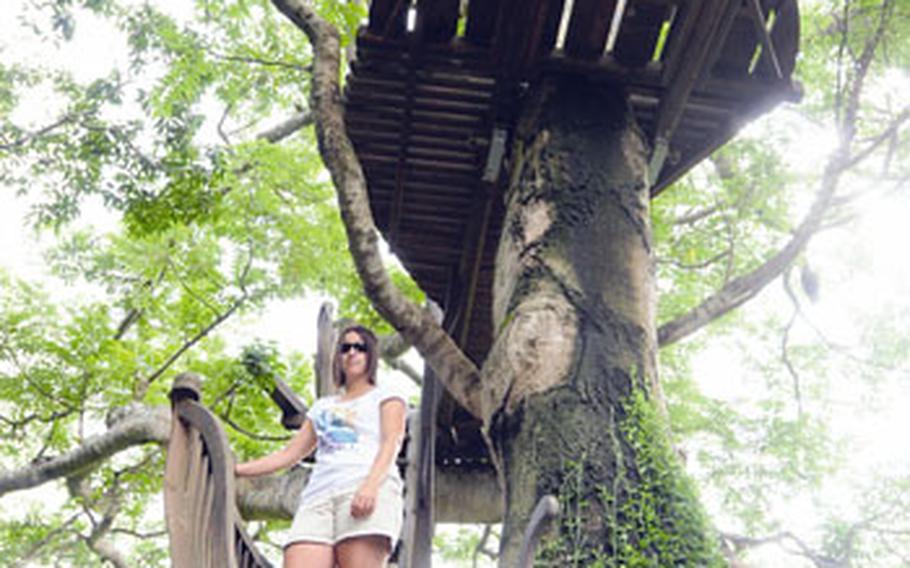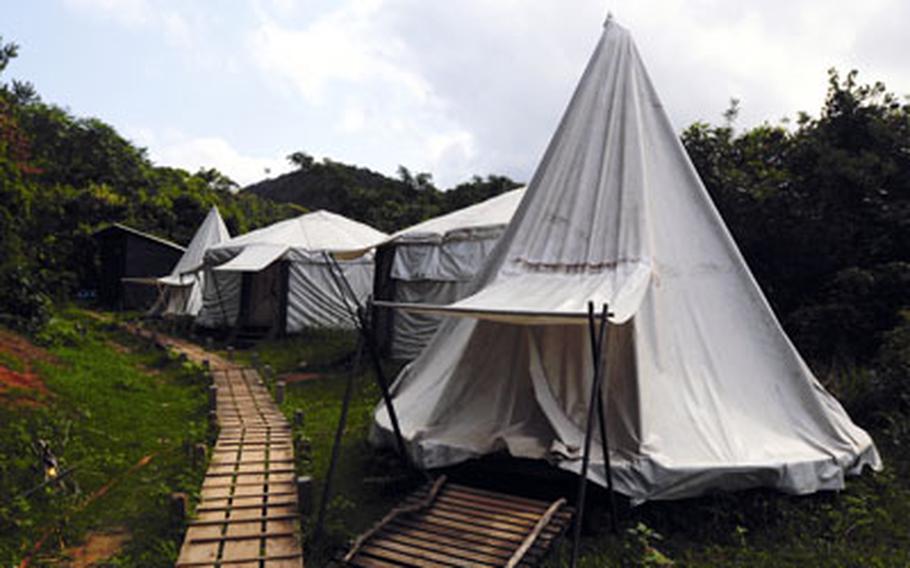 With my birthday approaching, my wife and I decided a romantic weekend at a beautiful Okinawa beach was a good way to celebrate.
We searched online until Lea stumbled onto a review on Japanupdate.com for a resort-type facility up north called Beach Rock Village. It seemed perfect.
The photos that accompanied the article of guests horseback riding, kids walking to the water with snorkeling gear in hand, and crystal-clear waters with a canoe resting on the white sand only cemented in our heads that this was the place for our weekend getaway.
The living quarters consisted of a choice between a very simple campsite where tents were set up and a couple of sites with tipis on them. The tipis looked exactly like Native American tipis except they were made from white vinyl and were on a raised wooden platform. And for those who wanted to pamper themselves a little, a tipa tent was available. The tipa is made from the same plastic vinyl as the tipi but is slightly bigger and is the shape of a round room. It also has air conditioning.
Lea is a self-proclaimed "non-camper." Running water, a shower and a flushing toilet are a must for her. I, on the other hand, love the outdoors. The fewer amenities, the better.
Needless to say, we booked the air-conditioned tipa tent.
On the morning of our getaway, we packed our beachwear and snorkeling gear, excited that we would soon be enjoying the surf and sand.
After a quick stop to the kennel to drop off the pets, we were on our way.
Forty-five minutes later, we got off the main drag and drove up a steep hill on a very narrow road. The road was blanketed with overhanging branches blocking out the sunlight.
Doubts immediately started filling our heads.
"I thought this place was on a beach?"
Lea joked that it seemed like we were in a scene from a movie where campers on their honeymoon are attacked and brutally murdered.
We finally pulled into a small parking lot, only big enough for five cars. With no beach in sight, we got out and looked around.
Staring out at the vast expanse of tropical rainforest, we could just make out the ocean on the horizon. It was miles away.
The "short walk" from our tipa tent to the beach would take us approximately 30-40 minutes by car, we were told by an enthusiastic employee we bumped into.
It turned out that the beach is a day trip for guests. The Web site seemed to leave that part out. But to be fair, the Web site was in Japanese and probably got discombobulated in the Google translator.
The employee also informed us that we couldn't check in until 3 p.m. So we had a good four hours to walk around and check out the place. It took all of 10 minutes to see everything, including the main attraction: a treehouse nestled in an enormous tree's upper branches.
It was time for food and drinks.
We headed over to the small cafe on the grounds and plopped down in some plush chairs overlooking a lush tropical ravine. It wasn't the beach, but it was beautiful and relaxing.
Lunch was spectacular. Having spent the past five years in New York, I have become quite the pizza snob. We ordered a fire-grilled cheese, tomato and pesto pizza.
As we enjoyed our lunch, we began to learn a little about the place.
Nearly everything served was grown on the property.
It turns out that the Beach Rock Village is run by a group of people who live in tents on the grounds.
They do not earn any money and essentially live off the land. Okinawa hippies, if you will.
Some stay for a week or two. Others stay stay longer. It's up to each person.
After lunch, we spent the afternoon sitting at a small table on the roof of the café drinking Red Stripe beer, swatting at mosquitoes, reading and listening to everything from Queen to old-school hip-hop coming from the bar's stereo system.
Because we stayed in the "deluxe" accommodations, breakfast and dinner were included in the 6,000 yen-per- person rate.
Dinner consisted of brown rice, vegetable tempura, steamed vegetables and an Okinawan tofu dish.
After dinner we headed to the bar and drank with the workers, learning little bits and pieces about them and watching as they sang along to various songs.
The music of Queen seemed to be a bar favorite, with "We Are the Champions" getting one man on his chair to serenade the bar.
We later found out that he had been living there for six years, having turned up when he was 18 years old.
Outside the bar, a man was twirling balls of fire around his body while others watched. It was quite a sight during a very interesting and entertaining evening.
The next morning, feeling slightly groggy, we headed over for a healthy breakfast of brown rice, a small omelet and tiny dried-up fish.
After breakfast, we packed our bags and headed back down the single lane, dirt road for home.
Although the weekend was not what we were expecting, it certainly turned out to be a rewarding experience.
I certainly respected these people for trying to make a small difference and living off the land.
My only regret — besides the beach not being closer to the campsite — was that there isn't a place closer to Kadena that serves pizza as delicious as what we ate at Beach Rock Village.
Know and GoBeach Rock Village is in Nakijin, on the Okinawa northwest side. Take the Expressway to Kyoda, then Highway 58 to Nago. Once through the city, turn onto Highway 84 toward Motobu Town, past Okinawa Pineapple Park, before looking for Route 72. At the Route 72 traffic light, head toward Nakijin, passing through Kogayama Tunnel. Just before a second tunnel, Otoa Tunnel, look for the sign pointing right to Beach Rock Village. Keep following the signs to the village. The telephone number to Beach Rock Village is 0980-56-1126 and the Web address is www.shimapro.com.