"Ruff's War" adds human element to Iraq chronicles
---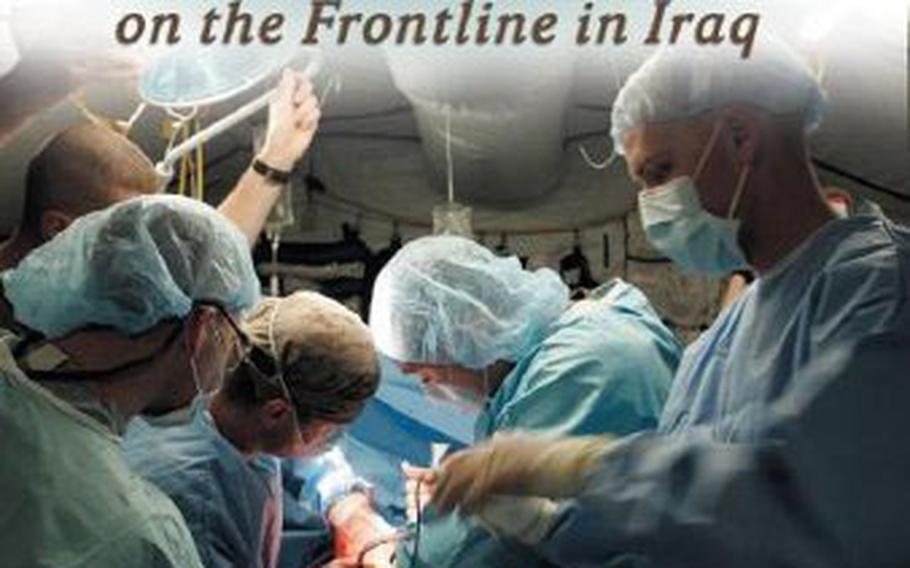 Every war teaches combat medical professionals valuable lessons in saving lives. Add advanced technology to those lessons, and a wounded GI's chance of survival in Iraq today is light years ahead of his counterpart in Vietnam.
But for a brief time beginning in March 2003, when the Iraq war was launched, the pace of the race to Baghdad and the fog of war erased many of those advances. Medical personnel struggled to operate in tents open to the dust and smoke of the battlefield, with instruments that were impossible to keep sterile, and blood-soaked sponges wrung out and re-used to conserve precious supplies.
The opening days of the war, from the perspective of an experienced Navy nurse, is what "Ruff's War" is all about.
The conditions Cdr. Cheryl Lynn Ruff encounters in Iraq are far beyond any of her previous Navy experiences despite her many years in uniform.
The Fleetwood, Pa., native joined the Navy as a seaman recruit in 1976 when she was 18 years old. She later chose to become a registered nurse, and is re-commissioned into the Navy as an ensign in 1983 as a nurse in the Navy Nurse Corps.
Ruff was preparing to retire on Aug. 1, 2003, when her unit got the call to deploy in January 2003.
Tapped to join the group en route to Kuwait, Ruff went through the same roller coaster most servicemembers experience.
"I felt a mixture of emotions: happy, sad, fearful, concerned and excited. I did not know precisely how to feel, and I had no idea what to expect."
Soon she was on her way to Kuwait, where she found out the hard way.
One of the strengths of this book is Ruff's ability to detail the sheer misery of "bare base" field conditions in the desert. Dealing with the heat, the dust storms, enduring stinking, unwashed clothes and bodies, makeshift "burn barrel" latrines, boredom, endless meals of MREs and tepid water that tastes like chlorine — too few civilians understand how the stress of war goes beyond the "bang bang," and descriptions like this help.
Finally, after weeks of living in the desert, loading, unloading, reloading, and inventorying their gear, Ruff and her Second Force Service Support Group's Bravo Surgical Company compatriots were dropped by C-130 transport onto a makeshift landing strip in the Iraqi desert near Al Diwaniyah.
There was no food, no water, no shelter.
Twelve hours later, in total darkness, the team was sent on a three-hour convoy through unsecured territory.
"It was the longest ride of my life, and for the first time, I felt I was in harm's way," Ruff writes.
No sooner did the unit set up its own field tents at "Camp Anderson" then it got its first casualty.
It was a young Marine, and he was dead.
"He was carried off in a tarp, not a body bag … I could see his light-brown hair. He could not have been more than nineteen years old."
At that moment, "it hit me," Ruff writes. "This was war. People were shooting at us, trying to kill us. This was medical triage like I had never seen it before."
Soon the medical team was up to its stethoscopes in major trauma cases, working to save lives under minimal cover and with minimal equipment. At night, surgeons had to operate using headlamps and flashlights.
The trauma team cared for all comers, whether they were U.S. military, civilians, enemy combatants or status unknown. One Iraqi who claims to be a civilian pharmacist turns out to be a three-star general in the Iraqi Republican Guard. Some cannot be saved, such as the Iraqi mother of a 10-year-old boy who brought a live grenade into his home.
Oddly, however, Ruff spends relatively little space discussing her principal job, which is serving as the anesthesia nurse in the operating room (or tent, as the case may be). Maybe it's too painful to recall — in which case, why write a book? Or maybe she somehow felt as if she would be violating her patients' privacy. Whatever the reason, it's a shame, because the stories she does tell are riveting.
"Ruff's War" has other flaws. Ruff's sense of what constitutes extreme hardship in the field might annoy servicemembers who have come under direct or indirect fire in Iraq, in particular her repeated characterization of a sandstorm her unit experiences in Kuwait as the "battlefield" her unit "survives."
Nevertheless, "Ruff's War" is valuable because it fills an important niche in the growing history of the U.S. involvement in Iraq.
At this point, the major battles that opened the war are well documented. What's still lacking, however, are the details — the tough, boring, stressful, funny, poignant day-to-day routines that ultimately put the human face on combat.
With any luck, "Ruff's War" is the kind of book that will convince more servicemembers to tell these stories.
---
---
---
---