Ridin' and ropin'
by
Ben Bloker
August 19, 2007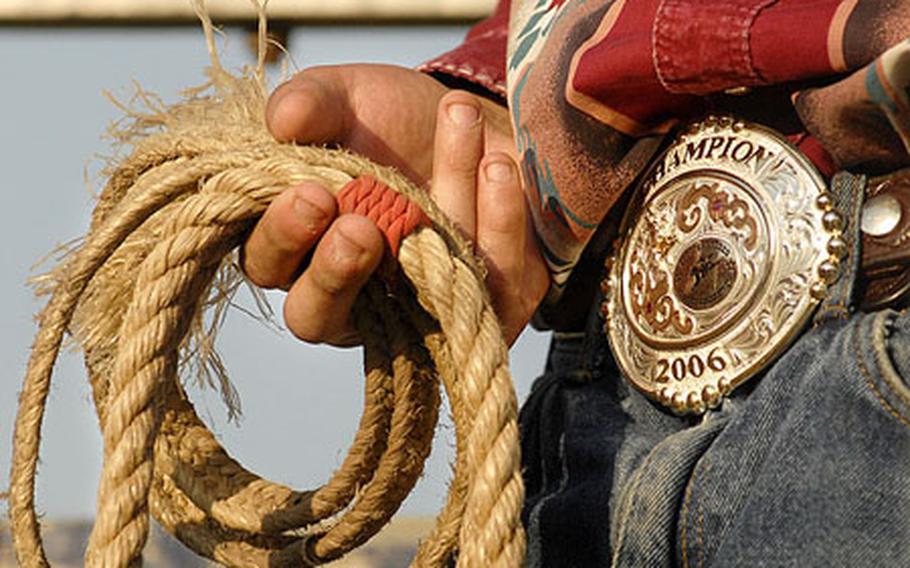 Scene, Sunday, August 19, 2007
From an outsider's perspective, being a rodeo cowboy looks like a job for tough guys only — especially after watching a Marlboro Man-looking rider getting tossed off a bull.
That couldn't be further from the truth.
Cowboys and cowgirls affiliated with the European Rodeo Cowboy Association range from rodeo veterans spanning generations to first-year-on-a-horse rookies who just want to give the sport a try.
Airman 1st Class Adam Shelby, an aircraft transportation specialist stationed at Ramstein Air Base, Germany, is the latter.
"I always wanted to do it," Shelby said during a Rodeo America event in Landstuhl, Germany, last month. "But my mom would never let me."
Now, away from his mom, Shelby is in his second year of riding with the ERCA. He is a bull rider.
"The first time I rode a bull I stayed on," said Shelby. So he decided to stick with it. And when the season ended, he placed second overall in bull riding.
After joining ERCA, all it takes to follow Shelby's example and "cowboy up" is some gear and a one-day clinic. Then you need the determination to go out and practice what you've learned.
And you won't have to do it on your own. Learning an event and succeeding in competition is spurred on by the close-knit feeling of this group of cowboy enthusiast.
"It's like a big family where everyone is looking out for one another," said Michelle Mitchell, a five-time all-around cowgirl champion and Hall of Legends inductee from Schweinfurt, Germany.
"With the ERCA, everybody is willing to help out."
The rodeo is a family affair for the Mitchells. Michelle was a seasoned rider before arriving in Europe with her husband, Justin, in 1998. In 2001, she started riding with Rodeo America, and Justin followed suit in 2002. Now their children have joined them.
"Our kids have grown up in it," said Michelle. Dani, 13, and Trent, 11, both ride in the rodeo competitively.
Rodeo America, the official organizers of German's only rodeo, provides venues, the arena and animals for ERCA events, including saddle bronc, bareback, break away roping, wild horse, barrel and rescue racing, pole bending, and the always popular bull riding.
Participants pay an annual membership fee — which includes insurance — and entry fees at the actual events. Running point totals are kept, leading to an end-of-season winners in several categories.
Weekend rodeo competitions typically run from April to October. However, this season started late due to adjustments the sponsors made to satisfy complaints that animal rights activists filed with German courts.
In order to get the season started — the Landstuhl rodeo was the first of the year — riders have had to adapt to bans on spurs and flanks. Spurs are used by riders to control the wild animals, and flank straps make horses and bulls buck. Riders who do not follow these rules are disqualified from competitions.
Getting involved:
For more information on rodeos in Europe, including information on how to get involved, a schedule of remaining dates and the European Rodeo Cowboy Association's policy on animal welfare, see the ERCA Web site at www.ercarodeo.com, or Rodeo America at www.rodeoamerica.de.