Retired colonel disputes adequacy of Korea evacuation plan
---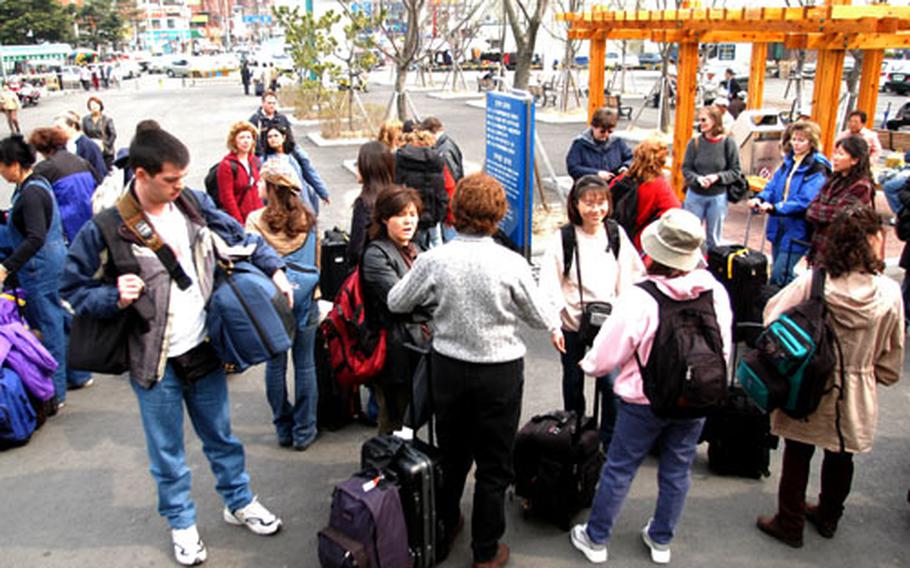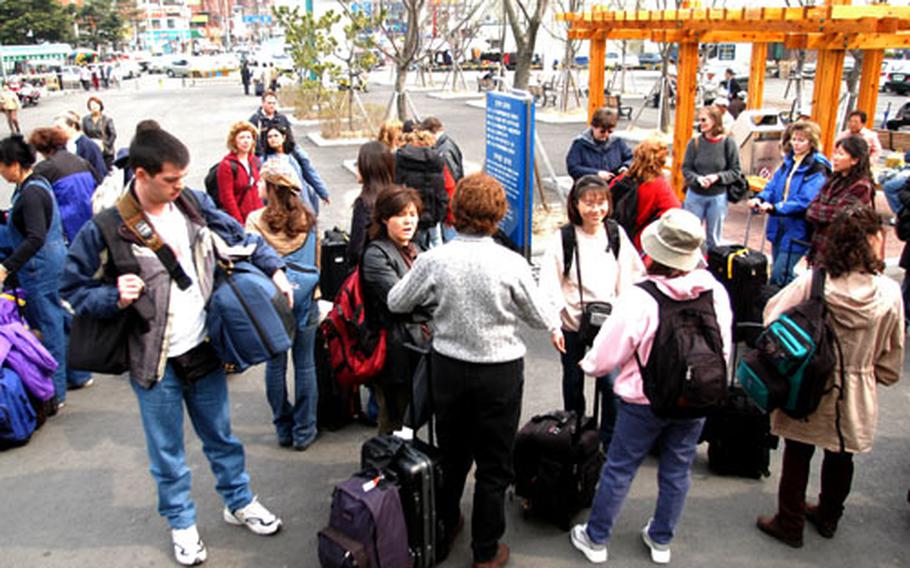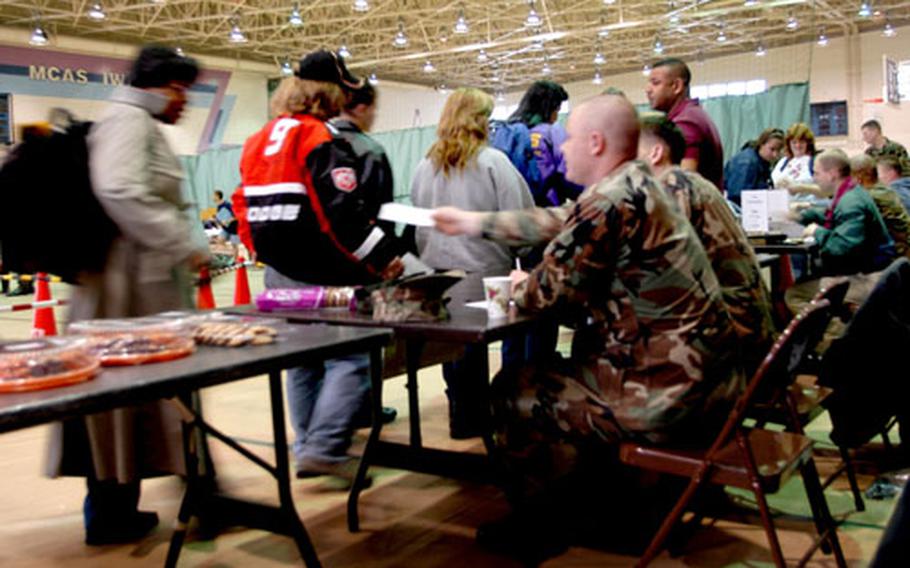 Gloria Kruenegel pays close attention to the news.
She lives with her husband, an active-duty airman at Osan Air Base, South Korea, where concertina wire rings the perimeter, Patriot missiles aiming north stand at the ready and aircraft scream overhead after leaving the runway.
Her home is less than 100 miles from the heavily fortified demilitarized zone. As the northernmost U.S. air base in South Korea, Osan likely is in North Korea's cross hairs. North Korea's recent missile testing and nuclear saber-rattling scare her.
She's not alone.
If the threat of war were imminent, Kruenegel would be among the 72,000 Americans whom the U.S. military would have to try to move out of harm's way, most likely through Japan on the way back to the United States.
Would she get out of Osan safely?
U.S. officials say yes. They have a plan for a Noncombatant Evacuation Operation — or NEO — to get all Americans off the peninsula in a timely fashion.
But one former 8th Army staffer — retired Army Lt. Col. George Amadio — says it's impossible to move that many people out of a hot zone.
Safety concerns
Amadio says he knows the evacuation system — and its limitations.
He spent 23 years on active and reserve duty, including five years in South Korea with the 2nd Infantry Division and 8th Army operation staff, including one tour with his family. He left Korea in 1992.
His argument is simple: The U.S. embassy says 12,000 Department of Defense noncombatant employees and an estimated 60,000 U.S. citizens are in South Korea. If war looms, the U.S. military simply could not get them out of Korea in time.
Millions of South Koreans fleeing south would gridlock roads, rails and ports, Amadio claims. U.S. military planes and ships would be needed to fight the world's fifth-largest military, not ferry civilians. That the U.S. military could evacuate them in time "is an impossibility," he told Stars and Stripes.
His prediction: Thousands of dead Americans. "Forget their cars, their household goods … we're talking about their lives now," he said.
But U.S. officials told Stripes they're confident their NEO plans — if ever needed — would work.
Col. Frank Harman, Joint Task Force Non-Combatant Evacuation Operation staff chief, said Amadio might not have "the full appreciation of the big picture and of things that have been done since he's left. We've considered the problem. We've developed a detailed plan. We rehearse that detailed plan on a regular basis and we refine that plan after every time we rehearse it. So we're constantly improving it."
A senior U.S. Embassy official also told Stripes, "We're confident that the NEO would get Americans out of harm's way and back home."
But Harman declined to answer the million-dollar question: How long would it take to get 72,000 noncombatants out of South Korea?
"We've got some good estimates and assumptions, but it's part of our classified-ops plan," Harman said, "so I really wouldn't want to talk about that."
Pull out now?
Amadio blasted the United States for not pulling its noncombatants from Korea before, as he put it, war turns it "into a holocaust."
"The main thing is to get them with some bags packed, get them on a plane," he said. "The concern is the little lead time you're going to have. … The North Korean troops are so forward-deployed that there would be no response time."
His views were published on DefenseWatch, the newsletter portion of a Web site (www.sftt.org/index.html) run by Soldiers For The Truth, a "grass-roots educational organization started by a small group of concerned veterans and citizens to inform the public, the Congress, and the media on the decline in readiness of our armed forces."
Amadio outlined a five-part solution for moving U.S. citizens from Korea, starting with immediately flying out military dependents and eventually evacuating U.S. dependents and civilians in other parts of South Korea.
"There are just too many people," he said. "It's a small city of Americans trying to leave the battle area going south … they'll just be part of the refugees fleeing south, just like 50 years ago."
A way out
"We'd use almost every available means of transportation to first relocate them and second to move them off the peninsula," Harman said of noncombatants.
That includes buses, trains and possibly military airlift to departure points in the south, primarily Taegu and Pusan. "As far as taking them off the peninsula, we would use military cargo aircraft, we would use commercial aircraft that would be contracted by the Department of State and then we would use commercial sealift, which would also be contracted by the Department of State," Harman said.
The flaw, Amadio said, is that North Korea's special operations force — which military analysts call the world's largest of its type — will close southern ports and bases. "I wish there were countries to the left and right, but with the water, there's nowhere to go," he said. "With all the special operations in the rear area, everyone will be sandwiched in the middle."
Harman said NEO planners consider such risks. "That's part of why we exercise," he said. "It's the whole thing of identifying and evaluating risk, mitigating that risk so that we can get the noncombatants off … so we go through that mental drill in pretty good detail.
"If it was a threat situation," he said, "one thing that we'd have to be very careful of is not to mix noncombatants with forces that would be used in the … fight. You don't want to have any situation where you've got noncombatants in military harm's way."
Harman also said NEO planners have analyzed moving people from the northern Area 1, home of the 2nd Infantry Division, to the south. "We understand where the friction and the choke-points are … we have mitigating plans to be able to move noncombatants in those situations," he said.
He also said he believes South Korean emergency planning would prevent the mass panic that could hamper U.S. evacuation efforts.
In a written statement to Stars and Stripes, Lt. Gen. Charles C. Campbell, 8th U.S. Army commander, said, "Having served in Korea in three different decades, I have seen continued progress in our planning, resources and training exercises involving NEO. We are trained, ready and resourced to conduct an NEO."
But, he said, "I don't see that mission happening any time soon. One of my main goals is to have families accompany as many servicemembers as we can support. When families are together, we not only provide stability in the family but also in the servicemember's unit. … which can only enhance our mission readiness."
NEO exercises
During the twice-yearly exercises, USFK practices running about 12,000 people through its evacuation-control centers. In the most recent drill, Air Force 1st Lt. Tammy Paul was in charge of the group from Area 5 — Osan Air Base and Camp Humphreys. "There weren't really many complaints," she said. "The Marines treated us great. They dug up sleeping bags and went out of their way to help."
Kruenegel has been an "evacuee" twice. The role players, about 100 in the latest exercise, get a free weekend "shopping" trip to Japan via military vessel, while the military gets to test its evacuation abilities. She volunteered to ease her mind about the NEO — and help the military perfect the process.
"If they had to do this without practice, who knows what the hell would happen," she said while sitting on the WestPac Express — a giant catamaran the Marine Corps leases to ferry troops. This is the first time the WestPac — which can carry 900 passengers comfortably, more than 2,000 in an emergency — was used in an NEO operation.
Kruenegel was among about 50 volunteers from across the peninsula who traveled via bus and train to board the catamaran in Pohang for the 14-hour journey to Iwakuni Marine Corps Air Station, Japan.
Sitting with her was Annette Schaefer, on her first NEO exercise. "I came because I thought it would be a good experience," she said. "I have kids, and with everything going on, I wanted to make sure I was prepared."
Just in case ...
Among the first tasks for military dependents and government employees after arriving in South Korea is collecting documents and supplies for an "NEO packet" and "NEO kit," just in case they're ordered to evacuate.Military officials say NEO packets should include, for each person:¶ Passport.¶ Identification card.¶ Birth certificate.¶ Shot records.¶ Insurance policies.¶ Financial records.¶ Powers of attorney.¶ Copies of the sponsor's orders.¶ Vehicle title.¶ Shipping records.¶ Household goods inventory.NEO kits contain the emergency supplies evacuees would need between processing and relocation. Military officials say those kits, kept in suitcases or knapsacks weighing no more than 66 pounds each, should include, for each person:¶ A three-day supply of lightweight, high-energy, ready-to-eat food.¶ Bottled water.¶ A 30-day supply of prescriptions.¶ Toiletries.¶ Clothing.¶ A transistor radio.¶ A flashlight.¶ Extra batteries for the flashlight and radio.¶ For families with infants, a three-day supply of baby formula, diapers and infant-hygiene items.¶ At least $100 and 30,000 won in cash, for contingencies.¶ Gas masks. Within 30 days of arrival in South Korea, each family member should receive a gas mask, which comes in models to fit infants, children ages 3 to 6, adults and adults with medical problems. Officials conduct bi-annual drills that show people how to use the masks.
— Stars and Stripes
---
---
---
---