'Red mist and dust everywhere'
---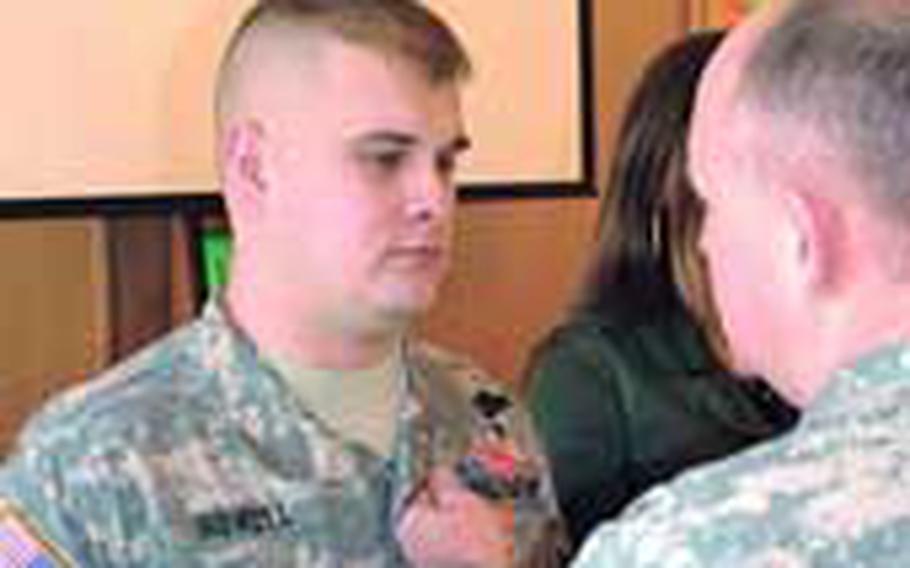 Red mist and dust filled the air in an Iraqi shop where Staff Sgt. Frederick Rowell and his weapons squad took cover from enemy fire in southern Baghdad on Sept. 11, 2007.
The soldier with Company E, 2nd Squadron, 2nd Stryker Cavalry Regiment had been blown off his feet by an explosion. Deafened by the blast, he struggled to his feet and tried to figure out what had happened.
Hours earlier, Rowell and his men set out on a routine foot patrol out of Combat Outpost Blackfoot in Baghdad's Hadar neighborhood, at the time one of al-Qaida in Iraq's last strongholds in the Iraqi capital.
But the Eagle Company soldiers soon found themselves on a stakeout, occupying two observation posts hidden in abandoned Iraqi homes, Rowell, 29, of Pensacola, Fla., recalled.
"We could overlook this main road and see trucks convoy in with people and boxes and stuff and come out with nothing," he said.
The soldiers from Rowell's squad set up their outpost early in the morning on the roof of a building, then moved inside after sunup, he said.
"Our mission was not to be seen, just observe," he said.
As a protective measure, the soldiers barricaded the door of a downstairs shop, something that Rowell believes may have given away their position to insurgents.
"Around 10 a.m. a guy on another roof started shooting at my 240 (machine gun) gunner. We returned fire and killed the shooter. Then OP 1 (the other observation post) described three men with AK-47s southeast of us in an ally but they couldn't engage," Rowell said.
Soon his squad was taking fire from all directions. A decision was made to move all of the soldiers to OP 1, he said.
The squad threw out a smoke grenade to obscure their movement and prepared to exit the building. But as the first soldier stepped through the door there was a mighty crack.
Pfc. Jonathan Pruziner had stepped on a plastic bottle full of homemade explosives placed in the doorway. The blast blew him into the street and severed his leg.
Meanwhile, Rowell, deafened by the explosion, tried to work out what happened.
"I thought it was an RPG [rocket-propelled grenade]. I woke up on my back and there was red mist and dust everywhere. I couldn't hear to save my life and it was so dusty I couldn't see in the street," he said.
Enemy gunfire targeted the doorway but Rowell ran through it and dragged Pruziner back inside to a medic, then went back out and recovered the man's missing leg.
Third Platoon leader 1st Lt. Christopher Turner called for Apache attack helicopters to fire missiles on the enemy positions.
Rowell used another smoke grenade to mark his position as friendly while the rest of the squad laid down suppressing fire.
Soon, a quick-reaction force of Stryker armored personnel carriers showed up. Rowell ran into the street again and showed the vehicle gunners where the enemy was firing from. He got one of the Strykers to pull up to the building where his squad was so Pruziner could be evacuated to a combat hospital.
On the way back to the hospital, Rowell manned a roof gun in one of the Strykers and fired on the enemy.
During a ceremony in Vilseck last month, Rowell received a Bronze Star with "V" device his actions in the battle. It was his second valor award. He received a Silver Star after being shot several times during the battle to secure Baghdad International Airport in 2003.
Brig. Gen. David R. Hogg, chief of Joint Multinational Training Command, who presented the medal, praised Rowell, who "moved out under fire, took charge of the situation and organized the evacuation of his soldiers," he said.
In accepting his Bronze Star, Rowell — who is recovering at the Vilseck Warrior Transition Unit and fighting to stay in the Army despite long-term injuries sustained during the battle in Baghdad — was humble.
"Everybody does the same thing I did. I've seen it a million times. I've seen a civilian do it in combat. The other guys who were with me that day deserve it as much as me," he said.
Staff Sgt. Frederick Rowell
Unit: Company E, 2nd Squadron, 2nd Stryker Cavalry Regiment
Medal: Bronze Star with "V"
Earned: Sept. 11, 2007, Baghdad
---
---
---
---