'Red Dead Redemption': West is truly wild
by
Brian Bowers
June 6, 2010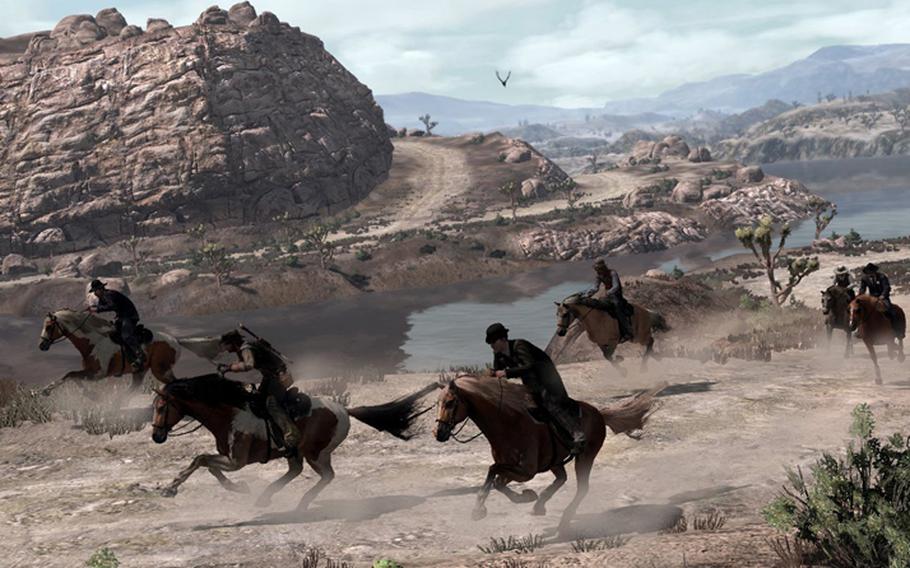 All cowboys know the Wild West offers the good, the bad and the ugly.
You can determine which category you prefer in "Red Dead Redemption." The M-rated Western adventure comes from Rockstar Games, the people who perfected the open-world genre in their "Grand Theft Auto" series.
You play as John Marston, a former gang member who's been pressured into tracking his one-time compadres. You roam a huge patch of the Old West, exploring the settlements, homesteads and hideouts and meeting people who need your assistance.
During your travels, you can decide whether to be a scoundrel or a savior. You can help the local marshal round up cattle rustlers or search for folks who've run afoul of bandits — or cannibals. With each action, you can earn honor and often a bit of cash. On the other hand, you can make the badlands truly bad by gunning down the locals, robbing a bank or tying a woman to the railroad tracks. However, you'll quickly end up with a bounty on your head, a bad situation in an area where nearly everyone has a six gun and an itchy trigger finger.
The ugly part of the Old West comes across in some of the varmints you'll encounter. Desperados, drunks, dimwits and dirtballs fill the towns and countryside. However, they can make conversation highly entertaining.
No matter which path you pursue, you'll end up exploring a large world filled with interesting activities and challenges. The primary missions are well designed and very fun. Side quests vary in size and complexity. You might simply rescue a man from wolves or you might trek back and forth across the countryside rounding up items as part of a larger quest. You can also indulge in a variety of frivolous diversions: shooting birds from a train, playing "five finger fillet" with a knife and your own fingers or watching early versions of motion pictures.
The controls are generally pretty good, although you do need to be very careful when approaching nonplayer characters on horseback. An ill-timed bump can turn a friendly encounter into a nasty situation. Similar problems can arise from the fact that it's sometimes hard to distinguish friend from foe when bullets start flying.
The graphics are very impressive. The character renderings and animations are very realistic and the environments are loaded with detail and texture. The towns are filled with wood buildings that have been blasted by arid winds. The dusty scrublands, open plains and snowy highlands are filled with suitable vegetation and wildlife. Visual glitches do pop up but are relatively rare.
The game earns its M rating for violence, very strong language and a brief sex scene involving nonplayer characters.
In addition to the single-player story mode, the game also offers an online world where up to 16 players can roam the open range to see what pops up. They can cooperate to form a posse and confront a gang or they can split up and engage in a massive shootout.
Across all of its modes, "Red Dead Redemption" delivers plenty of action in a fascinating, multilayered world. It's definitely the best Western-themed game available.
Platforms: Xbox 360 (tested), PlayStation 3
On the Web: www.rockstargames.com/reddeadredemption/
---
---
---
---