Rapper Flo Rida won't follow Kanye West's lead
by
David J. Carter
October 1, 2009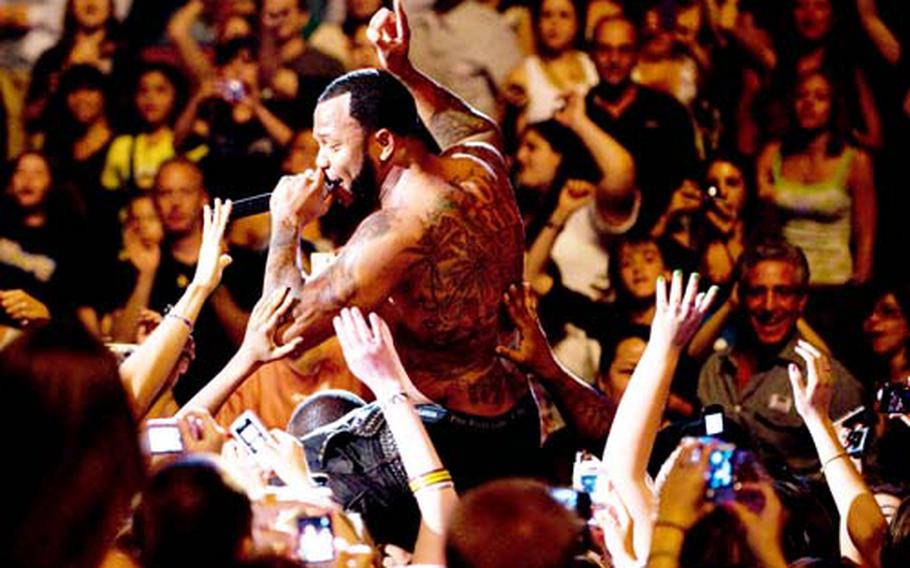 Miami rapper Flo Rida said he has no immediate plans to publicly proclaim Beyonce's dominance over female country artist Taylor Swift.
"Much love to them both," he said Monday during a visit to the Tokyo-area Yokosuka Naval Base to put on a show.
The multiplatinum recording artist just wrapped up a tour in Australia with Beyonce. During the MTV Video Music Awards on Sept. 13, singer Kanye West interrupted Swift's acceptance speech for Best Female Video by grabbing her microphone and declaring that Beyonce "had one of the best videos of all time."
Yokosuka was Flo Rida's third performance at a military base in the past week, having already performed at Camp Zama and Naval Air Facility Atsugi.
"To come here and support the Navy is definitely great. The hospitality has been great, every bit of it," he said. "I feel that if you guys can give us support against countries and things like that … I can come out and show some love as well."
According to the rapper's official Web site, his 2009 hit "Right Round" shattered the one-week digital sales record with 636,000 copies in the first week of its release.
Flo Rida attributes his motivation and success thus far to his passion for music.
"I love what I do. I've been doing it for a long time and I'm very successful at it," he said. "It's a job, but at the same time it puts a smile on people's faces … it's great to be in my shoes."