Ramstein bazaar brings back memories
by
Lisa Horn
October 7, 2003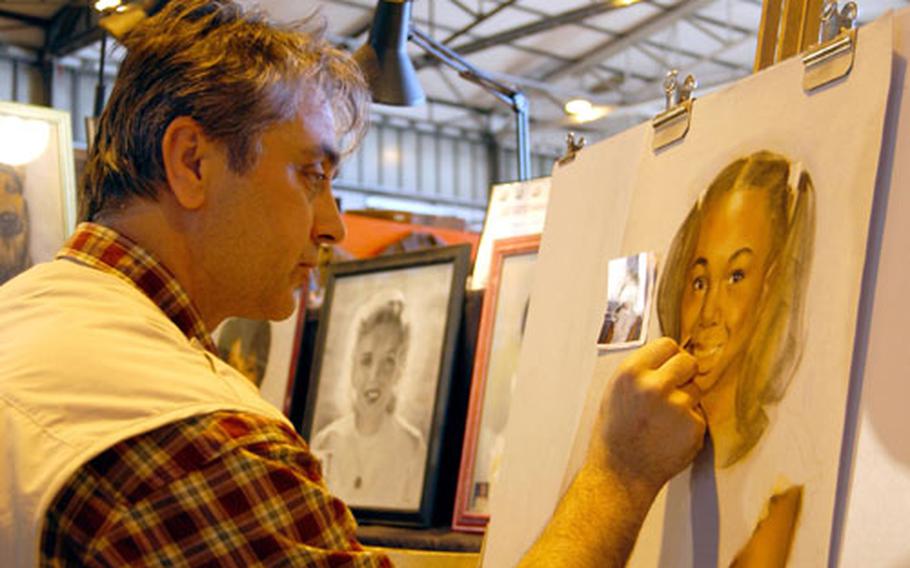 RAMSTEIN AIR BASE, Germany — Each year, the 86th Services Ramstein Welfare Bazaar brings the world to the shopping bags of eager buyers and thousands of dollars to the Kaiserslautern military community.
And it keeps getting bigger.
"The entire world is represented through the different products that the [vendors] sell," said Lynn Moore, secretary of the bazaar's command post and a member of the Ramstein Officers' Spouses Club, which produces the event.
The first Ramstein bazaar, which took place 40 years ago, had 10 volunteers and 63 vendors. This year, more than 160 vendors, some hailing from as far away as Australia and as close as Stuttgart, Germany, set up shop last month in two hangars and a tent along Ramstein's flight line.
Karl Scheffel, a watercolor artist, remembers Ramstein Bazaar's humble beginnings.
"My first bazaar was in [Stuttgart's] Patch Barracks' [gym] in 1963, 40 years ago," Scheffel said. "And the gym was only a few rooms, like a school."
Not only do shoppers benefit from having the world at their feet, but the community also reaps rewards. For example, the 2002 Ramstein bazaar netted $299,179.83 in profits. That money went to scholarships; the Fisher House, which provides accommodations to families of servicemembers and civilians being treated at Landstuhl Regional Medical Center; schools; and Scout groups, among other groups and causes.
Each year, new merchants join veteran vendors to sell items from their particular countries: Bohemian crystal, Persian rugs, Polish pottery, Steiff stuffed animals and antique English barrister bookcases, among other items.
Servicemembers, civilians and their families who know of the treasures to be found, return to the bazaar year after year.
"I come back just because there are crafts from all over Europe and it's a good place to get them all centralized," said Ann Kash, whose husband is stationed at Ramstein.
Shopping at Ramstein and other bazaars can augment shopping trips to off-base German Christmas markets, Moore said.
"I think this is a wonderful place to begin," she said of the bazaars. "I think it's a wider variety than the Christmas markets, but certainly a different atmosphere. I wouldn't choose one over the other. I think both have their own place.
"The Christmas market, to me, is more a cultural event than a shopping event. This [holiday bazaar] is a shopping extravaganza."
The "extravaganza" is not women's territory anymore, either. There are more male shoppers in the ranks, many of whom are servicemembers eager to send gifts home. First Lt. Clay Nichols, stationed at Ramstein, said he has lots of shopping to catch up on.
"I haven't sent much stuff [home], but … my main objective in coming here today," Nichols said, "was to get a lot of souvenirs and get some Christmas shopping done. I definitely enjoy shopping and spending some of that hard-earned [cost of living allowance]."
---
---
---