Putting Oktoberfest brews to the test
by
Charlie Coon
September 11, 2005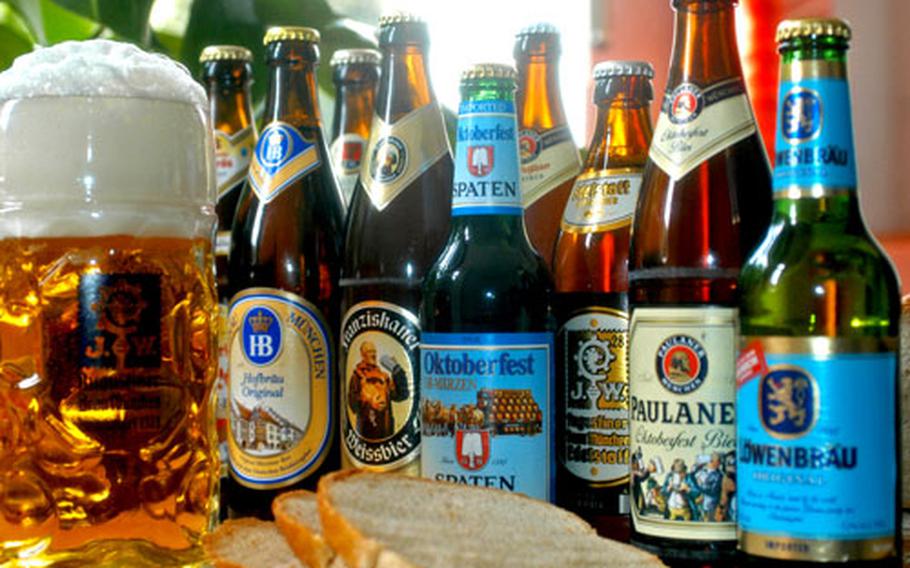 Experiencing the best of Oktoberfest is not easy. So many beer tents, so little time.
As a public service, I am about to conduct a "beer tasting" of most of the beers to be served this year at the famous fest in Munich, Germany, which begins Saturday.
This is not to be confused with a "beer drinking." It is intended to help you make educated choices when stumbling from tent to tent and trying to decide which is the best for spending the evening.
A beer tasting - in which the taster analyzes small mouthfuls to judge a beer's subtler characteristics - is something everyone should do at least once a day. I mean, once in a lifetime, like going to Oktoberfest. It's the Mecca of beer-drinking, even though they don't drink beer in Mecca.
Discerning between beers is not easy, and here's why. German beers are governed by the Germany Purity Law of 1516, called Reinheitsgebot, which reads:
"Nothing is to be added to or used in beer other than barley, hops and water. Whosoever knowingly disobeys this decree will be severely punished by the court having jurisdiction over him by having his barrel of beer confiscated whenever this offense occurs."
The point is that since German beers are restricted in their ingredients, they taste similar. German brewers don't mess around with berries and nuts, as do many American micro-brews. And German brews don't taste like water, like so many American macro-brews.
For the beer snobs out there, don't get excited. While many German beers might be similar, they aren't identical. Some are darker and some lighter, some are wheat and some lager, some are rich-tasting and some are mellow. But they're all just barley, hops and water if they fall under the law.
Since this is my first beer tasting, I tried to learn how to taste beer by checking the Internet for tips. This was one of the first things I came across:
Michael Jackson (the beer expert, not the singer) said this about Olde Suffolk, brewed by Greene King in England - "This ale has the richness of a fruit cake, and develops suggestions of straw and iron while aging in the ceiling-high tuns, typically for between one and three years … Oaky, winey, chocolatey, sweet-and-sour, with notes of passion fruit."
Say what?!?
I prefer to be more philosophical about beer, like Plato, who said: "He was a wise man who invented beer."
I finally found a Web site called www.justhereforthebeer.com and went to its beer glossary. Turns out there are a bunch of ways to judge beer. Hoppy. Head retention. Harshness. And those are just the H's.
I decided to stick with five categories that anyone can relate to: Appearance, aroma, start, mouthfeel and finish. I changed the names to look, smell, first impression, slosh in the mouth and aftertaste.
So without further ado, here is how the beers to be served at Oktoberfest 2005 stack up against one another, at least the ones I could find at the Shoppette and at my local beer store. I hope you find it helpful.
But if you think I'm pouring the rest of the beer down the drain after tasting just a little bit, you're crazy.
Oktoberfest test Löwenbräu
Looks: Fizzy head that disappeared quickly. Sparkly yellow-golden color, like urine when you're dehydrated.
Smell: Day-after-the-kegger stench. Open the windows.
First impression: Hit the mouth like water. I'm worried.
Slosh in the mouth: Bland, no burst of flavor. Tastes like something you'd get in the States.
Aftertaste: Not unpleasant, but the taste just goes away.
Taster's note: Frankly, I'm a little suspicious. I had to buy this at the Shoppette on one of the bases, and even though the label says, "Löwenbräu," and "Imported from Munich, Germany," I happen to know that Labatt brews the North American version. I'm not sure if this is the Canadian or German version of Löwenbräu. Maybe the AAFES people could clear this up. The stuff I drank at last year's Oktoberfest tasted better. Maybe it was the music, the dirndls, and that you can stick your whole face right into the big mug.
Paulaner Oktoberfest
Looks: Another good, billowing head. Yellow-gold but not neon like the Löwenbräu. More like the color of a box of Bayer aspirins.
Smell: Smells like nothing. Maybe I'm starting to smell like beer, and we're canceling out each other. One thing about Oktoberfest, the beer halls will smell like beer.
First impression: Hoped for an explosion, but more like a dud. (Insert own joke here.)
Slosh in the mouth: If this beer were any more dull, I'd pour it out the window. But that's also illegal under the German Purity Law of 1516.
Aftertaste: At 6.0 percent alcohol, it's more like an after-buzz. I really think the best use for this beer is getting drunk. Practically no taste but high alcohol.
Augustiner
Looks: Creamy, long-lasting head. Yellow-gold but more pale than the Löwenbräu. Time for a piece of bread to clean up the previous aftertaste.
Smell: Sharp but not overpowering, clean but not weak. We're onto something.
First impression: Computer's acting weird. Gotta re-boot.
Slosh in the mouth: Delicious, middle-of- the-road lager. Rich enough to elevate it above the suspect Löwenbräu. Lightly toasted taste reminds me of a farmer's barley field after it's been fertilized.
Aftertaste: This is a beer I could get to know better. Flavorful enough to enjoy, light enough to chug.
Spaten Oktoberfest ur-Marzen
Looks: Copper-colored, almost orange, like someone who's been spending too much time in the tanning booth. Head didn't last very long. Again, a Shoppette- bought beer.
Smell: Like air. I mean, no smell at all.
First impression: Rich in flavor, smooth and silky, like being gagged with a satin sheet - not that that's ever happened to me.
Slosh in the mouth: Terrific foamy feel and caramel-like flavor that wakes up the taste buds.
Aftertaste: Burrrrppp!
Hofbräu München Weissbier
Looks: Cloudy with a frothy top. I don't know if they serve this one at the Oktoberfest, but last night I accidentally drank my bottle of Münchener Hofbräu, which they do serve. If you can't find it at Oktoberfest, then try downtown Munich at the world famous Hofbräu- haus.
Smell: Different than lager, of course. Wheat beer has a more earthy smell, like mushrooms in a cave.
First impression: The foam and breadlike taste are smooth and light, like it was made at a bakery. Hits the pallet gently, like cheesecake.
Slosh in the mouth: Tastes like carbohydrates. This one could really pack on the pounds. Very subtle for a Hefeweizen. Would taste good while sitting under an umbrella, checking out the babes.
Aftertaste: On the pallet, it's oaky, winey, chocolatey, sweet-and-sour, with notes of passion fruit.
Spaten-Franziskaner Weissbier
Looks: There's a monk on the label raising a big mug of beer to his smiling face, with his other hand resting on his big fat belly.
Smell: Musty but sweet. Again, the wheat beers are the cloudy cousins of traditional lagers.
First impression: Even lighter than the Hofbräu, and positively delicious. Maybe there is something about the Munich Hefeweizens. These don't attack the taste buds like others I've had.
Slosh in the mouth: Like ocean waves. Light on the tongue, with flavors that probe but don't attack. Feels like another hi-carb belly-buster, where drinking a bottle is like eating a sandwich.
Aftertaste: To be honest, beer-tasting isn't as much fun as beer-drinking. It's like taking notes during sex. (Ex., "Position X causes my right calf to cramp.")
So just enjoy the beer, but most of all, enjoy Oktoberfest.
- Charlie Coon