Programs help servicemembers become officers
---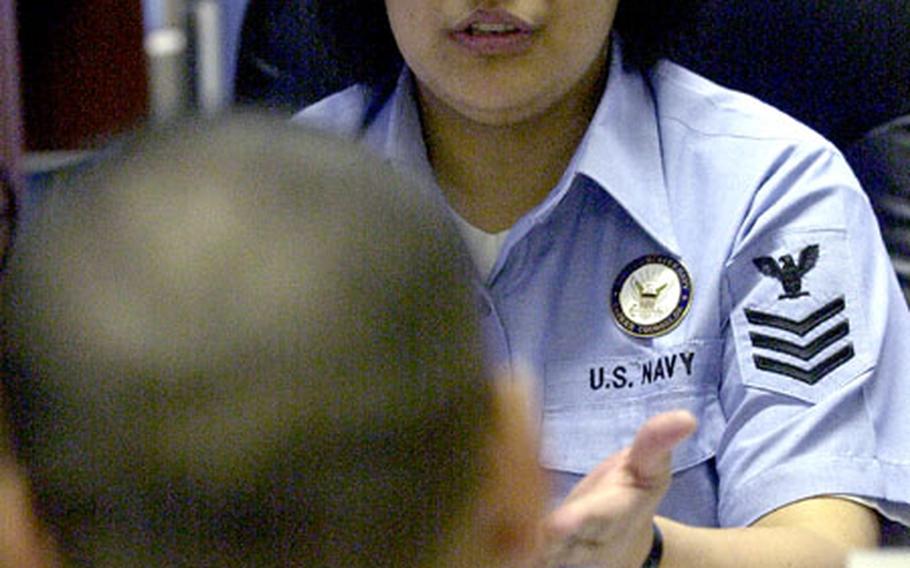 Airman Kerri Ackman cleans up after junior officers in staterooms aboard the USS Blue Ridge now, but if she has things her way, she'll soon have a stateroom of her own.
The 19-year-old photographer's mate is taking advantage of the 85 seats the Naval Academy sets aside for enlisted sailors each year.
"I filled out a preliminary application to the Naval Academy before I joined the Navy" in September 2001, she said. "But I decided to go ahead and go in and see more about what the Navy was like."
After completing her technical training and reporting to the Blue Ridge, Ackman decided she wanted to become a helicopter pilot. She submitted her application again and received her candidacy number in January, meaning she is in the running for a seat this summer.
So working in officer staterooms is giving her some insight into what to emulate — and not emulate — about officers.
"I can see what young officers can do. I see the difference," she said. "But I also see some of them are messy. That's one thing I'm not going to be."
From grunts to generals?
Ackman's lucky break is only one of dozens of programs geared at finding talented leaders in the enlisted ranks. Each service has programs aimed at turning their servicemembers from grunts to generals.
According to Chief Petty Officer Dave Tucker, a command career counselor at Yokosuka Naval Base, Japan, the Navy offers more opportunities than any other service.
"And that's because most other services have age requirements that keep people out," he said. "But nobody can keep you from becoming an officer. There are just too many programs out there. The only way you can not have a chance at becoming an officer is if you're too lazy to try."
These programs are invaluable for filling voids, said Deborah Burgess-Allen, an academic adviser at Yokota Air Base's Base Training and Education Services Flight.
"They allow enlisted personnel to fill the most crucial needs of the Air Force, which are your technical areas like mathematics, physics, computer science, nursing and certain foreign languages," she said.
ROTC
The Air Force sports several programs, most aimed at airmen joining a Reserve Officers' Training Corps program. In all except one program, airmen are separated from the Air Force. The Airman ROTC Education and Commissioning Program retains the airmen, having them administratively assigned to an Air Force ROTC detachment. In this program, their job is to go to school full-time. In addition to full pay and benefits, AECP cadets are provided with a tuition/fees scholarship of up to $15,000 per year and an annual $510 textbook allowance. Students may not pay the difference to attend more costly schools.
Allen said the Air Force is looking mainly for people pursuing technical degrees.
"Biggest things keeping people from applying are the requirements for technical degrees," Allen said. "It's still open to all majors, except now technical backgrounds get a higher priority. That's not to say they won't be selected, but there's such a demand for technical applicants."
This scholarship will be awarded for two to four years. Without the scholarship, students will be responsible to pay their own way through college, but will receive the stipend as part of their time in ROTC.
The Army has similar programs, according to the service's www.goarmy.com Web site. According to Army Master Sgt. Donald Ervin of U.S. Army Japan, soldiers deal directly with selection boards, only getting their start in the process from his office.
The Army's ROTC Green to Gold Program provides soldiers an opportunity to complete their degree requirements and obtain a commission through an ROTC scholarship program. Soldiers can apply for a scholarship, nonscholarship or nursing option. Soldiers with officer potential, who have served at least two years on active duty, are allowed to voluntarily request discharge from active duty to enroll in Army ROTC. Upon completing the program, they can earn degrees and commissions as second lieutenants.
The Navy also has an ROTC option. According to Naval instructions, sailors also get the heave-ho from the active service in exchange for a scholarship that covers books, tuition, uniforms and a $200 monthly stipend. Room and board is not provided. Besides attending school full time, students have to complete Naval science courses as part of an ROTC unit.
Officer Candidate School
Like the 1982 Richard Gere film, "An Officer and a Gentleman," officer candidate school, or OCS, is a boot camp for college graduates bucking to become officers. Here, both prior enlisted and new college graduates from the civilian world merge together to take a crash course in leadership.
"OCS is tough," said Petty Officer 1st Class Shelley Breedlove, a Navy career counselor at Yokosuka.
The services employ a great amount of stress on candidates, crunching academics, military discipline and physical training into as little as three months. In the Navy, Marine Corps drill instructors and chief petty officers harangue officer wannabes.
Speaking of Marines, once selectees to the Marine Corps' Enlisted Commissioning Program complete school, they go through a 10-week course at Quantico, Va., before heading off to The Basic School and any other follow-on training to become second lieutenants in the Marines, according to a Marine Corps instruction on the program.
Like officer candidate school in the other services, the Air Force has what they call Officer Training School, a 12-week school at Maxwell Air Force Base, Ala., that allows enlisted airmen, and civilians, with bachelor's degrees or higher to earn a commission. This program is aimed at more critical skills for the Air Force, such as pilots, navigators and air war battle managers.
Candidates must either be a graduate of a regionally accredited college or university or a college senior who is available to depart for training within 270 days if a servicemember; 365 days for non-prior military service.
Warrant officers
Servicemembers can also go the warrant officer route. Long heralded as the technical specialists of the services, warrants do everything from pilot helicopters and investigate crimes as special agents for the Army's Criminal Investigation Command, to being division officers aboard Navy ships.
Naval "warrant officers are the experts," Breedlove said. "Their job is to not only be technical experts, but also be people experts. They've been around the Navy long enough to garner respect and credibility."
Warrant officers, according to Nicholson, "are as respected as our other officers. The reason one might go that route is because you deal more with the enlisted side," she said. "You can also stay in the job field you had. They are a little more respected on that part, especially with their knowledge."
But requirements vary according to service. The Army, for example, requires a waiver for soldiers with more than 12 years in to apply to become warrants, according to the Army's warrant officer recruiting Web site, www.usarec.army.mil/hq/warrant.
The site explains that, following a six-week school at Fort Rucker, Ala., most newly minted warrants attend the Warrant Officer Basic Course and other follow-on training before their first assignments.
The Air Force discontinued its warrant officer program in the 1980s. The last Air Force warrant retired from active duty in 1992.
Beside warrant officers, the Navy also employs what they term "limited duty officers" — senior enlisted sailors who gain a commission, but work only in certain speciality areas, like administration or communications. Tucker said it's one of the more popular programs because there is no age limit. Sailors need only be at least a chief petty officer, or a petty officer first class who's passed the chief petty officer exam and is considered "board eligible," to become a chief. LDO does, however, have its drawbacks. Several ratings are in competition for very generalized areas, he said.
"For my rating as a Navy counselor, I would have to become an admin officer," he said. "And I don't want to be an admin officer."
On your merits
Some programs overlook rigid requirements and trust a commander's call on whether a servicemember has the stuff to become an officer.
The Air Force's Scholarships for Outstanding Airmen to ROTC (SOAR) program allows commanders to recommend airmen to attend its ROTC scholarship programs while pursuing any major they choose. The selectees here are chosen at the Pacific Air Forces level, Allen said, adding that the airman's wing commander has to sign off on the recommendation.
"This is a new program," she said. "PACAF only has five slots a year to use."
Two of those, she said, went to airmen from Yokota in February.
The Marine Corps has the Meritorious Commissioning Program, which allows commanding officers to recognize worthy Marines who don't have bachelor's degrees by nominating them to attend OCS and earn a commission, according to Marine Staff Sgt. Tracey Nicholson, a career planner at Marine Corps Air Station Iwakuni, Japan. Marines must have either an associate's degree or have completed at least 75 semester hours at a regionally accredited school. For exceptional candidates, that's waiverable down to 60 semester hours, she said.
While it's not required, Marines are expected to complete a four-year degree in order to remain competitive, according to the instruction covering the program. Marines with degrees are not eligible for this program.
The 'whole person' concept
Allen said the Air Force employs the "whole person concept" when it comes to choosing its candidates.
"They take a look at everything about the person — their degree, their service record," she said. "Everything counts."
She estimated it takes about six months to get a package together.
"All documents are considered. We have to have official transcripts, commanders have to do their bullet statements. We also have to work closely with schools, deal with financial plans, school schedules, acceptance to the school," she said. "Make sure they plan ahead to prepare the best package they can. The number one reason for ineligible applicants is incomplete packages. It's not one of those processes you can wait on because of the number of documents involved with getting a package together."
"I can give them everything they need to go through the program," Nicholson said, "but if they want to make it, they have to take those first steps."
That was the sentiment throughout all the services. While each branch has Web sites, application packages and experienced people to guide applicants through the process, it's up to the servicemember to keep up the momentum.
"If you want to be an officer, you'll make sure everything is correct. I mainly stay on the enlisted side, helping Marines with programs like becoming a drill instructor," Nicholson said. The Marines trying to become officers, she added, "don't have a problem with it. Part of the process, I think, is to see if they can do their own paperwork. That's the motto: If you can't find the answer, then we don't need you to be an officer."
The one thing all these programs are looking for is someone with a never-say-die attitude, Breedlove said.
"If you apply once, keep applying," she said. "The worst thing you can do is apply once, then give up."
How to move up ...
For a guide to the programs available to enlisted servicemembers looking for a commission, click here.
---
---
---
---