Pricey Stuttgart restaurant gives diners their space
---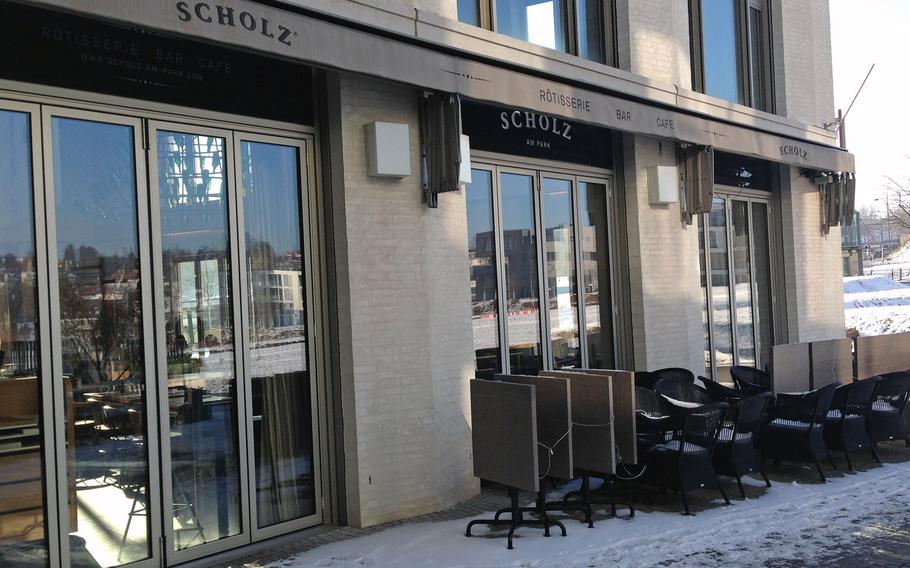 For commuters making the daily jaunt between Robinson Barracks and Patch Barracks in Stuttgart, the corner at Killesberg Park is all too familiar.
Rounding the city's north side, you catch a view of the bright white collection of buildings, part of a redevelopment project completed just a few years ago. To me, it stands as a sort of ode to Stuttgart snootiness.
At least that's how I see the neighborhood, which is a mix of upscale apartments and shops that appeal to a class to which I don't belong. There's the fancy furniture store that sells couches for the price of my annual salary. The obligatory natural foods shop. Men with peach-colored silk scarves wandering about. They do yoga here.
And then there's the neighborhood restaurant, Scholz am Park. During visits to Killesberg, perhaps the nicest of several large parks in Stuttgart, I've stopped at Scholz many times. Why? I don't really know. The food is solid, the menu a diverse blend of continental fare that includes main courses like grilled steak, mussels in a wine sauce, rotisserie chicken and pasta. The bar is fully stocked for the cocktail of your choice.
But it is overpriced. The service is fine, but not exceptional. The clientele is what you would expect: stiff.
And yet I often seem to end up here, for brunch, lunch and dinner. There was one hiatus after my toddler son threw a bowl across the room, shattering the civilized calm and generating disapproving scowls.
But eventually I went back. I think it's the breathing room. The ceiling must be 50 feet high. The seating arrangements are respectful of personal space, with plenty of wiggle room between tables. The people might be a little uptight, but you don't have to get close.
On recent visit for lunch I had a generous slice of quiche and a Coke. It was 10 euros (about $11). A bit much, but it was rather good. And no one was sitting next to me.
---
---
---
---