Prague: Christmas markets glow with old-world charm
by
Julie O'Shea
December 8, 2010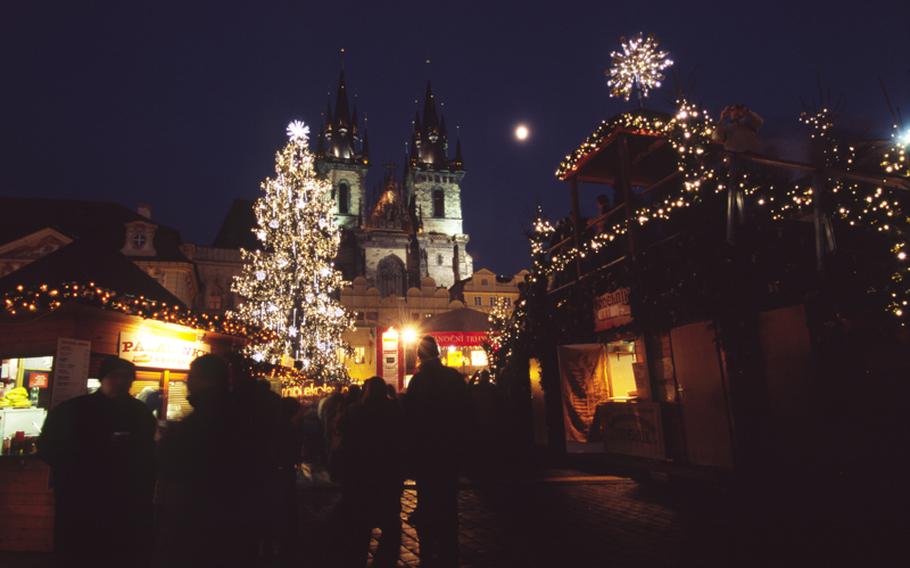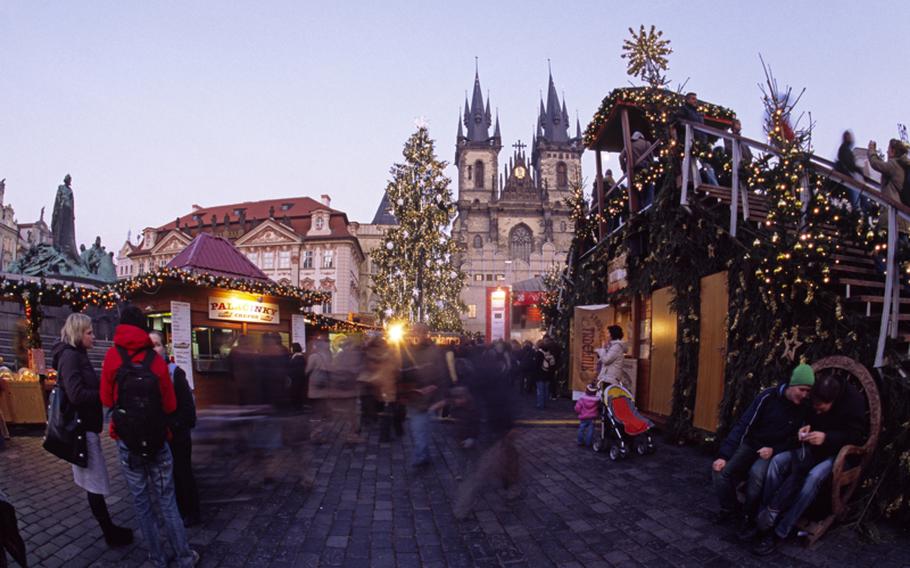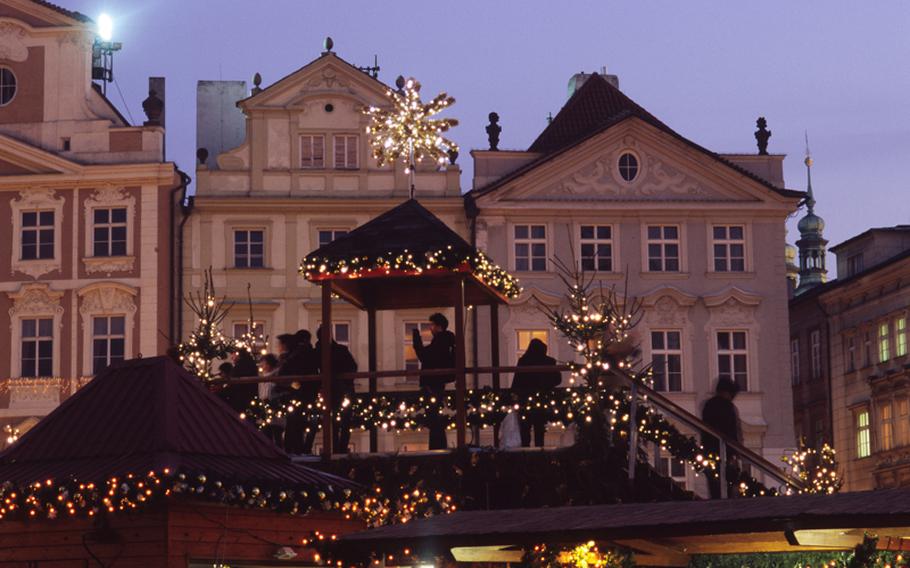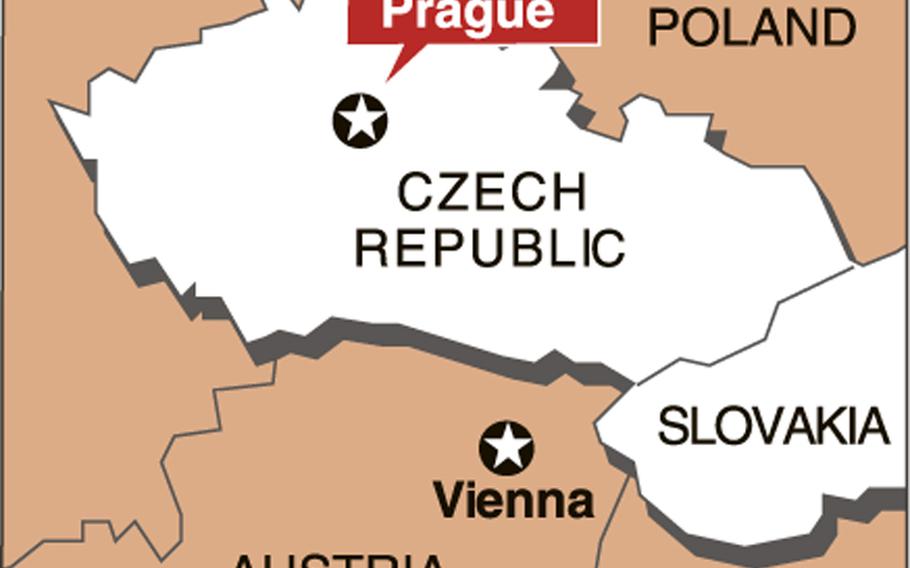 The Christmas market amid the medieval splendor of Prague's Old Town Square shows the old city at its glittering best.
The Czech capital's main Christmas village is a scene from the past: Rows of little red-roofed huts hawking gifts of embroidered lace, Bohemian crystal and wooden toys; holly-trimmed horse-drawn carriages awaiting passengers; rosy-cheeked carolers singing amid roasting chestnuts; and, if forecasters are right, lots and lots of snow.
The market, which runs until Jan. 2, annually draws thousands of visitors, who come not just for the magical atmosphere but also to enjoy the savory delights of a typical Czech holiday season.
On offer is a wide variety of meat (kebab, sausages and pork fresh off the spit), spicy mulled wine (svarak) and plenty of that world-famous Czech beer. Also on the must-try list is a glorious (fatty, sticky, but oh-so-good) doughy roll called trdelnik, a traditional Czech pastry smothered in cinnamon and sugar and served hot at booths scattered throughout the city's numerous markets.
"I love the big Christmas tree in the Old Town and how the tree and lights against Tyn Church make the Old Town Square seem even more magical," says Jennifer Granger, a nurse who spent two years in Prague before recently returning to the States. "I especially love the sweet treats and the hot wine that make it nice and cozy to be outside when it's really cold out."
Indeed, for many tourist-weary Praguers, it is this once-a-year "Christmas energy" (and the free-flowing hot wine) that makes braving the spirited holiday hustle and bustle in the city center worth the time and effort.
Helena Grout, spokeswoman for Taiko, the privately owned company that has overseen the city's largest holiday markets for the last several years, says it's the hypnotic allure of Old World Prague that makes the markets so unforgettable for locals and foreigners alike. Asked if she's worried about being outperformed by neighboring countries, such as Germany and Austria, with more well-known seasonal festivities, Grout shakes her head."We have Old Town Square," she says emphatically. "It is hard to find such a perfect place."Grout says the five-week program that accompanies the market keeps getting better and bigger. It includes nightly concerts and special daytime events for children. Mikulas Day, for instance, saw Santa handing out treats last Sunday, while a small petting zoo hosts a flock of sheep, goats and llamas. While out-of-towners make a beeline for the prime spots in the city center — Old Town Square, Wenceslas Square and a colorfully decorated cluster on tony Namesti Republiky — most locals prefer the smaller neighborhood markets, which have a more intimate setting but still manage to sparkle as brightly as the main attractions."What comes to my mind is smell," says Masa Hilcisin, a documentary filmmaker and a longtime Prague resident. "Memories and the smell of cake, cinnamon, hot wine and my neighborhood square."Hilcisin lives in the trendy Vinohrady district, which rolls out its svarak, trdelnik and souvenir stands along tree-lined Namesti Miru, about a 20-minute walk from the city center and the perfect spot for some leisurely shopping."The wooden toy stand was my son's favorite," recalls Leah Alder, a teacher who lives a few blocks up the street. "We had to walk by it every day, and he would just stop and stare at the wooden swords, shields and spears. He was in awe. So needless to say, (that year) his Christmas presents were an arsenal of wooden weapons."We also bought our fresh Christmas tree there. I hauled it home and decorated it with decorations that we bought right there on the square." Down the metro line, the flashy Zizkov borough has its own scaled-down market lining Jiriho z Podebrad. Those on the hunt for something unique might hit the jackpot while browsing the nicely displayed candle sets, homemade jewelry and other items from neighborhood artists. Farther afield, visitors can get into the holiday mood across the river, right outside the Andel metro stop, where live carp, a Czech tradition, can be scaled and bagged for Christmas dinner. Meeting the entree beforehand might seem a little awkward, but if you're in the Golden City this winter, you absolutely must give this this seasonal "delicacy" a try.Julie O'Shea is a freelance journalist who lives in Prague. E-mail her at julie0616@gmail.com.
Know & goThe Prague Christmas markets are open through Jan. 2 (including Christmas Eve and day), 9 a.m. to 7 p.m. Monday through Friday and until 8 p.m. on Saturday and Sunday.
The main markets are at Old Town Square, Wenceslas Square, Namesti Republiky and Havelske Trziste. Neighborhood markets can be found at Namesti Miru in the Vinohrady district, Jiriho z Podebrad in the Zizkov district and the Andel shopping area in the Smichov district.
Stands selling carp can be found at most of these small squares and on street corners in neighborhood districts.