Perfect October days in 2 idyllic southern locations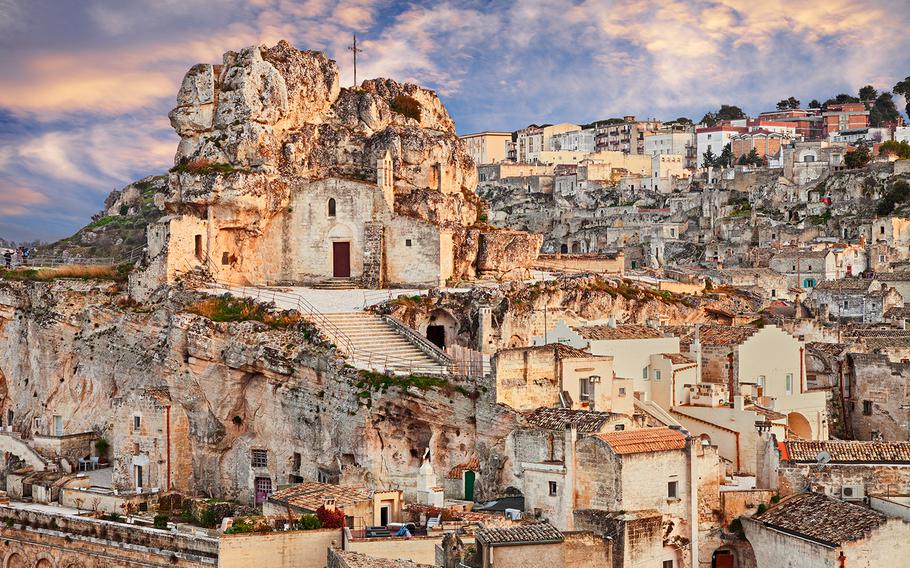 When conditions are again favorable, here are two great places for an October weekend getaway in southern Europe, and some interesting things to do once you get there.
Corfu, GreeceThe second largest of the Ionian Islands lies just a few miles off of Greece's northwest coast. Within its 40-mile length and 20-mile width at its widest are mountains, green valleys and fertile plains, encircled by countless stunning beaches and coves. According to holiday-weather.com, travelers can anticipate average temperatures of 65 degrees Fahrenheit and seven hours of sunshine, with it likely to rain on 11 days of the month.
Day One: From your base in Corfu Old Town, set off in a rental car to explore the island. A half-hour drive northwest will take you to the village of Paleokastritsa on the west coast. If weather permits, you can catch some beach time before driving up to the bright yellow, bougainvillea-bedecked Monastery of the Virgin and its small museum with splendid Byzantine icons. A bottle of kumquat liquor made by monks makes a unique souvenir.
Next, head north to Sidari and the nearby Canal d'Amour Beach, a naturally-occurring channel cut into a sandstone cliff. Legend holds that couples who swim in its emerald waters will stay in love forever. From here, a drive of slightly less than an hour takes one to the summit of Mount Pantokrator, Corfu's highest mountain at 2,972 feet. The drive up takes place along a narrow road and is not for the faint of heart, but from the top, the views make this a worthwhile detour.
En route back to the Old Town, call in at the rural mountain village of Strinilas, where one of the local taverns will serve you a glass of the locally made Moschato Aspro, a light, sweet and aromatic white wine.
Day Two: Experience the best of Corfu's Old Town, designated a UNESCO World Heritage site for its rich tapestry of history dating back to the 8th century B.C. and the visible influence of many rules, to include Venetian, French and British. Kick off the morning with a strong coffee and a pastry — perhaps a cinnamon-spiced, cream-stuffed bougatsa — at the Spianada Square, considered the largest square in Greece. From there, walk along the Liston, a remnant from the Napoleonic period. The swanky street of arcaded terraces, trendy cafes and upscale shops was modeled after the Rue de Rivoli in Paris. The city's other main sights include the Old Fortress; the towering, astonishingly huge New Fortress; and the St. Spyridonas Church, constructed in 1590 to honor the island's patron saint. Say goodbye to Corfu with a hearty last supper featuring local cuisine such as Pastitsada, a spicy meat or poultry dish with thick macaroni slices, or sofrito, a thin slices of fried veal.
Basilicata, ItalyThe remote province located at the instep of Italy's boot-like shape features mountainous terrain, sandy unspoiled beaches and a host of architectural delights. The dramatic landscape of this lesser-explored region is perhaps better known through blockbuster films such as "Ben-Hur" and "The Passion of The Christ" than by actual tourist footfall. The website climate-data.org suggests an average temperature of 62 degrees Fahrenheit and negligible precipitation during October.
Day One: Kick off explorations with an adrenaline rush by heading to the village of Pietrapertosa, site of the Volo dell'Angelo, a zip line connecting two villages in the southern Apennines mountain range. Riders achieve speeds of up to 68 miles per hour as they traverse a landscape dotted with bizarre rock formations. The range is called the Lucanian Dolomites for its resemblance to the famous range in northern Italy. A flight on the nearly milelong "Flight of the Angel" goes for 42 euros for single riders or 75 euros for couples. Your next stop, just over an hour's drive away, is Craco, an otherworldly uninhabited mountain village. Following periodic landslides and earthquakes, the city's population abandoned it for good in 1963. The melancholy town that appears to be melting back into the mountain itself is locked up tightly behind a fence, but with proper planning, a tour through town with a competent guide can be organized. End your day with a dinner consisting of local specialties such as Lucania, a pork sausage seasoned with fennel seeds, pupazzella, hot peppers stuffed with anchovies and parsley, or ciammotta, a fry-up of peppers, potatoes and eggplant.
Day Two: Devote the bulk of your day to exploration of Matera, a fascinating city that housed the poorest of the poor right up until the 1950s. Lacking electricity and sanitation, this area considered the shame of Italy underwent a stunning transformation, and nowadays the cave dwellings carved into the mountains known as Sassi occupy a space on the list of World Heritage Sites. Today's visitors can wander about the cliffs into which the caves were hewed or stay the night in a cave revamped into a boutique hotel. To really come to terms with what life was like here, opt for the services of a guide, who will show you churches carved into rock and long-abandoned traditional houses with chambers in their backs that were used to house livestock. Should time and energy levels permit, leave Basilicata for neighboring Apulia to call in at Alberobello, a town known for its trulli, whitewashed stone structures with conical roofs. Some 1500 of these compact buildings, the oldest of which date back to the 14th century, dot the landscape. A belvedere adjacent to the Church of Santa Lucia provides sweeping views across this unique town.