Only in Japan: Chocolate fries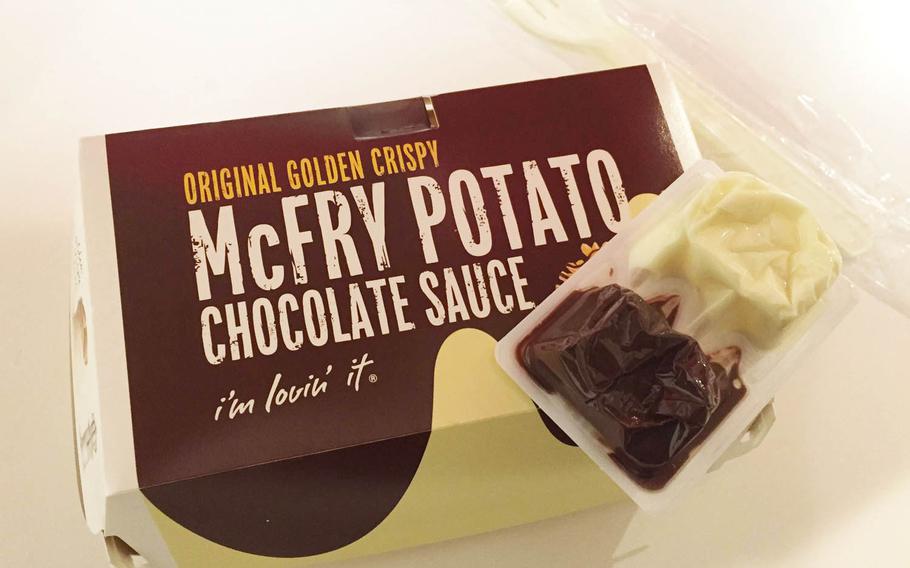 Everybody has a sweet and salty side, McDonald's said when announcing the "latest fry innovation" to hit its menu: the McChoco Potato.
This makeover of the golden arches' classic is a medium-size serving of fries covered in two types of chocolate sauce — milk and white — that is available only this month (Feb. 2016) to customers in Japan.
McChoco Potato has being raising eyebrows since its debut on Jan. 26. Some people, accustomed to dabbing their fries in ketchup, took offense to the idea of pouring chocolate over such a greasy, salty snack. Others assumed the white sauce on the fries was mayonnaise, given Japan's penchant for adding the egg-based dressing to everything from pizza to ice cream.
McChoco Potato is served in a covered box with a small packet that holds the two sauces separately. Bending the dispenser in half creates four tiny openings that allow you to drizzle your own two-tone design over the fries like a professional chocolatier.
The chocolate starts to melt as it touches the warm fries, creating wonderful sweet-and-salty smells. The salt on the fries doesn't overwhelm the sweetness of the chocolate. The flavors complement each other quite nicely, making for a tasty little snack.
But is this a side or a dessert? That's for you to decide.
McChoco Potato costs 330 yen (about $2.75) — 60 yen more than its non-chocolaty counterpart.
Such novelty items are old hat to fast-food patrons in Japan. McDonald's is currently holding a contest for customers to name a new mashed potato and bacon burger, and Burger King has made headlines with its red samurai burgers, squid-ink buns and black cheese.
No word yet on whether McDonald's plans to offer McChoco Potato outside of Japan, but as a person who posted a video of himself eating the fries on YouTube said, "McDonald's America, you need to get on this."
kidd.aaron@stripes.com Twitter: @kiddaaron
---
---
---