One-man cemetery in Europe a mute homage to American courage in WWII
by
Frank A. Anselmo
December 5, 2004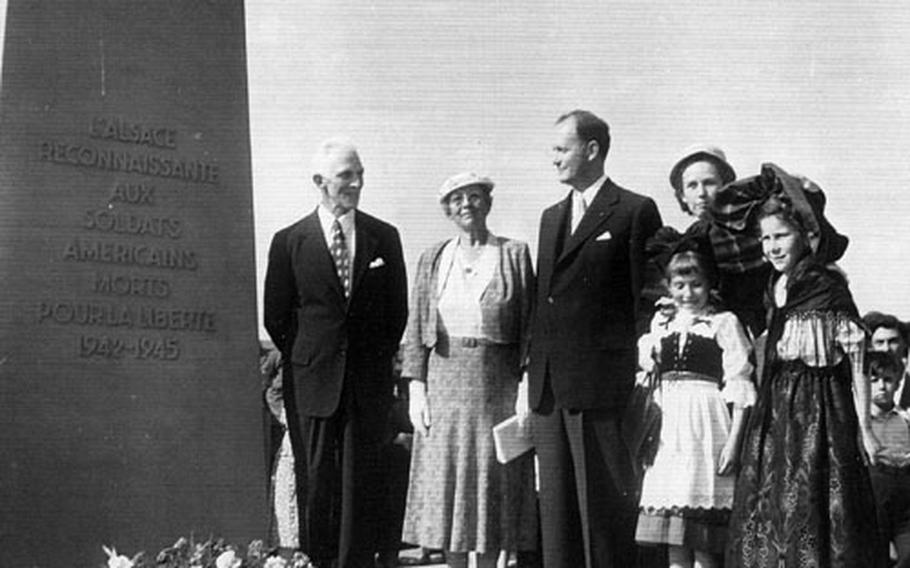 Located in northeastern France, the Lorraine American Cemetery — with more than 10,000 graves — is the largest U.S. military cemetery in Europe.
Less than 40 miles to the east, another, little- known monument to American sacrifices in World War II sits hidden amid a cornfield near the small Alsatian town of Hochfelden. At the base of the granite memorial, a single soldier, John Grant Rahill, is buried in a tomb that the current mayor of Hochfelden proudly proclaims as "the smallest U.S. military cemetery in Europe."
The story of how this cemetery came to hold a single soldier's remains and the story of Rahill's life are irrefutably entwined.
Rahill was born on New Year's Day 1924 in Caldwell, N.J. According to most accounts, he was a mischievous boy. John's younger brother, Dick Rahill, tells how his brother shot out the windows of a newly constructed house when he was 12 years old.
"He caught hell when the police came to speak to our dad," Dick Rahill said. "But John was raised well — he admitted what he did and worked hard to pay for all the damage."
The Rahills' mother would later confess in an unpublished memoir that she "spent more time worrying and crying over [John] than all the other Rahill children combined."
In spite of his proclivity for trouble, John Rahill was still a natural leader. David Crowell, a childhood friend, recalled the admiration that the neighborhood boys had felt for him.
"We all looked up to John," Crowell said.
In 1941, John Rahill enrolled in the University of Chicago. But he interrupted his education after learning that a childhood friend had died in the sinking of the USS Meredith in the South Pacific on Oct. 15, 1942.
No longer able to stay out of the war, John Rahill volunteered for the infantry. He reported for basic training at Camp Roberts, Calif., and was selected for Officer Candidate School.
After completing an intense three-month training program at Fort Benning's infantry school in Georgia, he was commissioned on July 10, 1943. He then joined the recently formed 10th Mountain Division, which was training in the Colorado Rockies. Although he thoroughly enjoyed the training, he wrote home that he felt as though he were not "doing his share" in the war and applied three times for Officer Replacement Duty.
His request finally came through in December while he was home on furlough. His fiancée, Carroll Reed, was present when his orders arrived.
"I remember the day he left," Reed recalled. "We waited for the train in the bitter cold — this was the last time I saw him."
Just a few days after having celebrated his 20th birthday, John Rahill was on his way to the European theater.
Upon arriving in Naples in February, Rahill was dispatched to the Anzio beachhead, where the Allied landing force was desperately resisting a rapid series of powerful German counteroffensives. Assigned to a B Company platoon with the 179th Infantry, Rahill quickly proved himself a talented soldier and capable leader, especially during the advance on Rome.
There was little time, however, for celebrating after the Italian capital was liberated in the early-morning hours of June 4, 1944 — the victorious Allied troops had to prepare for the anticipated landings on the beaches of Southern France, which came on Aug. 15. Just four days earlier, Rahill had been promoted to first lieutenant and was appointed Company B's executive officer.
When he informed his parents in mid- October that he had assumed command of Company B, he could declare that he had finally realized his personal goal for getting into the war: "I'm glad to say when I get back [home] I'll be able to look anyone right in the eye and know damn well that I've undoubtedly had it just as rough as he has and done as much for my country."
Sensing the intensity of the combat yet to come, he sent a quick note to his parents on Nov. 28 and closed with a simple expression of gratitude: "I wish I could tell you all how much I appreciate you."
On Dec. 2, 1944, Company B's young commander prepared his men to take the heavily defended Alsatian village of Engwiller. The seasoned combat veterans of the 179th Infantry must have considered this to be a fairly routine mission. After all, many of them had been in the war since the summer of 1943, had already made four amphibious landings and had distinguished themselves in some of the most intense combat of the war.
While approaching the village, John Rahill and his eight-man patrol were surprised by a mortar attack. The patriotic young soldier who had volunteered for Officer Replacement Duty was dead within minutes of being hit.
The Rahills were informed of his death the day after Christmas. Carroll Reed still remembers her reaction when her mother called to tell her the sad news: She asked no questions; she only hung up the phone and cried.
"Women thought a ring or a piece of paper or a promise would keep their men safe," she said. "How naive we were."
John Rahill was one of 1,093 American soldiers eventually buried in the temporary U.S. military cemetery of Hochfelden. When the U.S. government decided to close the cemetery in 1948, Clara Allen Rahill refused to allow her son's grave to be disturbed. Convinced that it was his wish to remain where he had fallen in combat, she elicited the aid of several prominent Alsatians to keep her son's remains in Alsace.
Capt. Maurice Force, who had served as a liaison officer for the 45th Infantry Division, was prepared to help. He told Clara Rahill that she had to inform the U.S. War Department in Washington, D.C., of her intentions.
"You can leave the rest to the Alsatians," he then promised.
On June 7, 1953, Force's promise was kept.
More than 1,000 French citizens — as well as John Rahill's parents and Douglas Dillon, the U.S. ambassador to France — were present as a memorial was unveiled over John Rahill's grave- site in honor of all American soldiers who had lost their lives for the liberation of France. To symbolize this sacrifice, John Rahill remained entombed at the base of the monument.
A dedicated group of local Alsatians maintained the site and conducted a second public ceremony at the tomb in 1984 to mark the 40th anniversary of his death. Memorial Day ceremonies at the monument have since become an honored annual tradition. May marked the 20th consecutive commemoration.
Some 60 years after John Rahill's death, the Hochfelden monument endures as a lasting symbol of Alsace's gratitude for American sacrifices during World War II.
Frank A. Anselmo is a professor at Louisiana State University. He is preparing a book-length manuscript on the life of John Grant Rahill and the Hochfelden memorial. He can be contacted at 416 Hodges Hall, Department of French Studies/LSU, Baton Rouge, La. 70803.
---
---
---
---