On the eve of war, mother and daughter find comfort in reunion in Kuwait
---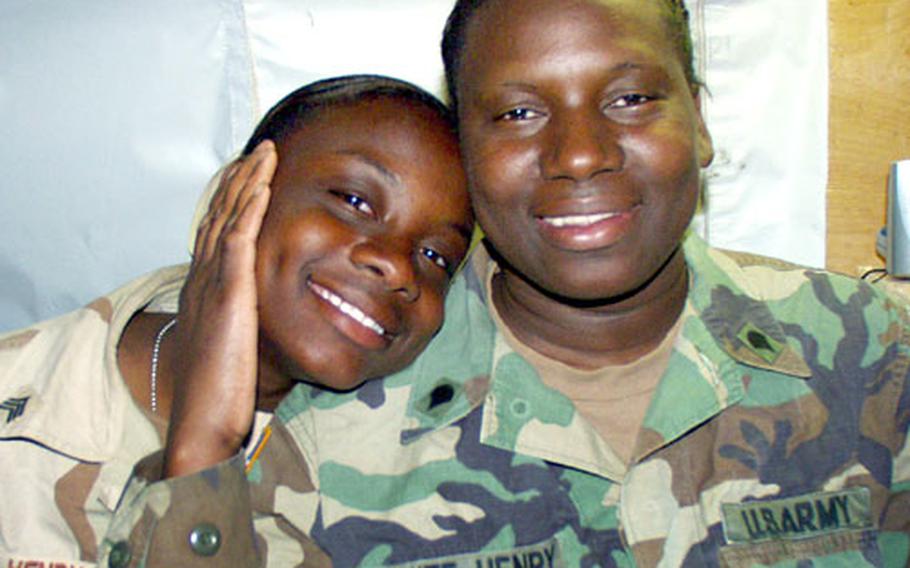 CAMP VIRGINIA, Kuwait — Sgt. Annishia Henry pulled open the tent flap, rushed inside and threw herself into her mother's arms.
Both of them squealed for joy and held each other tight.
"Mama, do you know how long it took to find you?" Henry said to her mother, Spc. Winnifred White-Henry.
Mother and daughter joined the Army together more than four years ago, and they are stationed 120 miles apart in Germany. March 18, a Tuesday night, on the eve of war, they held a happy two-hour reunion in White-Henry's tent at Camp Virginia.
"I couldn't believe it," said White-Henry, 37, a food-service specialist with the 165th Military Intelligence Battalion in Darmstadt, Germany. "I just know I'm going to wake up and nobody's going to believe this, because it's all a dream."
They had not seen each other since October, when Henry, 22, deployed to Kuwait with the 2nd Squadron, 6th Cavalry Regiment, from Illesheim, Germany.
Her mother's unit arrived in late February.
The reunion followed a search worthy of "Saving Private Ryan." Neither knew for certain where the other was. Early that week, Henry, who is at Camp Udairi, traced her mother's unit to Camp Virginia. An Apache crew chief, she persuaded two pilots to make the one-hour drive across the desert with her because solo trips off-base are forbidden in Kuwait. They arrived about 10 p.m. Tuesday.
But it is a big post, and Henry didn't know where to look. She stopped soldiers here and there, asking if they knew where to find the 165th MI. She visited the dining facility; the cooks there pointed her toward the right tent, astonished to learn White-Henry had a daughter serving in Kuwait.
White-Henry, for her part, had been preparing to ask the Red Cross to send a message to her daughter.
"I said, 'I haven't talked to her. I just want to know she's OK,'" White-Henry said.
The pair wound up in the Army in Kuwait by an odd chain of events. Henry decided to join the Army after high school, in the fall of 1998. She excitedly told her mother, who was then working part time as wheelchair coordinator at John F. Kennedy International Airport near their home in New York. Her mother was more than a little excited herself.
"[Annishia] knew I always wanted to join the Army, but because of family, I couldn't," White-Henry said. She had grown up in Jamaica and had a baby while still in her teens. (She is married to Ervin Henry, who is now at home in Darmstadt with the couple's 8-year-old daughter, Nikishia.)
But Annishia's ambition kindled her own. White-Henry spoke to her daughter's recruiter, who persuaded her to take a test.
"I knew I was going to fail, but I passed," she said.
They decided White-Henry would enlist first, in October 1998, so Henry would be home to help care for her father and sister. Three months later, the daughter followed her to basic training.
Both requested assignments to Germany. White-Henry was sent to Friedberg, but her daughter was sent to South Korea. Henry arrived in Illesheim with the 2nd Squadron, 6th Cavalry in October 2000, and her mother transferred to Darmstadt last August. Ervin Henry got a job with a company that installs school playground equipment.
"He was very supportive," White-Henry said. "He really didn't think I was going to make it through basic training, [but] he's still very supportive."
It is one of those quirks of military fate — and Henry's hard work — that the daughter already has become a noncommissioned officer, outranking her mother. Soldiers in her unit say she stands out, handling a heavy pack although she's barely 5 feet tall and utterly unafraid to correct soldiers twice her size if the job requires it.
"People would think I'm a little bit jealous, but I'm nowhere near jealous," White-Henry said. "I am so very proud of her."
Off duty, Henry says she visits her family every other weekend. Then she goes back to being Mama's girl.
"When I go home, I'm not Sergeant Henry anymore. I'm just Annishia," Henry said. "I have to help with the dishes and stuff."
White-Henry recently re-enlisted and Henry has extended her tour, so both expect to be in Germany for awhile. After the Kuwait deployment, Henry will be reassigned to the 1st Battalion, 501st Aviation Regiment in Hanau — much closer to "home."
Mother and daughter both wish the other didn't have to go to the desert.
"I don't want her anywhere near this war," Henry said.
White-Henry is especially concerned because her daughter's unit was to advance into Iraq while her own was to stay in the rear.
"When she told me she was coming [to Kuwait], I was praying and hoping it wouldn't come to this," White-Henry said. "Now I'm just really, really worried."
The threat of combat made their short visit together all the sweeter.
"I don't know what's going to happen in the next couple days," White-Henry said, "but I just want her to get home safely.
"The sooner, the better."
---
---
---
---