Okinawa hospital offers special care for premature or sick babies
by
Mark Oliva
May 27, 2003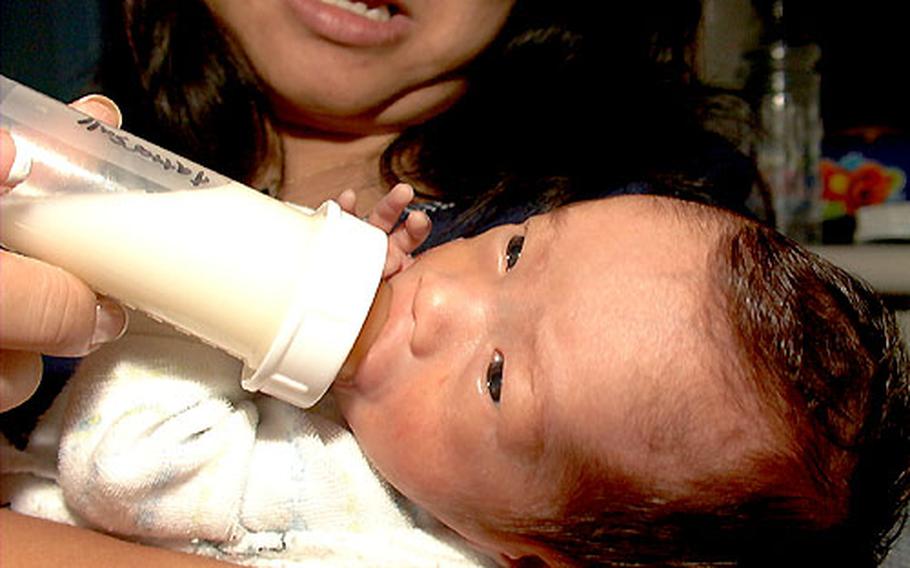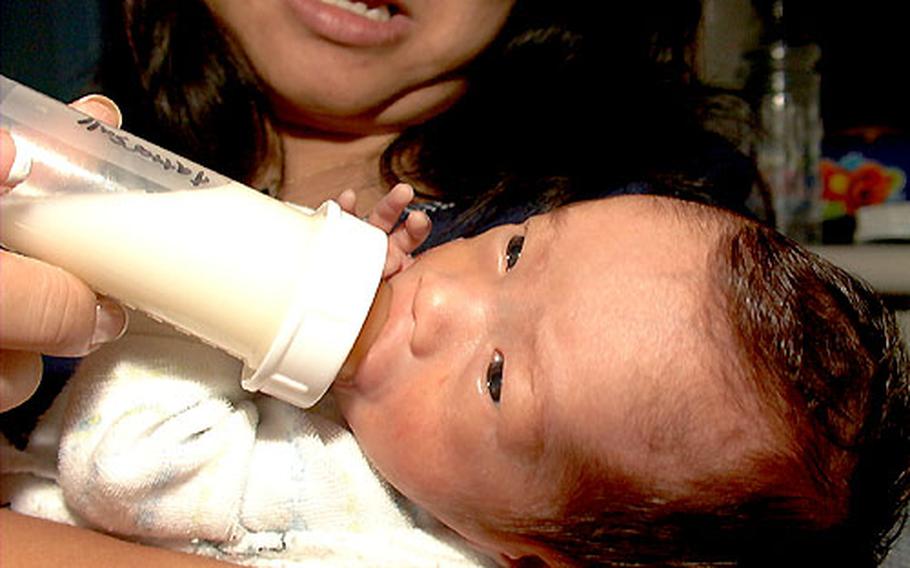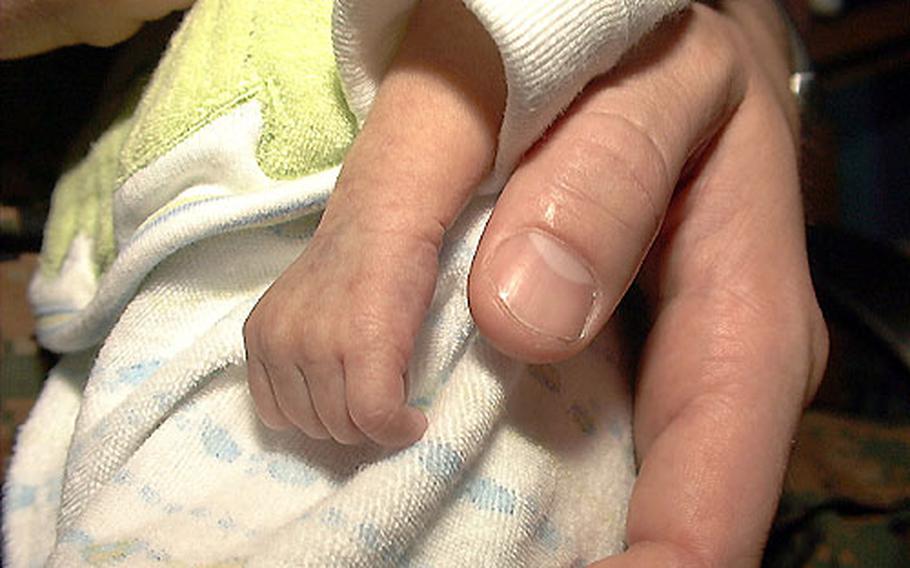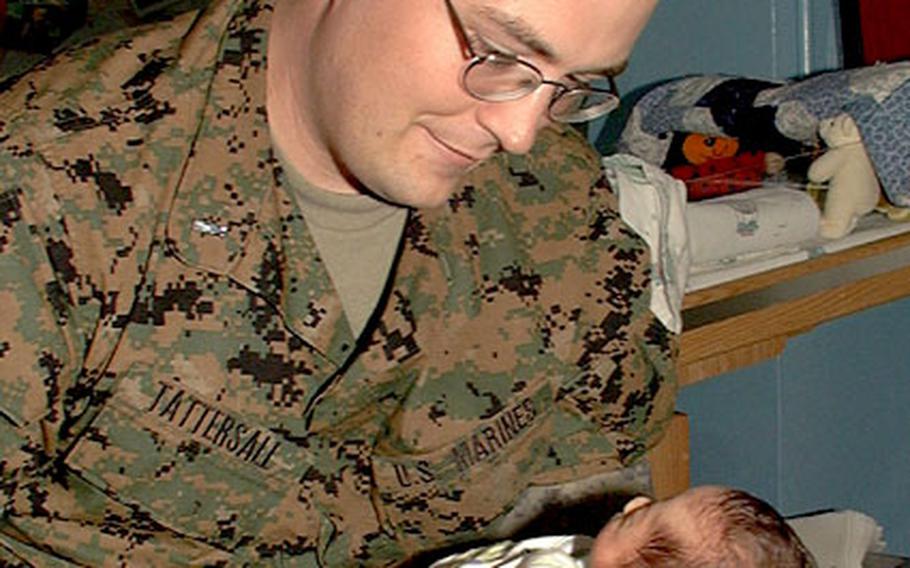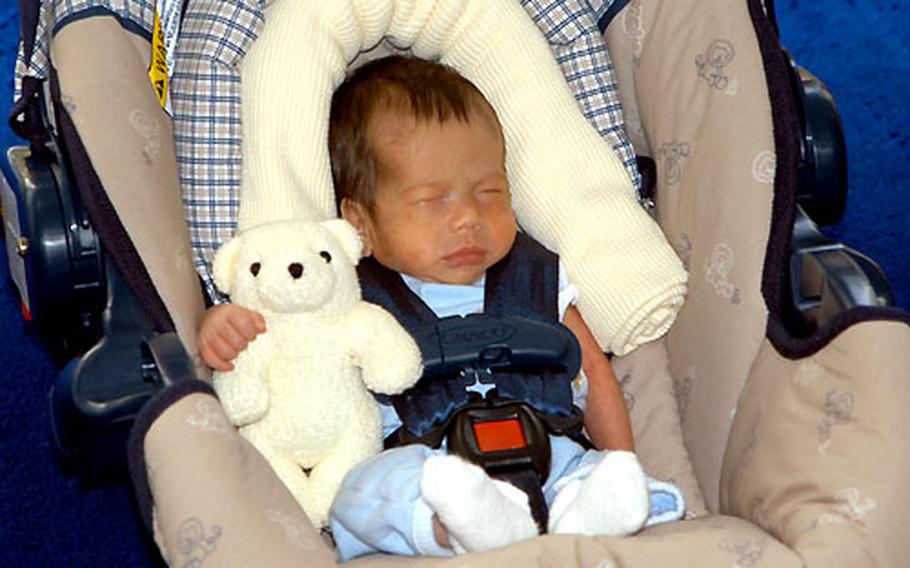 CAMP LESTER, Okinawa — Evan Bradley Tattersall is everything his parents dreamed of. Ten tiny fingers. Ten tiny toes, and a full head of black hair. He just wasn't supposed to be born so early.
Rewind to April. Simone Tattersall headed in for her morning ritual at Okinawa's U.S. Naval Hospital. She was listed as a high-risk pregnancy; she developed gestational diabetes and high blood pressure during her pregnancy with her first son.
She arrived on time for her fetal monitoring appointment.
"We had some concerns," said Marine 1st Lt. Brandon Tattersall, Evan's father. "Simone had some contractions the night before, but that wasn't that serious. She hadn't felt the baby move."
The morning of her appointment, Brandon attended his scheduled staff meeting at Marine Corps Air Station Futenma. His cell phone sat next to his notebooks, a just-in-case measure if something went wrong. At the hospital, Simone lay back as heart monitors and ultrasounds powered up. The technicians' faces were grim: They couldn't find any movement. There was a heartbeat, but it was falling — and fast.
"They literally ran me over to labor and delivery," Simone recalled. "I was in the wheelchair and the corpsman was running down the halls. I was asking the nurses to call Brandon and tell him what was going on."
Simone was headed for an emergency Caesarean section.
"They said the baby had to come out now," Simone said. "His heart rate fell again. There was no amniotic fluid around him and something was wrong with the placenta. I was telling them, 'No, it's too early.' "
Brandon's cell phone started buzzing, but he initially ignored it. A first lieutenant doesn't exactly walk out of a staff meeting with lieutenant colonels. Whatever it was would have to wait. No one should have been calling — and besides, the baby wasn't due for another seven weeks.
Once the meeting was over, he called back. The news floored him.
"I should've just run out of the meeting," he said. "I got to the hospital just in time to see him born. I heard him cry, but it was kind of scary."
Scary because Evan was just 2 pounds, 15 ounces. Scary because the 16-inch-long baby was premature and that brought serious risks.
"The doctors were giving me the worst-case scenarios," Brandon said. "They never said he might die, but it didn't help when I saw all the tubes and procedures."
Brandon followed doctors down the hall as they wheeled Evan's incubator to the Neonatal Intensive Care Unit, where premature and sick babies from many Pacific military bases come for care. Nearly 300 babies come through the NICU every year. Some, like Evan, are born at the Okinawa hospital. Others come from South Korea, mainland Japan or Guam. Some mothers in high-risk pregnancies even travel to Okinawa, just in case.
"We are the center for all preemie babies," said Air Force Maj. Bobbi Hawk, a neonatologist at U.S. Naval Hospital on Okinawa. "We are the first referral center for any newborn problem out here."
The next closest NICU is Hawaii's Tripler Army Medical Facility.
"We deal with everything from 40-week babies to preterm babies at 23 weeks," Hawk said. "We get babies from the very edge of viability to the sickest — even a few babies we've had to put on heart-lung bypass machines."
The NICU can be a daunting place for new parents. Monitors constantly buzz and beep. Numbers on computer screens flash. And babies, many times small enough to cradle in both hands, are wrapped in a maze of wires and probes.
"It can be an extremely intimidating place," Hawk explained. "All the lights and alarms … there's a lot of foreign equipment."
Brandon watched as doctors and nurses worked over his son, who weighed less than a half-gallon of milk. Tubes ran into the infant's nose.
Still, doctors gave little Evan Bradley Tattersall a fighting chance.
In three weeks, he gained almost a pound.
Now, his little eyes open up at feeding time. He drinks out of special bottles, only about 2 ounces at a time. His diapers are tiny, but his care is big. Four doctors, 16 nurses and 12 technicians hover over him and the other babies 24 hours a day.
"We were kind of in shock," Simone said. "You don't see your baby for a while. It was 12 hours before I got to see Evan. It took us a few days to realize we were actually parents."
That's because of the care, Brandon explained. Nurses showed the Tattersalls how to diaper their son. They showed them how to feed their baby, who is so young that sucking on a bottle or his mother's breast is still not a completely natural instinct.
For the first few days, the new father said, he was afraid to touch Evan, but the staff encouraged him to get involved.
"We joked and called it 'parenting lite,' " Brandon said. "We gave him his first bath at about nine days. I was glad to do it, because it makes you feel more like a real father. We came a long way in that first week."
The staff, Simone said, offered help every step of the way. She peppered the technicians with questions: What if he falls asleep while eating? Can I leave him asleep in the car seat? Should Evan be swaddled all the time?
"Just about every person in here is a parent themselves," Hawk explained. "There is a tremendous amount of compassion. For just about everyone here, this is more than a job. It's a calling. A lot of times, we bond with the families while their babies stay here."
But the job can be taxing. Not every baby is a success story, Hawk said. Premature births put children at higher risk for developmental difficulties. And dealing with the death of a child is a reality.
"It's very taxing for the nurses and the techs," Hawk said. "Taking care of the babies takes everything out of you. With some of the youngest children, we tell the parents, honestly, that survival isn't guaranteed. Here, you get a skewed view of what a normal baby is. At 3 pounds, that baby looks big to you."
The good, she said, outweighs the bad. For all the times they have to prepare and counsel parents that a baby faces uphill battles, sending a baby home makes up for it.
"There's nothing better than sending a baby home to start the rest of its life," she said. "Some of the most challenging cases, I have pictures of them as older kids. I keep those touching memories."
When the Tattersalls spoke with Stars and Stripes, Evan was due to go home in about three days. They're excited about the idea of finally bringing their son home, but anxious about leaving the safety of the NICU behind.
"It's going to be all us now," Brandon said. "He's been in such perfect and excellent care, so it makes us a little nervous to take care of it all ourselves."