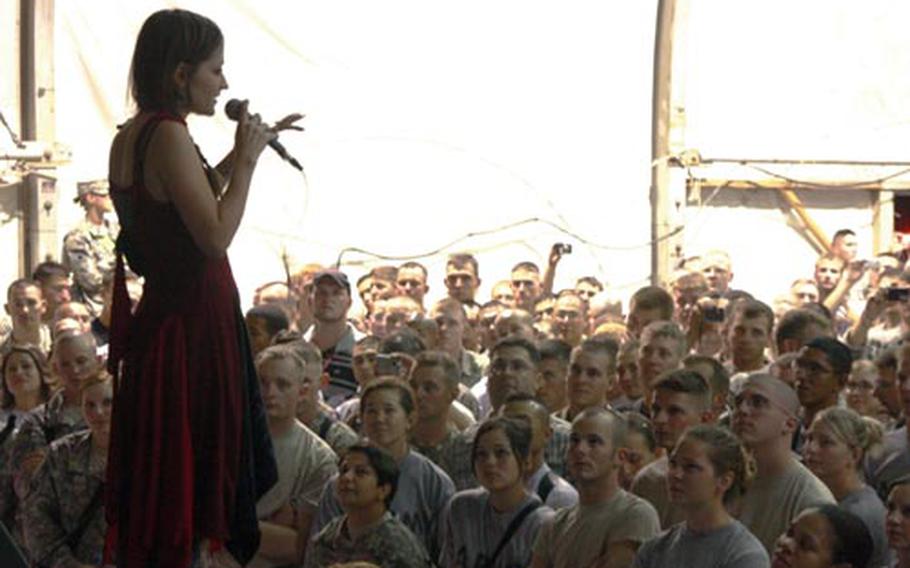 Flyleaf's Lacey Mosley Sturm is used to performing before thousands of fans, but one of her more memorable concerts was for a few dozen troops gathered around a picnic table in Afghanistan.
"Even though that was the smallest one, that was the most touching one … because we got to talk to the guys longer and get to know them," the singer said of the intimate acoustic set in July.
The Texas-based Flyleaf — which released the album "Memento Mori" on Nov. 10 — started its tour playing at an R&R center in Qatar.
"That was a breeze. Everything was air conditioned and real nice," said Lacey, who uses only her first name when performing. "… It didn't really prepare us for where we would go."
Where they went was Bagram and Forward Operating Base Baylough in Afghanistan.
"We ended up being in the middle of Afghanistan in one of the most remote bases with the bravest troops for the Fourth of July," Lacey said.
Despite the grittier conditions, the reaction was very good.
"The feeling of the troops was just the most incredible gratitude," Lacey said. "… It made us more grateful ourselves … and really proud of everything."
The band also was reminded of the transitory nature of life when four people died in a roadside bomb blast soon after Flyleaf left one base. The incident drove home the theme of the album "Memento Mori" — a phrase that was used to remind ancient Roman generals of the fleeting nature of fame and mortality.
"All of our lives are short and we need to appreciate it. … It was interesting to go to Afghanistan with that theme in mind," Lacey said.
The theme of living life to the fullest and paying attention to eternal, rather than material, things propels "Memento Mori." The album is a strong follow-up to Flyleaf's hugely popular self-titled debut album, which was a hit on both the Christian and mainstream charts and contained the song "I'm So Sick," which was used in the video game "Rock Band."
The album's theme is best stated in the stirring "Arise," which urges listeners to "be all that you dreamed."
" 'Arise' sums up Flyleaf in a way," Lacey said. "We realize that life can be devastating and we don't know how to face it correctly. … It's a wish that everyone who hears it will be everything they are meant to be."
The soaring "Missing" borrows from the Bible's Book of Ecclesiastes as it warns that chasing earthly relationships will never bring satisfaction.
"In human relationships, you see echoes of our relationship with God," Lacey said. "[But] People will always let you down … because they're not God. … they won't fill you to satisfaction the way only God can."
One of the most intense tracks is "Beautiful Bride," which delivers an assertive call to action.
"The message in the song is rallying troops and putting your fight into unity in a group of people with one purpose to do something good, and powerful," Lacey said. "… That would be my hope: that Flyleaf fans would have a unified vision to make the world a better place."
Lacey said one of her favorite tracks is "Circle," which describes a wife who refuses to believe her husband truly loves her — a parallel to those who reject God's love.
"The idea is that no matter how much God loves us … if we don't trust and love him, we'll never receive it," Lacey said.
"Circle" continues the biblical metaphor as the wife realizes the depth of her husband's love only after he gives his life to save her.
"It's the most romantic story there is; the ultimate love story," Lacey said.
---
---
---
---