Northern Switzerland, southwest Germany: Great trails beckon cross-country beginners
---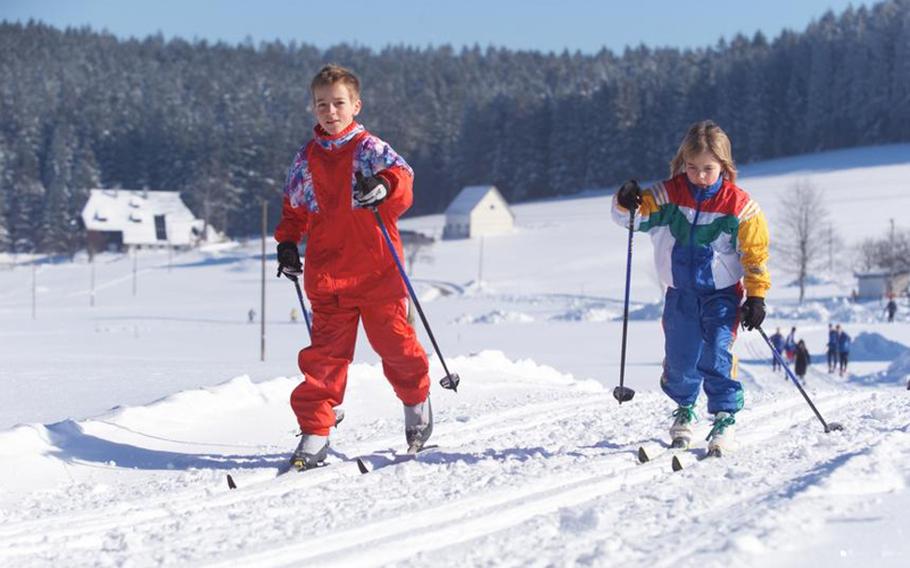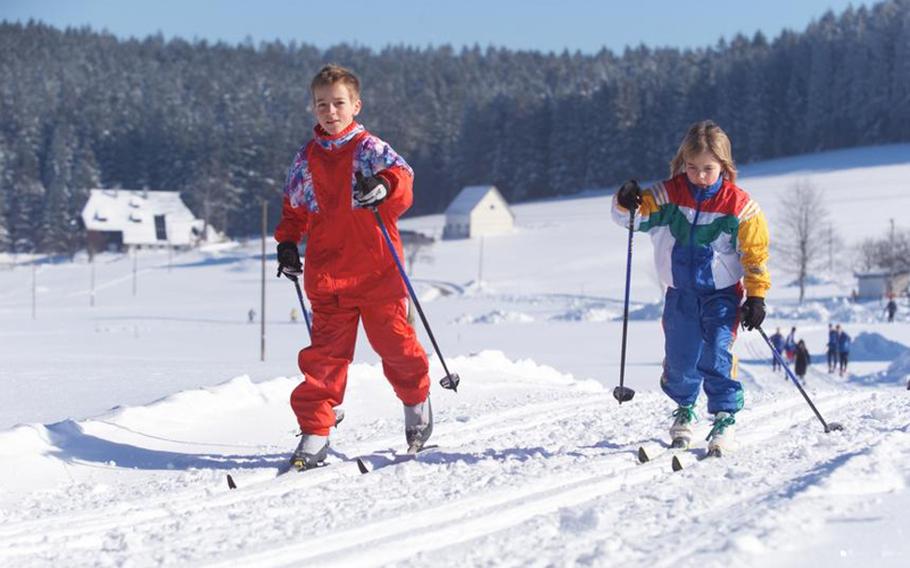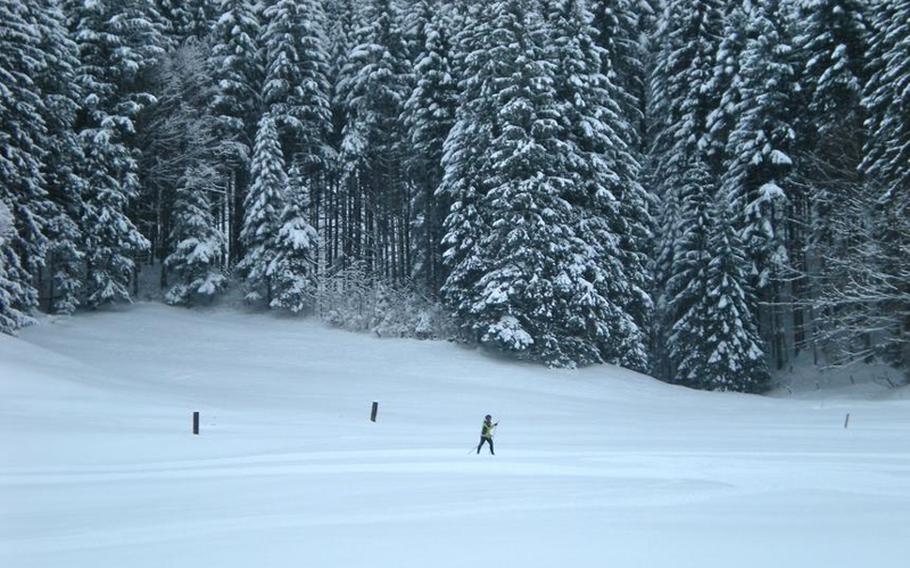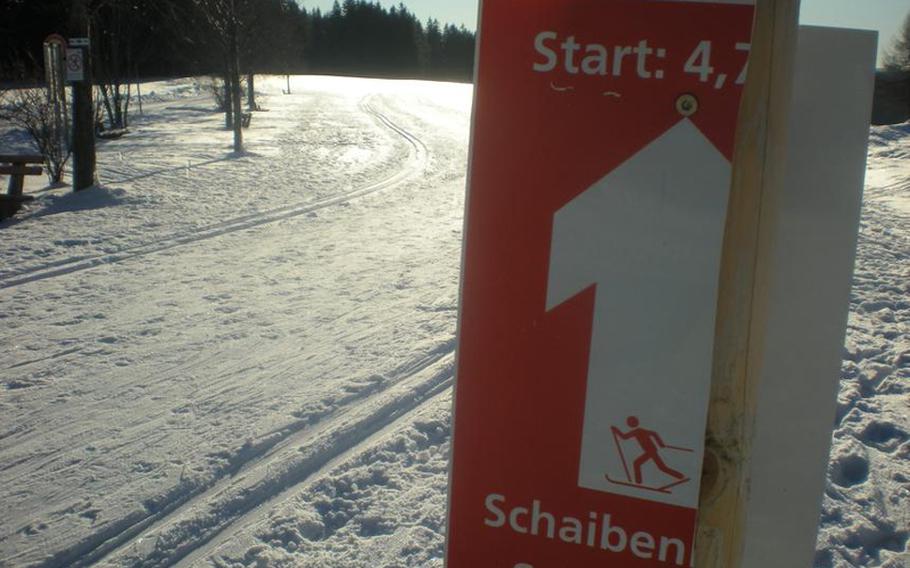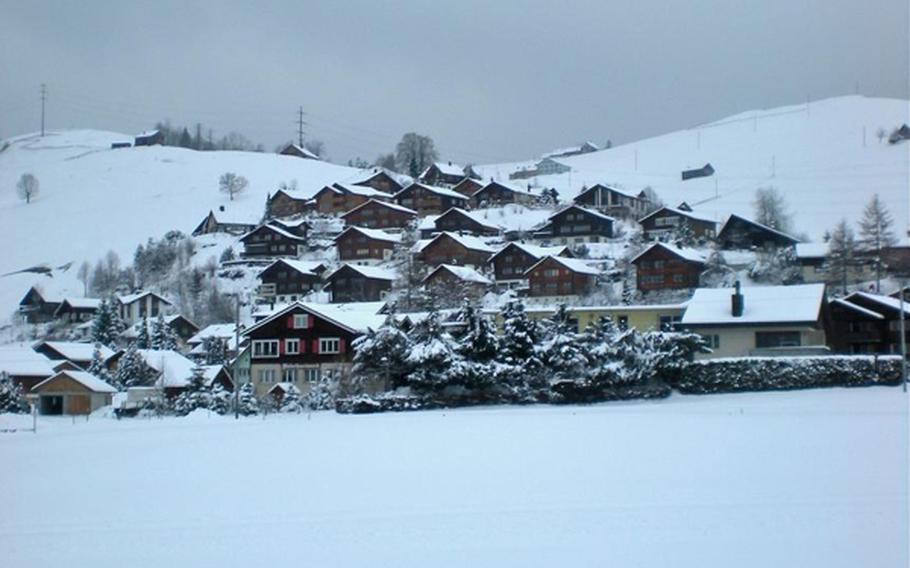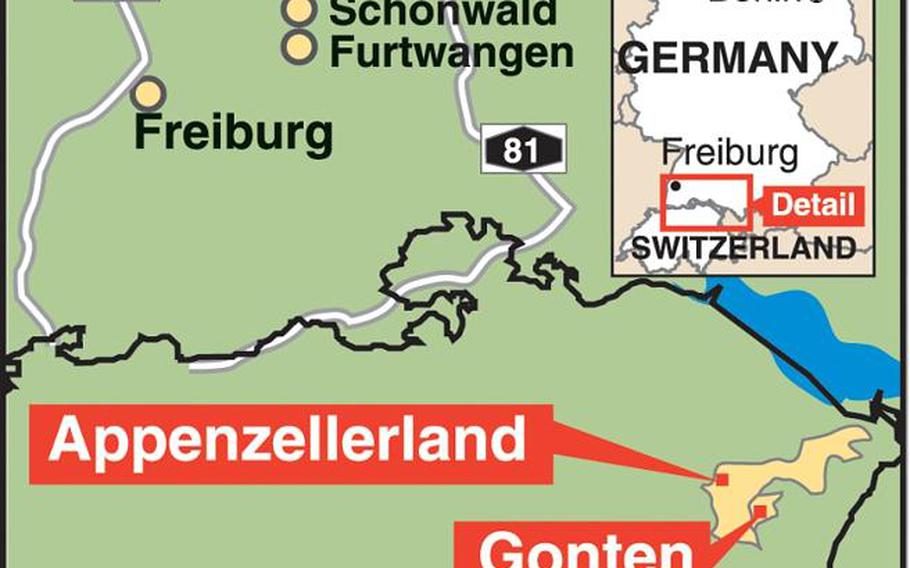 The rolling hills of Appenzellerland bore a strange January green in 2011. But after 48 hours of significant snowfall, the ski club in Gonten, Switzerland, groomed all its tracks.
My husband and I clicked our boots into cross country skis, ready to circle nine miles of easy, classic trails that crisscrossed livestock pastures just outside the quiet Swiss town.
The sky was gray, the air and ski tracks fresh and every branch on tall, thick pines was fat with a layer of fresh snow. A man with rainbow-colored knee socks, one of many Swiss skiers also out to enjoy the day, pointed the way as he glided by. Afterward, we drank Glühwein — that delicious hot, spiced wine that gives chilled bodies a welcome afterglow — at our hotel in Appenzell, savoring the warmth as much as I savored the memories.
Cross-country skiing is like winter's alternative to jogging. It's less intimidating to learn than downhill skiing, equipment is relatively inexpensive to rent, it's easy for families to do together, and it's a peaceful way to see snow-covered scenery.
The kick and glide necessary to move forward along the Loipen, or cross-country skiing trails, is a surprisingly natural motion to learn. After one try swishing and swooshing over fresh tracks, I was sold.
There's an abundance of cross-country ski options in Germany and Switzerland. The website for the Loipen Schweiz association, which promotes cross-country skiing, boasts 5,500 kilometers of trails, most reachable from any Swiss city within an hour
In Germany, you'll find cross-country ski trails marked "Klassisch" for tracks groomed by a machine that inserts two parallel lines into the snow for skiers to glide through, and "Skating" for wider lanes designed for skiers whose movements mimic that of a roller skater, with a push out and back motion.
Regional websites keep up-to-date trail conditions. Rental skis, bindings, boots and poles are available from local ski shops, often for less than 15 euros a day. Tourists can learn to ski in half a day's lesson or simply watch an online video before giving it a try.
Both the Ferienland region of the Black Forest in Germany and Appenzellerland in Switzerland have trails friendly for beginners.
The Ferienland region has eight easy trails ranging from one kilometer to 6.6 kilometers long. The towns of Furtwangen, Schönwald and Schonach have the highest elevation and therefore the most reliable snow.
Only 20 kilometers from Schönwald, the ground showed no sign of the white stuff, but the Schaibenloipe trail's website was correct — the trail was open, and snow awaited us as soon as our vehicle climbed the steep, winding road to Schönwald.
It was what skiers call a bluebird day, with bright sunlight, sparkling snow and not a cloud in the sky. The Schaibenloipe traversed farmland covered in a hard pack of snow and wound at times through thick, dark forest. I had skied only beginner trails, so I was nervous about trying an intermediate track, but the trail proved pleasantly challenging. A few short hills got my heart pumping as I enjoyed the views across high elevation fields and the warm sunshine.
The Ferienland region looked similar to Switzerland's Apenzellerland, where cross-country trails roll over a region that lacks the dramatic Swiss Alps, but has endless hillsides and open cow pastures.
The Appenzellerland is the location of Gonten, where the Gonten ski club grooms its tracks whenever there is plentiful snow.
While trails in Ferienland are free, most cross-country ski trails in Switzerland require purchase of a ski pass, which can be bought next to trails, at tourist offices or at cross country ski schools. A day pass in Gonten is 10 Swiss francs (about $10.50). Buy it from the Gonten Ski Club hut, which stands alone in a field on the opposite side of Gonten's commuter rail tracks.
Gonten is perfect for beginners because all its trails run over a gentle hillside. But there is a Panorama-Loipe for more advanced skiers.
Even as we finished, when my thighs were sore from kicking and my triceps sore from pushing, I was addicted to the weightless feeling of gliding on skis.
No wonder so many Swiss skiers were out that day. With only two months left in the season, cross-country skiers are gliding every chance they get.
Nina Peacock is a military spouse, a journalist living near Kaiserslautern, Germany, and an avid cross-country skier.
Ferienland im Schwarzwald, Germany• Ski trails: Find information for trails in Ferienland im Schwarzwald, including their difficulty level and starting points, at dasferienland.de/de/ sport-freizeit/wintersport/loipen.
• Updated trail conditions: loipenportal.de/schwarzwald.
The Schaibenloipe begins just south of Schönwald on Furtwangerstrasse/B500 in Escheck. Parking is across the street from Gasthof zum Kreuz or catch a regional bus to Escheck. The bus stops right next to the trail start.
• Rentals: Sporthaus Faller in Schönwald, Franz-Schubert-Strasse 22, 78141 Schönwald, (+49) (0) 7722-4159. Rates are 12 euros per day for adults, 10 euros per day for children.
• Lessons: Tourist centers in each town offer a ski instruction special during winter 2012: One hour with an instructor costs 20 euros. Call the Ferienland im Schwarzwald tourist office, (+49) (0) 7722-964810.
Gonten, Appenzellerland, Switzerland• Ski trails: Find conditions for almost all ski trails in Switzerland at snow.myswitzerland.com/snow_reports?lang=en#
Park near the Gonten train station and walk across the rail tracks to the Gonten Ski Club hut and the start of its ski tracks. Trail maps are available at the ski club, at regional hotels and guest houses and on loipe-gonten.ch, in German. Choose Loipen for the trail map.
• Ski pass and rentals: A one-day ski pass at the Gonten Ski Club costs 10 Swiss francs (about $10.50). Ski rentals include the pass and are available for 25 Swiss francs a day for adults and 5 Swiss francs a day for children. Call ahead for hours: (+41) (0) 717941414.
For rentals longer than one day, call Alpstein Sport, Jakob-Signerstrasse 4, 9050 Appenzell, Switzerland, at (+41) (0) 717871291 or visit alpsteinsport.ch, in German.
— Nina Peacock
---
---
---
---