No project too hairy for civil affairs crew
by
Kendra Helmer
February 22, 2004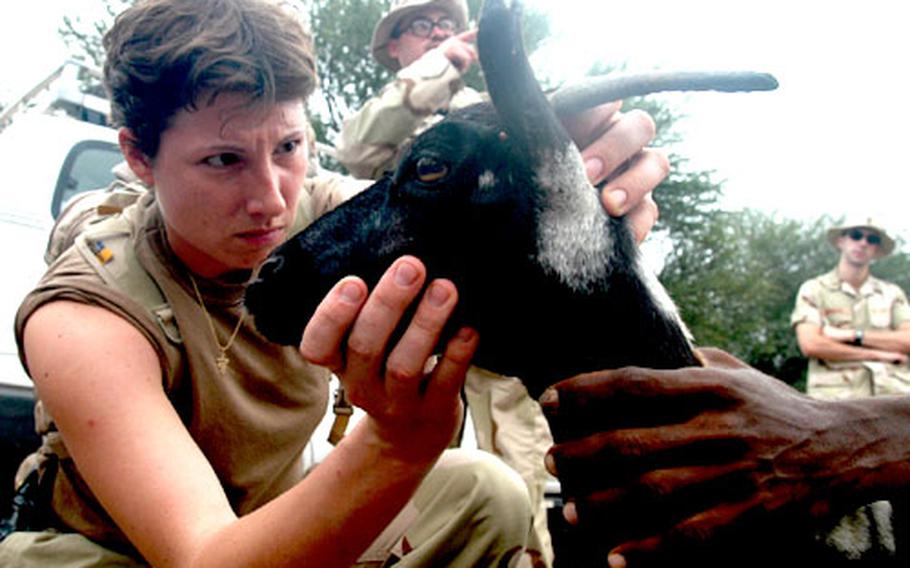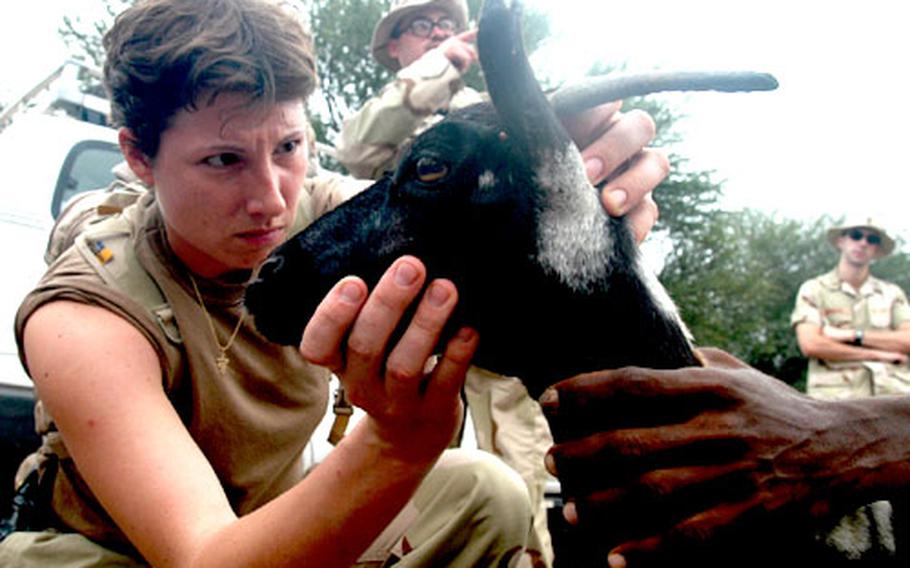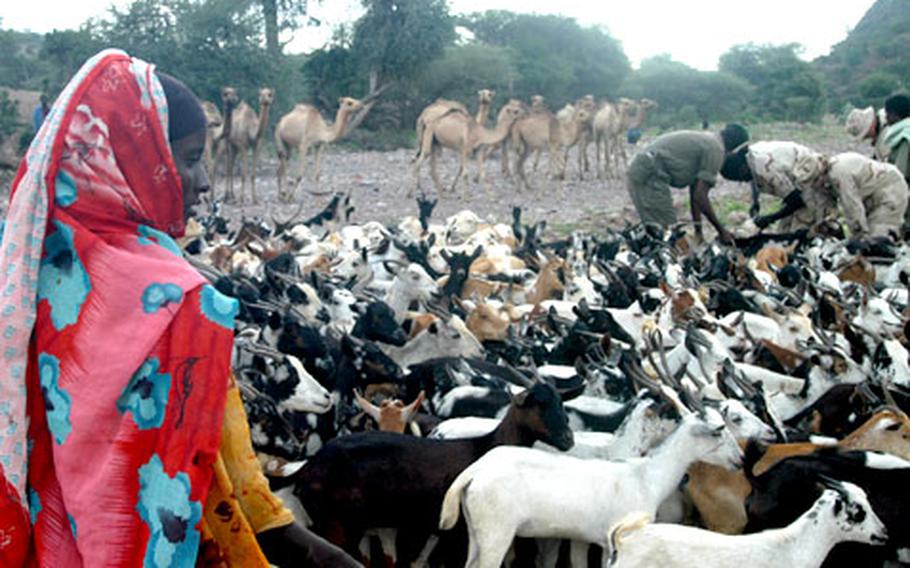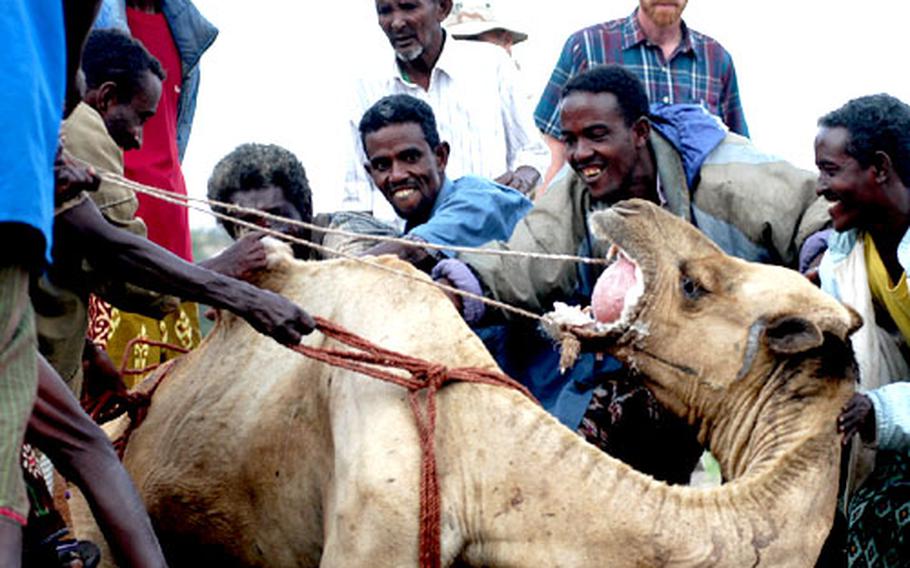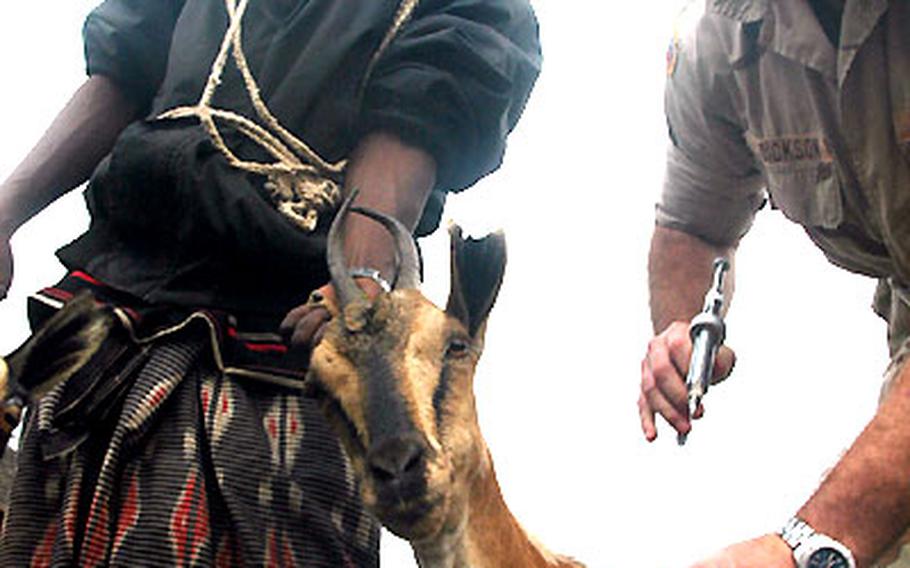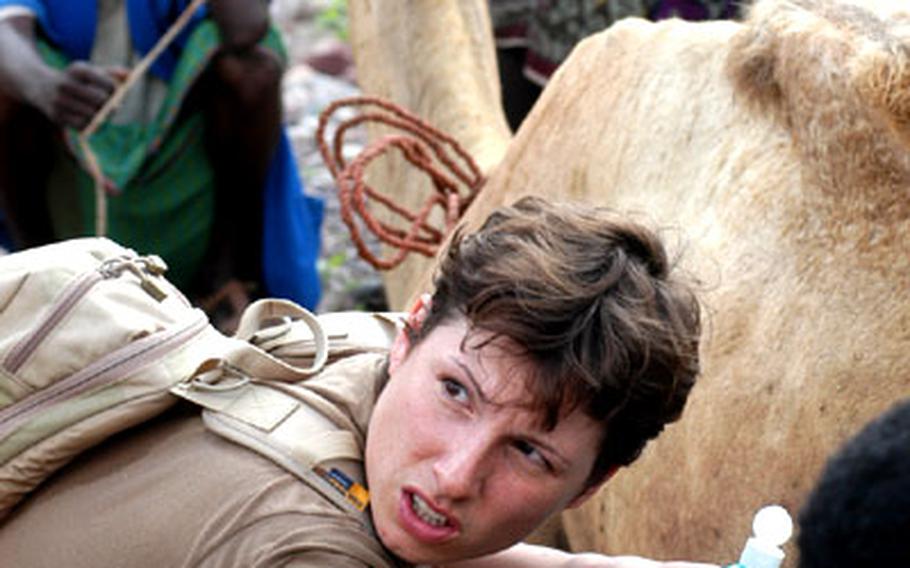 A half dozen people had to restrain the irate patient, who likely would have kicked Army 1st Lt. Amy Peterson-Colwell had his legs not been tied together.
Over the patient's loud (and slobbery) protests, Peterson-Colwell cleansed the injured leg.
"Camels are like a horse with a bad attitude," said Peterson-Colwell, 28, a veterinarian from Mount Vernon, Ohio.
She and other soldiers with the 412th Civil Affairs Battalion are the newest team based at Camp Lemonier to conduct humanitarian missions such as veterinary civil action programs, known as VETCAPS, in the Horn of Africa.
The 45 soldiers, mostly reservists based in Columbus, Ohio, and Las Vegas, arrived last month. They are among more than 1,000 troops deployed to the headquarters for the Combined Joint Task Force-Horn of Africa, which oversees counter-terrorism operations in the region. Over the past year, teams attached to the task force have conducted dozens of such humanitarian missions in Djibouti, Kenya and Ethiopia.
Team members spend less than half of their nine-month or so deployment at the camp near Djibouti City. Most of the time, the soldiers are nomads, much like the people they help. About one-third of Djibouti's 457,000 people are nomadic herders.
The soldiers camp or stay in isolated villages for the humanitarian missions.
For a recent mission to vaccinate and treat goats and camels, a team of 12 soldiers endured a bladder-jarring drive over washed-out dirt roads to a remote valley in northern Djibouti. Word had spread around the countryside, and herders and animals materialized from the hills.
The soldiers learned their lesson after the first clinic, when they got exhausted trying to corral the scattered goats. This time, they let the local herders bring the animals to them.
There is a technique to getting your goat, said Master Sgt. Robert Young. "Don't rush the goats, surround them," said Young, 53, from Mechanicsburg, Ohio. "This has been a learning experience, especially for the people from Las Vegas."
Many of the younger goats, sounding just like infants crying, wailed loudly after getting vaccinated.
"I feel their pain, after all the shots they've given us," said Sgt. 1st Class William Dickson, 41, laughing as one goat sprawled across his feet and chewed on his boots.
By the end of the day, the team had vaccinated 946 goats and 29 sheep and treated 13 camels.
Helping out was an American family who has lived in Djibouti for four years. As project coordinator for the International Development and Relief Board, a nongovernmental organization, Joe Dobbs finds veterinarians and doctors for short-term projects in the villages. As he and his wife, Carol, vaccinated goats, their children — Lydia, 3, and A.J., 4 — helped by marking the animals.
"I'm glad the American government is here … but there's a fine line to know when helping becomes hindering," said Joe Dobbs, noting that it's imperative to teach Djiboutians how to help themselves.
There's no doubt that the country needs help, he said. According to the CIA World Factbook, as of 2001, about 50 percent of the country's population is unemployed.
Because it is such an impoverished region, it is an ideal recruiting ground for terrorists, U.S. military officials said. By establishing relationships with people through such programs as veterinary clinics, the task force hopes to keep terrorists from finding a safe haven in the area.
"These are areas that terrorist organizations like to come into because these people are so easily influenced," said Maj. W. Brice Finney, 44, commander of the 412th's D Company. Humanitarian projects that paint a positive image of Americans are meant to counter terrorists spreading anti-Western rhetoric, he said.
"We believe that if they see the truth about Americans … that they will become more friendly toward us and therefore when someone comes into an area and spreads misinformation about us they'll be less susceptible to that," said Finney, from Indianapolis. "In addition to that, as we make friends with them it is possible that they will give us some passive intelligence as to who's in the area, who might be a bad guy."
Projects give troops memorable experiences
American troops have participated in dozens of humanitarian missions since arriving in the Horn of Africa in summer 2002.
Civil affairs teams travel throughout the region to identify medical, veterinary and engineering projects that can improve the local citizens' way of life, from treating sick Djiboutians to rebuilding schools and hospitals.
On a recent afternoon in northern Djibouti, Army Staff Sgt. Raquel Williams-Butler helped a Djiboutian girl draw water from a well. The girl said that rain causes debris to fall into the well.
"I can recommend this may be a good site for a project," said Williams-Butler, 31, a civil affairs team sergeant from St. Louis with the 412th Civil Affairs Battalion.
An hour's drive away, Navy Chief Petty Officer Brian Ellis walked around a hospital in Tadjoura that the U.S. military helped repair.
"This hospital had no running water or septic system," said Ellis, 39, from Gulf Port, Miss. "There was medical waste everywhere on the ground. The place was pretty much unusable."
Another massive project was completed last month by troops with the 463rd Engineering Detachment. The Wheeling, W.Va.-based engineers built Hol Hol Road, which links Djibouti City to the village of Hol Hol. Over six months, the troops built up the 33-kilometer road, transforming it from what had been little more than ruts next to some train tracks. The engineers took turns camping near the road during construction.
Working alongside Djiboutian soldiers and learning to communicate with them was a memorable experience, said Army Staff Sgt. Arthur Dodds, 35, from Hopedale, Ohio. Dodds chuckled over one soldier the troops nicknamed "Dook-dook" for an accident in which he sent a 5-ton truck airborne.
Through gestures, the Djiboutian explained what happened. He apparently fell asleep while driving, hit a ramp and sent the truck airborne.
The man, explaining how his head sounded splitting open, said, "Dook-dook."
— Kendra Helmer
---
---
---
---