Nanta brings a magical medley to the Seoul stage
by
Teri Weaver
November 6, 2005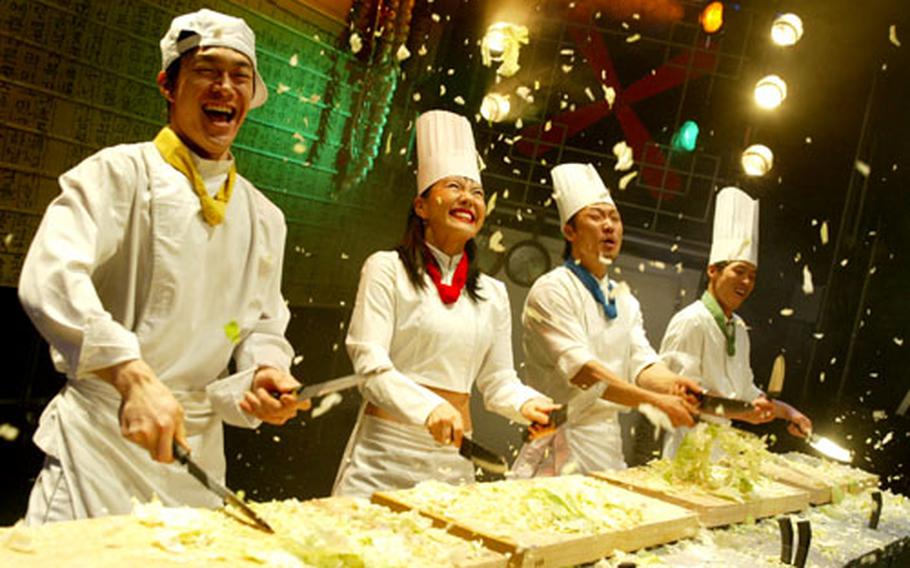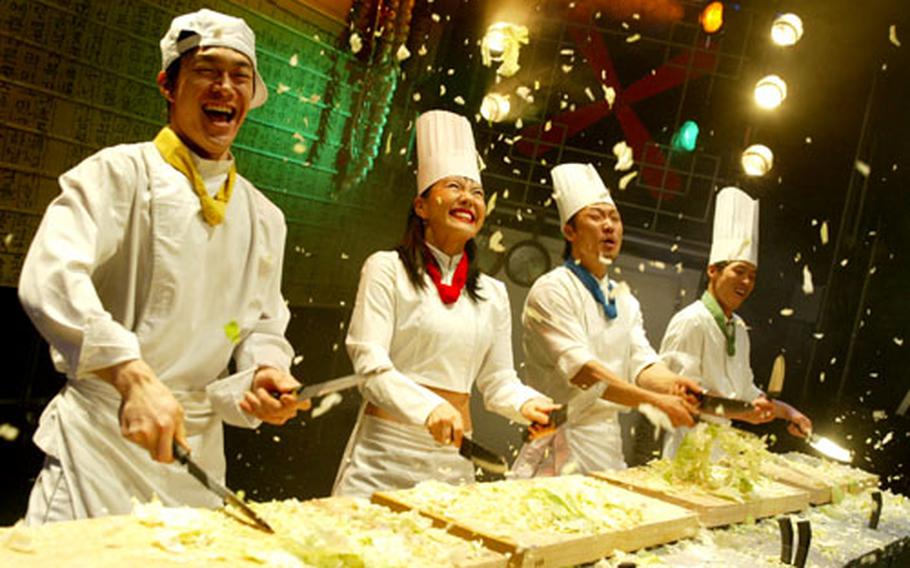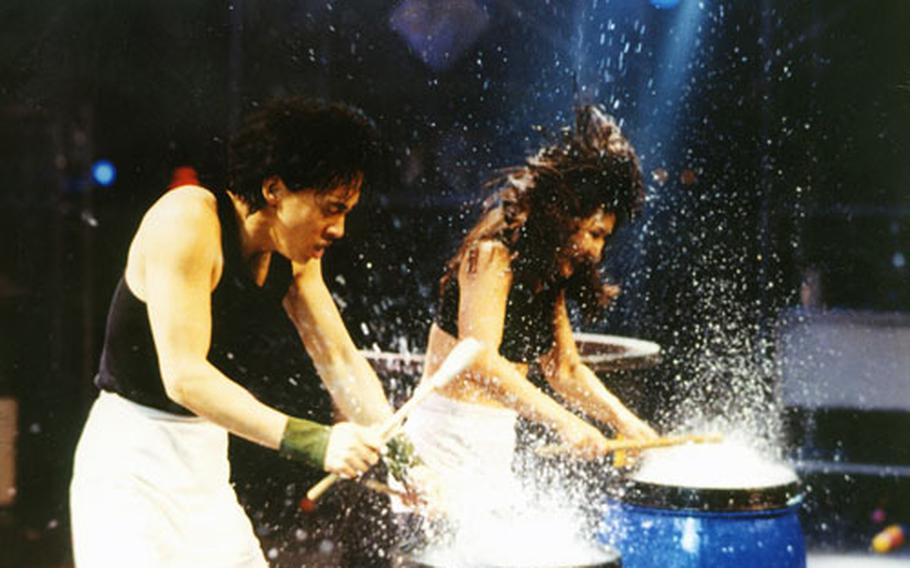 As any toddler knows, the best toy comes to life after mom or dad hands them a wooden spoon and opens the kitchen cabinet to reveal a jackpot of pots and pans.
A little crawling, lugging and banging later, the kid is beating out a pre-school version of the drum solo from "Wipeout" and the family pet is hiding in a closet.
The performers of Nanta possess this magical fun of kitchen clanging, and they share it with hundreds of people who come to cheer on productions each week at a theater in downtown Seoul. Five musicians start with simple chopstick taps and rap them into furious syncopations all while telling an age-old story of any business: the boss's relative gets a job and proves more disastrous than industrious.
Nanta's drummers use pots, pans, flames, knives and a variety of utensils to bang out a story about a kitchen staff's follies while preparing a wedding feast. Cabbage flies. An onion talks. A clock ticks, counting down the time the cooks — and a handful of audience members — have to prepare the meal for the newlyweds.
The drummers themselves vary slapstick routine with heart-racing beats to tell their story. No Korean is spoken, and a few English words make their way into the show, especially when the cooks invite audience members to help prepare the food and keep the beat.
Nanta performances began in 1997, and since them the company has built its own theater near city hall and taken its show around the world. To keep up with the busy pace of performances — there are 15 each week — five casts of drummers rotate schedules to play the head cook, banquet manager, sexy cook, female cook and the manager's nephew, a guy with no cooking experience who makes more messes than successes in the kitchen.
The performance culminates with a dumpling stuffing competition and a special appearance by the newly married couple. Bring your appetite for rhythms and laughs.
Hwang Hae-rym contributed to this report.
Know and Go
DIRECTIONS: Nanta Theater is only a few blocks from Seoul City Hall. Take line No. 5 and get off at Seodaemun and take exit No. 5. Or take line No. 1 or No. 2, get off at the city hall and take exit 2 or 12.
TO BUY TICKETS: Go to http://nanta.co.kr, or call 739-8288 and ask for an English speaker. The Nanta box office is accustomed to foreign customers and has many people who speak English. Tickets range from 40,000 to 60,000 won each (about $40 to $60), but ask about discounts for students and group rates.