MOON Cafe in Yokohama sells American-style burgers, but at a price
by
Allen Onstott
October 19, 2017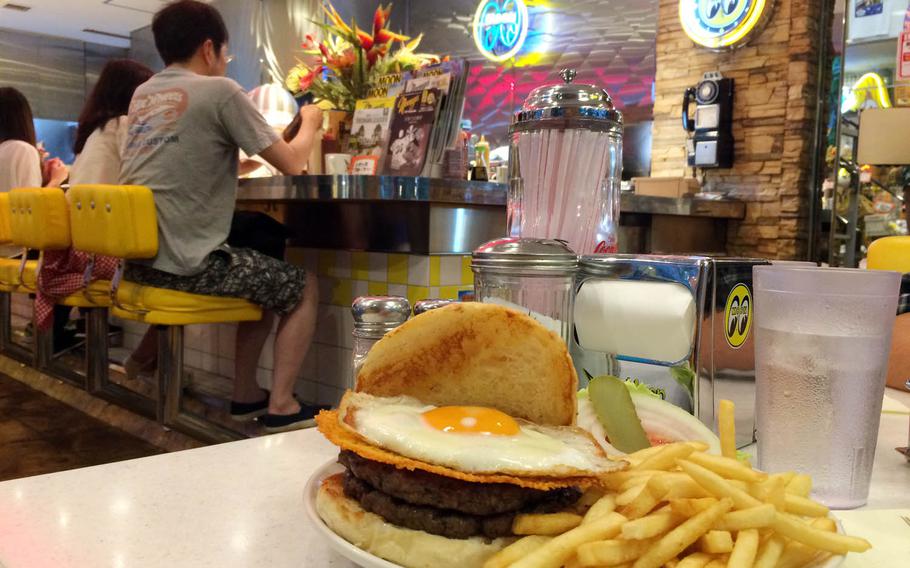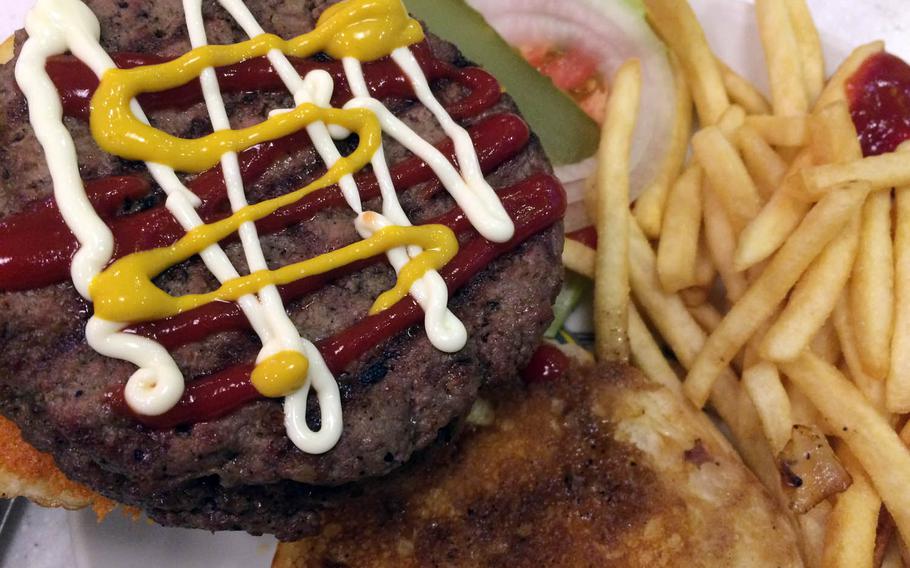 Speed freaks can fuel up at MOON Cafe, an American-style burger joint next to a shop that sells everything you need to turn your car or motorcycle into a mean machine.
The cafe, in Yokohama's Honmoku suburb, has a 1960s vibe with a huge diagonal glass window, an open kitchen, lots of green, stone walls and music to match.
"Sitting in the MOON Cafe will make you forget about all the racket of Yokohama and make you feel like you're in a coffee shop somewhere in the suburbs of America," the owners claim on their website.
The cafe is next to MOONEYES Area-1, a car parts store and garage that describes itself as the epicenter for hot rod car parts in Japan.
Hungry car buffs need look no further than the No. 1 item on the menu, the Dead Moon Burger (1,800 yen, or about $16).
The basic burger, which comes with fresh, thin, crunchy fries, is pretty plain; however, you can add items such as crispy cheese, egg, bacon, onion and mushrooms for an additional charge.
The meat patties are kind of thin and so is the bun, but with enough ingredients, it has a hearty taste that's a little tangy, like an In-N-Out burger.
Another option is the Moon 5-5-1 Tower Burger, which is by far the largest menu item. It comes with four meat patties and all the toppings. It's more than 5 inches high and has a price to match at 3,700 yen.
For dessert, you might try the Classic Hot American pie. It's popular enough to sell out at times.
MOON Cafe offers an authentic American burger experience, even if the prices are pretty high by U.S. standards.
MOON Cafe Location: 2-10 Honmoku-Miyahara, Naka-ku Yokohama. From Yokohama Station, take local bus No. 58 to Kominato Station. At the corner, turn left and walk about 400 yards. Moon Cafe is on your left.
Hours: 11:30 a.m. to 10 p.m. Monday through Saturday; 10.30 a.m. to 9 p.m. Sunday.
Food: Burgers, from bite-sized to one that measures 5 inches high. Other offerings include taco plates, steak and eggs, quesadilla, salads and soups. The cafe serves Mexican and American beers (600 to 700 yen) along with whisky, gin, vodka and rum from about 1,100 yen. Prices: High for burgers
Dress: Casual
Information: 045-623-3960; www.mooncafe-honmoku.com/en