'Monday Night Combat' fails to score
by
Dan Crabtree
September 8, 2010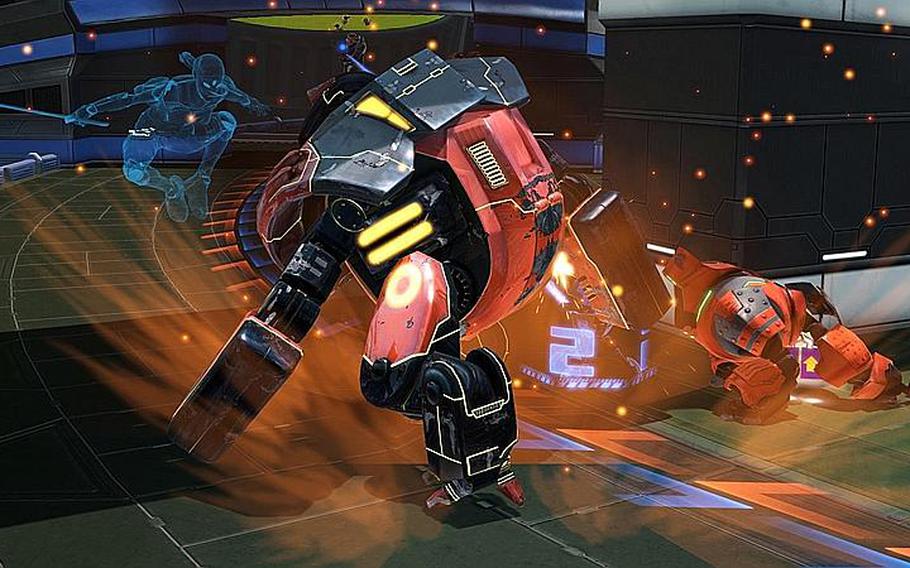 Ever wondered how modern sports could benefit from the Roman Coliseum?
"Monday Night Combat" is the hypothetical answer, pitting teams of players and robots against each other in a wonderful sport for cash, cash and more cash.
It's an Xbox Live title from Microsoft Game Studios that rises above your run-of-the-mill team shooter by tweaking the Team Fortress 2 class systems and thrusting those amid strategically designed environments. Overall, it's worth the bucks, but it only costs about 15 bucks.
The basic premise puts the player in the shoes of a gladiator who can assume any of six character classes in order to achieve a couple of tasks. You can either team up with other players online and take on waves of robots (ranging from small Escort Bots to the giant Jackbot) in order to protect the "Money Ball" for as long as possible, thus gaining more funds in the process.
If the horde-mode-style of combat isn't so much your thing, the Crossfire mode (essentially a protect-and-defend team deathmatch) may suit your fancy. It's easy to play Crossfire like any other shooter — just ignore the objective of protecting your team's money ball and kill the enemies instead. However, if you're looking for a bit of strategy, it offers that as well.
It is disappointing, however, that no mode was included with just player-on-player combat, which seems a deliberate choice. Instead, the focus on the money and the advancement of the robot minions across the map takes some of the control out of the player's hands, but not entirely.
The real name of any exclusively online multiplayer game, though, will always be balance. And "Monday Night Combat" tries to balance the strengths of six classes: Assault, Tank, Sniper, Support, Gunner and Assassin.
Unfortunately, they are pretty out of balance.
To begin, the Assassin, which is designed with stealth kills and map-traversing in mind, is entirely too weak (generally a sneaking grab only drains a quarter of your opponents life) and dies almost instantly in the face of one-on-one combat. The Tank and Gunner classes are both fairly middle of the road, with their big guns and armor toned down with reduced speed and accuracy. The Support is a medic class like any other, although the ability to heal turrets is a nice feature.
The Assault and Sniper classes are easily the best, and by too wide a margin. They both have enough abilities and weapons in their arsenal to render the other classes close to obsolete, which a lot of players online figured out quickly and matches devolved into straight-up Sniper battles or run-and-gun Assault battles.
Obviously the idea of class-based multiplayer team battle game can work, and has, but "Monday Night Combat" is an unfortunate misstep in the widely accessible and arcade-shooter genre.
It may be worth a few hours of fun for those easily pulled into multiplayer level-up systems a la "Modern Warfare" (the class customization isn't nearly as fine-tuned), but likely this title will be a disappointment for those hoping for a deep and addictive experience.
Platforms: Xbox 360
Online: www.uberent.com
---
---
---
---