Mold complaints in Okinawa housing slowly prompting changes
---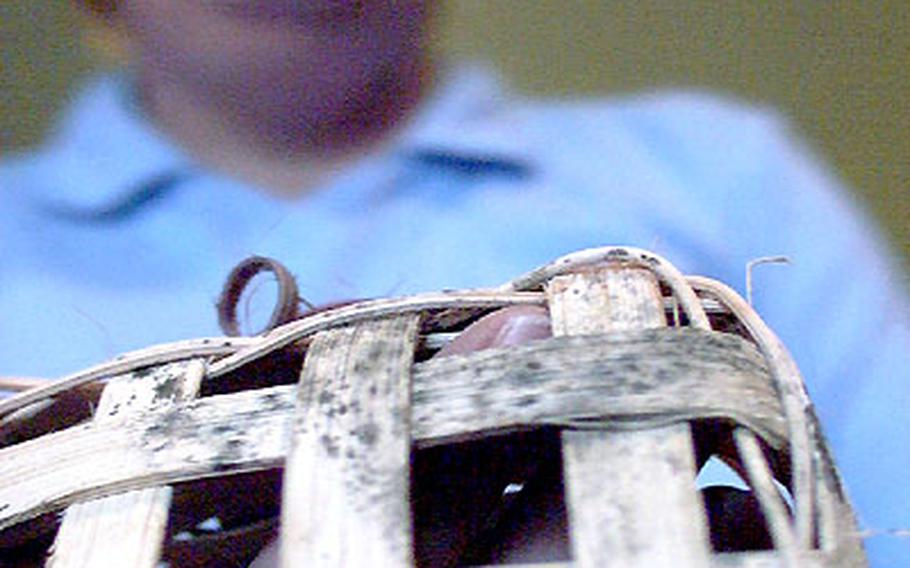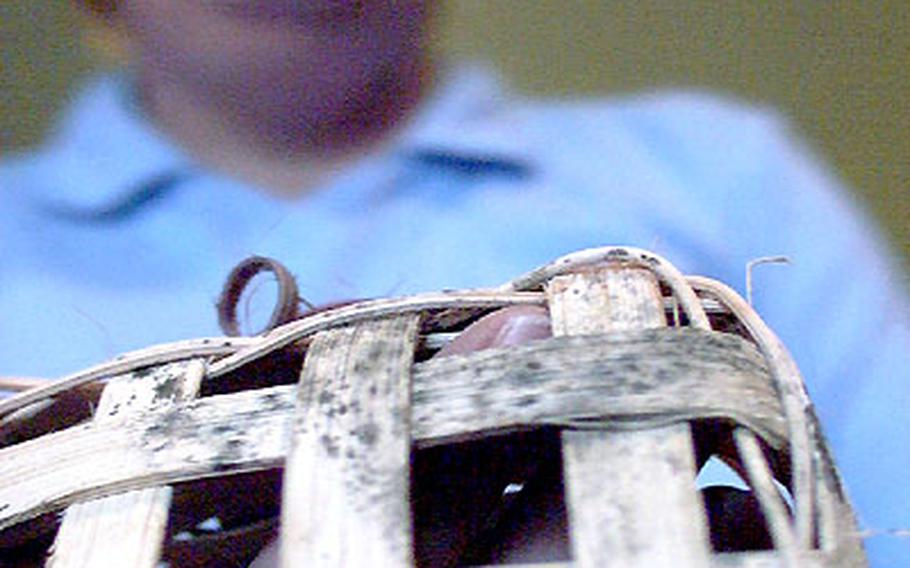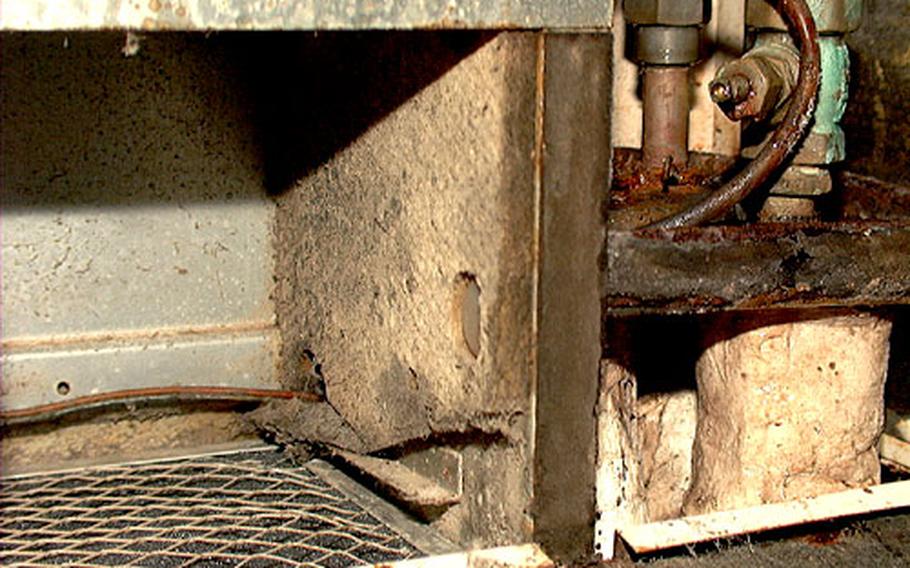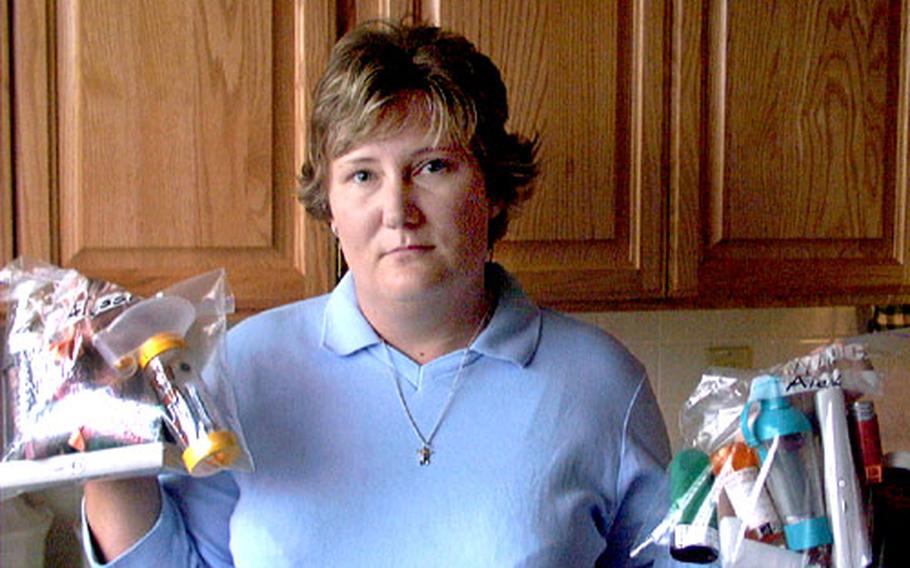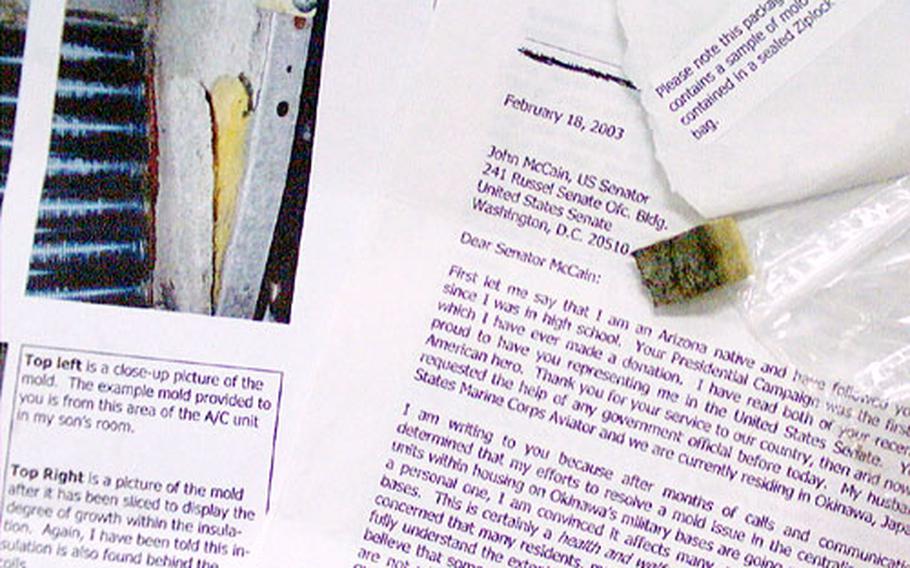 KADENA AIR BASE, Okinawa — "Disgusting" and "shocking" are among the words Susan Petersen chose to describe her reaction the first time she peered inside base housing's air-delivery system.
A close third: "Eeeuuw yuck!"
The source of her repulsion? Mold, the dark green and black stuff she saw covering the air system's insulation and drip pans — as it does with many base housing units on Okinawa.
Concerned for her children, Petersen lobbied Kadena housing officials to deal with its growth in her heating, ventilation and air-conditioning system. Her two children developed mold-related asthma and allergies after moving into base housing in February 2002, according to medical officials.
Allergy skin testing on the children "produced a maximum response to molds," Maj. Dale A. Volquartsen, an Air Force pediatrician at Kadena, wrote in a letter recommending that base housing officials move the family.
"Both children have been diagnosed with allergies and asthma since moving into their current base housing," wrote Capt. J. Frederick Huiet, III, chief of the 18th Medical Group's Allergy/Immunizations Element, in a similar letter. "These molds are no doubt making a significant contribution to their allergies and asthma."
After receiving the two letters in February, Petersen said, she wrote Sen. John McCain, R-Ariz. — and sent copies to the Occupational Safety and Health Administration, Centers for Disease Control and Prevention, Environmental Protection Agency, three generals on Okinawa and 11 other local commanders, inspectors, and maintenance, facilities, environmental and engineering officials.
"This is certainly a health and welfare issue of the most extreme nature," she wrote, passing along a visual aid in each letter — a Zip-lock baggie containing a mold sample snipped from the Fiberglas insulation inside her home's ventilation system.
"The housing office here in Okinawa does not take the mold issue seriously and refuses to be educated on the matter," Petersen wrote the senator, accusing Kadena officials of not following EPA, CDC and OSHA guidelines for mold removal and cleanup.
Kadena officials say they've made plans to assess the problem and compare how many people living on base acquire asthma and allergies to those living outside the gates. They also began updating a housing brochure to better educate residents about the potential problem and changed the maintenance policy for HVAC units.
"Base officials … are trying to figure out the best possible way to do a representative inspection … to assess the extent of the problem" and how best to handle it, Kadena spokesman Masao Doi said.
Meanwhile, all base personnel need not be alarmed, said Air Force Capt. Scott Hebrink, commander of the 18th Medical Group's Public Health Flight. "Typically, the majority of the population is not going to have a problem with this," he said, adding that most residents won't "catch an illness from the mold."
Mold also has cropped up in base housing on mainland Japan, said Mieko Morita, a spokeswoman for U.S. Forces Japan at Yokota Air Base.
"The Navy issues dehumidifiers for off-base and on-base occupants," said Morita. "Window air-conditioning units are also efficient dehumidifiers. Yokota and Yokosuka family housing units are air-conditioned predominantly with window units."
Housing units with large amounts of mold may require maintenance to correct the problem, Morita said. In some cases, officials have moved occupants temporarily so maintenance workers can clean up the mold and service the air conditioning.
Morita echoed medical officials' assessments that mold poses no general health risk.
Hebrink said public health officials on Okinawa have investigated about eight to 10 cases a year of house-related allergies. In some, he said, carpets or other factors also could have triggered them.
Petersen doubts the numbers are that low. In her letter to McCain, she said she's encountered dozens of families who need alternative housing because of house-related allergies. "Added to that are the residents who suffer from allergies and asthma and have not yet correlated the problem to their air-delivery system," she said.
McCain replied that he's urged the EPA to investigate her claims.
Depending on results of base public health officials' comparative study, Hebrink said, officials may initiate more specific inquiries. But he cautioned that analyzing mold danger is difficult because many substances can trigger asthma and allergies.
Petersen's husband, Jon, a Marine captain stationed at Marine Corps Air Station, Futenma, said he hopes to see the study completed quickly and wants housing officials to better inform residents of potential health problems.
Kadena's 718th Civil Engineer Squadron and 18th Medical Group have teamed to educate base residents about identifying and treating mold and mildew, said Lt. Col. Steven Hammock, 718th CES commander.
Hammock's command oversees Kadena's housing office, which manages more than 8,000 units on Okinawa.
"The direction we're going now is to replace the Fiberglas insulation with a rubber-type insulation," Hammock said, noting that occupants can clean rubberized material but not Fiberglas.
Maj. Daniel Golen, the bioenvironmental flight commander, said, "The best approach is to remove the porous material. … A lot of technical information from the EPA and CDC don't recommend sampling" to determine the problem's severity. "They really look at if the presence is there, we want to take care of the presence of mold … If you see it, the best way to take care of it is to remove the mold."
For hard surfaces that can be cleaned, provided soap and water don't work, Golen recommends solutions of diluted bleach — but ensure adequate ventilation.
"Obviously, the health and safety of our residents is our top concern," he said. "Our priority is to provide a safe environment to our occupants and address the needs of the residents — especially those with medical conditions that are associated with mold."
Hammock said he doesn't know how many units have Fiberglas insulation, but that installing rubber insulation would take years. Maintenance personnel will make the swap during change-of-occupancy checks or calls for service, he said.
The EPA Web site warns not to run an HVAC system "if you know or suspect that it is contaminated with mold. It could spread mold throughout the building."
On Okinawa, the HVAC systems run almost all year. Kadena's housing maintenance office typically turns air conditioning off in December and heat on until late February or early March. The air conditioning typically returns in late March or early April.
Living without air conditioning is not preferred. Summer temperatures in Okinawa rise to about 90 degrees with relative humidity above 80 percent.
The Petersens' mold woes surfaced after they moved into base housing, while the heat was still on. The air conditioning came to life in late March, she said, and a few weeks later, their daughter developed a persistent cough. Several months later, other residents told the family about the mold problem and its possible correlation to respiratory illnesses.
Susan Petersen first complained, making repeated phone calls. In August, Kadena maintenance personnel installed rubberized insulation on the front cover of Petersen's HVAC units but did nothing with the contaminated Fiberglas insulation lining the side and hard-to-access back panels.
Petersen said base officials called her several times to ask if she was satisfied with the repair but she considered the partial cleanup effort in her home inadequate. Her son's bad cough in September landed him in a base hospital emergency room, she said; by December, doctors had diagnosed both children with asthma.
Hammock said his maintenance personnel will now change out all the Fiberglas, including the side panels. But he acknowledged he was unsure how the hard-to-reach areas at the back of the units would be cleaned. To reach that space, maintenance crews must disassemble the entire unit.
Clearly, maintenance officials must fix moldy insulation on the back panel, said Myia Carreiro, a Marine spouse who lives on Camp Lester. After workmen changed out her front and side panel Fiberglas insulation on April 1, Carreiro noticed black mold covering the back panel that was left untouched.
"It's gross. It's just disgusting," said Carreiro, noting that she recently began wondering if her child's allergies that flared up after moving into base housing are related to the mold growth.
Carreiro said she complained to the base inspector about the incomplete job, asking that workers completely take out the HVAC units to properly service them.
It's not clear if word of the new maintenance policy has filtered down to maintenance personnel, Carreiro said. When she called housing in late March to have her insulation replaced, she said an official told her it was her responsibility to clean the unit, using bleach.
The following day, Carreiro noted, another official called, arranging for maintenance personnel to visit her home. Even then, however, she said they seemed baffled that she wanted her moldy insulation replaced.
Two weeks after Petersen sent out her letter in February 2002, Hammock, Golen and other base officials came to her home.
Mike Reese, Kadena's chief of housing management, assured the Petersens the base would move them to a unit with air ventilation that's not prone to mold. He explained that the base pays for all moves when residents have a letter from a doctor stating that an occupant must relocate because of a medical condition.
"There has never been an instance that we haven't followed what the doctor has recommended," Hammock said.
Last November, Staff Sgt. Joe Ybarra, a Marine who lives and works on Camp Foster, gave Kadena's housing office letters from his son's pediatrician stating that his asthma "is triggered by certain allergens that he is exposed to." The doctor said it would be "beneficial" to move the family to another unit with its own central air conditioning — not prone to mold growth — that the occupant could use year-round.
On Nov. 18, the housing office disapproved Ybarra's request for a paid move, but two weeks later sent a letter approving a change if the family moved itself, "based on the fact that your son's condition could benefit from year-round a/c."
After three weeks on the waiting list, they paid for a rental truck and moved themselves into a new home.
Ybarra stressed that he's not seeking reimbursement for the move because the family is happy to be in a mold-free home, where the asthma conditions of their son and another daughter have significantly improved.
"There are just so many people out there who don't know what's going on and don't know to go to the doctor to get the letter," Ybarra said, noting that people seeking a move for environmental-medical reasons must get their doctors to specifically recommend it.
The Petersens said they appreciated the proposed paid move to a house that won't pose a health risk to their children. Still, Jon Petersen said moving again — for the 11th time in nine years — was disappointing.
"It's heartbreaking," Susan Petersen said. "We don't want to move, but right now, we live in a house that is not healthy."
In early April, the family was still in the old quarters, waiting for the new housing to open up.
---
---
---
---