'Military Idol' hopefuls battle using talent, passion
by
Anita Powell
October 16, 2005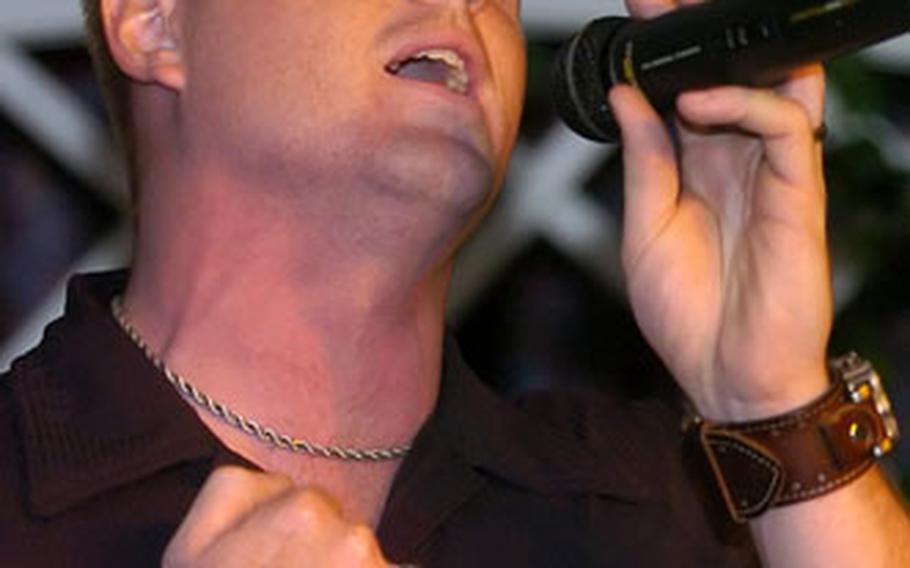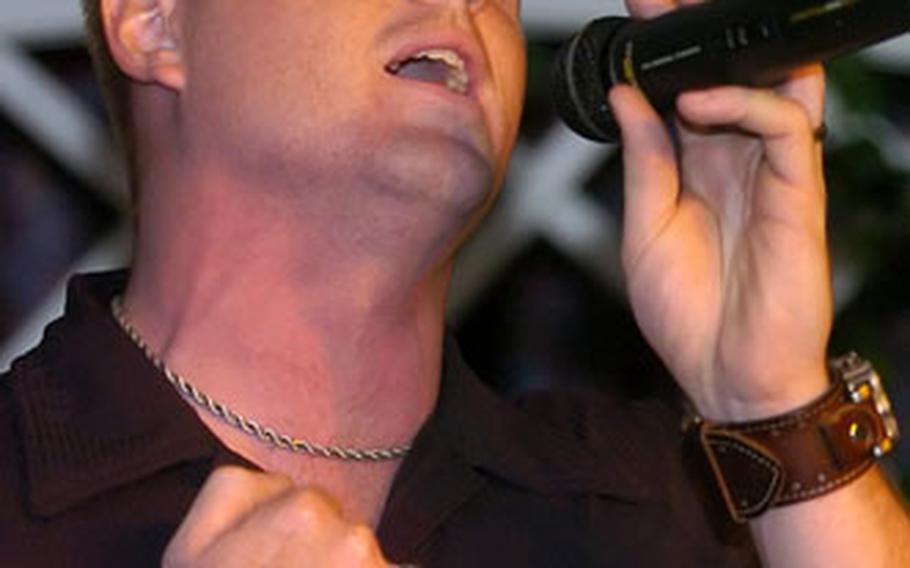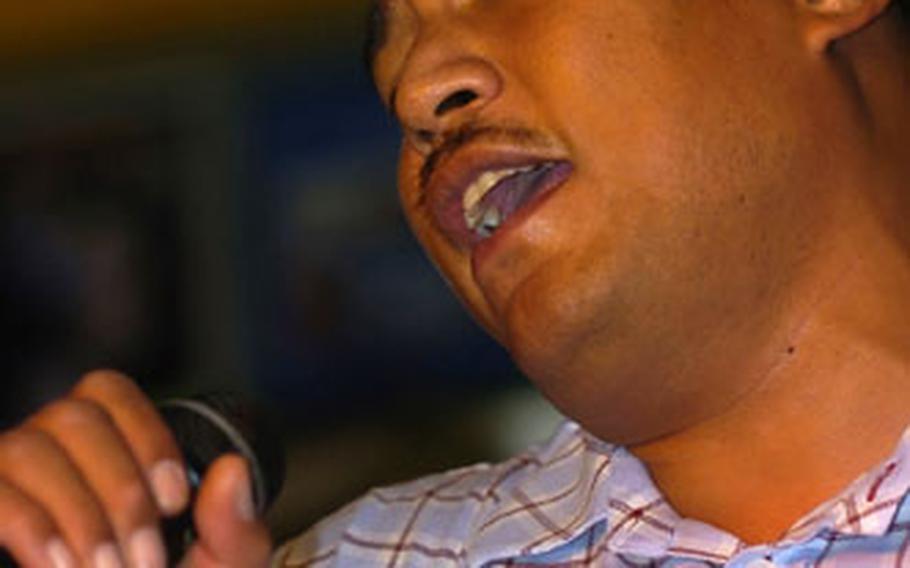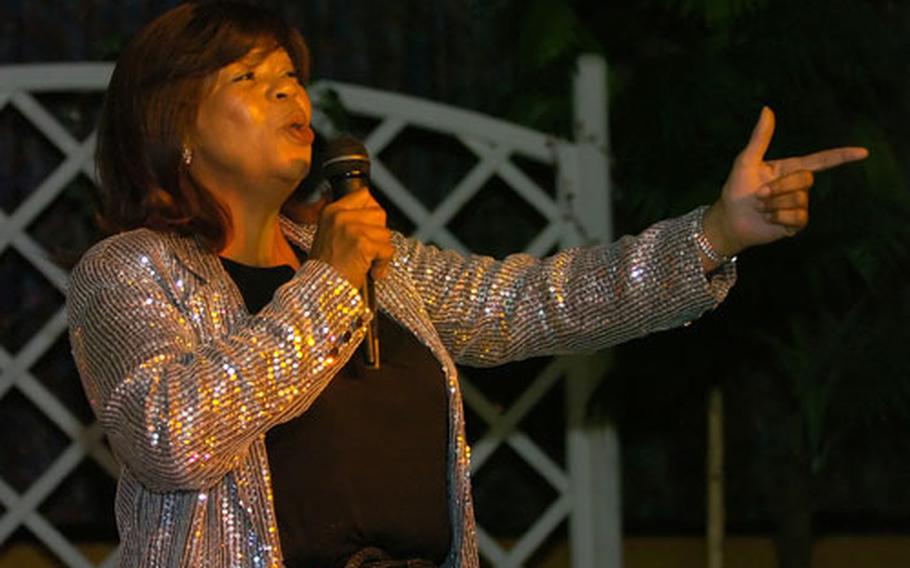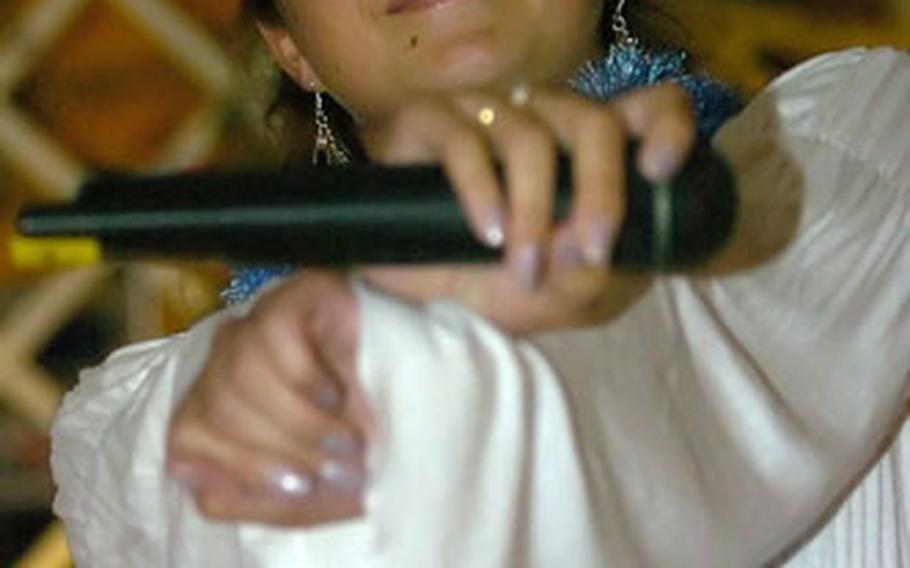 There were no bright lights, no cheering masses, no television cameras or fancy effects last month at the Recovery Room on Nachrichten Kaserne in Heidelberg, Germany.
There were just the dimly lit bar, a group of supporters, three judges and 10 semifinalists in Heidelberg's "Military Idol," the military's "American Idol" spinoff that's making a whirlwind tour of installations worldwide.
Heidelberg's eventual winner, Sgt. Kimberly Sligh, 31, of Headquarters, Headquarters Detachment of the 43rd Signal Battalion in Heidelberg, survived that Friday night and was eventually selected to compete in the international championships in Fort Gordon, Ga., this Monday through Saturday.
She will be joined by other competitors from Europe and bases in Asia and the States.
The finalist from each community wins $500 and an all-expense-paid trip to Georgia from the Army. The soldier's unit also received $500. The overall winner of this week's final contest, which is scheduled for a live, 90-minute telecast on the Pentagon Channel, will receive $1,000. The runner-up will win $500 and the third- place performer will get $250.
What the bar and the semifinalists did not lack was soul, passion and — at least for the five finalists chosen — talent.
The semifinalists who bellied up to the bar to belt their hearts out ranged in age from early 20s to early 50s, from private to captain, from talented to "keep your day job, honey."
Their musical selection ranged from rock 'n' roll standards to heartfelt ballads to show tunes. Outfits ranged from va-va-voom dresses and heels to bad-girl jeans and off-the-shoulder tops to spangles and glitter and plain old jeans and a shirt.
Throughout, lighting and acoustics were poor, some contestants faltered noticeably under the pressure of singing along to poorly replayed karaoke tracks. Others roused the crowd to dancing; some, to tears.
And there were some "American Idol" touches. The event's three judges — USAREUR Band and Chorus Sgt. Maj. Marcy Larson; Staff Sgt. Derrick Alexander, winner of a similar competition put on earlier this year by Better Opportunities for Single Soldiers; and Nashville music industry insider Tasha Bush (the self-proclaimed Paula Abdul of the group) — delivered insightful, often biting criticism.
"Overall, it sounds like a song at a karaoke bar from someone who had too much to drink," Alexander told one crestfallen competitor.
True to "American Idol" style, the event also offered a good-looking host with too-perfect-to-be-real teeth (although host Sgt. Joel Abelson of Kaiserslautern swore they were natural and unmodified) who traded barbs — unsuccessfully — with the crowd. Jokes aside, Abelson said there was a serious purpose to the competition — to highlight the secret talents of soldiers who, when a new work week began, would return to the anonymity of camouflage.
"Soldiers work hard during the day," he said, with a full, dimple- accessorized smile. "And if you have a special talent, you should get to showcase it. … We have talented and skilled people in the military, and [the competition] gives them the opportunity to shine."
One surviving semifinalist, Staff Sgt. David Green, 41, of the 2nd Signal Brigade in Mannheim, chose to shine that light elsewhere. On the eve of Hurricane Rita's landfall, the Houston native chose a fitting ode: "God Bless the USA."
"This is for the guys in Houston," he said before launching into the song with his deep, powerful voice.
The crowd was visibly touched: Many sang along softly, while what appeared to be a group of soldiers stared straight ahead with solemn, thoughtful expressions.
Another competitor, Sgt. Liatama Mauga, of V Corps in Heidelberg, chose to sing an ode to his recently departed father: Eric Clapton's "Tears in Heaven." Tears ran down Mauga's face as he sang in a tremulous, deeply emotional voice.
"If I win or not," — he did not — "it's like, 'whatever,' " he said. "It's the spirit of the thing."
The crowd and judges were also impressed by finalist Sgt. 1st Class Juana Anderson of the 52nd Signal Battalion in Stuttgart, whose selection, show tune "Everything's Coming up Roses," at first baffled, then charmed, the young, increasingly tipsy crowd.
"I'm getting old and my kids are grown," said Anderson, 52, who wore a very noticeable silver-spangled jacket for the occasion. "I work really hard in my battalion. For me, this is fun."
She also quoted a more serious motivation.
Her dream, she said, is to "go to Iraq and entertain. I want to go to Afghanistan and entertain. I think the Army focus right now is on war, on sad things. Sometimes, somebody has to remind people that there's still beauty, there's still joy, and it'll get better."
Military Idol winners
Following are contestants who will be competing in the "Military Idol" finals in Fort Gordon, Ga., this week, and the communities they represent.
EUROPE
(All are in Germany unless otherwise noted.)
Ansbach: Sgt. Charles E. Dixon, Company B, 601st Aviation Support Battalion, KatterbachBamberg: Staff Sgt. Scott M. Loveless, Company A, 1st Battalion, 33rd Field Artillery, Warner BarracksBaumbolder: Pfc. Michael Trotter Jr., Company C, 1st Battalion, 6th Infantry Regiment, BaumholderDarmstadt: Staff Sgt. William N. Glenn, 258th Military Police Company, DarmstadtHanau: Staff Sgt. Windy Ramel, Headquarters, Headquarters Company, U.S. Army Garrison Hessen, HanauHeidelberg: Sgt. Kimberly Sligh, Headquarters, Headquarters Detachment, 43rd Signal Battalion, Campbell BarracksHohenfels: Maj. Philip Stagg, Headquartaers, Joint Multinational Training Center, GrafenwöhrSchweinfurt: Spc. Festus Togbeola, Company C, 1st Battalion, 77th Armor Regiment, Conn BarracksWiesbaden: Spc. Aliesha S. Turner, 1st Armored Division's Headquarters, Headquarters Company, WiesbadenWürzburg: Spc. Richard S. Sianoya, 523rd Medical Company (Dental Services), GiebelstadtSHAPE, Belgium: Spc. Davina L. Eubanks, SHAPE Healthcare Facility U.S. Army Health Clinic SHAPEPACIFIC