Military, European hospitals offer plethora of childbirth options
by
Jessica Iñigo
July 29, 2003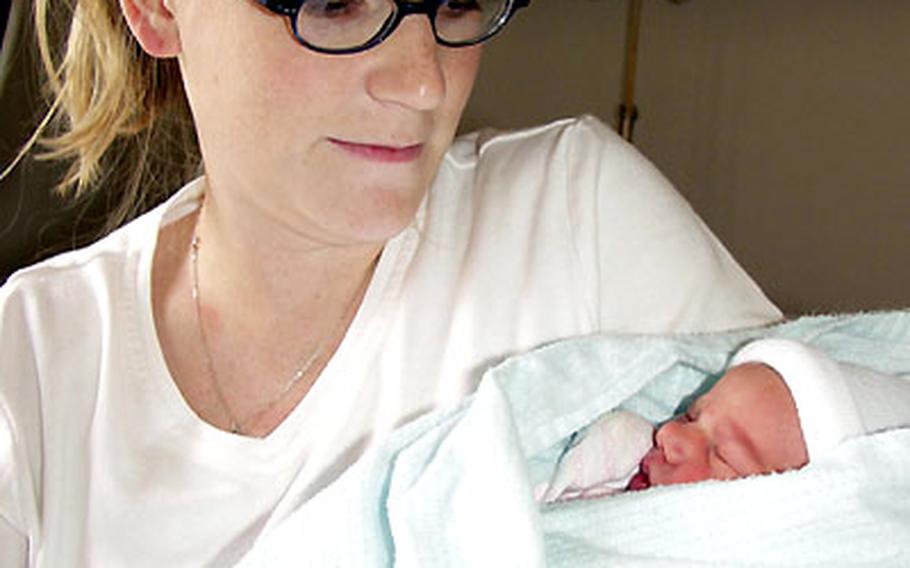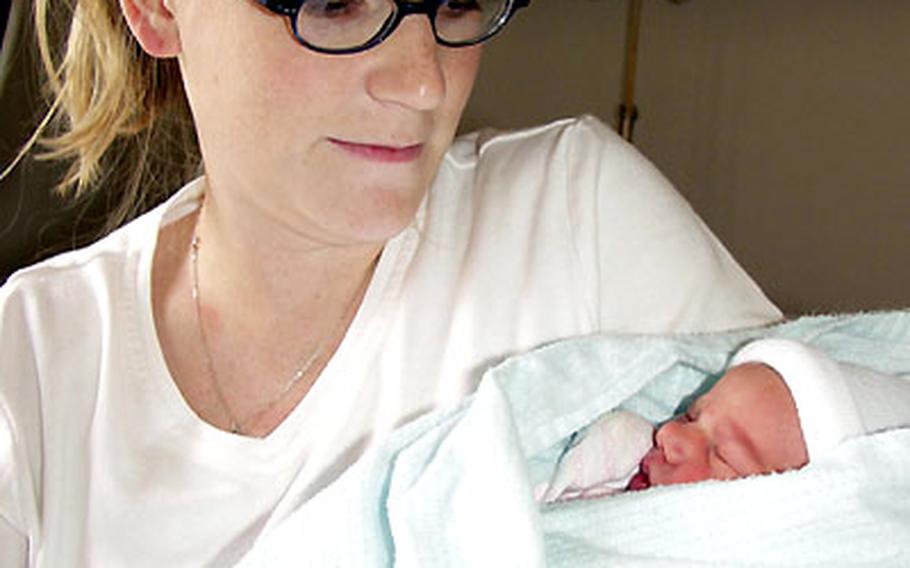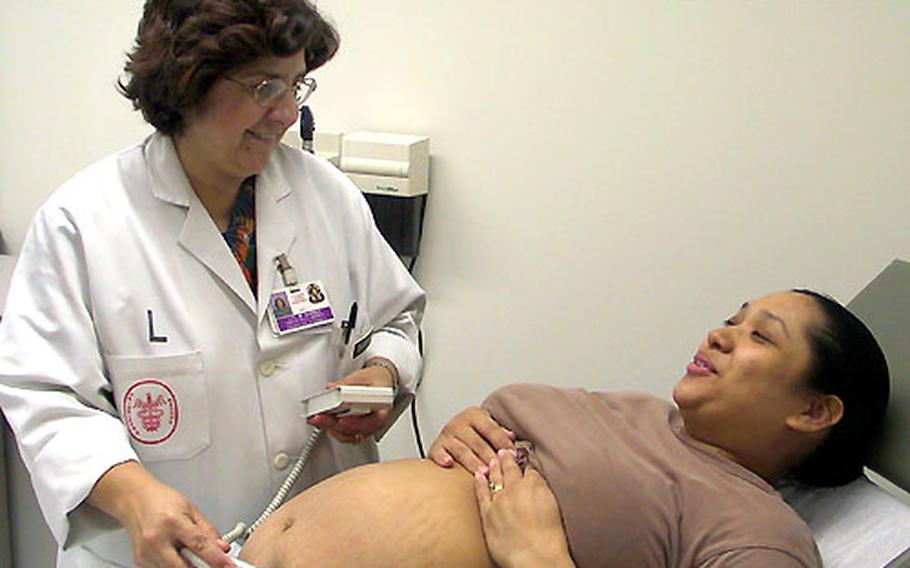 Setting up a home is never easy, but setting up that home on a military installation overseas during a pregnancy can be downright stressful.
Doctor or midwife? Epidural or holding bars? American military hospital or local host nation facility?
When so many military members are deployed, and with their other family members far away, many expectant mothers may not know where to turn because there are so many options. Everything from traditional military hospital births to underwater birthing opportunities in European hospitals is available.
Here are some of the options for help and health care during and after a pregnancy.
The pregnancy
First-time moms can take advantage of classes at family support centers across Europe.
Different military installations offer various support groups or instructional aid to members of their communities.
Military members, family and civilians can all get training and support from the Army Community Service, which offers a variety of how-to classes and first- time instruction; the Air Force's Bundles for Babies program and New Parent Support Group offer information on prenatal care. The Navy's Fleet and Family Support Center's Community Baby Shower programs are held twice a year.
These courses include techniques for breast-feeding, tracking the development of the baby, giving support to the fathers, and preparing for an addition to the family.
At the hospital
Military and civilian hospitals overseas are equipped to bring wee ones into the world, supporting many different preferences and lifestyles. There are a lot of similarities between military and European hospitals, but there are some differences, too.
One glaring difference is that in European hospitals, the labor and birth process is centered on midwives, not doctors, as is typical with American births.
Usually, about three midwives will handle all mother and child needs, with the doctor only stepping in if there are major problems. Mothers will see a doctor and midwives throughout the pregnancy.
Also in European hospitals, expectant mothers will have ropes, holding bars and birthing balls available to them in delivery rooms to help them through labor pain, since European hospitals rarely use epidurals during labor. However, if a woman requests an epidural, the hospitals won't deny it.
In European hospitals, acupuncture is sometimes used during pregnancy to help open the cervix toward the final month.
And here's another option available at European hospitals: While there have been several studies done on the pros and cons of water births, birthing bathtubs are easily available for underwater births.
Caitlin Goodale-Porter, 39, from the Heidelberg, Germany, community, is eight months pregnant with her first child. She said she has liked going to a German hospital throughout her pregnancy because of the more natural approach to birth.
There are minimal language issues for her, as she continues to learn German and many of the doctors and medical staff speak English.
"Women should remain proactive in what style of care they want for themselves," Goodale- Porter said. "The earlier they know where they are going and who they are dealing with, the more time they will have to fully participate in the decisions surrounding their child."
As in Goodale-Porter's case, many women face giving birth without their spouse on hand to help and share in the joy of the event. But in some cases, the midwives, doulas and childbirth class personnel can help fill that void for women who face pregnancies alone.
And, in the case of European hospitals, many midwives take on more roles for pregnant mothers, assisting in more than just the labor and delivery. They act as supporter, teacher and friend, according to Goodale-Porter.
While the use of midwives is common in European hospitals, midwives are also available in U.S. military hospitals overseas, but there are just a few of them available throughout Europe.
Army Lt. Col. Maria Barnes, a certified nurse midwife at the U.S. Army Medical Department Activity in Heidelberg, said she helps promote low-risk pregnancies for healthy women going through normal growth development without drugs during delivery.
"Midwives emphasize education, more so than physicians, with more labor support considered," Barnes said. "It's a low-intervention birth approach."
As with European midwives, military midwives offer some alternate methods for pain control during labor. These include massage, soothing music, showers, breathing techniques and birthing balls, which help rotate the pelvis when the baby is trying to push through.
While midwives are medically trained, doulas are support personnel available during the labor and delivery process. Doulas are usually available for mothers to ensure that things are going well, while midwives will actually deliver babies.
Husbands, children, friends and other support people can be present during delivery.
Lamaze instructors are also points of strength for pregnant women, according to Army Lt. Col. Richard Jackson, obstetrics and gynecology consultant for the Europe Regional Medical Command at Landstuhl, Germany. Though there are not enough support personnel to offer help to every pregnant woman throughout the military system in Europe, new programs are always being worked on and many people can be depended on in tough times, he said.
For women who want a common American birthing experience, military hospitals are ready to accommodate.
The birthing process and options are discussed with the expectant mother long before the baby is due, and those options include having a natural birth without the use of drugs to ease the pain or using an epidural, which provides an anesthetic.
Jackson said up to 90 percent of mothers use epidurals at military hospitals.
Special cases
Babies who are born early or have special problems are taken to a neonatal intensive care unit on or off military installations — whichever is closer during an emergency.
On average, 25 to 30 percent of pregnancies at military hospitals result in Caesarean sections, while stateside hospitals' averages range from 20 percent to 23 percent, Jackson said. He said European hospitals average about 23 percent.
C-sections are typically given when there is a breach birth, if there is a sexually transmitted disease outbreak, or if the mother cannot physically have the baby because of the weight or size of the mother or the baby.
Parents with special requests or religious beliefs are also accommodated as much as possible at military facilities, Jackson said. Common requests are based on religious beliefs, such as Muslim women who might ask for an all-female staff.
Jackson said some requests cannot always be fulfilled because there might not be enough people on staff and because there is typically only one on-call doctor available for women going into labor after work hours.
For women whose husbands are deployed, or for single mothers-to-be, the medical staff encourages family and friends to be involved in the delivery process. For women who may not have their own support team to turn to, usually a labor-and-delivery nurse is available for support.
After delivery
If the new arrival turns out to be a boy, here's another issue to consider: In European countries it is not a common practice to circumcise infants, Jackson said.
Europeans find no medical benefits for circumcision, he said. The American Medical Association agreed in the 1980s that there are no medical benefits, but circumcisions are still done by request before the baby is released. If the baby is born in a European hospital, he can be taken at a later date to a military hospital to have the circumcision done.
At home
Returning home with the tiny bundle can be a joyful experience, but it also presents a whole new set of problems and stressful situations.
Family advocacy programs throughout the different services offer help for both the mother and the father. Plus, some programs on military installations will make house calls to help parents with specific problems, said Gregory Meyer, New Parent Education and Support Program coordinator from ACS, Installation Management Agency Europe.
These visits are free to the families and many deal with problems that include feeding the baby, first-time help in changing diapers or simply coaching the new family through the first day at home, said Ricky Gibbons, chief of ACS, IMA-E.
Even when the newborn isn't a newborn any more, help is available. For example, mother and child play classes are offered at many military installations. These free classes give parents the opportunity to network with other parents, while children learn social skills.
While Goodale-Porter has been without her spouse, who has been deployed in support of Operation Iraqi Freedom throughout the pregnancy, she hasn't been alone.
"I've found support where I never thought I would find it," she said. "It's not just in the Family Support Groups, but in places you never even think of looking for it."
People throughout her community, such as office workers or passers-by, have helped make Goodale-Porter not feel so alone during her pregnancy, she said. And it helps to know her husband is due to return only a couple of weeks before the baby is due.
For more support and information on pregnancy, mothers-to-be can read an online handbook provided by the U.S. Army Medical Department at: www.qmo.amedd.army.mil/pregnancy/patient_binder.pdf.