Mean streets of Naha
by
Warren Peace
April 18, 2010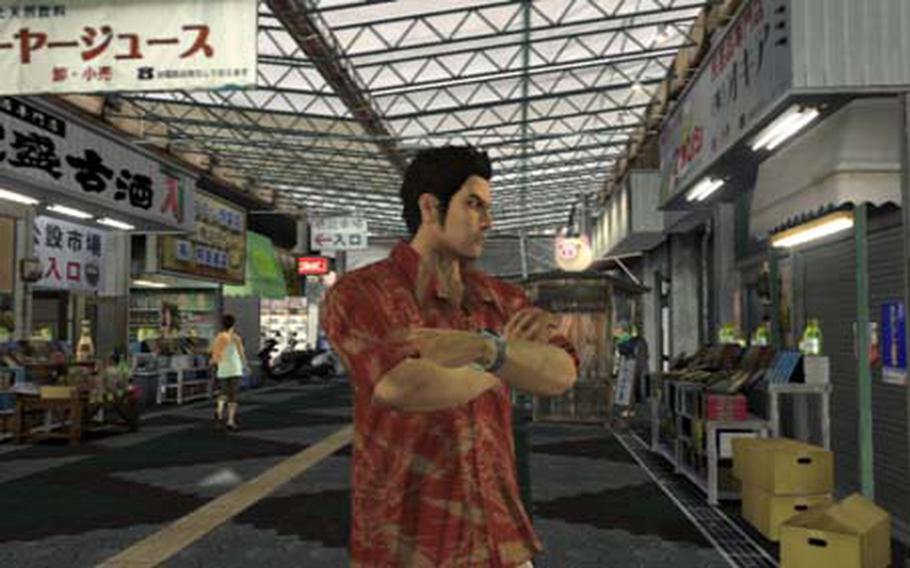 SEGA's version of Japan is a much rougher place than the real thing but almost as alive.
"Yakuza 3" is the latest in a series of Japanese-gang stories and takes a slightly new direction than its predecessors.
The sandbox-style Japanese export video game still features mainland Japan, but it also lets players scrap in places like Kokusai Street in Naha, Okinawa. In the game, the street is renamed as Ryukyu Street, but its fairly accurate rendition of places like the arcade and market place had me feeling like I was back on the island.
The minute details and accuracy developers left out are easily overlooked as they manage to capture the ambience I remember from these places.
The game is more than just neon lights and city streets, though. The story is as deep as any other video game, and on-screen prompts give you the option, during critical moments in the story, to view back stories from the previous two "Yakuza" titles. I was lost for the first few hours of game play, but the characters and plot started making sense once I started watching these back stories.
The story is filled with the typical crime world characteristics: loyalty, brotherhood, deception and, of course, violence.
Unlike many sandbox games, players cannot run around the open-ish world and start fights with anybody. Fight controls only become available when confronted by an opponent. At times, it seems that hundreds of thugs surround you, but they wait in the distance for you to finish off their friends before attacking. This keeps the number of active opponents to a manageable size and still gives the impression of having to fight a gang all by yourself.
There are some weapons in the game and even an option to create your own custom weapons from objects found throughout the world. Baseball bats, swords and just about anything laying around can be served up with deadly results, but the main course is knuckle sandwiches. At its core, this game is a true brawler.
The graphics in the game aren't models of technological innovation, but are crisp and detailed enough to really bring the world to life.
At times, the fighting controls were unresponsive. I had to wait for animations to stop before I could do anything with my character. It never cost me my life, but was aggravating.
Complaints aside, with more than 20 hours of story game play and tons of opportunities for exploration, I can recommend this game with confidence. If you are looking for a robust story with decent fighting and a convincingly alive world, buy this game.
Platforms: PlayStation 3
On the Web: www.sega.com/yakuza3/index_us.php