Many ailing furry friends keep Kadena veterinary facility busy
by
Matt Orr
January 17, 2010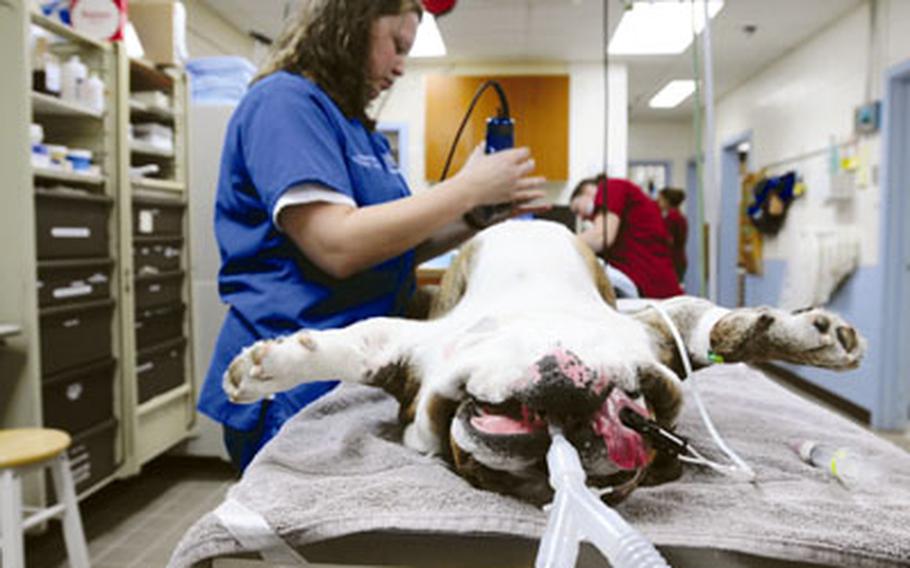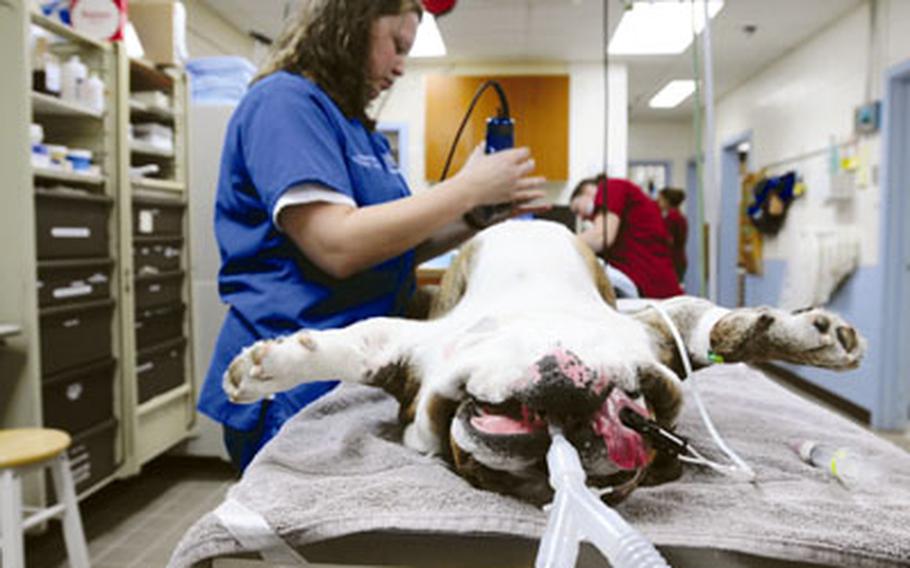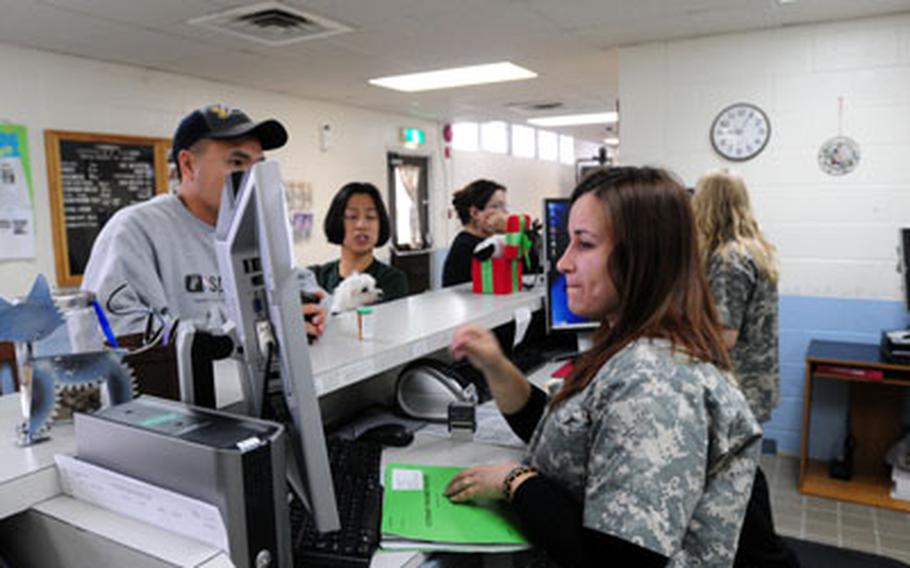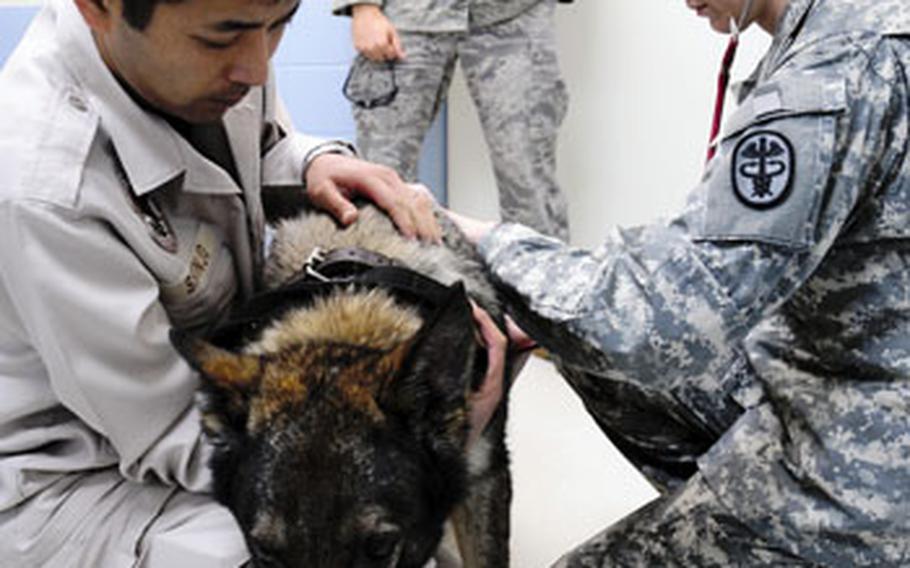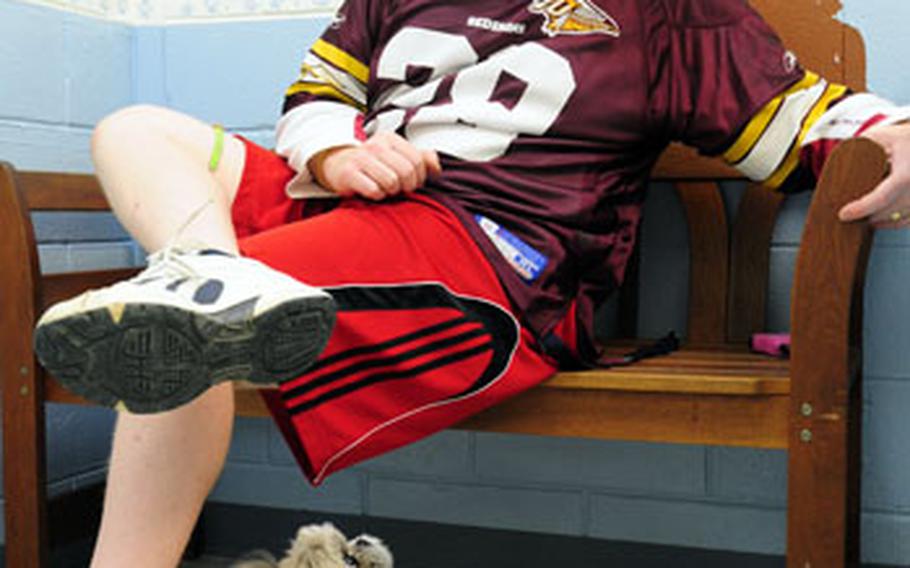 Dozer, an 18-month-old purebred boxer, got a taste of Christmas when his family decorated their tree.
So much so that it landed him in the operating room at Kadena's Veterinary Treatment Facility on Kadena Air Base, Okinawa.
As Dozer lay on his back, a large incision was made across his belly.
Army veterinarians Capt. Stephanie Hall and Capt. Katie Barry worked in unison to remove the ornament Dozer had snatched from the tree and ingested. They carefully lifted his spleen and found the ornament in his intestine.
Within an hour, Dozer was sewn up and resting peacefully.
For Hall, Barry and the rest of the staff, such procedures are not uncommon.
Nearby, Cedric, a 14-year-old pit bull, moaned inside an "oxygen cage" after undergoing surgery to remove a cancerous lump from his side.
Max, an English Bulldog, plodded along in the facility on a leash after his neutering.
He looked rightly miserable after his surgery.
Outside the surgery area, metal cages housed other pets recovering from or about to undergo surgeries.
Eva, a young pit bull, had been X-rayed earlier in the morning and was about to begin heartworm treatment.
More pet owners were standing by with their animals in the waiting room.
"We are not the largest, but we are the busiest in the Army," Barry said. The clinic has performed 1,470 surgeries, treated and seen 4,598 animals for sick call and logged 8,348 wellness appointments, according to clinic records.
The clinic is so busy that sometimes it refers people to off-base clinics.
"We don't like to, but it comes down to our staff numbers and whether we have people deployed or TDY (away on temporary duty)," she said. "Sometimes people are a bit impatient and want their pet seen straightaway, so we refer them to off-base clinics."
On the day earlier this month when Dozer underwent his surgery, seven other animals had operations.
The veterinary staff also saw to 19 sick calls, 23 health certificates and 10 quarantines.
And that was a slow day, Barry said, explaining that they normally perform 10 to 15 surgeries.
Later that day, Dozer — minus the ornament — was picked up by his owners and taken home to recover for the holidays.