Making the move: To-go java jolts Europe
by
Lisa Horn
January 21, 2004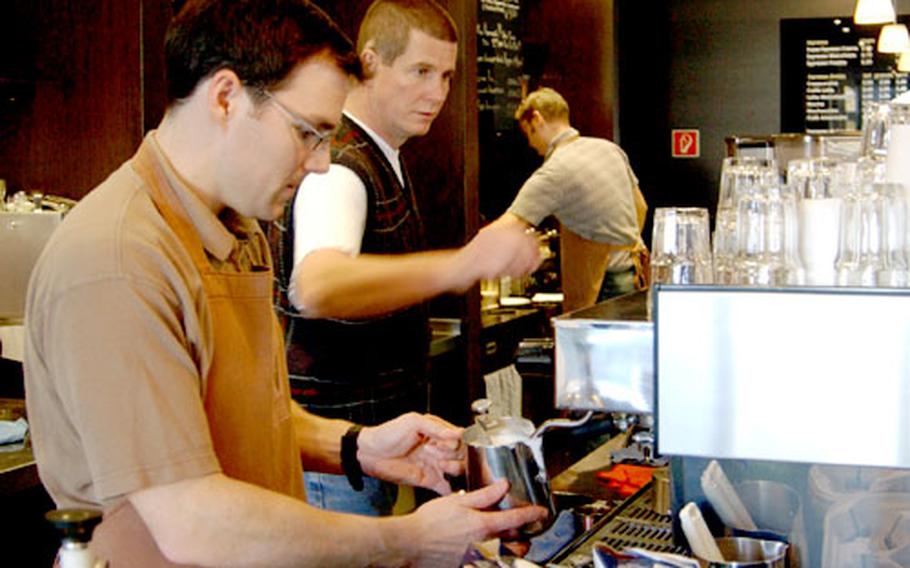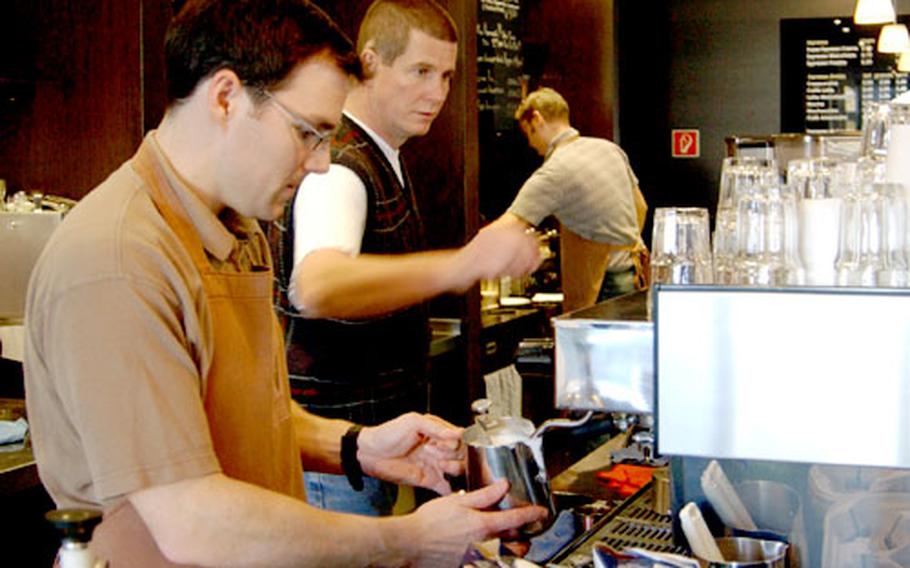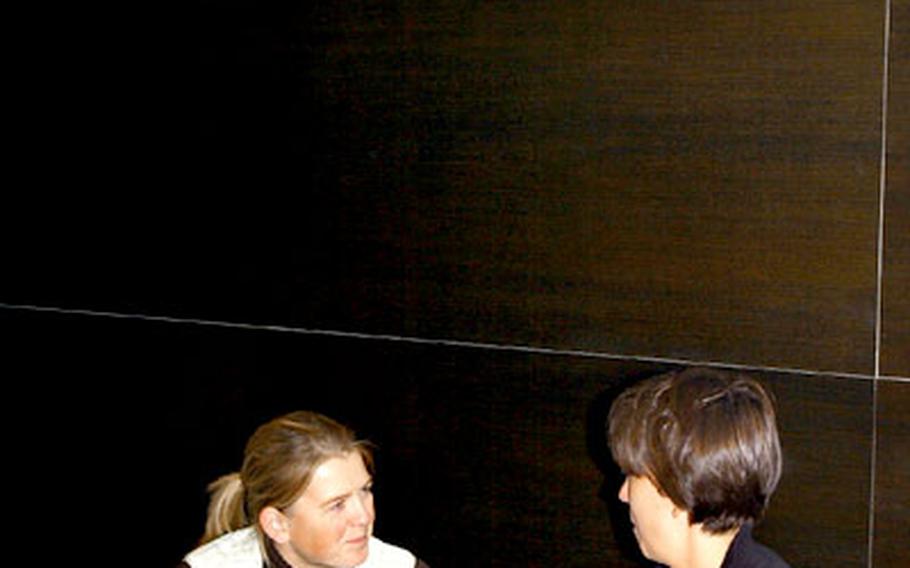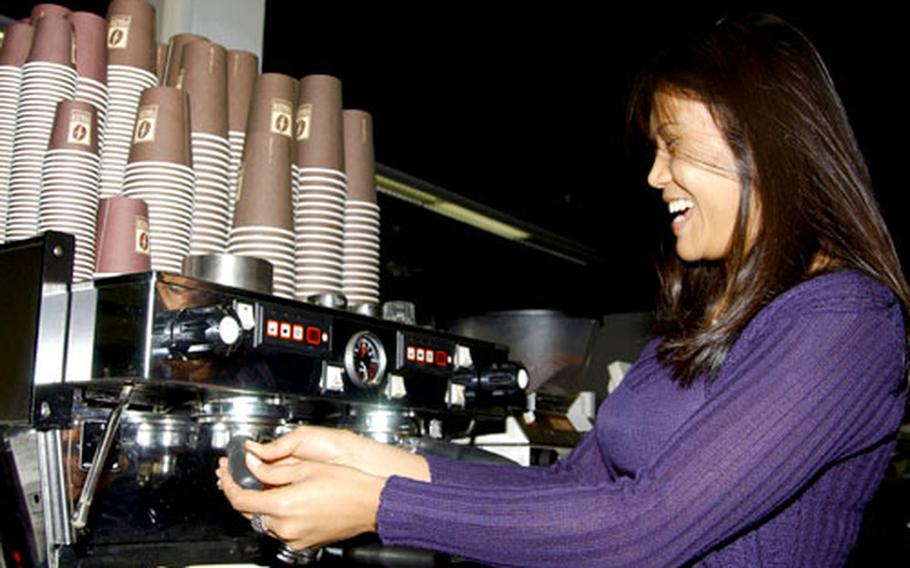 The ritual of drinking coffee is nearly universal. But until recently getting a cup o' joe to go was found only in America.
Not anymore.
Thanks to places such as Starbucks and Frazer Coffee in Frankfurt, Europeans are finding out how Americans like their buzz. Quick … and in a paper cup.
But some Europeans would never think of ordering take-away coffee. And Frazer Coffee owner Peter Joos isn't about to convert them.
"Take-away is not embraced by the people," Joos said. "Contemporaries of mine and people younger than me, 35, 37... will never buy a coffee to go. It is just not part of their culture.
"It is quality time for them. It is an event for them."
When he started Frazer Coffee three years ago, Joos knew that the atmosphere of a European cafe and coffee to go could mix.
"The banking sector at the time was very populated with ex-pats, who understood (and) embraced the concept and whose disposable inclinations to my kind of business … educated the Germans about what this concept is all about," said Joos, a former investment banker himself, who opened his first store in the city's banking district.
Joos' theory worked. He quickly opened three more stores in the Frankfurt area. And in the past year, he has opened Frazer Coffee cafes at Rhein Main Air Base and Hanau's Fliegerhorst Kaserne.
All his cafes serve a variety of coffees and teas from around the world.
You can even get that "no-flavor" American coffee at Frazer's. But European coffees are generally roasted lighter than in the States and come in two general varieties — robusta and arabica.
In Germany, arabica is the preferred coffee and is sometimes mixed with robusta. Arabica bushes yield less coffee beans than robusta, but generally have the better flavor.
Care more about caffeine than taste? Then, DON'T order an espresso.
Contrary to popular belief, a cup of coffee from the office coffee pot has more caffeine than a cup of espresso. It all has to do with the amount of time coffee beans are in contact with water. Espresso is only brewed for about 15 to 25 seconds, while filter coffee brews for about 15 minutes.
"It is always a false notion that espresso — because it's so intense in taste — (is) so much stronger in caffeine than a regular cup of coffee," said Justin Thomas, manager of the Frankfurt-Niederrad Frazer Coffee store. "In fact, that's exactly the opposite."
Despite the lower amounts of caffeine, Joos said espresso remains the favorite, outselling filtered coffee, 20 to 1. He said his American customers enjoy espresso, but prefer to have a sweeter cup of coffee with vanilla, caramel, Irish cream, hazelnut or amaretto flavoring mixed in.
Joos recommends that customers identify what their tastes are and then order the coffee that most appeals to them.
"Drinking coffee is the socially acceptable alternative," Joos said. "No one's going to look askance at you if you go out for a cup of coffee at 2 o'clock. But, if you go out and slam a couple of scotch and sodas, people generally have a problem with that.
"I think it's a very reasonable way to start your day."
Quick sips ...
¶ Espresso coffee is used in lattes, cappuccinos, mochas and macchiatos.
¶ The difference between a latte and a cappuccino is its proportion of steamed to foamed milk. Lattes have more steamed milk with a little foam while cappuccinos have more foam and less milk.
¶ Macchiatos are basically a layered cappuccino, with one-third steamed milk, one-third espresso and one-third foamed milk.
¶ Mochas are espresso with milk, but with chocolate or cocoa powder added.
¶ The French cafe au laits are not espresso-based. They consist of half filter coffee, half milk.