Lots to see & do in Bangkok in 48 hours
---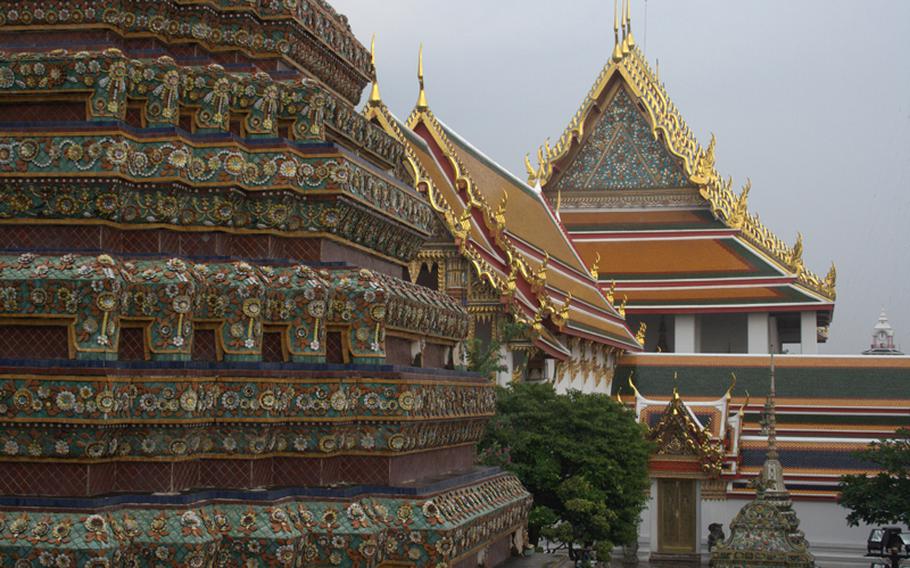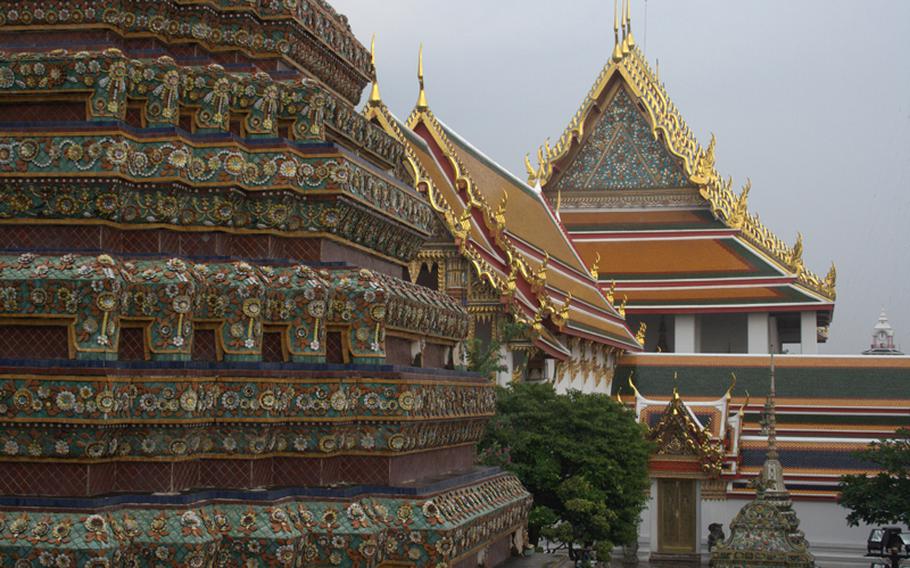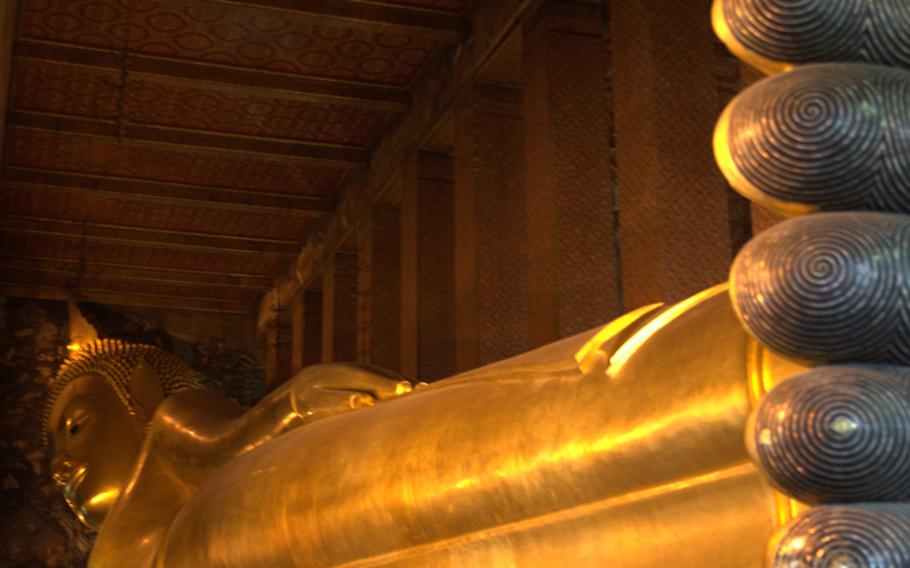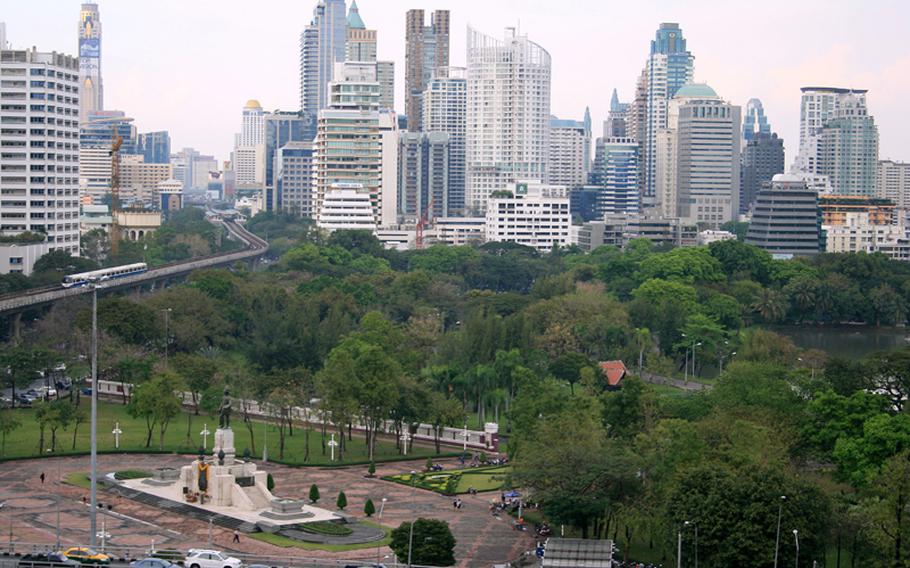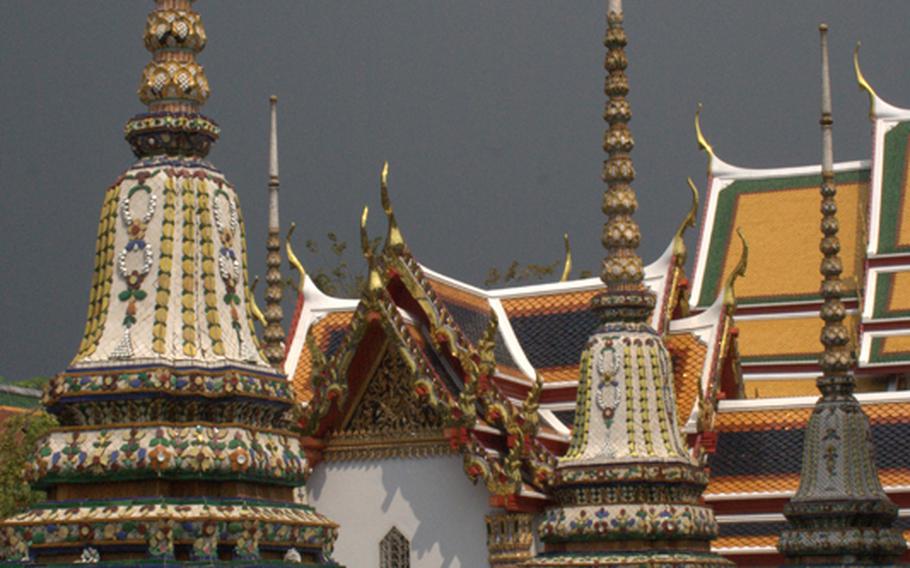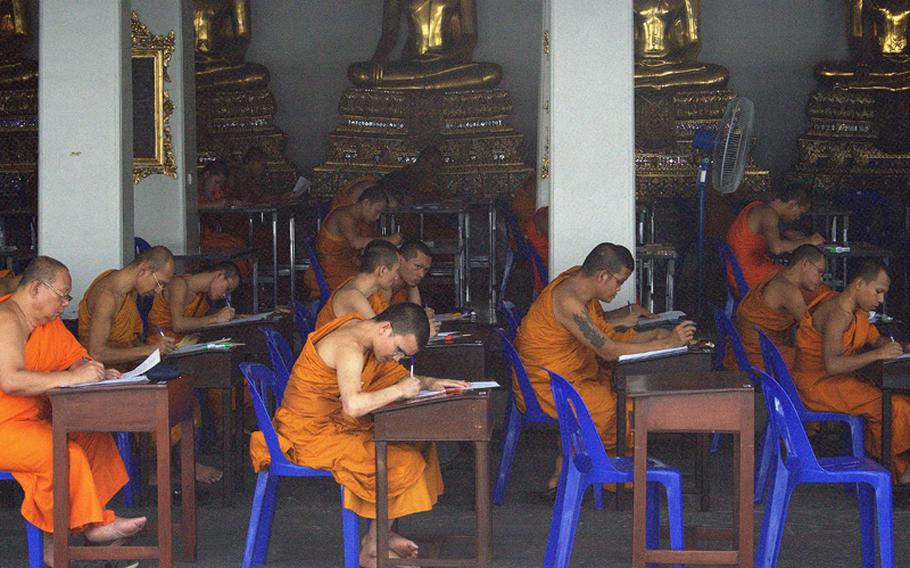 If you have only 48 hours in Thailand's bewitching, bewildering and sometimes quite bonkers City of Angels, here are the major visitor highlights:
The Grand Palace
Once home to the kings of Siam, The Grand Palace offers a peek into the past world of Thai royalty. Along with its opulent throne rooms, landscaped gardens and mural-decorated colonnades is the Wat Phra Kaew, Thailand's most sacred temple and home to the striking Emerald Buddha. Open daily 8:30 a.m. to 4 p.m., and admission is 250 Thai baht.
Wat Po
There's a host of temples to explore in the city. No question that the main event for most visitors to Wat Po is the monumentally impressive gold and mother-of-pearl-plated reclining Buddha. Also among this vast complex of soaring, golden spires is the birthplace and school for traditional Thai medicine and massage. Expect to pay around 120 baht, or $4, for 30 minutes of expert manipulation in full public view. Fortunetellers ply their trade by the eastern walls. Admission to Wat Po is 50 baht ($1.60) and it is open daily 8 a.m. to 5 p.m.
Jim Thompson House
The genteel teak home of ex-CIA agent Jim Thompson, who settled in Thailand during the 1950s, is a vision in itself, but the real reward is inside among an exquisite collection of art and antiques of the past 14 centuries. The tranquil and perfumed flower gardens surrounding the house offer a little respite from the nearby bustle. Open daily 9 a.m. to 5 p.m., and admission 100 baht, or $3.20.
More museums
Close to The Grand Palace, the Bangkok National Museum is a sprawling collection of Thailand's rich history. Open Wednesday to Sunday, 9 a.m. to 4 p.m., and admission is 200 baht. Alternatively, try one of the following: Royal Barge National Museum with its ceremonial barge collection; the Museum of Siam for interactive push-button fun in old mansion house settings; the smaller, dustier Museum of Counterfeit Goods or gruesome Forensic Museum.
Take to the water
Still a major transport artery, the Chao Phraya River (River of Kings) teems with an armada of watercraft. For a journey through the city's historic, royal and spiritual heart accompanied by English commentary, hop aboard the regular tourist ferry (30 baht, or $1) for a one-way trip. Alternatively, pay even less and join the locals packing the Chao Phraya Express river bus for a 75-minute round trip. Given Bangkok's road congestion, both are also efficient ways of getting to many of the sights along the way. For a more tranquil waterway journey behind the scenes, take a cruise through eastern Bangkok on its network of canals, or klongs. Book a charter for a three-hour cruise with commentary for around 1,000 baht ($32). You can also rent a private longtail boat from one of the piers on the western river bank; expect to pay 500 to 700 baht ($16 to $22) per hour. Whichever you choose, expect a small flotilla of canoe-paddling vendors selling drinks and trinkets to pull up alongside your boat.
Retail rewards
Shopping is huge in Bangkok. For slick malls and air-conditioned comfort, Siam Square is home to the big-name brands. When browsing Bulgari, Burberry and Bangkok designers has run its course, the Siam Paragon Mall boasts a 30,000 aquatic creature distraction within the Siam Ocean World. Open daily, and admission is 900 baht, or $29.
For a more fun and affordable retail experience, explore one of the city's many outdoor markets. Take the Skytrain to Mo Chit Station and follow the crowds to the enormous Chatuchak Weekend Market and its stalls of replica antiques, art, kitsch, designer clothing and the just plain bizarre. Open Fridays 6 p.m. to midnight and Saturdays and Sundays, 9 a.m. to 6 p.m.
Less well known and close by on Khamphaengphet Road is Rod Fai Market, a mecca for those after anything considered retro or vintage. Open Saturdays and Sundays, 9 a.m. to 6 p.m. Arrive at both early to avoid the sticky heat and crowds.
Eating
Start the day in style and join Bangkok's expat population for a scenic and relaxing all-you-can-eat breakfast served on the Mandarin Oriental Hotel's Riverside Terrace. On weekends this elegant, 135-year-old hotel also serves up a legendary brunch at its China House Restaurant. For lunch or dinner, Cafe Ice has endearing service, great food and eclectic decor. Get a table on the roof and tuck into colossal crab rolls. For something different, head to Eat Me Restaurant for a contemporary candlelit Australian-with-Asian-twist menu. For a sample of Bangkok's famous street food, Sukhumvit Soi 38 (off main Sukhumvit Road) is a popular lane lined with stalls cooking up wonderful and cheap curbside food. Popular dishes include duck noodles, stir-fried chicken with basil, grilled pork or chicken on a stick and marinated catfish.
A walk in the park
One of the few places of verdant tranquillity in Bangkok, Lumphini Park is a place to relax and draw breath from the surrounding hubbub. Stroll the 1.5 miles of paths, sit with a picnic in the shade of tree or rent a boat on the artificial lake and marvel at the giant monitor lizards happily paddling by.
After sunset
For a panoramic overview of the city, try a high-rise rooftop bar. Popular with celebrities and the cool set are the State Tower's 64th-story Sirocco Sky Bar and the Moon Bar atop the Banyan Tree Hotel. Neither is cheap, but both warrant at least one pricey cocktail for their glittering views. Those who prefer their nightlife more down to earth head to Bangkok's backpacking district around Khao San Road, where locals and young travelers come together for their nights out. Try Arabian-themed Gazebo for low-rise rooftop fun, the diminutive and cool Dali Bar, the merciless pummelling of house and techno music at The Club or, for something a little more grown-up, the tiny expat hangout Adhere the 13th Blues Bar for its live blues.
Know & go
When to visit: November to March is the most climatically comfortable season.
Getting there: Bangkok's Suvarnabhumi Airport is 19 miles from the center of the city. The downtown express bus costs about 150 baht ($4.80) for a single ticket, while taxis will charge around 400 baht ($13). A dozen nonstop flights are available daily from both Tokyo and Seoul.
Getting around: The BTS Skytrain whisks passengers above the dense road traffic with a one-day unlimited pass at 130 baht ($4.15). The MRT is the city's subway system and offers an adult three-day unlimited pass at 230 baht ($7.30). Both operate 6 a.m. to midnight.
On the web: www.tourismthailand.org
---
---
---
---