'Little time for feeling emotions'
---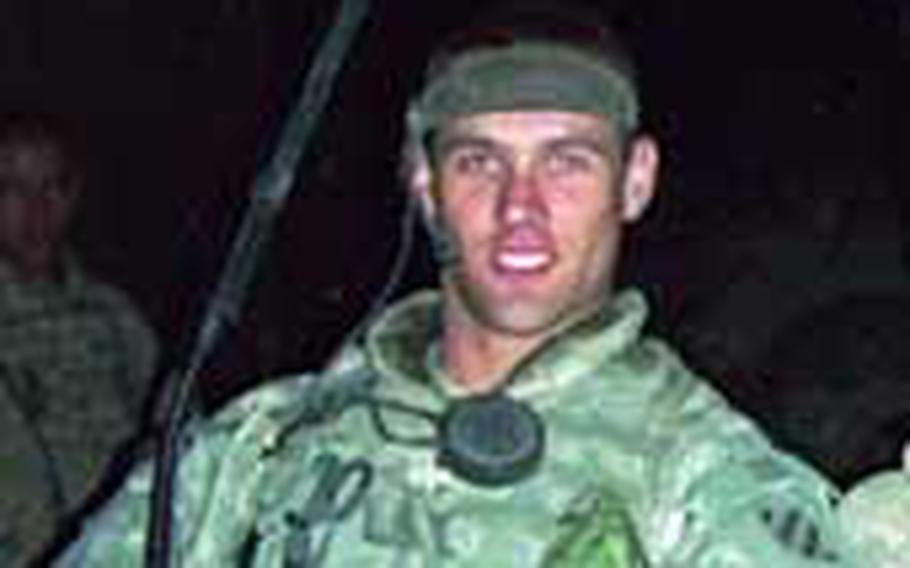 It seemed a day like any other during their 15-month deployment when 1st Lt. Ross Pixler led his men out on patrol in Salman Pak, just south of Baghdad.
But an attack on his convoy on that day, Oct. 30, 2007, earned Pixler the Silver Star earlier this year. The attack also cost his company the lives of Sgt. Daniel McCall, Pfc. Rush Jenkins and Pvt. Cody Carver.
"On a personal level, receiving the Silver Star is difficult," Pixler said in an e-mail, unable to be reached by phone as his deployment neared its end in April. "The award serves as a constant reminder of what happened and those incredible individuals who are no longer with us."
One bit of personal acclaim cannot begin to compensate for so much loss, he said.
"I would give up the Silver Star in an instant if I could make that day never happen."
Pixler, 25, of Phoenix, was in the lead Bradley Fighting Vehicle of a four-vehicle convoy on a patrol in Salman Pak's al Bawi area.
Suddenly, a roadside bomb — "the largest anyone had ever seen," he said — hit Pixler's Bradley.
The force of the blast pushed the up-armored floor of the Bradley into the passenger compartment, killing McCall, Jenkins and Carver, Pixler said.
With their weapons and helmets destroyed in the blast, the remaining soldiers in the hit Bradley got out to assess the scene.
Before they knew it they were being attacked from a farm to the west, said Pixler, of Company A, 1st Battalion, 15th Infantry Regiment, 3rd Brigade, 3rd Infantry Division.
As the remaining three vehicles returned fire, Pixler, now suffering from a concussion and other injuries, directed air support against the suspected enemy positions.
Later, while evacuating in another Bradley, that vehicle was hit by a "secondary, catastrophic" roadside bomb, Pixler said.
With that vehicle rendered immobile, Pixler and his men got out and were soon under attack again.
During four hours of securing both bomb sites and waiting for reinforcements and evacuation teams, the soldiers repulsed numerous enemy attacks.
Besides symptoms of traumatic brain injury, Pixler said he's all healed from the battle.
During the attacks, Pixler said he doesn't remember feeling much of anything. The training kicked in, and it was about survival.
"We have been attacked so many times and in every instance, our training takes over and every Soldier does what he is suppose to do and what he has been trained to do," Pixler wrote in an e-mail. "There is very little time for feeling emotions."
Pixler and his sergeants kept the other soldiers away from the spot where McCall, Jenkins and Carver had fallen.
"After we determined the three soldiers were dead, we did not allow anyone to go over and look at the scene," he said, adding that the enormity of those hours only caught up to him during breaks in the fighting. "I do not know if it was due to the concussion or if it was from the emotions, but I do remember at one point during a lull in the fighting, throwing up while waiting for the support to arrive."
Pixler was sent to the hospital in Balad. His father, a civilian reconstruction official, visited him.
Doctors wanted him to undergo further head injury testing, but Pixler said he insisted on returning to his outpost for the memorial ceremony for his guys.
The events of Oct. 30 were "one of many attacks we have experienced," he said, adding that his units have found or been hit by nearly 70 roadside bombs while being engaged by enemy forces hundreds of times.
The improvements now being seen on the ground in Salman Pak are a testament to the sacrifices of men like McCall, Jenkins and Carver, he said.
"You need to understand that I serve as a platoon leader for some of the greatest heroes that our great country has to offer," Pixler said.
1st Lt. Ross Pixler
Unit: 1st Battalion, 15th Infantry Regiment, 3rd Brigade, 3rd Infantry Division
Medal: Silver Star
Earned: Oct. 30 2007, Salman Pak, Iraq
---
---
---
---