The Space-A files: One man's courageous story of survival on space-available travel with his pregnant wife, toddler son
by
Tim Wightman
October 25, 2008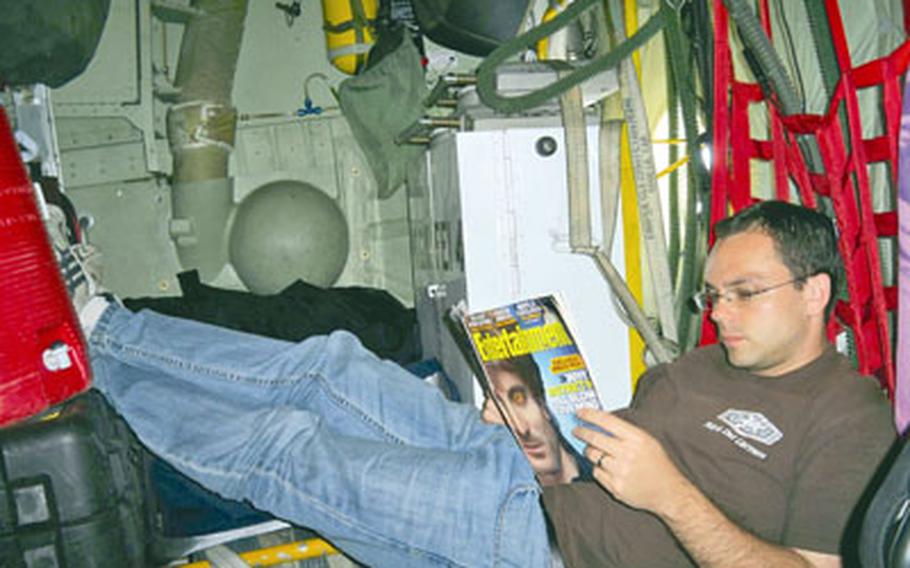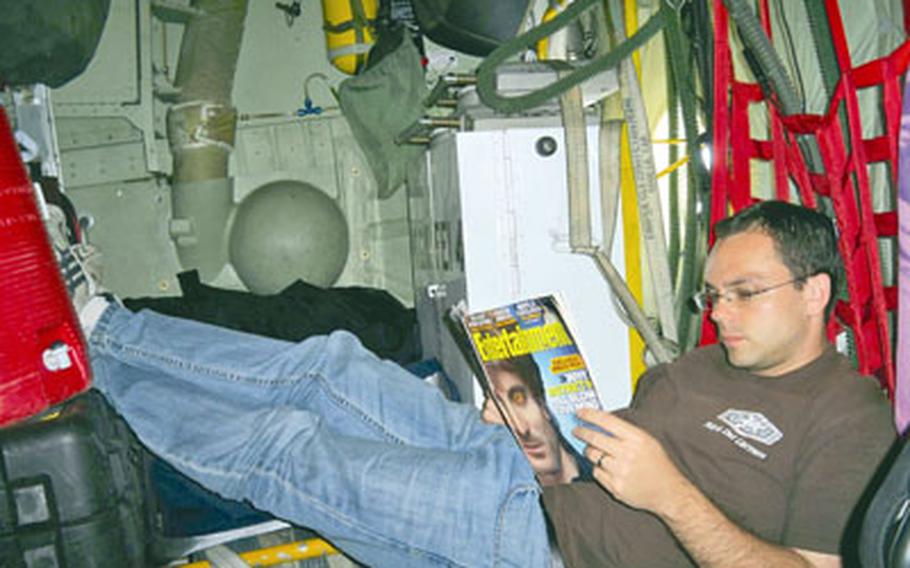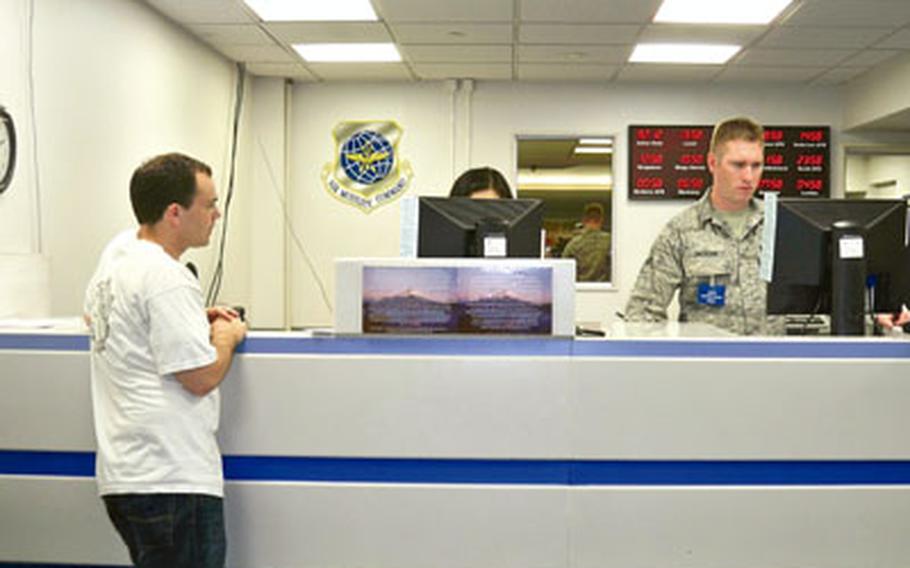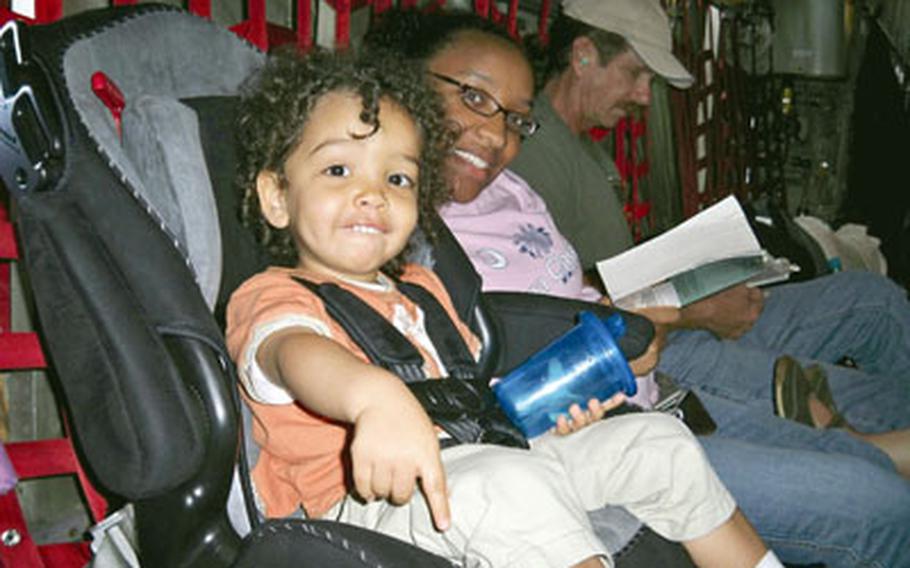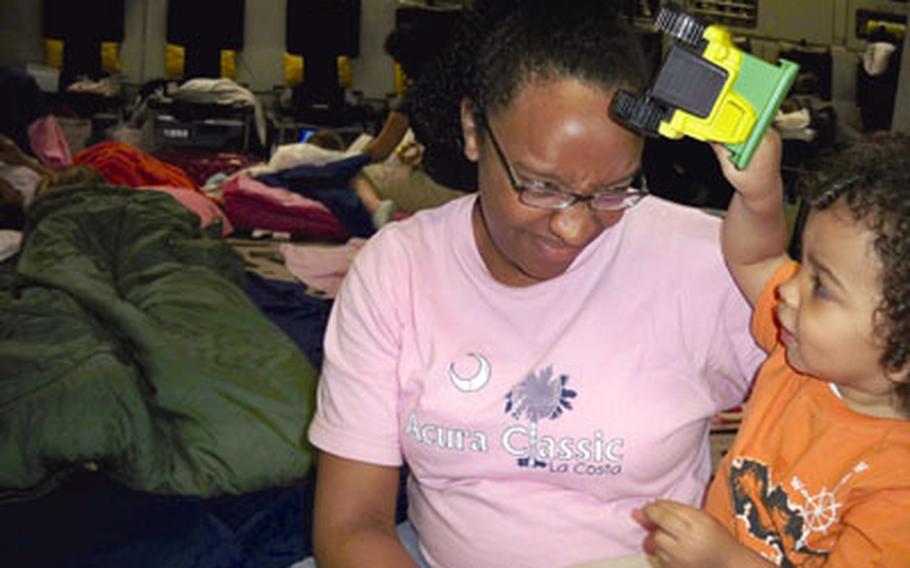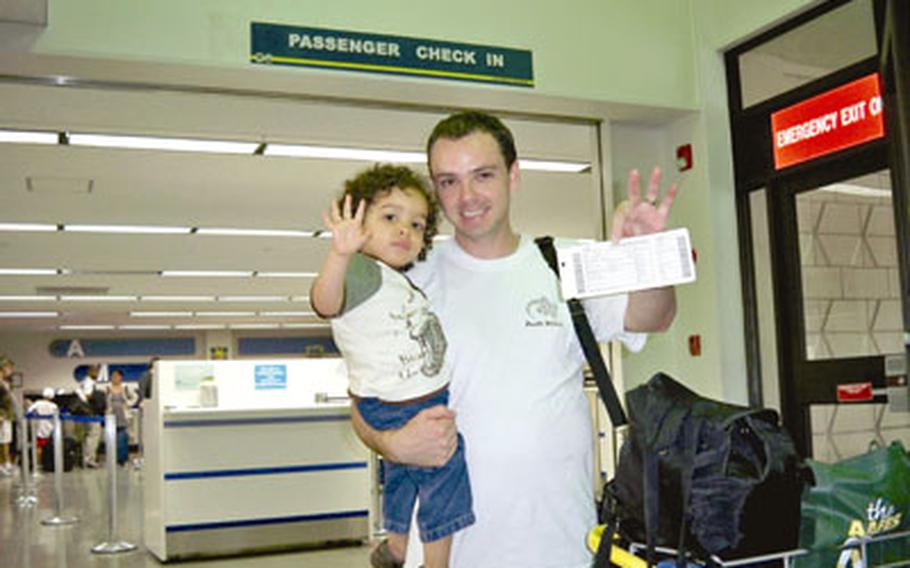 It was hot. It was humid. Our bags required an insane, mind-boggling amount of patience. But, physically, emotionally, we were done. Before us — my pregnant wife, 2-year-old son and me — was the daunting task of getting our seven bags of luggage from Naval Air Facility Atsugi to Yokota Air Base, where our car was parked. From there, we would drive to our home in Tokyo. Behind us were the memories of flying Space-A for the first time. It hadn't killed us, but it wasn't over yet. The impending three-transfer train ride, during rush hour, still had a say.
There was already so much to say about the trip to that point. Getting to the States flying on a space-available basis had been easy. We flew right into Travis Air Force Base, Calif. Getting home was a different story. Yokota, where we flew out of, put out its flight schedule a month in advance. Travis' is only two days in advance. We enjoyed our vacation and were back to Travis on a Saturday, hoping to find something that would get us back to Japan by Wednesday, the last day of my leave. We liked our chances, since we were flying Category II and signed up with most terminals on July 30.
Read on for my play-by-play of our Space-A travel:
Saturday, Aug. 15, Travis Air Force Base (five days left)
7 a.m. — I call Air Mobility Command's automated line from our base hotel room to check on the flight schedule. A recently added flight bound for Elmendorph Air Base, Alaska, continuing to Yokota, leaves at 9:55 p.m. Nice surprise. Bodes well for an early return.
7:30 p.m. — On our way out of the hotel, lady at the front desk tells us she'll keep us checked in for the night in case something backfires.
7:40 p.m. — Nice family picks up my wife and son and drives them and most of our bags to the terminal. Continuing the 20-minute walk while lugging the rest of the bags, I pass a woman who tells me the Alaska flight isn't taking any passengers.
8:00 p.m. — I arrive at the terminal and break the news to my wife. We notice two flights bound for Hickam Air Force Base, Hawaii, are planned for the next morning. We mark ourselves present for both flights — with the understanding that Hickam flies to Japan regularly — and start back for the lodge, happy we still have a room. Not happy that we have to lug all the luggage back.
Sunday, Aug. 16, Travis Air Force Base (four days left)
6:00 a.m. — Despite the nice family from Saturday telling us to call them if we need any more help hauling our luggage, we head out unassisted for the terminal. Chalk it up to pride. Halfway to the terminal, my wife drops her bags and says she can't go on. I grab most of the bags and we continue. Should have called the family.
6:30 a.m. — We arrive at the terminal and learn that Saturday night's Alaska/Japan flight left and took three passengers. But it hit an unsuspecting bird and had to come back. The make-up flight is scheduled for Sunday night and it's taking 20 passengers. Big break. It means we can cease all talk of having to stop through Hawaii.
6:40 a.m. — I mark us present for the Alaska/Japan flight. The girl at the counter briefly considers taking us off the Hickam roll before saying, "I'll just leave you on. It doesn't matter."
8:30 a.m. — First Hickam flight leaves. We're not on it. Roll call for the second and final one is at 9:30 a.m.
9:25 a.m. — From the dependents lounge, I notice on the screen that the Alaska/Japan flight is taking only the three people from Saturday night! I sprint for the roll call area and notice my name sits atop the "leader board" for Hickam.
9:30 a.m. — My wife rounds the corner with a few bags, but none contain my orders and our passports. The roll call conductor calls my name first, and she's OK that I have just my ID on me. (Note: Don't put your money on the roll conductor being lenient. Have your orders and passports ready to go. It's not worth chancing.) Close call, but we get on the plane!
5 p.m. — We arrive in Hawaii. I immediately go mark myself present for two Monday morning flights to Kadena Air Base, Okinawa. But when I get to the counter I'm not in Hickam's system! I wasn't entirely unprepared for this — having heard that Hickam is notorious for such things. My wife rummages through our baggage and runs my laptop over to me as I stand in line. I show the girl at the counter my confirmation e-mail dated Aug. 15. Again, lucky.
Monday, Aug. 17, Hickman Air Force Base (three days left)
2 a.m. — I call Kadena's automated line from my hotel room. I learn if we can make the first flight to Kadena, we can catch an afternoon flight from Kadena to Yokota.
5:30 a.m. — We arrive at the Hickam terminal. There are seven seats available on the first Kadena flight. On the leader board, I see two seats taken ahead of us, but ours would be the next three seats.
6:30 a.m. (Roll Call) — The first two passengers' names are called. (So far, so good.) I notice other people standing there, looking eager and expectant. I think to myself: Unless their name is Tim Wightman, they have nothing to be excited about. I hand my son over to my wife, saying more loudly than I intend, "I'll need both hands for when they call my name and ask for my paperwork." They call "Timothy" and I take one step forward. But the last name they call is not "Wightman." To my bewilderment, a family of five swoops in to claim the seats. I demand an explanation (looking the snob, I'm sure). The counter person calmly shows me on her computer that Timothy X had signed up on July 31, 16 days before me. He had just marked himself present, which explained why his name didn't show up on the big board. We got bumped.
9:30 a.m. — With plenty of seats available for the second Kadena flight, we get on with no problem.
Tuesday, Aug. 18, Kadena Air Base (one day left)
5:30 p.m. — We land at Kadena, and I jet toward the check-in counter to mark myself present for the Yokota flight. Digging through my paperwork, I find proof that not only did I sign up with Okinawa, but Hawaii too … on July 30. (We would never have gotten bumped had I been more on the ball and we probably would've been home already.)
8 p.m. — After a near hopeless lodging search almost does us in, we finally get a room on base. (Despite the desk clerk assuring us 30 minutes earlier that they had nothing.)
Wednesday, Aug. 19, Kadena Air Base (last day of leave)
2 a.m. — Fire alarm wakes up my wife and son and we go down to the parking lot. (I was awake writing down some fresh thoughts for this story.)
6 a.m. — We arrive at the terminal and I learn there are only seven seats on this flight. Despite heavy competition, I feel we're in good shape.
7 a.m. (Roll call) – My name is called after three airmen traveling on Category I. Boarding passes in hand. Luggage checked. I'm elated. The only thing that can dampen my mood at this point is a flight cancellation.
7:30 a.m. — Flight canceled. Good mood dead. (The plane had to be used to MEDEVAC an injured servicemember.) Last hope: a noontime flight bound for NAF Atsugi. Five seats are available. By my count, that won't be enough.
8:00 a.m. — Five more seats open up. Next, exactly five strangers flying Category I show up. The math in my head tells me nothing has changed for the better here.
9:00 a.m. (Roll call) — Of the Category IIs, my name is called first. I walk up slowly to the counter. "How many seats are left?" I ask hopelessly. "Four." I don't ask anything else. I just start preparing myself for more crushing news, should it come. It never does.
3:00 p.m. — We arrive in mainland Japan with hours to go before my leave officially expires. Though the ensuing train ride to Yokota is vicious, walking through our front door in Shibuya hours later is sweet indeed.
Good to knowBAGS
Bags bags bags. Even as cab fees, lodging fees and food fees kept piling up (are we really saving money here?), it was simply our luggage that had us begging for an end to it all.
Each of our seven bags was stuffed to the max, and we kept having to make room for more as our trip home got longer. If this seems stomach-able, keep in mind my wife was seven months pregnant and void of energy. My son may have had energy, but he lacked desire. His trump card was to lie down on the concrete – effectively making himself a 25-pound piece of luggage. In the end, I just had to make it work — lugging all this stuff from baggage claim to taxi cab to lodging ... several times. But it was the now twice-mentioned train ride to Yokota that took the cake. Several times, I had to stop on the way to the next train to sit down. I guzzled water every chance I got. My son refused to use his legs. When he's old enough, I intend to ground him. At our last stop, I yanked my bag out of the train so hard that I broke the extender handle. Having to walk those massive-looking steps at the last station to cross over to the streetside was like facing a level boss in a hard video game. On the other side we could see a cab — sitting there like the beautiful princess — waiting to take us to the base. It felt that dramatic.
LODGING
The prospect of finding a place to stay during a Space-A journey doesn't always end well. At Travis, a young mother and her two toddler-aged girls tried to sleep in the dependents lounge at the AMC terminal. It sported comfortable chairs and couches, TVs, toys and cribs. At 1 a.m., a retiree walked in and saw the woman asleep in a recliner. Well-versed in the terminal's regulations, the man summoned an employee — who rudely and hastily ordered the woman and her sleeping children out. She spread out a blanket and they all slept on the terminal floor.
Conditions at Kadena were worse: not a single room available in any of the lodges on any of the Okinawa bases. Staying in the terminal was not an option, either. They kick you out soon after it gets dark. Taking the advice of another, we took the shuttle over to the Shogun Inn on Kadena to hear, in person, that there were no rooms.
While my exhausted family sat outside in the humidity (we decided against lugging all of our bags inside), the clerk watched from behind the desk as I called every Okinawa base lodge and a few off-base hotels before she confessed that there was indeed a room available. I didn't bother entertaining my natural impulses to chew her out. We had a place to stay.
THE PLANES
They ran the gamut. The C-130 to Atsugi was hot, loud and bumpy, and we sat in seats of red cargo net. Luckily, it was a short flight.
The DC-8 flight from Travis to Hickam was about as first class as I've ever flown. Full-blown flight attendants would bring around beverages and warm face cloths as you sat in your commercial-style seat. They gave my son a "fun pack" with a crazy straw, coloring book and flight pin. They also served hot meals that included dessert and handed out head sets to go with the in-flight movie. This ride was every bit as free as the C-130.
Somewhere in between is the C-17. We flew on this twice: once, it was filled with cargo; once, with passengers. As soon as you hit peak altitude, you could sprawl out over the metal floor with blankets, which was great for my son.
CONCLUSION
Competitive types with all the time in the world will love flying Space-A. There's a certain rush to it. Preparation is key. Sign up early. Have some kind of a lodging plan. Most of all, travel light! Most of the things that bugged me were the result of my mistakes and are 100 percent correctable. Believe it or not, I'm looking forward to next time.
For more information on space-available travel, go to www.militaryhops.com.