The men of the Pueblo
by
Steve Liewer
January 27, 2002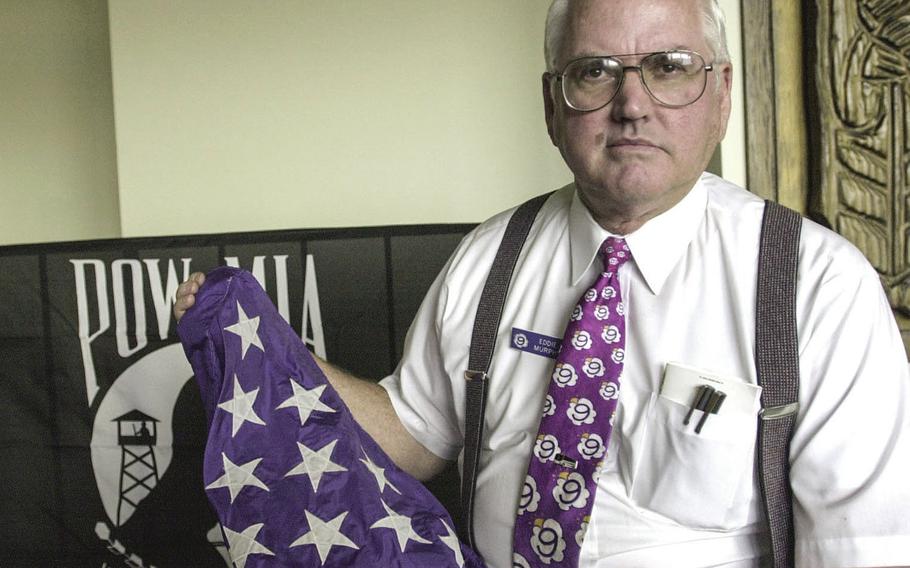 Much of the information for this article was taken from interviews with four members of the USS Pueblo crew who all live near each other in California.
Cmdr. Lloyd 'Pete' BucherPosition: Commanding officerHome: Poway, Calif.Age: 73Family: wife Rose, two childrenAfter the Pueblo Incident, Bucher found his military career stymied and left the Navy in 1973. He went to art school and has since supported himself as a commercial artist, drawing watercolors of nature scenes and military subjects as well as portraits.
He has worked hard to keep the Pueblo Incident from being forgotten, and has frequently been interviewed by historians and the news media. He and other crew members lobbied successfully for the crew to receive Prisoner of War Medals, which were awarded in 1990.
He is the central figure in the USS Pueblo Veterans Association, still revered by many of the men of Pueblo. He remains bitter and outspoken in criticizing the Navy and the U.S. government for what he sees as abandoning his ship and crew.
Lt. Edward MurphyPosition: Executive officerHome: El Cajon, Calif.Age: 64Family: wife Carol, two childrenQuiet, aloof, and a teetotaler, he clashed frequently with the hard-drinking, fun-loving Bucher, and already had written his letter of resignation when the ship was seized. (Bucher had made his own plans to have Murphy relieved.) Murphy left the Navy in May 1969, five months after the crew was released.
His version of the Pueblo Incident, a book called "Second in Command," was published in 1971. It assails Bucher's leadership and places much of the blame for the affair on his former commanding officer.
Murphy opened a recreational vehicle dealership near San Diego shortly after leaving the Navy and operated it for 26 years. He attends Pueblo reunions but rarely socializes with other crew members. He is active in the Boy Scouts, and the Boys and Girls Clubs of America and now works as a tour-bus driver.
Chief Petty Officer James KellPosition: Communications technician chiefHome: San DiegoAge: 65Family: wife Pat, four childrenKell had served 13 years before his assignment to the communications post at Kamiseya, Japan, in 1966. He was on temporary duty aboard the Pueblo, assigned after another chief petty officer could not make the trip.
He has been retired from the Navy since 1973, but speaks to military audiences and the media about the Pueblo Incident and is a frequent guest speaker at the Navy's Survival, Evasion, Resistance and Escape school in San Diego. He's active in the USS Pueblo Veterans' Association.
"We have good friends on the crew," Pat Kell said. "We have Rose and Pete (Bucher), and they're like family."
Marine Sgt. Robert ChiccaPosition: Language specialistHome: Bonita, Calif.Age: 58Family: wife Vanessa, six childrenChicca, bitter about the handling of the Pueblo Incident, left the Marines shortly after the crew's release. He worked for a while at NASA, but today is self-employed, selling graduation supplies — diplomas, caps and gowns, class rings.
Injuries received during the shelling of the Pueblo never fully mended. He was beaten badly for lying to his captors and saying he didn't speak Korean. He is one of the most decorated crew members, earning two Purple Hearts and the Bronze Star (Combat V) — "just for being a pain in the ass to the Koreans," he says — plus the POW medal and Navy Commendation medal given to all the ship's military crew members.
He's been divorced twice, which he blames in part on post-traumatic stress from his captivity. "That's kind of a pattern for ex-POWs," he said. "I never would have believed it would have affected me as much as it did."