New study aims to help military families grieve
---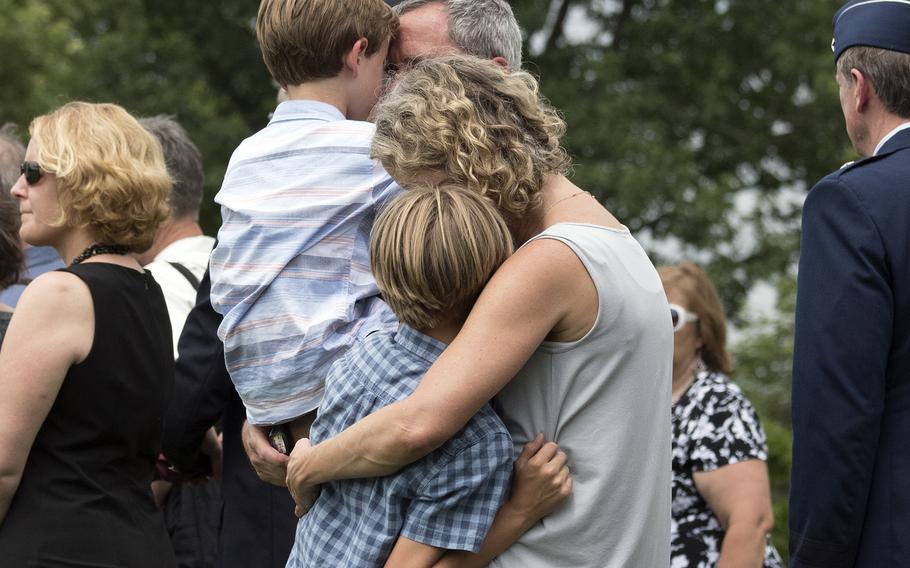 It's so easy to be indifferent. I tend to become absorbed in my own daily minutia. Flossing my teeth, walking the dog, checking emails, paying bills, planning vacations, watching my latest shows — I often forget that there are thousands of families in our military community who are grieving.
According to an Aug. 28 update of Department of Defense casualty statistics, nearly 7,000 active-duty military members have died while serving in U.S. overseas military contingency operations since Sept. 11, 2001. But war-related casualties account for only about a quarter of all active-duty military deaths since that fateful day. Military service, whether associated with an ongoing American war or not, is dangerous. Many more active-duty service personnel — about 920 every year — die in circumstances not directly related to war.
Of the 15,851 active-duty military deaths since 2006, 4,510 were war-related, and 7,857 were caused by accidents or were self-inflicted, according to the Congressional Research Service. Another 2,650 deaths were attributed to illnesses or injuries, and 248 were undetermined.
Of course, most military service personnel who die have families — parents, siblings, spouses and children. So regardless of the cause of death, the potential wake of grief left behind is exponential. Worse yet, bereavement for military families tends to become prolonged and complicated because the deceased are likely to be young, and their deaths are often violent and unexpected. Studies have shown that military families can develop chronic, severe grief symptoms that last for years, including "persistent yearning and longing, preoccupation with the deceased or circumstances of the death, difficulty accepting the death, bitterness and anger related to the loss, avoidance of reminders of the deceased or the death, and feeling life is meaningless without the deceased," according to the International Society for Traumatic Stress Studies.
A new study is attempting to help. The Department of Defense Congressionally-Directed Medical Research Program awarded Uniformed Services University (USU) and Columbia University's Center for Complicated Grief a $3 million, four-year grant to develop and test a mobile and web application to help military families cope with the loss of a servicemember.
The study, "Stepping Forward in Grief," is a follow-up to the National Military Family Bereavement Study (NMFBS), the first large scientific study on the impact of U.S. military deaths after 9/11 on surviving families. Results of the NMFBS indicated that family members experience grief differently than civilians.
"Equipping military families with resources that address the unique circumstance of their loss is an important part of honoring their service and sacrifice," said retired Army Col. (Dr.) Stephen J. Cozza, co-principal investigator on the study and professor of psychiatry at USU.
Cozza and fellow co-principal investigator M. Katherine Shear, M.D., professor of psychiatry at the Columbia University School of Social Work, spent the first two years of the study developing two digital applications — GriefSteps and WellnessSteps — which can be accessed through mobile devices and computers. GriefSteps offers users information and activities based on the Complicated Grief Therapy Model, designed to reduce grief symptoms and risk for long-term problems. WellnessSteps provides users activities and information related to stress management and health maintenance.
Now that the apps have been launched, researchers are now recruiting subjects to participate in testing the applications. More than 200 participants have enrolled in the study so far, said Cozza. Eligible participants include spouses, ex-spouses, adult partners, children, siblings, or parents (biological, step, or foster) of servicemembers who died while on active duty on or after Sept. 11, 2001. More information can be found online at steppingforwardstudy.org.
Let's hope the study will find a way for those stuck in despair to break through and find peace.
Read more of Lisa Smith Molinari's columns at: themeatandpotatoesoflife.com. Email: meatandpotatoesoflife@googlemail.com
Other resourceshttps://fas.org/sgp/crs/natsec/IF10899.pdf
https://steppingforwardstudy.org/
https://www.militarysurvivorstudy.org/
https://my.studytrax.com/p/SFGRCT/portal/index#/accounts/enroll
https://www.militarysurvivorstudy.org/new-intervention-study
https://dod.defense.gov/casualty.pdf
https://fas.org/sgp/crs/natsec/IF10899.pdf
http://www.newswise.com/articles/national-grief-study-launched-to-help-military-families-manage-loss-of-a-loved-one
https://www.militarytimes.com/pentagon/2018/06/13/15851-us-service-members-have-died-since-2006-heres-why/
---
---
---
---