More than one way to be a military wife
By
Special to Stars and Stripes
September 23, 2022
---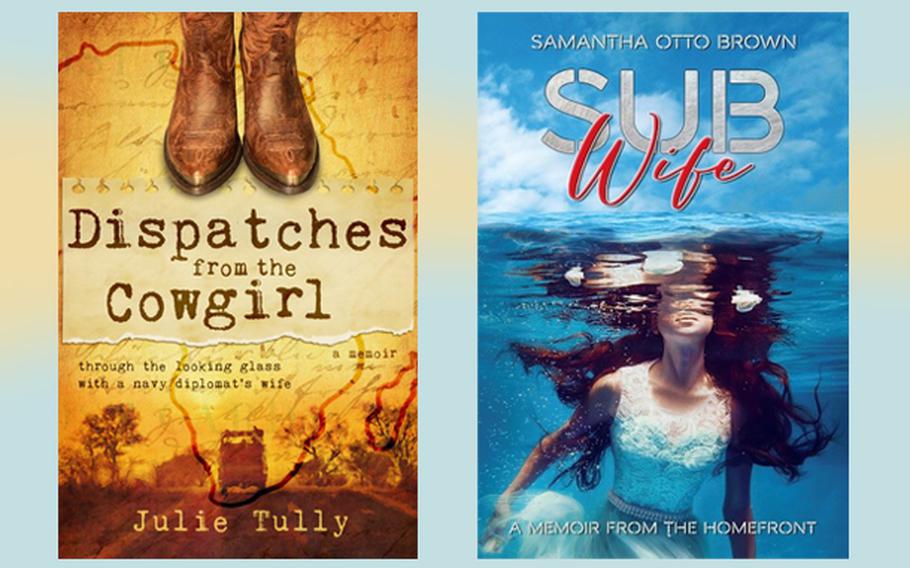 Military spouses have many common experiences, but they navigate them in uncommon and individual ways. Two new memoirs, "Sub Wife: A Memoir from the Homefront" by Samantha Otto Brown and "Dispatches from the Cowgirl: Through the Looking Glass with a Navy Diplomat's Wife" by Julie Tully, beautifully illustrate the spectrum of military spouse life. Both authors are Navy wives, both married to submariners, yet the reader who expects their stories to be alike will be surprised and enlightened.
"Sub Wife" (MilSpeak Books) is an introspective and emotional journey that begins at a crisis point in the author's first deployment ("underway" in submariner terms) as a military spouse. With sometimes painful honesty, Samantha Otto Brown writes about coming to terms with her husband's dedication to military service and the cost it exacts from each of them. Samantha uses the imagery of water and waves to good effect, describing her childhood dreams of becoming a mermaid. An avid swimmer, she contrasts her love of being in the water with dark fears of losing her husband to the ocean or losing herself to the rising tide of his career.
"Dispatches from the Cowgirl" (W. Brand Publishing) is a different kind of journey, one anchored in the geography of dry land. Part journal, part travelogue, Julie's book follows her global transitions as the spouse of a submariner-turned-foreign service officer from California to Germany, to Cameroon, to Nigeria, to Djibouti, and then to Italy. The narrative begins with an explosion and keeps a compelling pace through new cultures, languages and environments. With her cowgirl boots planted in the strong roots of her family's ranch in California, Julie reaches out to embrace the adventure of Africa, drawing vivid parallels between the people, food, and landscapes she encounters at home and abroad.
"Sub Wife" traces an inward journey and how it shapes the author's outward one, while "Dispatches from the Cowgirl" depicts an outward journey and how it reveals the author's inward one.
An insightful chapter in "Sub Wife" centers on a social-media description of the supposed qualities of a dutiful military wife. Sent to Samantha by a well-meaning relative, the message ended with a directive "Cut and paste if you're a proud military wife." Although Samantha found she identified with portions of the description, her independent nature resisted the stereotype. "If military life is a sea," she writes, "you have to know how to swim if you hope to survive. There is more than one way to swim, is there not? So why does the message remain that there is only one way to be a proud military spouse? Can't I be proud without copying and pasting?"
In "Dispatches from the Cowgirl," Julie poignantly expresses her feelings of being an outsider among other military spouses after several years of embassy life in Africa. "I was dropped back into a world I no longer fit into," she writes "I had been a Navy wife for almost two decades, but then realized I was no longer the wife our Navy and its community expected."
As these memoirs reveal, there is no singular right way to live a military life, certainly no accurate cut-and-paste description of a military spouse. My military life is worlds away from both Samantha's and Julie's, but I can learn from their stories. We can be strong individuals and also draw strength from one another's perspectives and wisdom.
Samantha's description of kinship among military spouses is lovely and apt: "The Navy did not seem to define them, only strung them together like pearls on a strand."
Julie says her experiences in Africa taught her to be true to herself in her military life: "That amazing continent and our job there showed me that I could blaze a different path. It made me a different kind of military spouse — and I love this new version. Different is good. Different is great."
Indeed, it is. For reference, see "Dispatches from the Cowgirl" — see also "Sub Wife." These memoirs reveal the diversity, creativity and tenacity common to those living the uncommon life of a military spouse.
Terri Barnes is a military spouse, book editor, and the author of Spouse Calls: Messages From a Military Life, based on her column in Stars and Stripes. Learn more online at terribarnesauthor.com.
---
---
---
---