Weighted Hula-Hoops: 'Feel like a kid again' with this pandemic fitness trend
by
Angela Haupt
Special to The Washington Post
June 29, 2021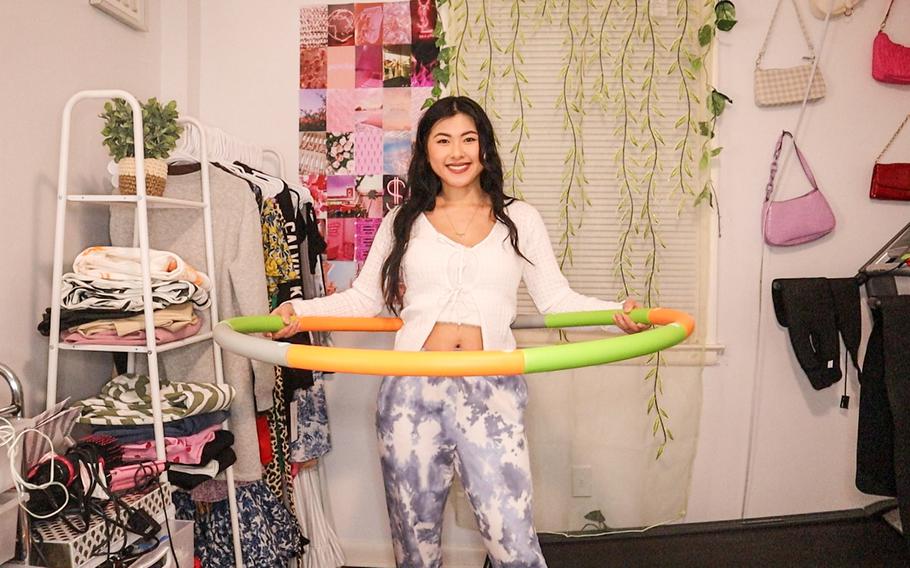 Earlier this year, Angie Wang wanted to switch up her exercise routine, so she bought a weighted Hula-Hoop and posted footage of herself trying it out on TikTok. The video collected more than 400,000 likes.
Wang was smitten. Hooping was a great way to spice up her usual workouts, far more entertaining than, say, jogging on a treadmill. And it worked: She's seen benefits from months of frequently using her 3.6-pound hoop, usually for about 15 to 30 minutes at a time. "It's fun and different," said Wang, 25, a content creator who lives in Philadelphia. "I feel like it definitely strengthened my abs, and my core section is just stronger in general."
Though they've existed for more than a decade, weighted Hula-Hoops have emerged as a social media favorite during the pandemic, enticing fitness enthusiasts looking for new, affordable and convenient ways to work out at home with the promise of childlike fun (some gyms and studios are adding in-person classes as clients return). Videos tagged "weighted hula hoop" have generated more than 176 million views on TikTok, and some popular hoops have reportedly been selling out online.
"I was stunned at the results," said Lauren Constancio. The 26-year-old content creator who lives in Orange County, Calif., said she started seeing a trimmer waist and hips after a week of hooping for 10 minutes daily — in addition to weight training and eating healthfully. "After the first day of using it, I was like, 'Wow.' You really feel your whole body working. Cardio-wise, you don't feel that on the elliptical — and even when I did cycle classes, I never really felt that sore in my core."
If you're tempted to give weighted hooping a go, here's what you should know.
Hoop selection and safety
Weighted Hula-Hoops (which cost $20 to $30) are heavier than the plastic ones you might have used as a kid. They typically weigh one to four pounds, and most are 37 to 45 inches in diameter, said Nicole Thompson, a San Diego-based personal trainer and associate project manager with the American Council on Exercise. When you place the hoop vertically on the ground, it should reach your waist — "not any higher than mid-chest," she said.
To avoid excess soreness, Thompson suggests, start with a hoop that's on the lighter side, like one pound, and work your way up as you become more advanced. (Some hoops have adjustable weights.)
Starting light also can help prevent one of the main side effects of using weighted Hula-Hoops: bruising. As some TikTok hoopers' videos indicate, it's common to develop big black and blue marks on the abdomen, especially in the early days of hooping.
"You may bruise or you may not — it depends on your own physical constitution and your propensity for bruising," said Karla Horton, a personal trainer who owns Dragonfly Paddle and Fitness in Stevensville, Md., where she teaches hooping classes. If you have a history of back or hip problems, or recently suffered an injury, she recommends checking with your doctor before taking up Hula-Hooping.
Benefits
Weighted Hula-Hoops offer a low-impact cardio workout. Using one several times a week can help you burn calories, lose fat, build core strength and improve your balance and flexibility, according to Thompson, the San Diego-based trainer. "It's a fun way to exercise, and it has kind of a relaxing, meditative effect due to its rhythmic nature," she said.
Still, she cautions, not everyone will drop inches off their waist, and especially not in one week, as some TikTokers say they have experienced. While slimming the waist is feasible for some people, she said, it's unlikely to happen without additional changes to diet or exercise.
According to a small 2015 study of women in their 30s to 60s published in the Journal of Strength and Conditioning Research, using a weighted Hula-Hoop for six weeks was associated with a reduced waistline and hip girth. On average, the participants lost 1.3 inches from their waistlines and 0.6 inches from their hips.
Another study, published in 2019, compared weighted Hula-Hooping to walking. Participants who hooped for 13 minutes a day over six weeks reduced their waist circumference and body fat, and they experienced increased muscle mass in their trunk.
Hooping also can increase your motivation to exercise. A 2016 pilot study examined women's intentions for future workouts after either Hula-Hooping or walking for 30 minutes. The study found that those in the Hula group reported "significantly stronger intentions" to exercise again than those in a walking group.
Those results resonate with Constancio, the Orange County hooper. She says that when she starts a workout program by using her Hula-Hoop, she feels more motivated to continue with other exercises. "It wakes your whole body up and makes you feel energized for the next thing," she said.
The workout
First, Thompson said, warm up by doing some side stretches and marching in place to activate your core. Then, stand with your feet about shoulder-width apart; if you're hooping clockwise, your left foot should be slightly forward. If you're spinning counterclockwise, shift your right foot forward. Move your hips "in a straight line, front to back," Thompson said. (The idea that using a Hula-Hoop means moving your hips in a circular motion is a common misconception.)
Hula hooping in one direction will usually feel most natural. But, Horton said, don't spend all your time spinning in that direction; doing so will overdevelop the muscles on a single side of your body. During her classes, she blasts lively music, and participants switch directions midway through the songs: They start hooping clockwise, then switch to counterclockwise.
So what do you do with your arms during all this? At first, many students adopt the slightly awkward T-rex pose, Horton said: They "hold their arms in towards their trunk, and they've got the little draping hands in front," just like the classic dinosaur stance. Once her students become more advanced, she coaches them to hold their arms above their head or to do aerobic-style movements. Some people even do bicep curls while they're spinning.
In addition to starting with a light hoop, you should ease into hooping by starting with two minutes a day, and then 2.5, and working your way up to about 15; the gradual increase will help prevent bruising. It will also acclimate you to the workout, Horton said. Hooping isn't natural for everyone, and some people report that it's uncomfortable for the first few days.
There's also a learning curve: At first, you might spend most of your time picking the hoop off the floor. "It's a complex movement," said Kyle Gonzalez, a coach with Future, a personal training app. He suggests working with a trainer to safely master optimal hooping form because it's not always easy to learn from a video.
Skyler Slunjski, a YouTuber who lives in Michigan and had used a hoop as a child, found that picking it again wasn't exactly an easy muscle memory feat. "It was definitely harder than I thought," said Slunjski, 28. "I could barely get it to spin around more than once — it took me a couple days to get the hang of it."
Ideally, hooping should be incorporated into a broader exercise program, but if it's the only exercise you can squeeze in each day, it's better than nothing, Thompson said. It does have one advantage over most other fitness regimens, she added: "It brings you back to a time that was fun, and it can make you feel like a kid again."