Kinect: A moving experience
by
Brian Bowers
November 10, 2010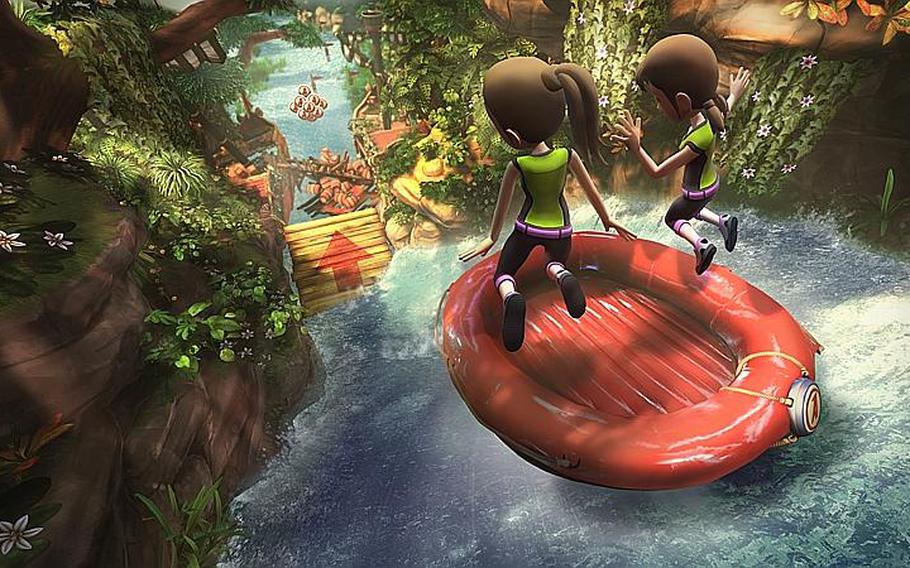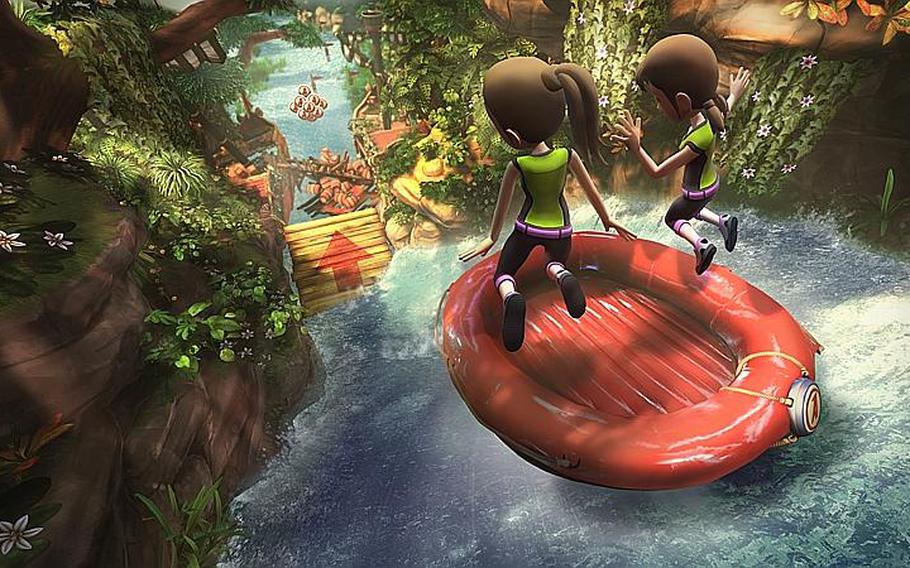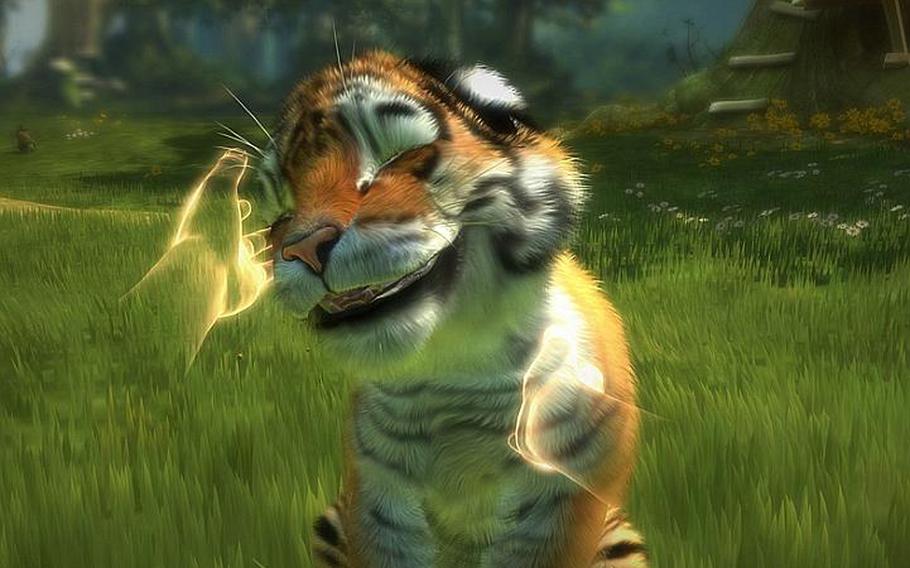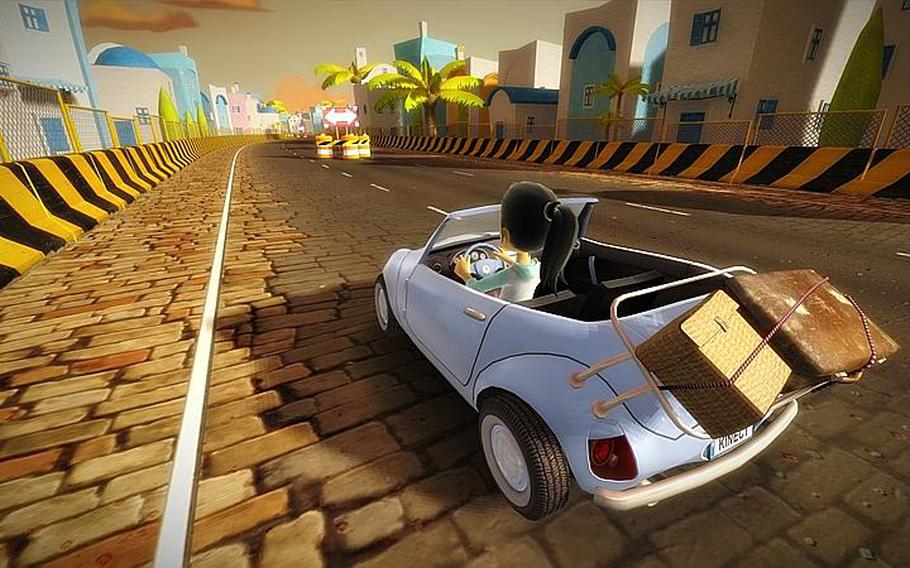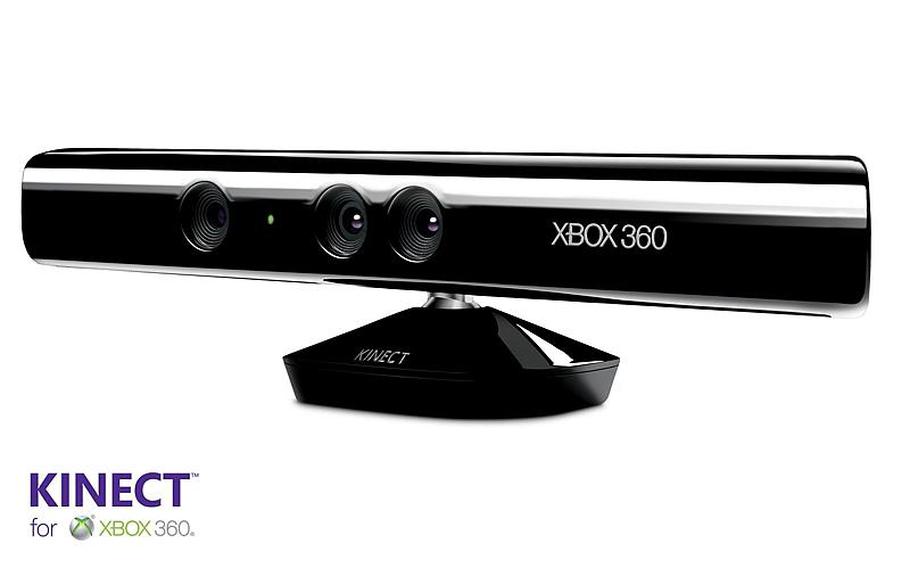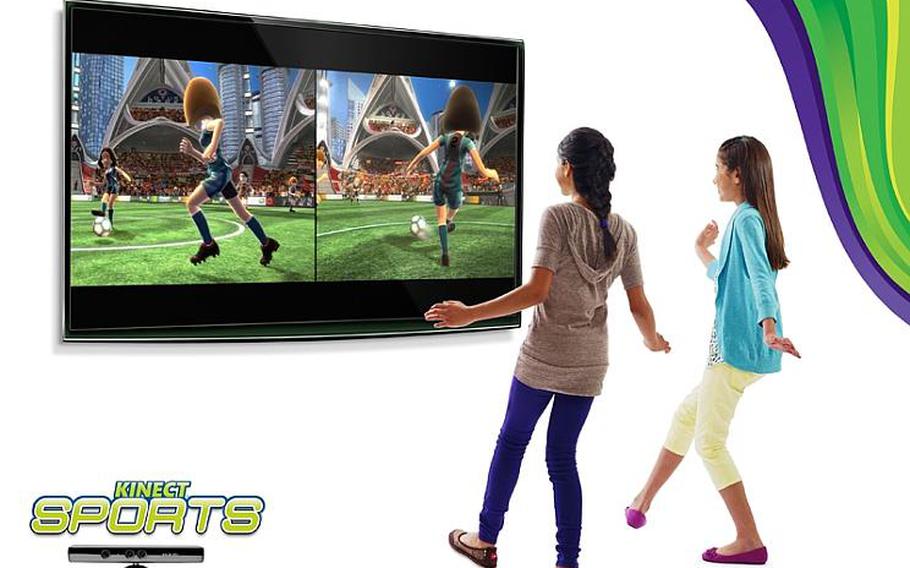 Xbox 360 is finally in motion.
Thanks to Kinect, Microsoft's game console joins PlayStation 3 and Wii in motion-controlled gaming. Kinect uses a combination of cameras and a mic to convert your movements and voice into action on the screen. There's no button-pressing, thumb-twiddling or remote-waving. It's just you and the game.
And it works very well — as far as it goes.
Setting up Kinect is very easy. You place the foot-long sensor bar just above or just below your TV and plug it into your Xbox 360. If you have an older version of the console, you'll also need a power cord, which comes in the package along with the sensor bar and the game "Kinect Adventures." The basic bundle costs $150 but you can also purchase the latest version of the Xbox, Kinect and the game bundled together for $300.
After setup, the next task is creating a Kinect profile. You stand in various places in front of the sensor bar and let the cameras scan you, and then you say a few words to let the mic sync with your voice. This data is linked to your Xbox Live avatar, or a new one you can create through Kinect. After completing this procedure, Kinect will recognize you whenever you stand in front of the sensor bar and your avatar will appear on the screen.
These activities also will help familiarize you with the new style of interface. Launching Kinect requires a simple wave to the camera if you want to open the Kinect Hub, which will then replace the Xbox dashboard. To navigate through the various Hub screens, you hold up your hand and swipe to one side or the other. It's very smooth and efficient — though not really as efficient as pushing a button.
The games available at launch seem to provide a good sampling of the range of possibilities for Kinect.
"Kinect Adventures," developed by Good Science Studio for Microsoft Game Studios, comes in the package with the sensor bar and offers a good introduction to the system. It features a collection of activities that require full-body motion: leaping, waving, ducking and a lot of flailing. "Rallyball" involves waving your arms, legs and head in an effort to knock rubber balls against targets. In "River Rush," you must lean and jump to guide a raft down a wild river and into the sky. In "Reflex Ridge," you must jump, duck and dodge to avoid barriers as you're carried along on a conveyor belt. "20,000 Leaks" involves quickly plugging leaks in an underwater box and "Space Pop" requires a lot of arm-waving as you pop bubbles. Games can be played by one or two players at a time. It can get a bit wild — and dangerous — when two go head-to-head, but it's a lot of fun.
With "Kinect Adventures," and most of the other games, the sensor bar does an excellent job of picking up motions and translating them into on-screen action. However, almost all of the motions required in the first batch of games are pretty broad — waving an arm, kicking a leg, etc. There doesn't seem to be anywhere near the precision available in PlayStation Move.
The PS3 system uses a camera to pick up both body motion and the motion of a controller that's topped by a glowing ball — and also packed with accelerometers that detect its exact angle, direction and speed. This seems to allow much finer movements to be incorporated into game play.
"Kinect Sports," developed by Rare for Microsoft Game Studios, follows in the tracks of "Wii Sports" and the PS3's "Sports Champions." It lets you play soccer, volleyball, table tennis, boxing, bowling and an assortment of track and field events. Unfortunately, the games feel rather shallow compared with titles that are now available on the other systems. In addition, the camera didn't seem to pick up the action nearly as well as it did in other games. Since the hardware worked well with other titles, I have to blame the software.
"Kinectimals," developed by Frontier Developments for Microsoft Game Studios, is surprisingly fun. It allows you to adopt a digital feline cub — tiger, lion, panther or leopard. I have to admit that it can be rather enjoyable petting, grooming and playing games with my newfound friend. Even though I couldn't feel my cub's fur, it often seemed like I was truly interacting with him. On the downside, some of the games seem a bit repetitive or pointless — and then there's a winged-cat-thingy that hovers around making annoying comments.
"Dance Central," developed by Harmonix for MTV Games, lets you dance to an eclectic blend of sounds, ranging from Disco-era hits to current tunes. The game lets you select an avatar who guides you through the moves. Illustrations and colorful pulses provide a lot of help, too. Since I know my limitations, I had some of my sons' friends do most of the testing and they enjoyed it thoroughly. However, it wasn't long before they were asking for more tunes — which will be available to download.
"Kinect Joy Ride," developed by Big Park for Microsoft Game Studios, is definitely the least interesting of the games. It's sort of like "Mario Kart" for dummies. You hold your hands out like you're gripping a steering wheel and twist them to guide your vehicle. You can pull back and push forward to activate a boost and lean to drift or do tricks during jumps. However, there's no accelerator or brake, which takes a lot of the fun and challenge out of racing. Sure, Kinect does a great job of translating your movements into action, but there just aren't many movements to make.
While most of these games are very fun to play with others, most get boring pretty quickly if you play by yourself unless you're looking to improve your dance skills or need some exercise.
Kinect does offer a few options beyond games. You can chat with friends via video link, watch ESPN or connect to the Zune video and music services.
Going online is a very different experience with Kinect. Unlike Xbox 360's traditional headset, the Kinect mic can pick up every noise in the room and broadcast it to the world. One recent session of "Kinect Joy Ride" prominently featured a crying baby and annoying music coming from the other end of the connection.
Another problem with online play is the current dearth of players. It seems that relatively few gamers have decided to plunk down the $150 required to play the game during its first week.
Finally, I have to admit that I'm still a bit skeptical about Kinect's basic premise. Microsoft bills Kinect as the system that lets YOU be the controller. The problem is that I'm a human and, as such, am a tool-user. I LIKE tools, controllers and gadgets.
Sure, the traditional controller does act as a barrier between the player and the game and it does require some effort to master. However, I still want to hold something in my hand when I perform most activities. I can't be the God of War without a sword, a soldier without a rifle or a guitar hero without an ax.
The difference between Kinect and Move is demonstrated in the table tennis games included in "Sports Champions" and "Kinect Sports." In the Kinect game, you basically swing your arms back and forth, slapping at the imaginary ball. It seemed a bit silly. On the other hand, the Move controller does a great job of simulating the paddle, allowing for a much more realistic experience.
Unless Microsoft addresses the "tool" issue, I think Kinect — though tremendously fun — might find itself shunned by the hard-core gaming crowd.
---
---
---
---