Khao Lak in Mehlingen, Germany
by
Jennifer H. Svan
November 8, 2011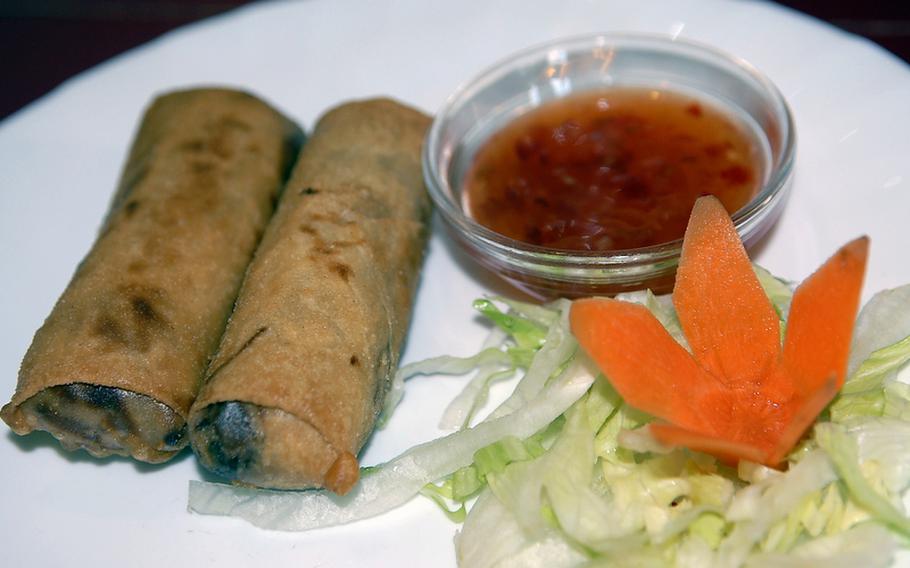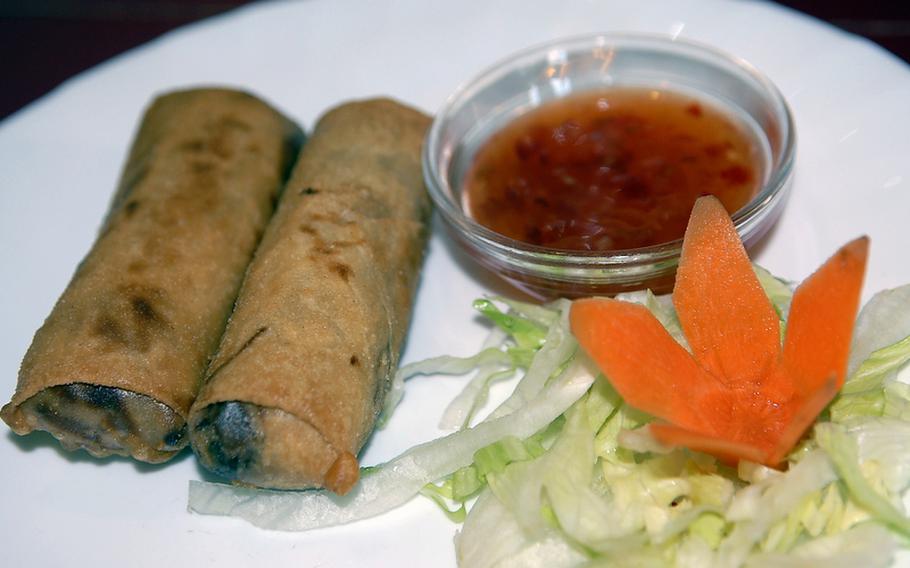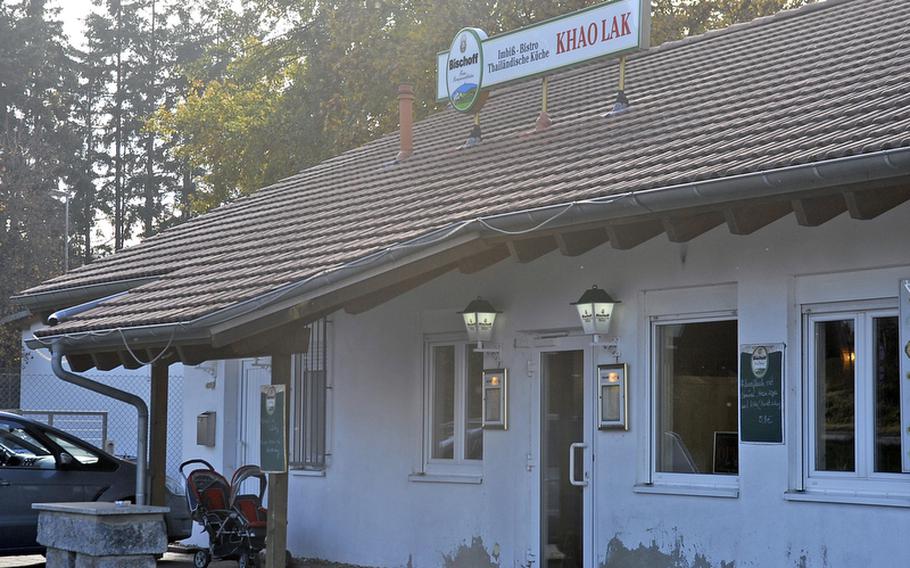 There's nothing fancy about Khao Lak, a small Thai imbiss and bistro in Mehlingen, Germany, near Sembach. But that shouldn't stop you from visiting.
The dining area is nondescript: one room with five tables, a few plants, and, oddly, a violin hanging over the inside of the restaurant's doorway. The only decor that's Asian is the Japanese lucky cat and bottle of Mekhong Thai spirit on the countertop.
Khao Lak might be bland on ambience, but certainly makes up for it with the flavor of its dishes.
My husband and I head there on occasion when we're weary of German schnitzel and pommes and crave some spicy Asian food.
And there's no shortage of spice on Khao Lak's menu. Timid tongues might opt for food labeled "low spicy"; there's also a "medium spicy" and a "hot spicy," though the latter is territory I have yet to brave.
These are red curry dishes, such as gaeng phet nua — beef with coconut milk, bamboo, paprika, "long-yard bean" and Thai-basilikum.
I have the boring habit, when I find something I like, of always choosing the same thing. My current favorite is the gaeng gari gai: pieces of fried chicken in a bowl of vegetables swimming in a yummy yellow curry and coconut-milk sauce, with a side of rice.
The dish is listed as "medium" spicy, and while it wasn't spicy enough to make me sweat, by meal's end, my lips and tongue were tingling — probably from what appeared to be red pepper flakes in the curry sauce.
Service at Khao Lak is quick: An appetizer of two egg rolls took less than five minutes to be served. The main meal took 11 minutes, from ordering to sitting in front of me, steaming hot. The chicken was super crispy and the dish was loaded with vegetables. I counted 12 varieties, from bamboo and zucchini to green beans and mushrooms.
I must add this disclaimer: I'm not a Thai food connoisseur by any means, so I don't know if the gaeng gari gai tastes like genuine Thai, whatever that might be. Of note, there's no green curry or satay (sauce made with coconut and peanut butter) on the menu. The restaurant appears to be family-run, and one of the staff told me they come from Vietnam. So maybe this Thai food has more of a regional flavor.
If you're looking for a break from German food and need something quick and tasty, Khao Lak is a good bet. And the experience won't break the bank, either.
The chicken, along with two egg rolls and a glass of fizzy water, cost 11.20 euros.
KHAO LAK
Location: Am Wasserturm, 67678 Mehlingen (in the industrial park)
Directions: From Kaiserslautern, take A6 toward Mannheim. Exit at 16a-Dreieck Kaiserslautern and merge onto A63 toward Frankfurt a.M./Mainz; take exit 14 toward Kaiserstrasse; slight left onto Kaiserstrasse; take the ramp to Kaiserstrasse/L401; turn left onto Kaiserstrasse/L401 and continue to follow L401; turn right onto An der Heide; take the first left onto Am Wassserturm; destination on right.
Hours: 11 a.m.-10 p.m. daily; closed Wednesdays.
Food: Basic Thai food, mostly chicken, beef and fish dishes in yellow or red curry, and also a variety of fried noodles and fried rice entrees. Limited drink menu includes Thai and German beer.
Prices: Entrees range from less than 5 euros for some fried rice and noodle dishes, to 8 euros for some prawn and duck items.
Phone: 06303-806 688
Menu: In German and English; takeout is available.
Dress: Casual
---
---
---