Just winging it at Hooters
---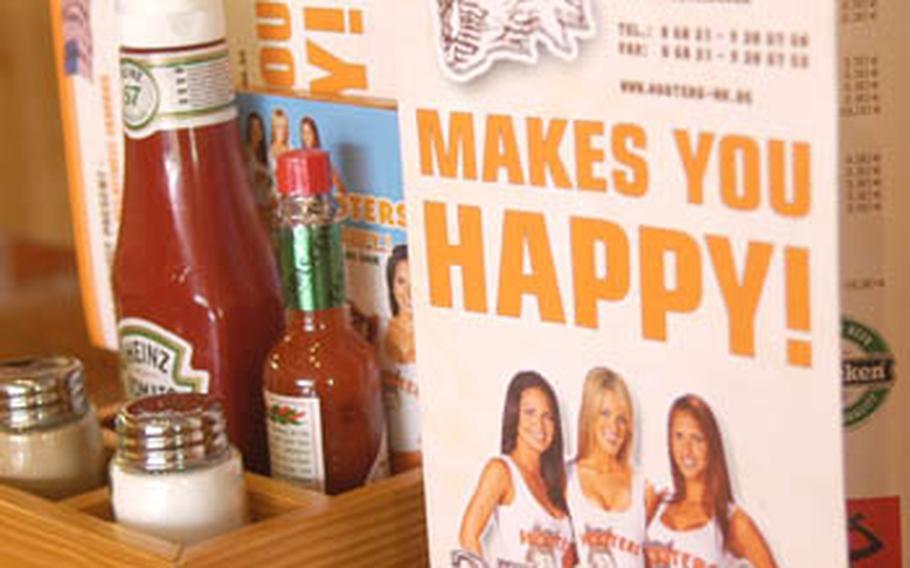 BAUMHOLDER, Germany — Yes, the brats are hard to beat. So is the schnitzel and sauerkraut. The goulash is grand. And God bless all the bakers and their Brötchen.
Yet, every now and again, especially this time of year, something starts to stir deep down inside me. "Forget all that German stuff," says an old gravelly voice in the pit of my gut. The voice reminds me fall is just around the corner. Football season is here. My needs are simple.
I want two things: a big plate of suicidal buffalo wings and a pitcher of cold beer.
But how to satisfy?
Could Hooters be the answer?
Since arriving in Germany in 2005, Hooters has been serving up sports bar grub in the town of Neunkirchen. About a half-hour drive from both Baumholder and Kaiserslautern, it's not too far out of the way for anyone on the prowl for something spicy.
As I perused the menu, I must say I was impressed with what the Hooters folks have put together. There's a host of options for the wing eater. And there are also burgers and jalapeno chili cheese fries and a whole bunch of other stuff. They even have salads, though I can't imagine anyone ordering one here.
But for me, all of that other stuff was an unnecessary distraction. I came for the wings.
"How do you like them?" my waitress asked.
"Hot," I said.
Now I'm certainly no expert on the franchise, but the Hooters decor seemed sufficiently tacky. It was all very similar to a Hooters experience I had many years ago in Ocean City, Md. Lots of junk on the walls, bright, ugly colors and a big redneck vibe.
The waitresses also looked the same as the ones I encountered back in Ocean City. Just like the girls at the beach, Germany's Hooters also is staffed with waitresses stuffed into little orange Lycra shorts. Nothing wrong with that.
But I came for the wings.
As I waited for the food, I passed the time watching one of the nice flat screens. A replay game of the other kind of football was on. "Strike one," I thought to myself.
Moments later, the waitress arrived with my plate of wings.
I dug right in and made a mess. My nose started to get a little runny from the heat, which I thought was a good sign. But my eyes didn't tear up. "Strike two," I thought.
But then again, I said to myself, it's been ages since I've left a restaurant filled to the brim with buffalo wings. While they failed to deliver the masochistic fire I craved, the wings did linger for a bit on my palate.
All and all, not bad. Strike three averted.
To see previous After Hours reviews, go to:legacy.stripes.com/afterhours
---
---
---
---