JROTC can be a path to scholarships, academies
by
Dave Ornauer
May 4, 2003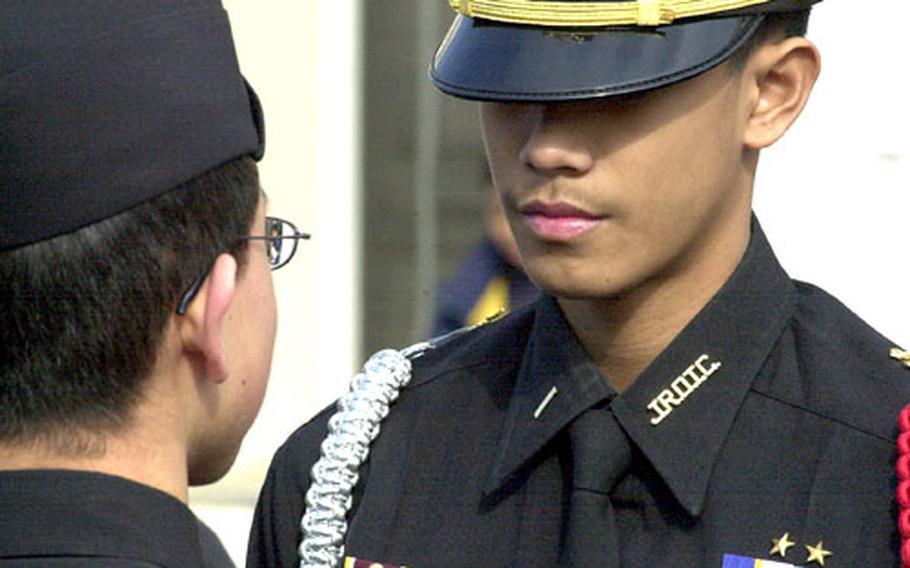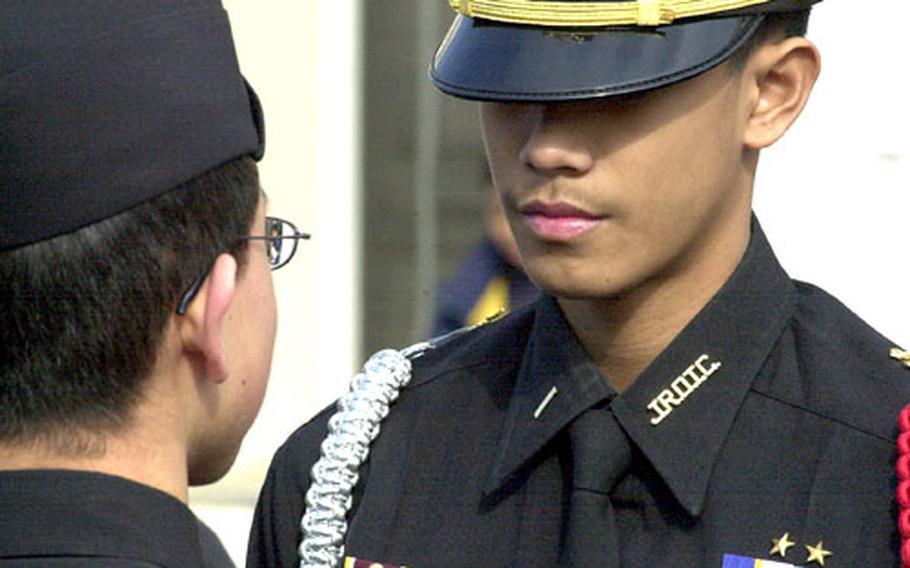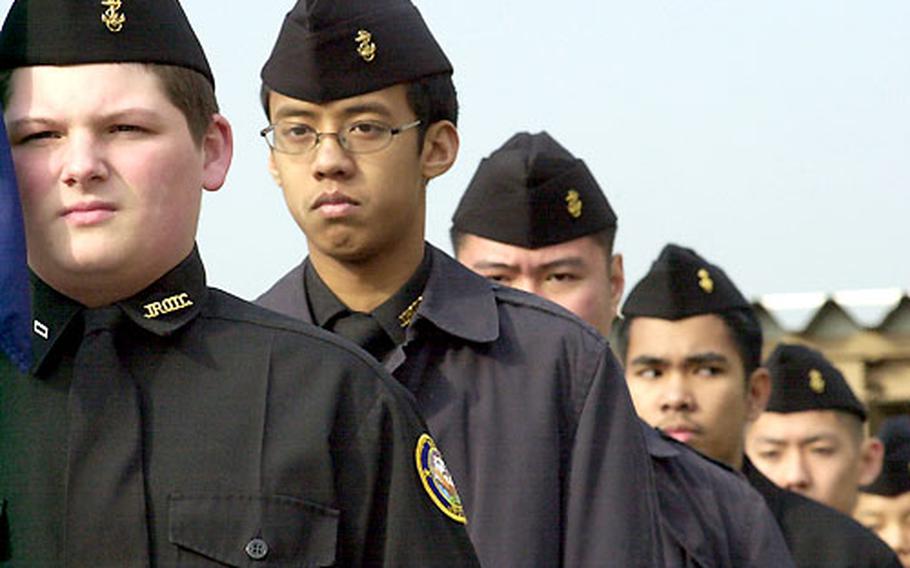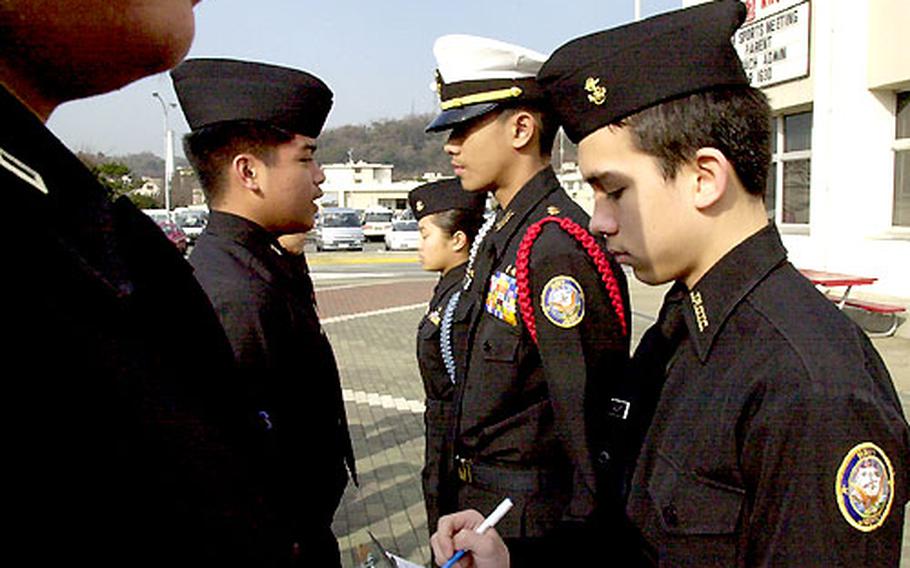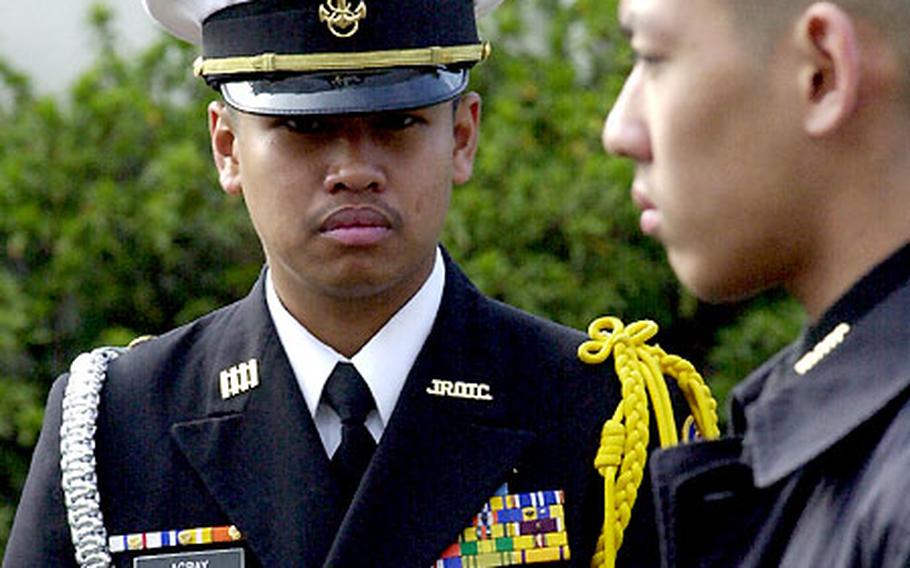 They're at bases around the world.
Army 1st Lt. Judith Aptaker and Air Force 2nd Lt. Teresa Rini help oversee the finance sections at Yongsan Garrison and Osan Air Base, South Korea. Capt. Chris Murray pilots helicopters out of Okinawa's Futenma Marine Corps Air Station; 1st Lt. Zensaku Munn can be found in a C-21 cockpit with Yokota Air Base's 459th Airlift Squadron.
They even can be found at the highest echelon of command: Thomas C. Waskow, a three-star general in charge of U.S. Forces Japan and 5th Air Force at Yokota.
Their common bond? All are products of Department of Defense Education Activity schools, and four-year Reserve Officer Training Corps scholarships or appointments to U.S. military academies.
Among the almost 2,500 DODEA-Pacific graduates over the past three years, 222 have gone on to major universities with ROTC scholarships. Twenty-six others went to West Point, the Naval Academy or the Air Force Academy.
DODEA-Pacific regional officials and school administrators say up to 100 are in line for a free four-year education this fall, in exchange for four years of commissioned military service.
A natural link
The military environment in which they were raised forms a natural bridge between DODEA schools and Junior ROTCs on the one hand, and service academies and ROTC scholarships on the other.
"They say that 30 percent of the cadets in JROTC go military" command-wide, said retired Army Lt. Col. Ross Ballou, senior JROTC instructor at Zama American High in Japan. "I think it's the military community, the constant example.
"They want to do what their parents did, they want to pursue out of their patriotism, they want to go officer, go for the same goals. They see the lives that their parents have, and they want to enjoy it, too."
Waskow went to DODEA schools in downtown Tokyo in the 1950s and London in the 1960s. His wife, Sheila, attended DODEA schools for seven years.
"We gained a great appreciation while visiting and living on military bases," said Waskow, 55, the son of a former State Department employee and 1970 Air Force Academy graduate. Waskow flew combat missions in O-2s over Vietnam and spent much of his career in F-15 Eagle interceptors.
"I remember growing up and seeing sailors go to work" at Atsugi Naval Air Facility, Japan. "We as a family were very close to the military. It grows on you a bit."
Munn, 24, the son of retired Air Force Lt. Col. James Munn and a 2000 Air Force Academy graduate, observed the same patterns while attending Robert D. Edgren High in Japan.
"Most of the friends I graduated with, 80 percent of them, went into the military. I can name 15 off the top of my head," said the 1996 Edgren graduate. "It's the fact that they're accustomed to, if not influenced by, the military background."
Some simply want to follow their dreams.
Katie Miller, a senior boasting a 3.9 grade-point average at Japan's E.J. King School, is bound for the Air Force Academy in Colorado Springs, Colo., this summer, something she's craved since childhood.
"When I was 3 years old, I used to fly in my grandfather's T-28," she said, recalling how she'd take the back seat behind Duncan Miller, an Army Air Corps officer in World War II, and meet some of his pilot buddies. "I fell in love with airplanes and always wanted to be a pilot."
She's the daughter of Randolph Miller, a civilian at Sasebo Naval Base who served briefly in the Navy and has worked for the government for more than 20 years. She credits E.J. King's first-year Navy JROTC program.
"It basically verified that I wanted to join the military, and gave me a taste of the military when I was in high school," Miller said.
Those in the JROTC program at Kadena do far more than drill. Karrie Geronimo, daughter of Master Sgts. Carlos and Julieta Geronimo, who's bound for California-Davis on an ROTC scholarship, also had to become deeply involved in community activities.
"You have to work hard, be a well-rounded student, not just shine in the classroom but be an outstanding citizen," said Geronimo. That meant volunteering for beach cleanups, Veterans of Foreign Wars poppy sales and visiting elementary schools to help with Drug Abuse Resistance Education.
Financial incentives
The combination of college costs and military salaries also make ROTC scholarships or academy appointments highly attractive.
The tab for Aptaker to attend the University of Washington as a regular student and nonresident would have been $28,000 a year.
ROTC officials approached Aptaker, then a Seoul American senior and student body president, about an ROTC scholarship.
"The more he tried, the more interested I became," she said, primarily because "I didn't want to put a financial burden on my parents." Her father, Joseph, is a retired Army sergeant first class.
Now assigned to Yongsan's 175th Finance Command, Aptaker isn't the only former Seoul American student who went the ROTC route and returned to Korea.
Rini, a 1998 Seoul American graduate, paid to attend Boston College her freshman year, which put a significant drain on the family budget. But she wound up with an ROTC scholarship. Four years later, she's assigned to Osan's 51st Comptroller Squadron — and her sister, Elizabeth, is at the Air Force Academy.
Aptaker, whose brother Michael is a senior ROTC student at Washington and will be commissioned this summer, got word recently that she made the captain's promotion list. Before that, she had considered getting out.
Whatever route she chooses in the future, Aptaker feels her ROTC scholarship laid a foundation for success.
"When you get out, you're going to be that much more marketable," she said. "You're in a management position. I had the lives of soldiers in my hand. You have management experience. You'll have no problem finding a job."