Japan: Fresh catch at Tsukiji Fish Market
---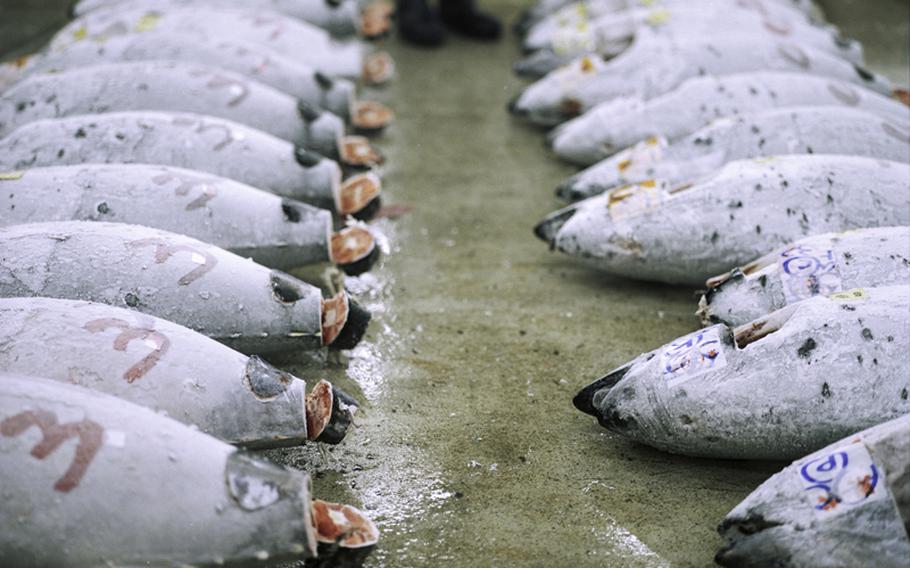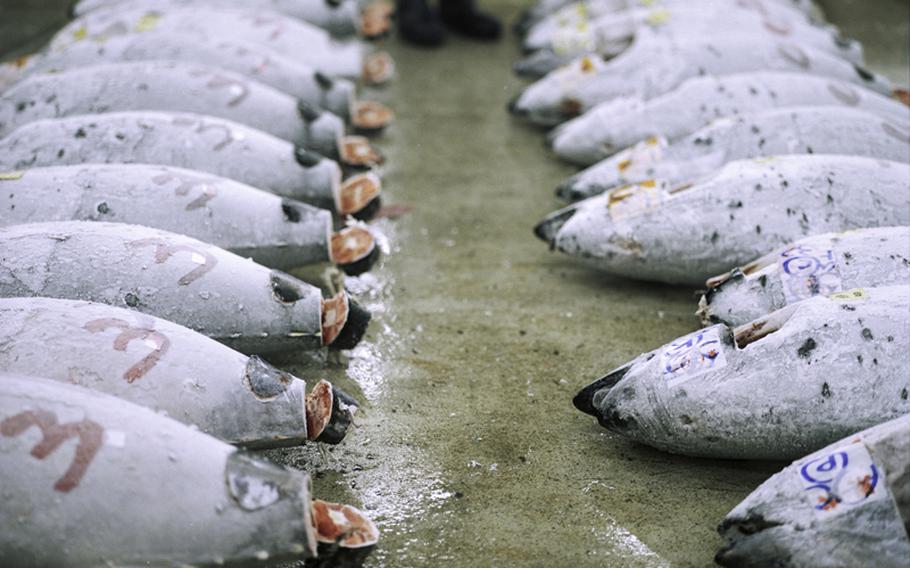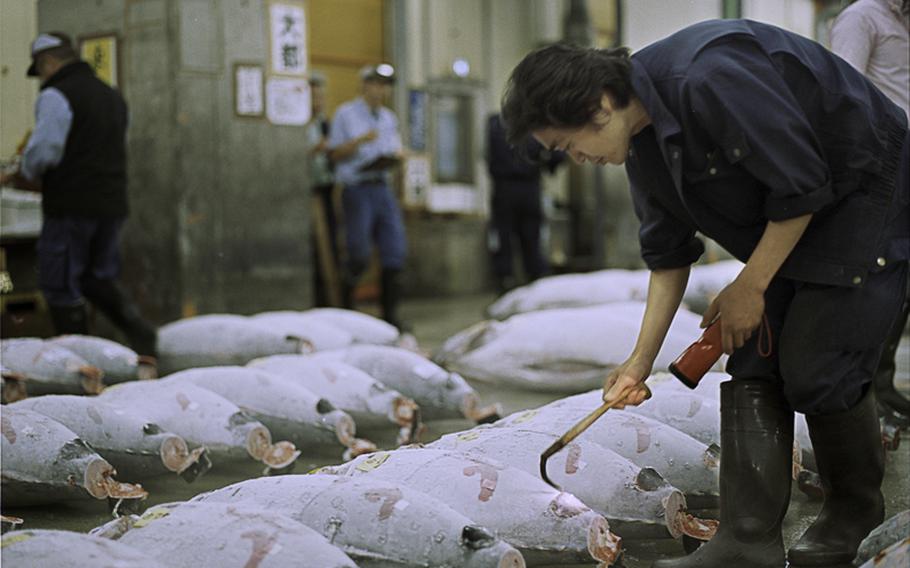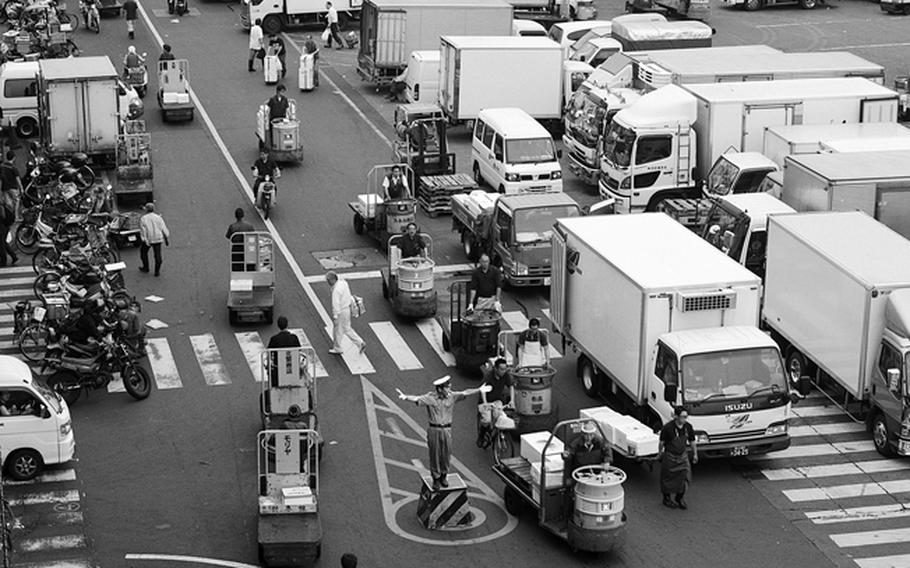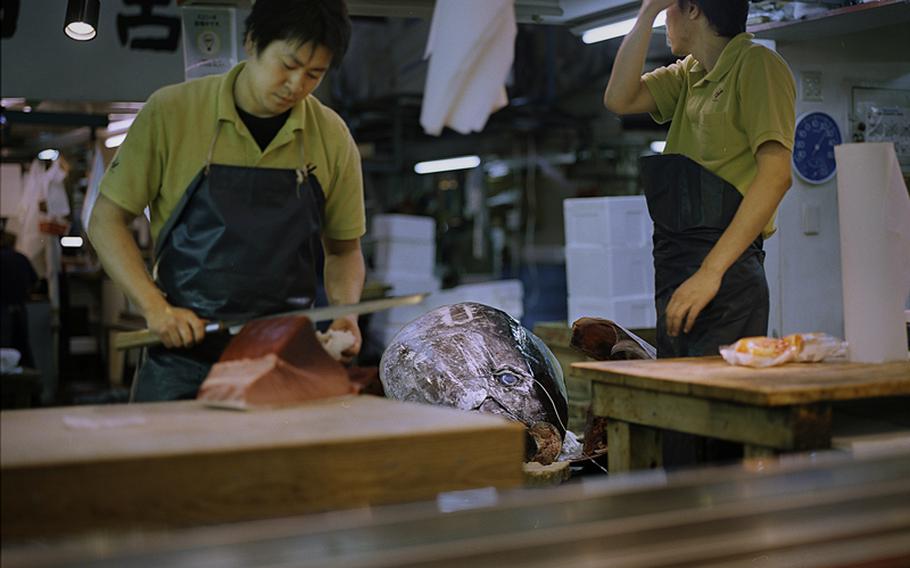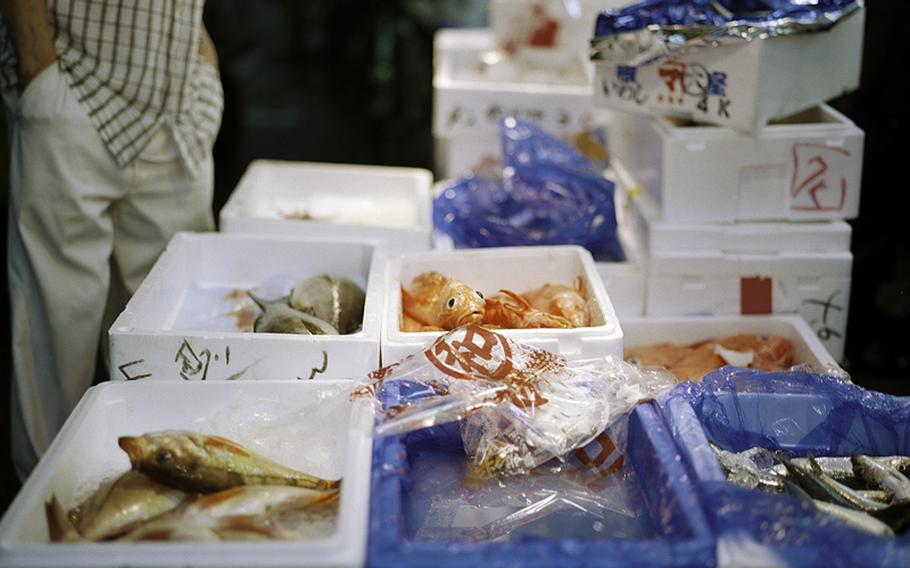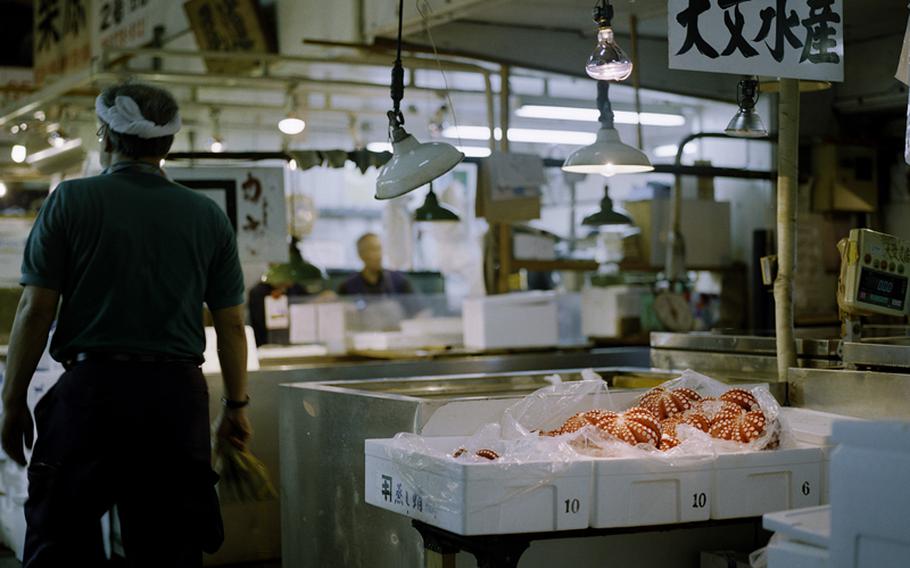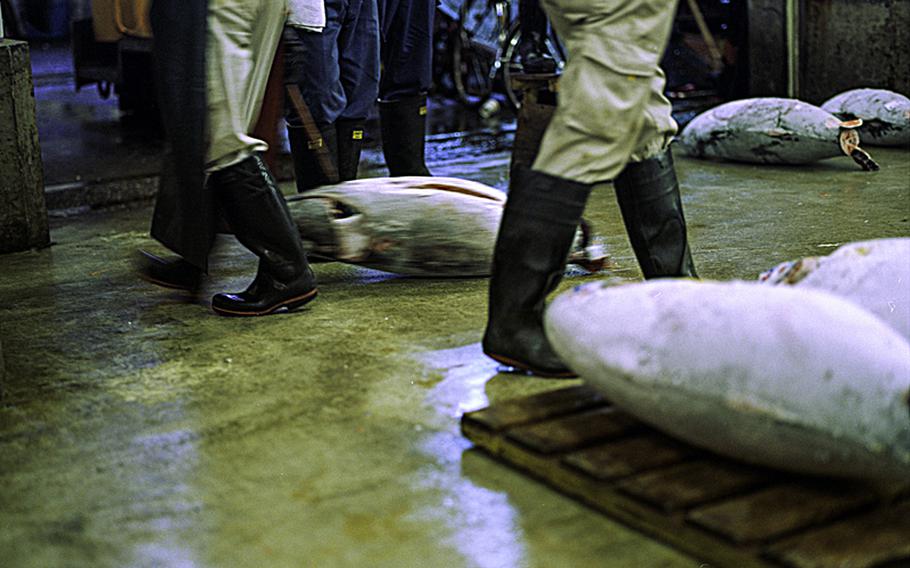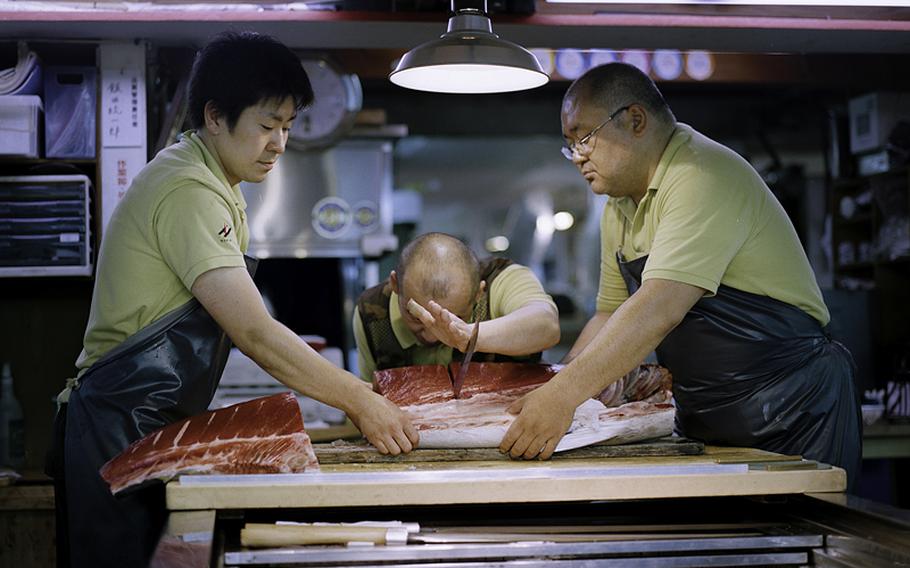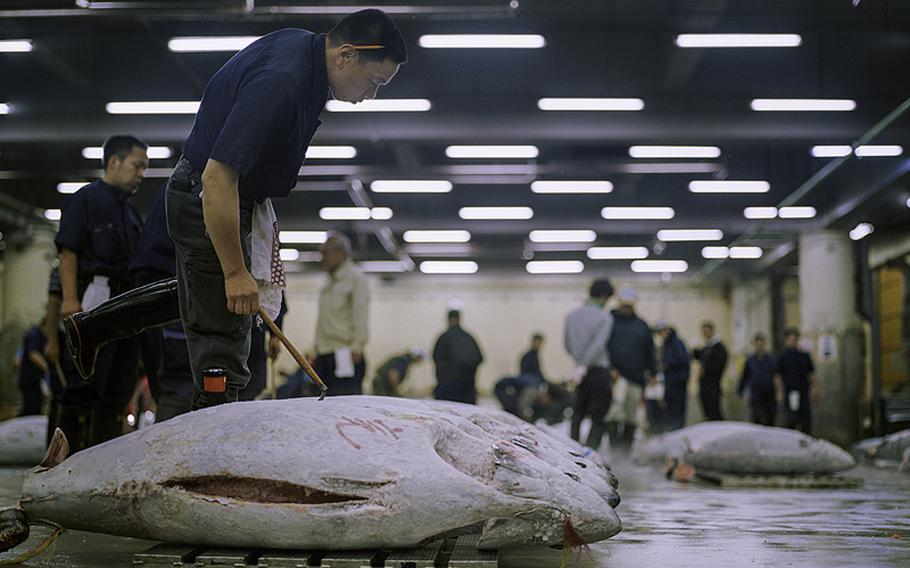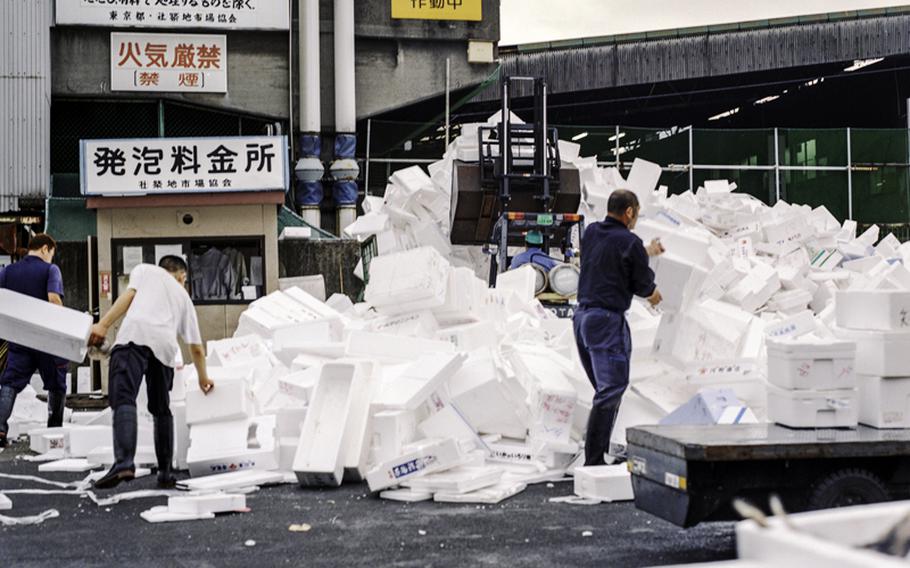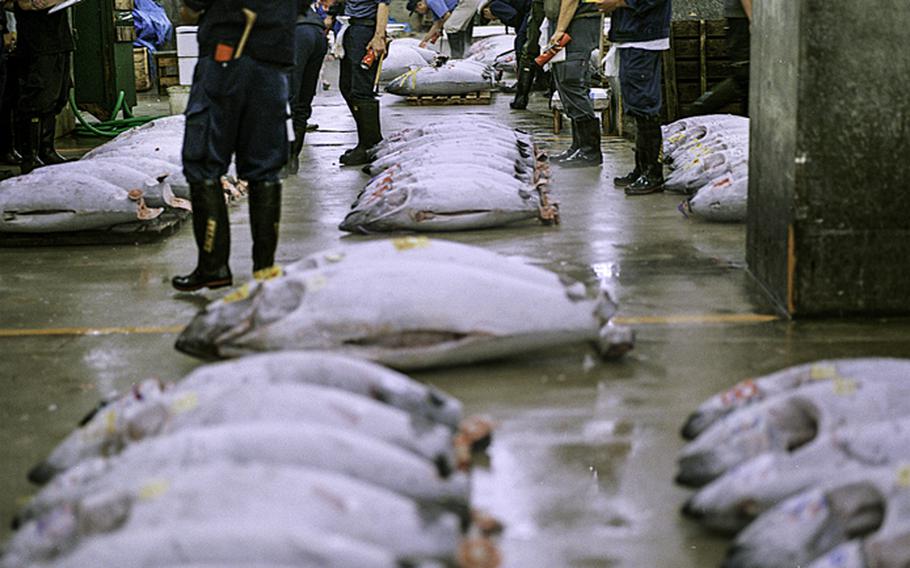 The glorious thing about rising early in Japan is that if you find yourself awake before 7 a.m., chances are the sun is also up with you, which not only buffers the dread of rising, but also increases the likelihood you'll actually get up.
An early morning is mandatory if you want to view the famous tuna auctions at Tsukiji Fish Market in Tokyo, the largest wholesale fish market in the world.
My friend and I arrived at 4:30 a.m. to view the 5 a.m. auction and grabbed some of the last spots available on the tour. We opted for the "early to bed and early to rise" method for ensuring our attendance, as opposed to the "all nighter" approach common among tourists - a night of drinking and revelry followed by caffeine to rally for the market.
The latter method seems decidedly bad when you're crammed into the refrigerated auction room surrounded by de-tailed tuna and loud auctioneers. A humid Tokyo morning at a fish market seems a masochist's treatment for a hangover, but beyond that, consider the horrifying possibility of losing your stomach on a $250,000 bluefin tuna. The term "international incident" comes to mind.
Our time at the auction felt incredibly short, but the auction itself seemed slow and orderly. Buyers moved up and down the rows, hovering over the frozen tuna with flashlights and flesh hooks, examining the cutout flaps of meat and the cross-sections near the tail.
I couldn't help but feel sad watching these massive beasts being dragged away.
Bluefin tuna is the king fish in Japan, which consumes about 80 percent of the world's Atlantic and Pacific bluefin. The Atlantic bluefin is listed as endangered by the International Union for Conservation of Nature, and the southern bluefin, considered to be the best sushi fish, as critically endangered.
Japan's appetite for bluefin is paralleled by its lack of regard for fishing regulations. In 2006, a report by the southern bluefin fishing regulation body found that Japan had illegally caught up to $6 billion worth of the endangered fish over the past 20 years, more than 100,000 metric tons over its quota set by the international community.
Japan is not solely to blame for the falling levels of bluefin and the unsustainability of the bluefin market. The International Commission for the Conservation of Atlantic Tunas has regularly placed quotas higher than its own scientists recommend.
The auction was an awesome and terrible thing to behold. One by one the tuna were sold, dragged along the floor out of the auction room and put on carts.
After about 15 minutes, we were ushered out of the auction area, and that was it.
Aside from the neon-orange safety vests that were handed out (sized for the small human; if you're someone of heft, like your humble author, prepare for it to appear it was painted on), and the few safety and informational videos, it didn't feel like a tour. There's no gift shop at the end, no ceremonious goodbye; you're just dropped at the exit without explanation or even a "Have a good day." Only one buyer at the auction even acted like they noticed the group of 50 tourists in our "we don't belong here" orange vests. Our admittance seemed forced, a chore, and I liked it that way. I felt like a witness, someone given a small window into the huge operation.
The inner market doesn't open to the public until 9 a.m., but the outer market and sushi restaurants begin opening at 5 a.m. The lines ran perhaps 40 deep to eat at the two main restaurants nearest the inner market. My friend and I couldn't be bothered, so we grabbed an onigiri (rice ball) and a can of coffee and got back to watching Tsukiji at work.
Tsukiji reveals a different side of Tokyo. It's blue collar, yes, but it's more than that. It's chaotic, noisy and seemingly a world apart from the stereotypically polite Japanese society. Three-wheeled electric carts loaded with fish whizzed down the thoroughfare, dodging one another and navigating between hand carts, trucks, bicycles and mopeds loaded with fish. A traffic cop stood atop a wooden riser in a blue uniform conducting traffic with hand gestures and whistle blasts; some drivers obeyed and some didn't. A few collisions occurred, but instead of an "excuse me" and a bow, it was a violent hand gesture and a blast from the horn.
The 900 wholesalers in the inner market handle more than 2,400 metric tons of seafood worth more than $20 million every day. Its windowed and cracked ceiling scattered mixed light around all variations and colors of tuna, shrimp, eel, octopus, scallops and fish. Women sat at small booths shuffling papers and making phone calls as men on carts drove by. I felt like I was in the way the entire time, but it was a sight.
It is by no means a polished scene, full of the gore that comes with the slaughter of animals for market. Blood, vacant shells, entrails, scales, tentacles and fish heads of all sizes were in buckets throughout the inner market's stalls, and there is endless cutting of meat for packaging. (Editor's note from firsthand experience: Don't wear sandals, high heels or expensive shoes.)
Watching and listening to the market hum continually drew me to the opening line of "Cannery Row," in which John Steinbeck so accurately describes a fish processing village in Monterey, Calif., as "a poem, a stink, a grating noise, a quality of light, a tone, a habit, a nostalgia, a dream."
Know & go
Getting there: The closest Metro stations are Tsukijishijo, on the Oedo subway line, and Tsukiji, on the Hibiya subway line, but a cab is much more convenient. Cab fare from the Roppongi area is about 3,000 yen.
Hours: Tuna auctions begin at 5 a.m., but you should be there at 4:30 a.m. to ensure you get a spot. The outer market and restaurants begin opening at 5 a.m.; the inner market opens at 9 a.m. Tsukiji is closed Sundays, national holidays and most Wednesdays.
Tours: To apply for a tour, go to the first floor of the Fish Information Center by the Kachidoki Bridge entrance by 5 a.m. Tours are limited to 120 visitors a day.
Cost: Free
---
---
---
---