Italiano Sapori Veri in Kaiserslautern offers fresh Italian food and ice cream with flair
by
Jennifer H. Svan
June 21, 2017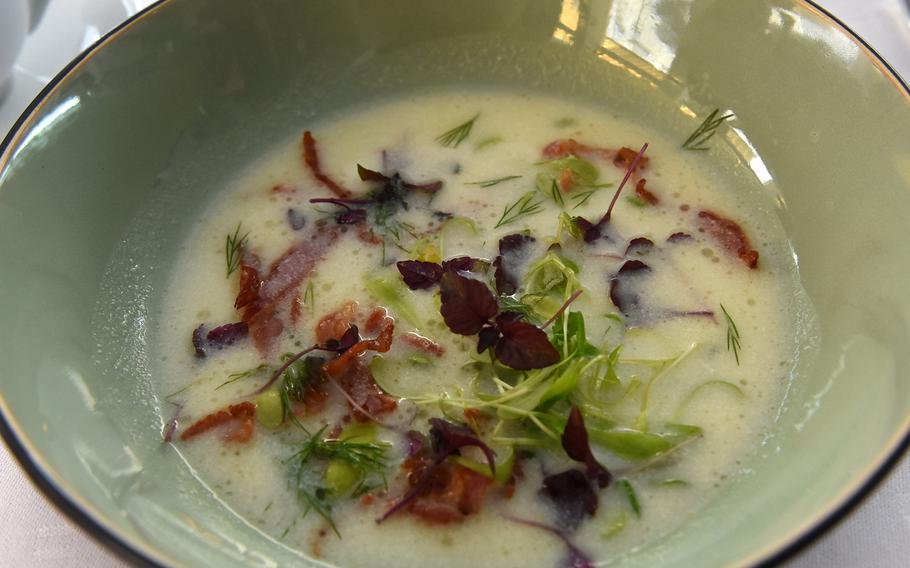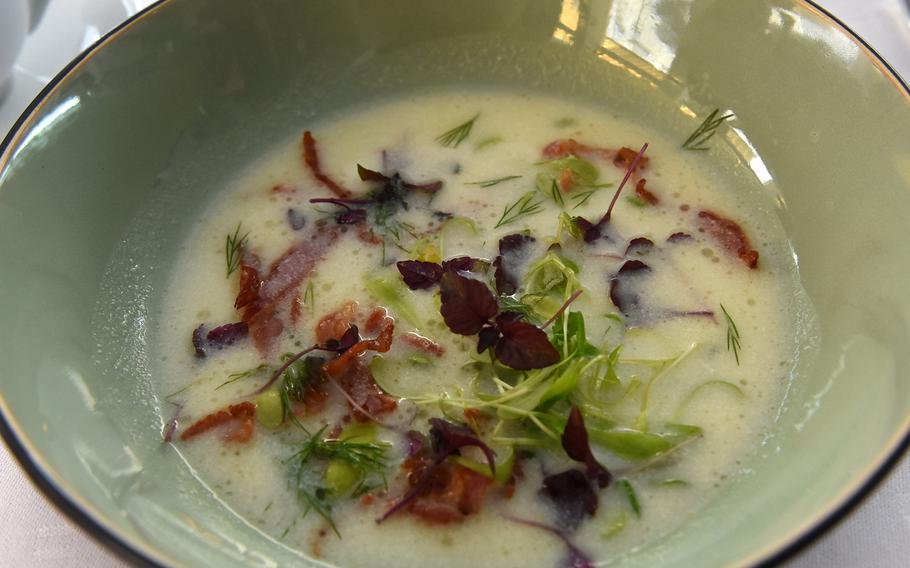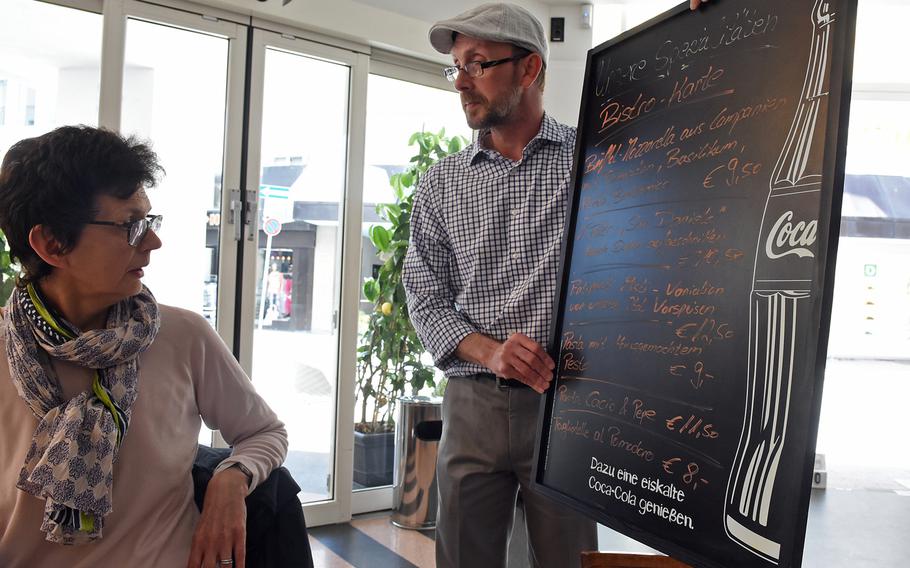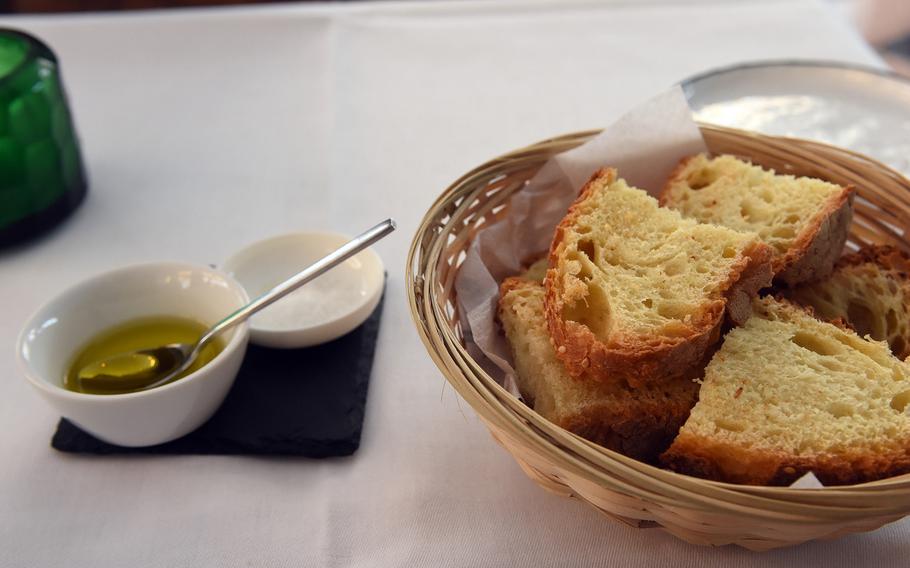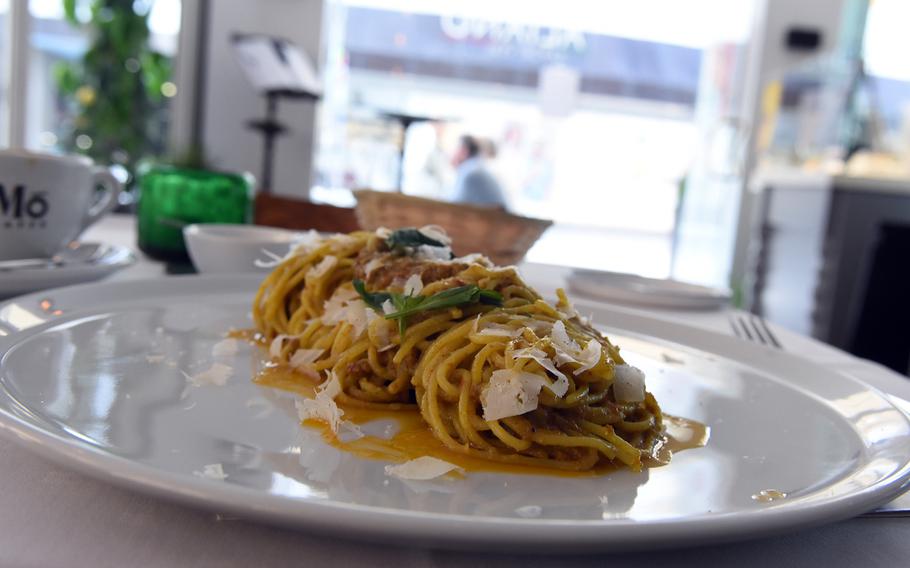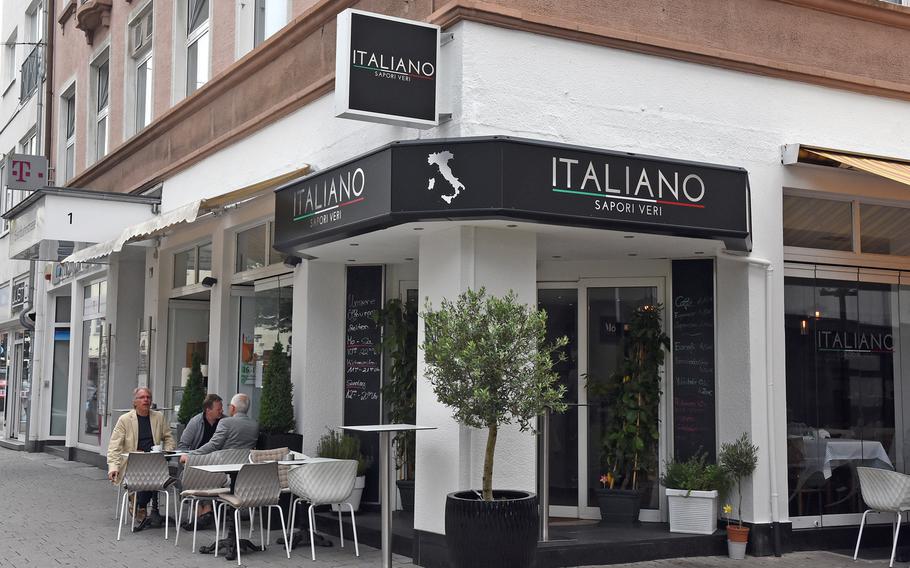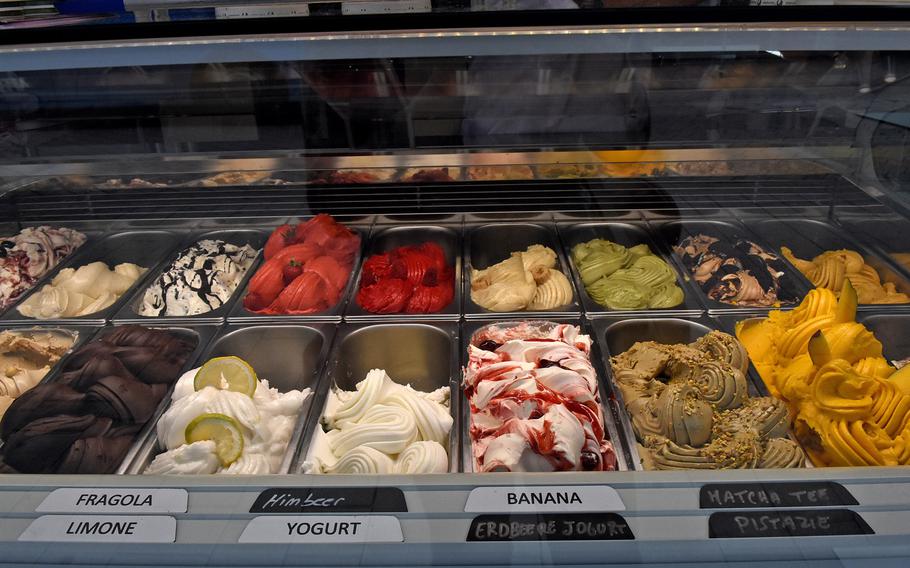 The meal started with a rich and gooey bite-size chocolate brownie served with a strong cappuccino.
It ended with a scoop of creamy matcha-flavored gelato.
With those bookends, I'd happily lap up a bowl of cold mush for a main course. Luckily, cold mush isn't on the menu at Italiano Sapori Veri. Neither is hot mush.
The cafe — its name in English means Italian Real Flavors — can be found at the intersection of Eisenbahn and Ostera streets in the downtown shopping district. I wandered in for lunch without a reservation on a recent weekday. With few open tables to choose from, I had to sit inches from a couple on one of two small tables pushed nearly together. I took it as a good sign that the place was busy.
The food situation was perplexing at first. I found two menus on the table: One for drinks, the other for dessert — both in German.
The English-speaking staff quickly cleared up the mystery. I learned that the cafe offers daily specials listed on a chalk board that servers will bring to your table. A separate "bistro menu" changes about every six weeks.
The chefs were switching the bistro selections on the day I was there, so that menu wasn't available. In keeping with the cafe's theme, both the daily and bistro menus offer a variety of Italian specialties, including pasta and antipasto, salads and meat and fish dishes. Meals are homemade using fresh and mostly organic ingredients, the servers told me.
I ordered one of the day's specials, German white asparagus soup and pasta with homemade pesto. The soup was delicious. It was cold — perfect for the hot day — and laden with bacon and fresh greens. It's too bad the portion wasn't more generous. But the pasta that followed was enough to satisfy a hungry lumberjack. Polishing off a whole basket of complimentary crusty bread before the pasta appeared dampened my usual Paul Bun-yan appetite. The bread, with olive oil and sea salt for dipping, was impossible to resist.
The pesto pasta, though it looked pretty with garnishes of fresh parmesan cheese slices and basil leaves, wasn't my favorite. It seemed a little dry.
But don't be discouraged from trying this place. It's fresh Italian food with flair, something a bit more promising and exciting than the typical Italian lineup of bland pizza, lasagna and spaghetti Bolognese cooked in countless commercial kitchens across town.
The cafe's panini, served with different combinations of Italian sausage and cheese, tomatoes and rocket lettuce, looked enticing. Other sure bets include the antipasti. One can't go wrong with a plate of San Daniele prosciutto, considered to be some of the best ham in the world.
I'd go back for just the drinks and the ice cream. The adult beverages include a hand-picked selection of wine from Italy as well as the standard espresso and coffee drinks. The ice cream selections merit a separate menu. The sundaes approach meal prices in some cases, ranging upwards of 7 euros. But I'd pay that much for the cafe's banana split with vanilla, banana and chocolate ice cream, bananas, and chocolate and caramel sauce, finished off with a streusel topping. Milkshakes and rows of gelato at the cafe's "to-go" ice cream window make for some hard dessert choices.
I can vouch for the matcha (green tea) gelato, the best I've had since living in Japan.
Italiano Sapori Veri Location: Eisenbahnstrasse 1, Kaiserslautern 67655
Hours: 10 a.m. to 10 p.m. Monday to Saturday; noon to 6 p.m.Sundays and holidays
Prices: Mid-range. Entrees on average range from about 8 euros to 14 euros and higher. Paninis start at 5.50 euros. Ice cream parfaits, such as spaghetti eis, start at 6 euros.
Menu: In German, with some Italian; staff can help translate menu items. Daily specials with additional "bistro" menu that changes about every six weeks. Meals are homemade with organic, fresh ingredients.
Dress: Casual.
Information: Call (+49) (0) 0631-367-94067. Online at: www.italiano-bar.de