'It was swarming with the enemy'
---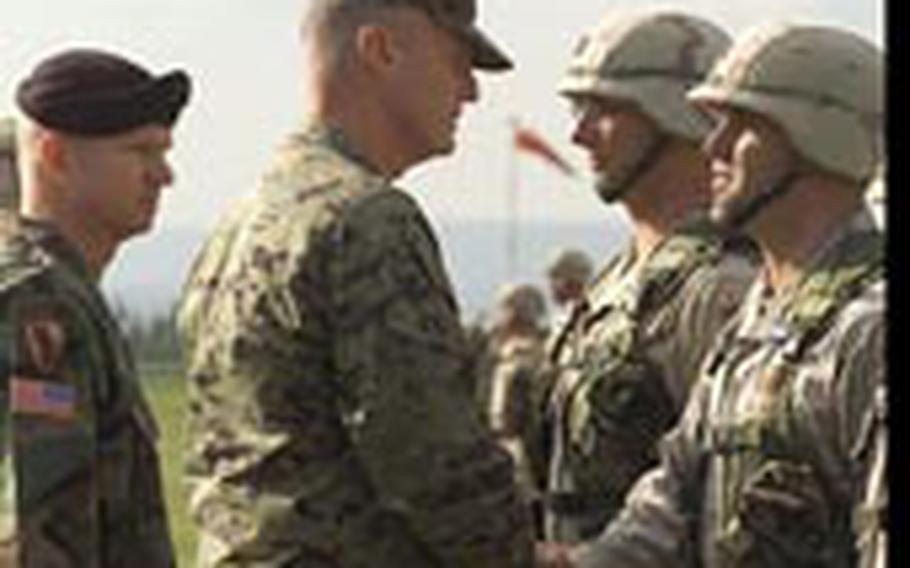 First Lt. Colin Cremin's tour was supposed to end in April 2004. Instead, it got tougher.
He was attached to the 2nd Armored Cavalry Regiment through Company A, 2nd Battalion, 37th Armor Regiment, 1st Armored Division.
The unit arrived in April 2003 but stayed beyond its 12-month tour as pockets of resistance mushroomed into the ongoing insurgency.
On April 17, 2004, Cremin and elements of Task Force 2-37 left Kut's Camp Delta for Najaf in a 75-vehicle convoy.
About 70 of them were the military equivalent of 18-wheel trucks hauling tanks chained to flatbeds.
The convoy was supposed to skirt the edges of Diwaniyah, a medium-sized city, but an overturned crane blocked its path.
That forced the convoy through the heart of the city around 6:30 p.m.
Downtown streets were quiet, which every seasoned soldier knows is a very bad sign.
"That's when everybody started jumping on rooftops and popping out of doors," Cremin said.
They took fire, and soldiers in the lead vehicles returned it with their own. Sgt. Jonathan Hartman, in the lead tank commander's cupola, was shot in the abdomen and dropped to the turret. He died later.
Cremin heard about the casualty over the radio and ordered the trucks from the narrow battle zone to a rally point in an open area a mile away, where Hartman could be better treated.
Rocket-propelled grenades, AK-47 rounds and anything that could be fired peppered the trucks as they moved out.
"I looked back and saw twenty to thirty tracer rounds bounce all around [Cremin] as he was out of the hatch firing his M4," said 1st Lt. Colin Welch in the after-action review of the battle.
In the gunner seat of Cremin's tank — still lashed to the back of the truck — Sgt. Shaun Ellertson fired his M-240 machine gun to clear a path to the convoy rally point.
One truck took a wrong turn at a traffic circle leading out of the battle zone. First Lt. Joe Rhyne, in a tank on the lost truck, crawled out, banged on the window while ducking bullets and got the rig turned around.
Insurgents disabled another truck, forcing its crew to flee. On the back of that truck, Staff Sgt. Kevin Morton's tank crew revved up the engine, snapped the hold-down chains and rolled out.
Although Cremin had made it to the rally point, several 18-wheelers were stuck in a standstill at the traffic circle.
Seeing the potential catastrophe, Cremin's tank crew broke chains and rumbled back into the battle zone with three other tanks led by Staff Sgt. Antonio Costa, Staff Sgt. Ronny Coleman and Staff Sgt. Jeff Yager.
Cremin rolled in over the north side of the traffic circle to reach the disabled truck.
Yager's tank mired in thick mud. Coleman stayed with Yager, leaving only Cremin and Costa's tanks to mount the counterattack.
They passed the circle and crested a bridge, then saw the disabled truck, which Cremin knew would make an impressive trophy for the insurgents.
"It was swarming with the enemy, seemingly surprised and confused that two tanks were returning," Cremin said.
While Cremin fired from the turret with his rifle, two grenades flew high over the tank.
As darkness fell, the Americans gained an advantage with their night-vision goggles.
Ellertson was able to see the building where the grenades flew from. He fired the big gun. A 120 mm tank round reduced the building to rubble.
The remaining insurgents fled.
While Cremin pulled back to wait for an order to either tow or destroy the truck, another grenade set it on fire.
Cremin would eventually call in a vehicle recovery team, which braved erratic fire to hook up the truck and tow it. Every vehicle made it out of the city, but not until after five hours of intense fighting.
Cremin and at least three others earned Silver Stars in the battle. Ellertson and Costa both earned Bronze Stars with "V" devices. The following month, Cremin also earned a Bronze Star with "V" during a battle at the Najaf cemetery.
For a long time, now-Capt. Cremin kept his Silver Star close, on his keychain. It wasn't there for show; few of the soldiers in his command at the 2nd Infantry Division's 2nd Battalion, 9th Infantry Regiment, in South Korea have any idea that he earned it.
Cremin kept it close because it reminded him of the three men who lost their lives in Diwaniyah.
Those men were Hartman, 27; Pfc. Clayton W. Henson, 20, a gunner; and 1st Lt. Robert Henderson II, 33, a Kentucky National Guardsman assigned to one of the trucks at Diwaniyah. Cremin also lost his friend Sgt. Michael Mitchell to an insurgent attack earlier that month.
Cremin's last words for this interview were all about his hope that their memories be honored in this story.
"Just do right by them," Cremin said.
1st Lt. Colin Cremin
Unit: Company A, 2nd Battalion, 37th Armor Regiment, 1st Armored Division
Medal: Silver Star; Bronze Star with "V"
Earned: Silver Star earned April 17, 2004; Bronze Star earned at Najaf, Iraq, in May 2004
---
---
---
---