It's Spargel season, when white asparagus is king in Germany
by
Leah Larkin
May 13, 2003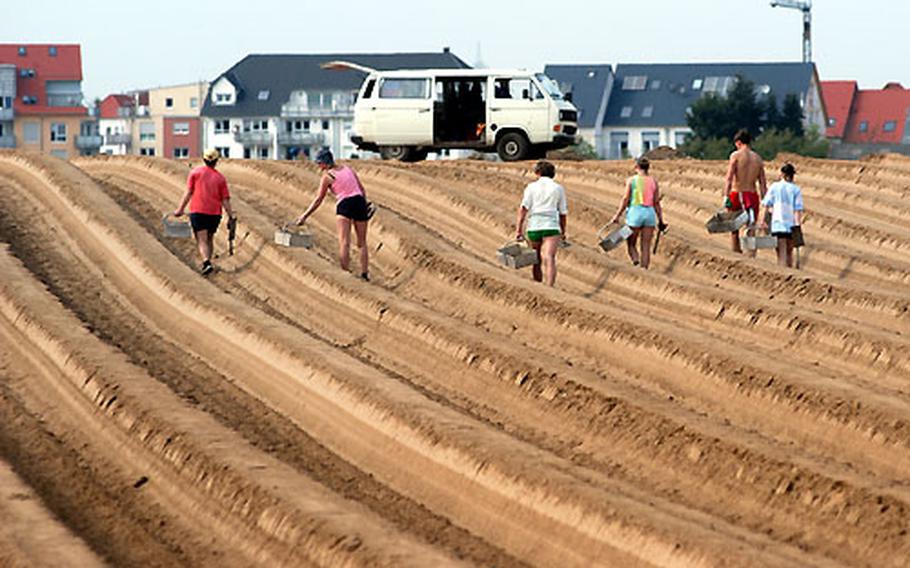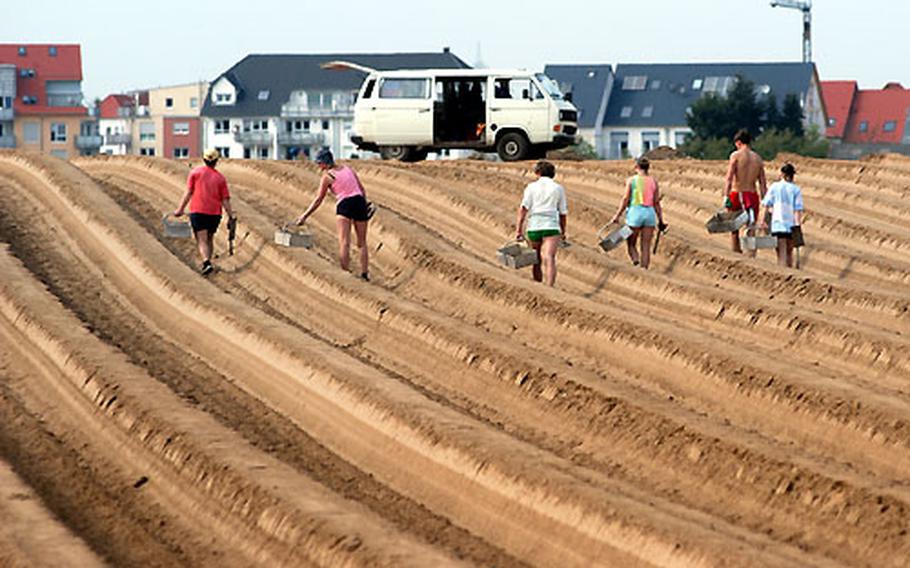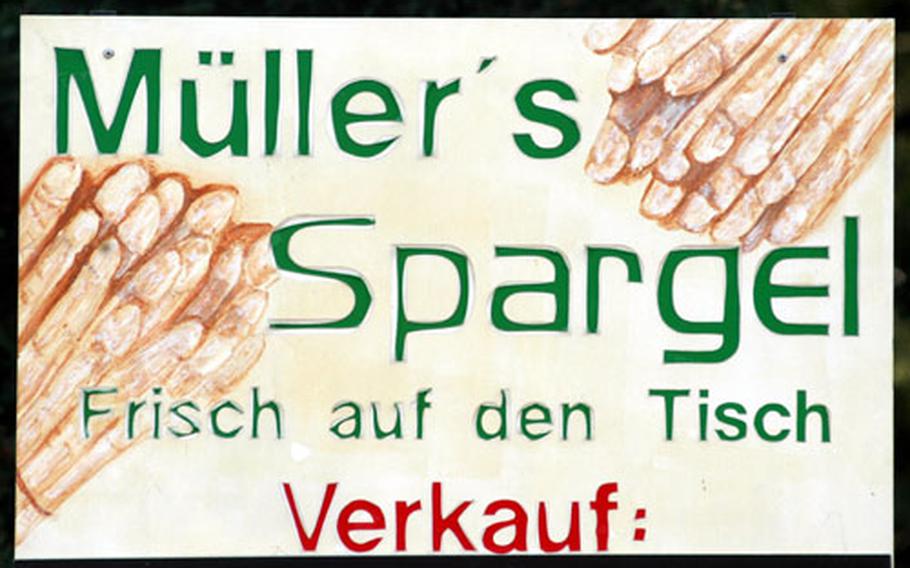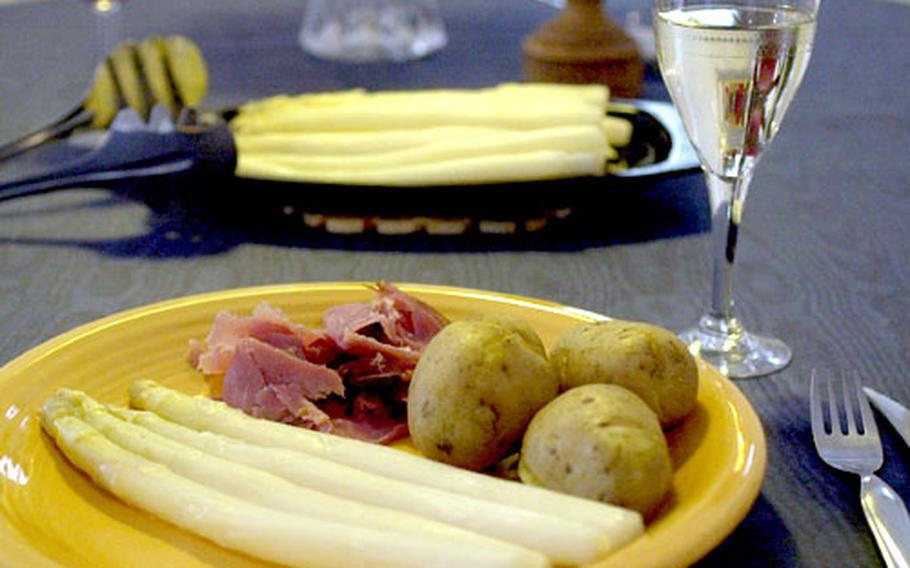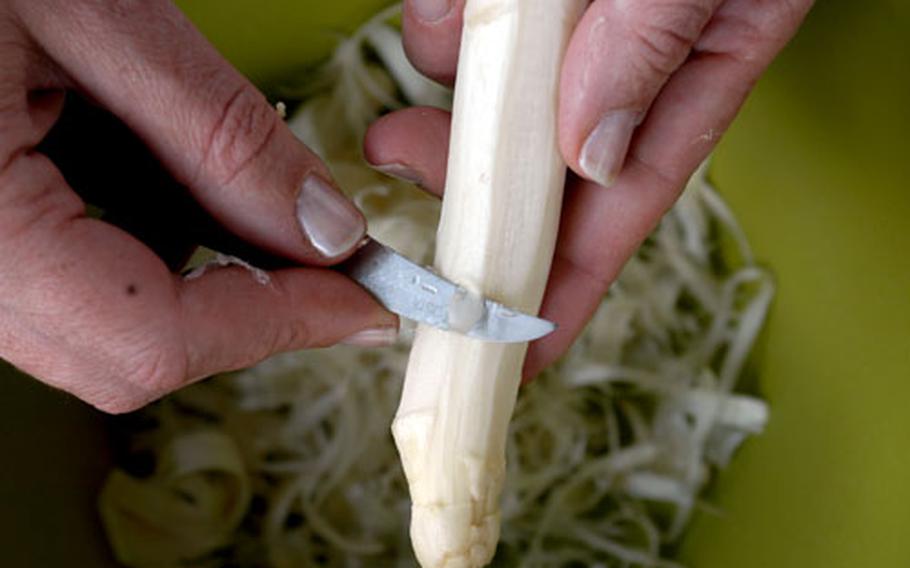 Birgitte Riemann was busy getting her stand ready for business at 8:30 a.m. on a recent Saturday at the outdoor market in Steinenbronn, a village near Stuttgart, Germany.
The young woman hadn't yet put up her signs with price labels, yet lines were already forming.
Housewives with market baskets, a few elderly men, and women with kids in tow were all standing patiently, waiting to make a purchase.
Riemann wasn't selling typical market fare like tomatoes or onions or potatoes. Her offering was Spargel — white asparagus — the precious vegetable that seizes Germans with passion at this time of year.
In most parts of the world, people eat green asparagus. While the green variety can be found in Germany, it's the pale, pearly version that inspires the Spargel obsession in Germany and other parts of Europe. During the short asparagus season, late April to the end of June, Germans are known to make pilgrimages to savor Spargel at restaurants, or drive into the country to buy Spargel directly from Spargelhofs (Spargel farms), located primarily in southwestern and central Germany.
"Winter is gone. This is the first fresh vegetable of the season. People are happy. It's a message of spring," says Jürgen Huber whose Stuttgart restaurant, the Lamm, features Spargel with hollandaise sauce.
Those waiting to buy Spargel from Riemann touted the taste, "delicious," and praised the vegetable as being "healthy." A pound of Spargel is said to contain the daily recommended allowance of vitamin C. It's also rich in vitamins B1, B2 and Niacin. It's good for the kidneys and the nervous system. It nourishes cell growth. And, according to one article, it stimulates sex hormones.
On top of all that, it has practically no fat, yet is rich in fiber. An entire pound contains a mere 100 calories.
But it is not cheap.
Spargel, which, like onions and garlic, is a member of the lily family, is classified before it is sold. Class I spears are color free, plump and arrow-straight, and without marks or indentations indicating that a blossom is forming at the tips, said Riemann, who was selling this Porsche of the Spargel family at 9.40 euros for a kilogram (2.2 pounds).
She also had a bin of just the tips, "very mild, the best part" at 8.90 euros a kilo; one for Class II, "not so perfect, a little thinner, a little color in the tips" at 8.40 euros a kilo; a selection of Class IIB, even thinner, at 7.90 euros a kilo; and some Class III, "crooked, thin, dark tips" at 5.90 euros a kilo.
In other Spargel-growing areas, prices range from as low as 5.50 euros up to 10 euros. Some Spargel sellers have as many as nine different types, including broken pieces, the cheapest category often used to make soup.
Germans don't seem to mind paying a premium for the aesthetically perfect stalks, although, according to one Spargel saleswoman, "It's all appearance. The quality and taste are the same."
Chefs who prepare both green and white asparagus say the white variety is "more elegant, more tender and mild" while its green cousin is "rustic" and "nutty" in flavor.
Spargel may be low-calorie, but most folks don't eat Spargel straight. It's usually smothered in hollandaise or melted butter and served with new potatoes or pancakes (flädle) and ham — all of which pile on the calories.
That's the way at least 50 percent of the customers at the Villa Modena restaurant ordered Spargel last year, says Nino Minoia, chef of the restaurant at the Hotel Goldener Löwe in Schwetzingen, a town south of Heidelberg famous for its Spargel as well as its pink baroque castle.
Minoia buys Schwetzinger Meisterschuss, a type of asparagus that thrives in fields near the city castle and is prized because a high percentage of its yield is Class I.
Karl-Heinz Czaker, chef at the Hotel Restaurant Krone in Gerlingen near Stuttgart, likes to be creative and experiment with Spargel. This year he featured a Spargel buffet on Mother's Day that included Spargel cream soup, Spargel salad, Spargel torte, Spargel Orly in a beer batter, Spargel with tomato sauce, Spargel with orange sauce, Spargel with shrimp, Spargel with smoked salmon, as well as the traditional offerings of Spargel with ham, schnitzel or beef filet. A special hit in Schwetzingen one year was asparagus with a pink grapefruit sauce served with giant scampi.
Stuttgart chef Vincent Klink of the gourmet restaurant Wielandshöhe says Spargel is best during high season — during May, the middle of the season. He doesn't like to tamper with the precious veggie. He feels it's best served plain with butter. However, he does do a high-class asparagus hors d'oeuvre: Spargel, a bit of mayonnaise and Iranian caviar.
White asparagus is also popular in Alsace, France, where it is often served with three different sauces, or as asperges vinaigrette, boiled and lightly coated with mustard vinaigrette, and often sprinkled with chopped egg and parsley.
The wine to drink with Spargel — a white Riesling or a rosé, advise the experts.
Spargel thrives in loose, sandy, mineral-rich soil found in areas near the Rhine River. The plants must grow for two years before they can produce the vegetable, and then will yield for about seven years.
Drive through Spargel territory and you'll see fields with row upon row of tiny hills of dirt. Underneath those mounds grows the hidden treasure — chlorophyll- producing sunlight would cause the ivory-hued spears to turn green.
Spargel must be harvested by hand. Workers, with basket, trowel and cutting knife in hand, bend over the dirt, scouring the earth for cracks. A crack signals a shoot is ready to pop through the ground and calls for instant action. Workers dig around the crack with their hands, expose the asparagus, cut it off at the bottom and place it in their basket.
Then it is on to the next crack. Hour after hour, day after day.
When the sun shines, the spears grow rapidly, as much as several inches a day. To make sure Spargel never sees sun and stays white, it must be harvested two to three times each day.
White asparagus has a thin fibrous skin. Every trace of it must be removed, peeled by hand, or the Spargel will have a bitter, unpleasant taste. A simple, inexpensive plastic Spargel peeler — often sold next to the Spargel or in stores with household goods — works best, although a vegetable peeler works, too.
The backbreaking work of harvesting Spargel, along with its short growing season and labor-intensive preparation, account for its hefty price. And that is unlikely to change.
In Germany, the Spargel season always ends on June 24, the feast of St. John.
Leah Larkin is a freelance writer living near Stuttgart, Germany.